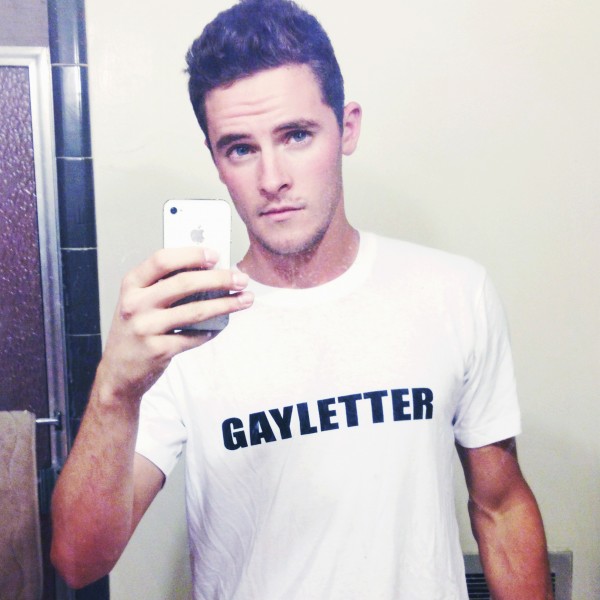 Selfies by Connor
Hi, Connor
Connor is 22 years old and was born and raised in Minnesota. He moved to Los Angeles 4 years ago to attend UCLA where he studied theater. He's now working as a junior creative associate at a reality TV production company — "basically brainstorming reality tv show concepts…" He also owns his own personal training company — it makes sense that Connor is in such great shape. In addition, he was also a gymnast when he was younger, then dancer, then diver. He's working on his first major project this Summer, "I'm producing a web series I've been developing for a year or so…" I guess we'll have to wait and see.
As far as he remembers, he's always being into boys. "I always liked boys but I didn't know that was actually something different with a name, gay, until I was past 12 or so." Connor was officially "out" by the age of 15, "I had my first love then. My parents found out in a Valentine's letter I wrote to my boyfriend and the whole thing kinda just unwound from there…"  He went to high school with this boy and was with him for one year, "I was a sophomore and he was a senior…We were so young it eventually just had to fizzle out." He's single at the moment. He's into men that make him smile, men that are larger than him, "taller and more meaty in general — I love feeling safe…" The bigger the guy, the more he likes being "babe-d."
His ideal date would be taken to a place his date really enjoys, or Costco because "it has a large majority of my favorite things: muffins, free food and some of the best people watching." His favorite part of his body are his nipples, "they are so small and goofy looking, also, where the leg meets the torso, where the muscles fold over and produce a V or as I said call it 'sex lines'…" He also loves his happy trail, I think a lot of us can agree with that. On other men he loves "broad shoulders and sensitive ears — but I'm most drawn to smiles." Some of the things that make him happy are "singing, my dog Gatsby, dancing dirty (I can turn down some moves when necessary), baking, cleaning/organizing, adventures and muffins…" You are not going to find Connor out partying, it's not something he likes to do, "I don't like drinking and don't really enjoy being in crowded clubs and bars — I'll go dance for a bit, but I'm a grandpa and I am usually happy at home!" 
Connor describes himself as "weird, random and goofy." He usually goes to bed naked unless there's a houseguest in his place, then he will wear "booty shorts." We asked him to take some selfies wearing our GAYLETTER t-shirt and some without it, he even took a selfie with his lovely dog Gatsby, have a look.