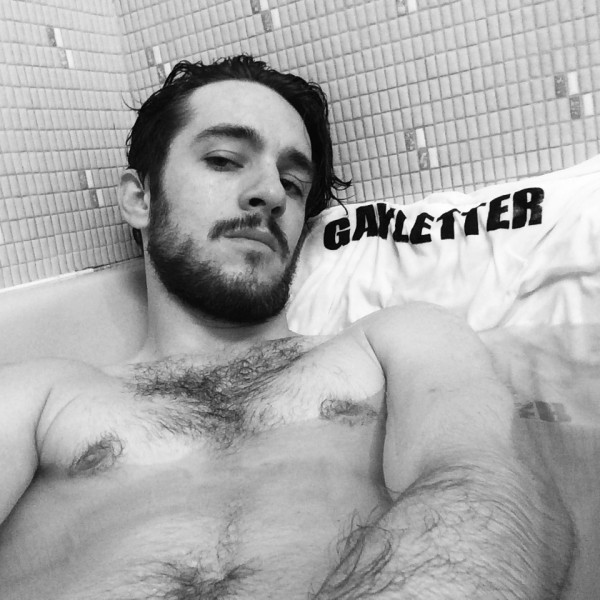 Selfies by David
Hi, David
David is a 25 year old graphic designer from Orlando. He grew up in the rural area of Brooksville, Florida where he lost his virginity to a boy at the age of 16 (yaaaas for the twink farm-boy role play!). We asked him if he had ever been with a woman: "once," he said "but nothing past first base." That's cute. He's currently single, and just recently moved to New York with his dog, Potato. He loves a guy with great, strong thighs. If you're inked up, and independent, that's a plus.
His ideal date is: "Rolling a few joints for the day and listening to music, then heading to the beach to relax on a blanket until we're ready to jump in the water. Grab food on the way home then spread out for a nap. Salty hair and skin." While you're cuddling before you nap, get personal with his bright blue eyes; they're his favorite part of his body and a big part of his Instagram account. No shame in branding yourself. He prefers to sleep in briefs, or nothing at all. His cuddling criteria has been set; take note, hunties!
He's "not much of a high maintenance guy" — brushing his teeth, trimming his beard and getting haircuts when necessary are the extent of his beauty routine. Though he does take baths every other week, because he likes the feeling of floating; "it's calming." He wants to continue working in advertising, but ideally wants to find an Australian hubby so they can relocate down under and live happily ever after with a considerable amount of dogs. We feel the same, David, but for now we asked him take some selfies wearing our classic GAYLETTER T-shirt. David got wet! Have a look.