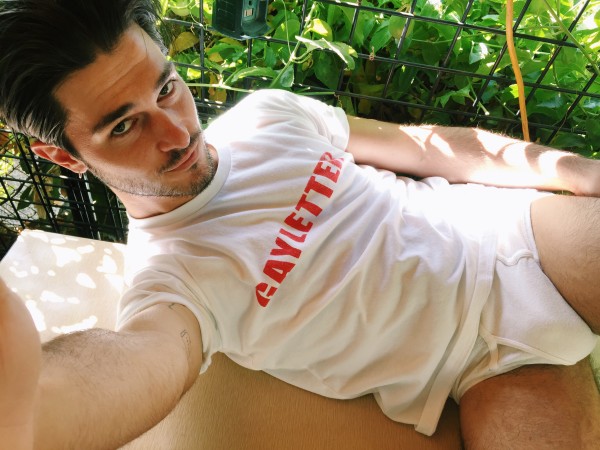 SELFIES BY JAMISON
Hi, Jamison
Jamison is a 25 year-old man from Los Angeles. He went to the University of Arizona and studied Theatre and Gender and Women's Studies. His dream? "Writing and directing super-stylish films" that transcend John Waters. He came out to his conservative parents at 13 — what a confident little pup! He wasn't in a relationship until much later, but he did fall in love with his little brother's best friend at the time. During his senior year of high school, Jamison lost his virginity to a cute college guy. He was only 17, but old enough to know that it was "blasé." Underwhelming sex is, hmm, the worst, but also part of the process.
His happiest moments are when he's surrounded by groups of creative people — his peers and lovers — "[those] who know how to have the best time and make me feel free, make me feel like my life is beautiful," he said. On the other hand, things coming to an end make him sad. "Every time I have a really great experience, something that was really life changing (a relationship, or traveling, or a dope party) — the end of it always leaves me feeling so empty. I think that emptiness is filled with sadness," he said.
He told us that he loves the inside of a man's thighs. He loves the softness and how it is simultaneously such a strong part of the body. It also houses his second favorite part of a man's body! Ours too, Jami! He is most proud of his ass. "When enough people tell you that you have a perfect ass you start to believe it." Confidence is sexy, Jamison, and you do have a great ass. Jamison sleeps naked year round and loves to drink Negronis. Every night before bed, he likes to "drink a tall glass of water, read a bit, scroll through social media, and rub one out." When he wakes up, he does the same thing unless someone's there to rub it out for him. He's not always horny, he says, just "sexually liberated." Wow, yes, okay!
The idea of a perfect date is a fantasy for Jamison. He's less interested in the date aspect and more into the "perfect connection." For Jamison, there needs to be good food, intelligent conversation, and hot, physical chemistry. "Those are the prerequisites," he said. But if he had to pick, he'd want his perfect date to be something glamorous. "I'd love to get dressed up for a private screening, then have martini's somewhere exclusive with a view, and end the night skinny dipping in somebody's pool." Sounds perfect, we'll love that too. In the meantime, here are some selfies of Jamison that he took at the Tom of Finland foundation during his artist residency there — wearing our classic GAYLETTER t-shirt (this one has red text just cause Jamison was feeling lit) — and more importantly, some shirtless!