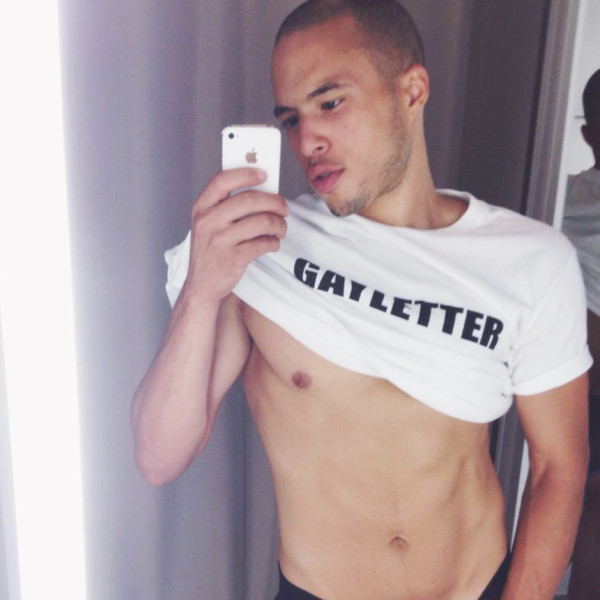 Selfies by Jemar
Hi, Jemar
Jemar is a 22-year-old from Minneapolis, MN. He's still living there, but he's moving to LA at the end of the year. He went to California Institute of the Arts for a couple years to study Theater and Acting. "I've been acting since I was 14, my dream job is to be a sucessful actor…" He's lived with his boyfriend for about 3-months now; they met at a photo shoot. His first sexual experience with a guy was when he was 15. "Most people think I'm straight when they meet me… I'm never afraid to correct them."
When it comes what he likes it's a boy who's smart and motivated, "someone who has a drive to be a successful somebody and who's into fitness." Jemar works out about 5-6 times a week. His favorite part of his body is his butt, "beause it's juicy and I can make it clap lol. I get great compliments on it." That's a great skill to have in 2014 with all the twerking competition out there. On other guys he likes a nice chest. Also, when it's time to sleep he goes to bed naked.
His ideal date would be "during the day, maybe a day festival/fair or something with adrenaline, then maybe a nice dinner, then go out dancing…" 
His go-to cocktail is a Moscow Mule. He's the most happy with the company of great friends, acting, working-out and good food. He enjoys being outdoors, he likes to frequent "any moving body of water. There's something about moving water that relaxes me. I like to go down by the river here."
We asked Jemar to take a few selfies wearing our classic GAYLETTER t-shirt, and some without it. He looks rather sexy, have a look.