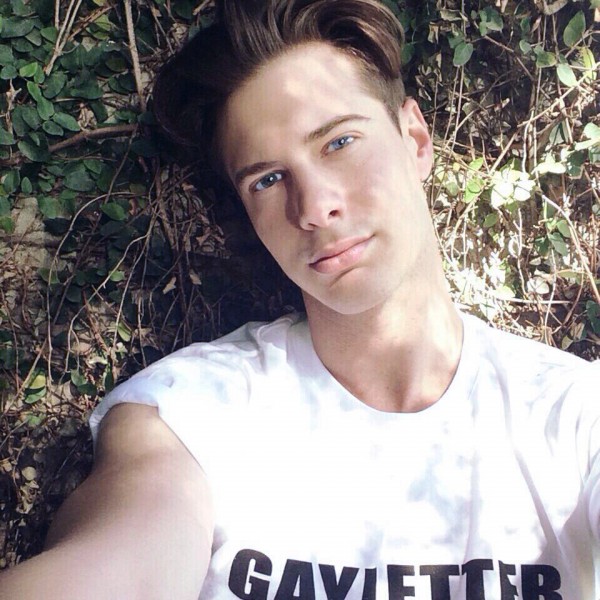 Selfies by Jordie
Hi, Jordie
Jordie is a 24 year old boy from a small rural town in northern Louisiana called Jonesboro, but he's now living in Los Angeles. He moved to LA mostly to pursue modeling. He currently lives with his boyfriend of 2 years, Simon. "I love the weather, the whole vibe," he told us. While in LA he's "done everything from technical support to banking to waiting tables…" He doesn't have a modeling agency at the moment, but he's looking, "I'm 5'10" so that's tough…" We think he'll find something soon, I mean look at that face.
He works out 4 to 5 days a week, "I get a lot of stress relief from the gym. It helps lift my spirits." His favorite body part are his legs — "they have nice definition and shape. I used to have little chicken legs so it's nice to see progress and results…
"  He doesn't have a daily beauty routine, but he uses "a homemade coconut oil scrub on my face and body before shoots. It helps even out skin tones and gives me a nice moisture look."
Jordie dated a girl when he was 16, "we were together all the way until my first year of college. I actually lost my virginity to her, lol." He always knew that he liked guys but he used to suppress it. "After I broke up with girlfriend, I started toying around with the idea of experimenting with guys. I think I was 19 when I first hooked up with a guy…I didn't tell my parents that I was gay until I was 21." Aren't we all glad that's over!
His go-to cocktail is a French 75, "I feel sexy when I'm drinking lol." He gets turned on by a good massage and nice smells, and of course "confidence (not cockiness) is a turn on." When it's time for bed he wears "comfy undies." His ideal romantic date would be at the beach: "some of my most memorable dates have happened at one beach or another…" He's the most happy when the sun is shining…
We asked Jordie to take a few selfies wearing our GAYLETTER t-shirt, have a look at what he gave us.