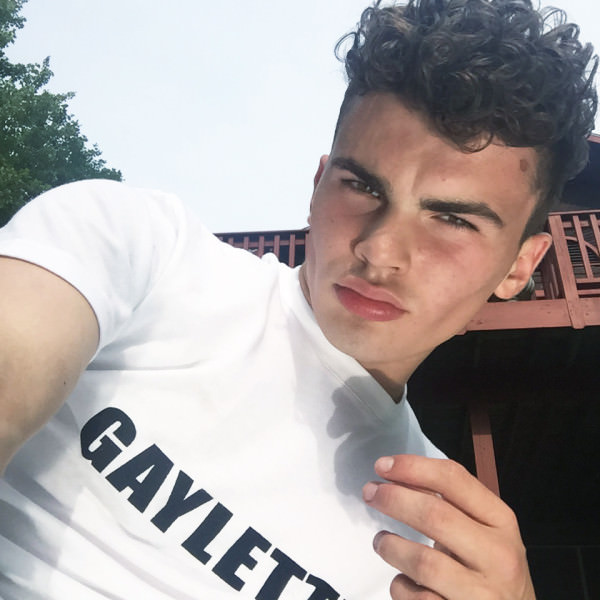 Selfies By Louis
Hi, Louis
Louis is stuck in Upstate New York, "for one more year," he said. He came out when he was 13, on Facebook nonetheless, "I wrote a huge paragraph because I'd just started speaking to my first boyfriend," — who was 17 at the time — "and was meeting people who were okay with me being gay and I felt very open about liking guys for the first time," but there's no specific moment where he, "claimed the gayness." After all, he was photographed in a boa, kitten heels and tutu at age two.
Louis is a millennial, so it's not a surprise he doesn't have a type, although he openly expresses his distaste for white guys. "Tall is nice, but it all definitely depends on the boy. Connection is key." For an ideal date, "It'd be spending time with someone who I really care about and feeling very content with the situation I was in. I feel like I'm constantly thinking of the next best thing to happen, so that's something I'm working on and if I could find a boy that could help me with that it would be ideal."
When Louis travels to Manhattan, he is either downtown with friends or uptown with family. "I did a lot of important growing up while staying in Spanish Harlem with my uncle — that's where I'd always hang out. It's got so much culture and such a great vibe to it." You'll only catch him on dating apps when he is trying to gauge the "gayness of an area." Otherwise he spends his time "making art, stalking beautiful people on the internet, and writing lil poems." In 10 years he sees himself "as a 27 year old with success and fame…"
We asked him about his beauty routine, In the morning he puts just water in his hair, but otherwise those curls do the work themselves. He loves coconut oil, "There's nothing better than slathering coconut oil all over your body and then letting it absorb into your skin."
On being a queer millennial, he's happy there a lot of progressive folks his age trying to push the U.S. towards complete equality. "Legalizing same-sex marriage is a great first step. Now these progressives and radicals have to focus on issues like the All Black Lives Matter movement."
He likes sunny days, making someone he cares about happy, and his ability to not take people so seriously. "I am trying to live for myself and no one else, I like that." For anyone else growing up queer, Louis says, "Disregard standards and norms that people expect you to live up to because of your queerness and do things that you genuinely enjoy. Make sure you define yourself as a person."
We asked Louis to take some selfies wearing our GAYLETTER classic t-shirt — he even took a mirror outdoors with him, so creative, have a look!