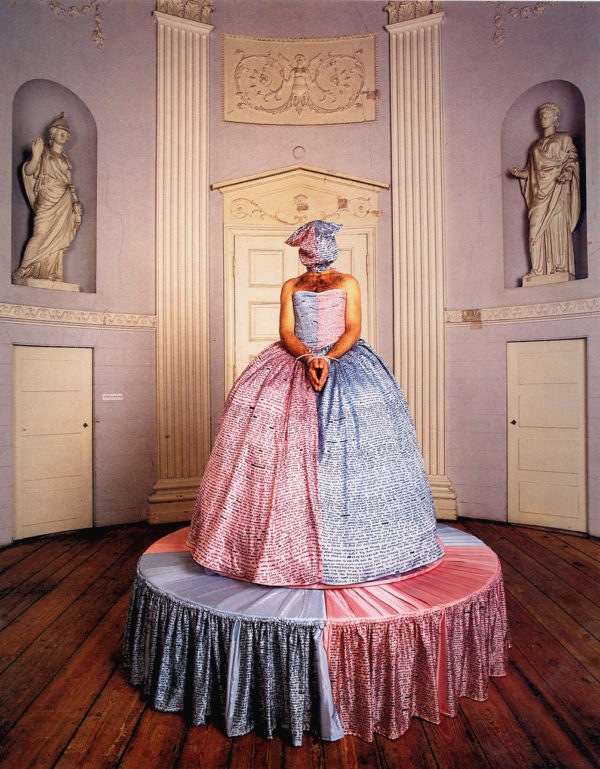 The Love Dress, 1994. Hamburg, Germany. All images courtesy of Hunter Reynolds and P·P·O·W, New York.
Hunter Reynolds / Patina du Prey – From Drag to Dervish – P·P·O·W
The current show at P·P·O·W gallery in New York boasts a variety of garments, art objects, ephemera, film, and photography — all working together to reconstruct a semblance of Hunter Reynolds' life as drag performance artist, Patina du Prey. While the artist does not perform in the space, each room in the exhibition represents a different grouping of artifacts, mapping his life and series of performances during the AIDS crisis. As Patina, Reynolds wore makeup and elaborate dresses to elicit a surreal mash-up of gender, a Baroque grandiosity, and a process-driven immediacy. Her existence generated healing, both for the performer and her witnesses. Today, the exhibition allows us to remember a delicate history, which has tossed and turned into the present — of pain and terror, joy and passion, taking what might have become deep repression and exposing it to the light in a howling testimony.
A historical essay by Jane Ursula Harris accompanying the exhibition brilliantly configures Reynolds' timeline. Life has not been easy for the daring artist, and his childhood was no exception. In a scenario that many queer boys have experienced, he was caught dancing in his sister's crinoline underskirt as a child. His parents shamed him, and forbid him to wear it again. After coming out at the young age of 14, he was thrown out of his house at 17 for starting a LGB club at his Florida high school, that same year moving to Los Angeles and working nights in a mailroom. Eventually, he got his GED and then an art degree from Otis.
Moving to New York City in 1985, he became a player in the East Village art scene, joining ACT UP, and co-founding Art Positive, not yet realizing he himself was HIV positive. Patina du Prey, Reynolds' drag persona, developed around this time. Donning a feathered wig, gloves, and heels, he shaved his facial hair and wore makeup. At first, Patina appeared in private and then in public performances, mostly in nightclubs and in a series of jaunts into banal settings: on sidewalks, riding trains, and at fast-food joints, documented during this time by friend and photographer Michael Wakefield in a series now known as Drag Pose. In these spaces, Reynolds experienced a mixture of homophobia, transphobia, and misogyny, navigating both glares of hatred and sexual advances under the disguise of Patina. Evidenced in P·P·O·W's exhibition, an untitled series of images documents Reynolds becoming Patina, getting into drag in a time-lapse of sequential portraits, from beard to full-face beauty, posing in the final images by connecting with the camera and blotting tears from her glamorous eyes. The photographs, all standard snapshot print size, are sewn together in the exhibition using black thread, creating a patchwork artwork of the event.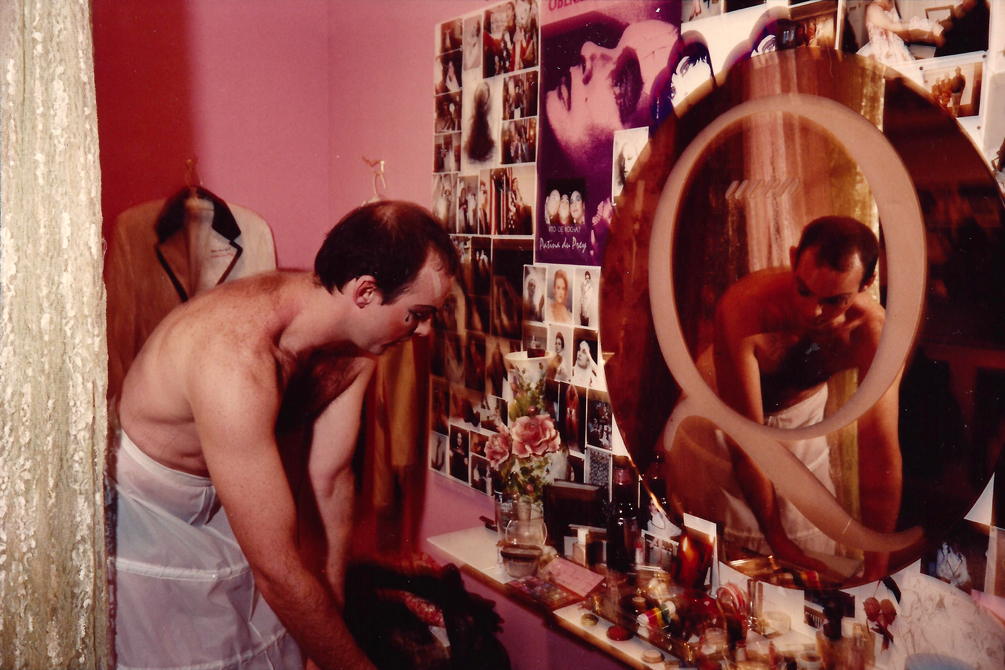 The Vanity, 1990. Performance, Currents '93: Dress Codes, ICA, Boston, 1993.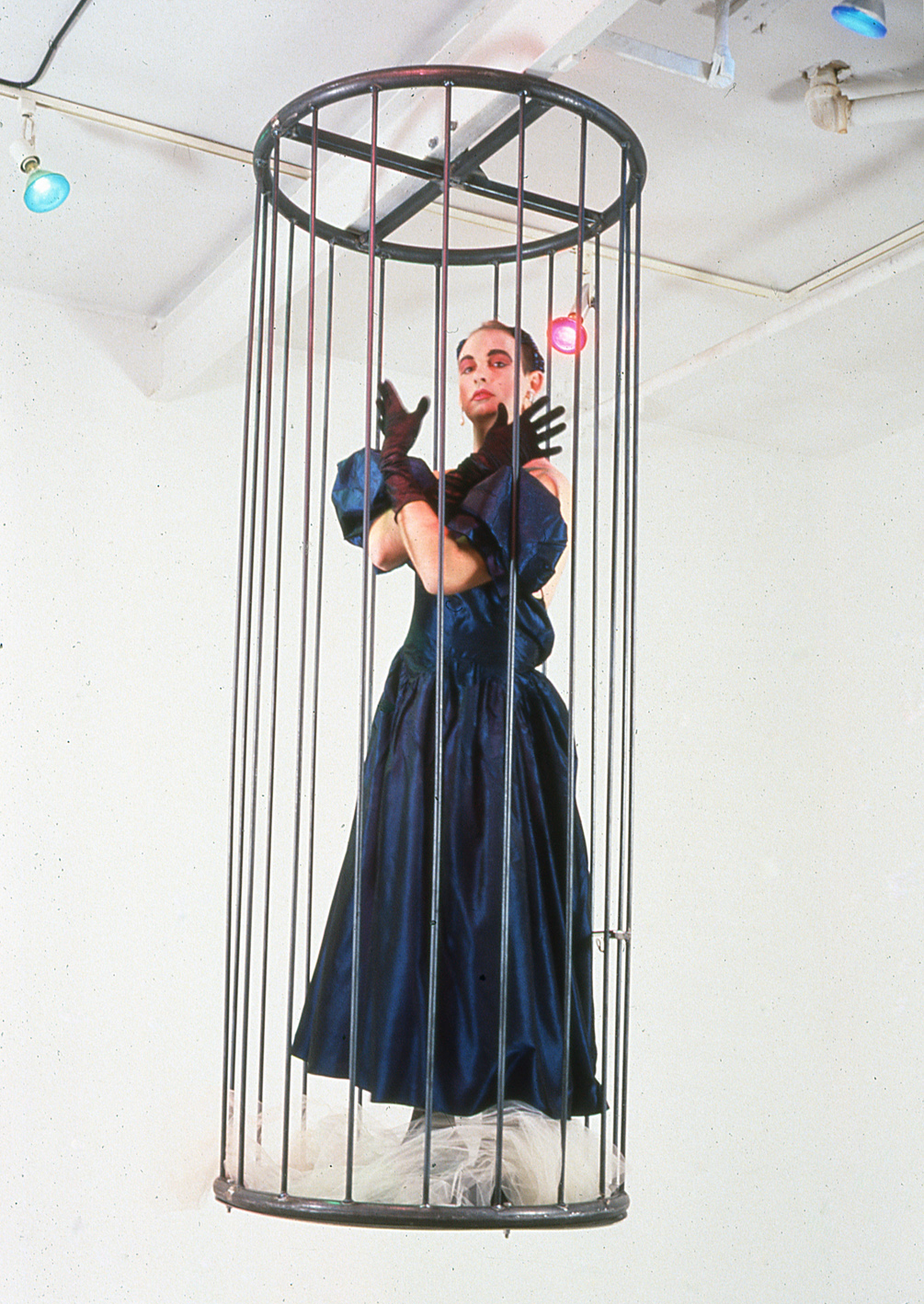 DRAG, Simon Watson Gallery, New York, 1990. Photo by Robbie Lourenco.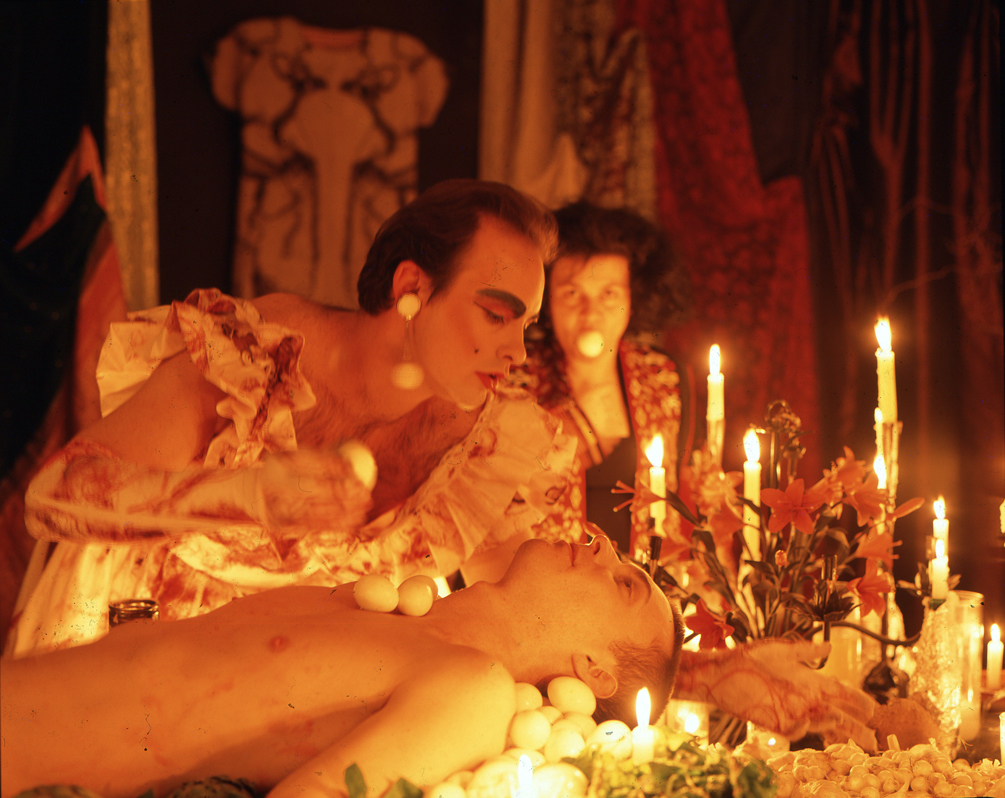 Hunter Reynolds and Chrysanne Stathacos. The Banquet, 1992. Photo by Michael Wakefield.
The show at P·P·O·W is anchored by the dresses once used in performances by Patina, informing the narrative of Patina's role as a shamanic healer. The second room of the gallery features work from her debut in the art gallery context, a 1990 show organized by Simon Watson. Much of the white-walled space is left open, allowing for adequate breathing room. Only the furthest wall is filled, cluttered with memorabilia: photos, clothes, dolls, fans, and jewelry from Patina's performances in nightclubs, all stacked and pinned against The Vanity (1990) with a pink mirror, largely inscribed with the word  "Queen." It was here that Hunter became Patina in that initial gallery performance, each day getting into drag as a part of the show, taping his eyebrows and applying make-up for visitors to see. A meditation on voyeurism and vanity, privacy and publicity, the artist wore a blue taffeta dress, displaying a male hairline and unshaven chest while hanging in a go-go dancer's cage for five hours a day. The cage and dress are also shown in P·P·O·W's presentation. The scene challenged audiences with its hairy femininity, in its attempt to blur the lines of gender expression, long before the mainstreaming of gender queer and nonconforming identities. Around this time, Reynolds was introduced to the concept of third-gender through Serena Nanda's 1990 text "Neither Man nor Woman: The Hijras of India," which allowed him to explore Patina as a healing spirit rather than as mere means of self-determination and entertainment.
Also on view in a side room of P·P·O·W's gallery space is a film of a collaborative performance with Chrysanne Stathacos titled The Banquet (1992), a nod to Meret Oppenheim's Spring Banquet/Cannibal Feast (1959). The performance featured a table decorated for a ceremonious dinner, covered in food, candles, and flowers with a man lying nude, ready to consume.  A group of women surrounded the table, all wearing dresses with a printed pattern on white fabric of deep red and black, matted hair and Reynolds' bloodspots, an acknowledgement of his positive HIV status. Standing most grandiose among the performers, Patina wore a ball gown made of the same fabric, spinning as a dancer inside a music box on a large, mechanized turntable stage, ruffled around the edge with a dust ruffle, also of matching fabric. While turning with arms outspread, she begged the universe to heal those suffering from AIDS. P·P·O·W's exhibition includes the dress and its stage alongside the film.
Another dress in the exhibition was inspired by The AIDS Memorial Quilt displayed at Washington's Nation Mall during the Reagan administration's egregious mishandling of a national emergency. In 1992, Reynolds read the names aloud in a performance in Berlin while wearing a nurse's uniform. Continuing in this line of inspiration, Patina du Prey's Memorial Dress (1993-97) is made of black fabric and silkscreened with the names of 25,000 people lost to the AIDS crisis. On another stage with a spinning panel, Patina became a memorial, serving as a spectacle of grief and healing. P·P·O·W features a wall with the names printed out, the dress and stage in static form, without the performer, but with the addition of a counter of notebooks in which visitors can add the names of AIDS victims known to them.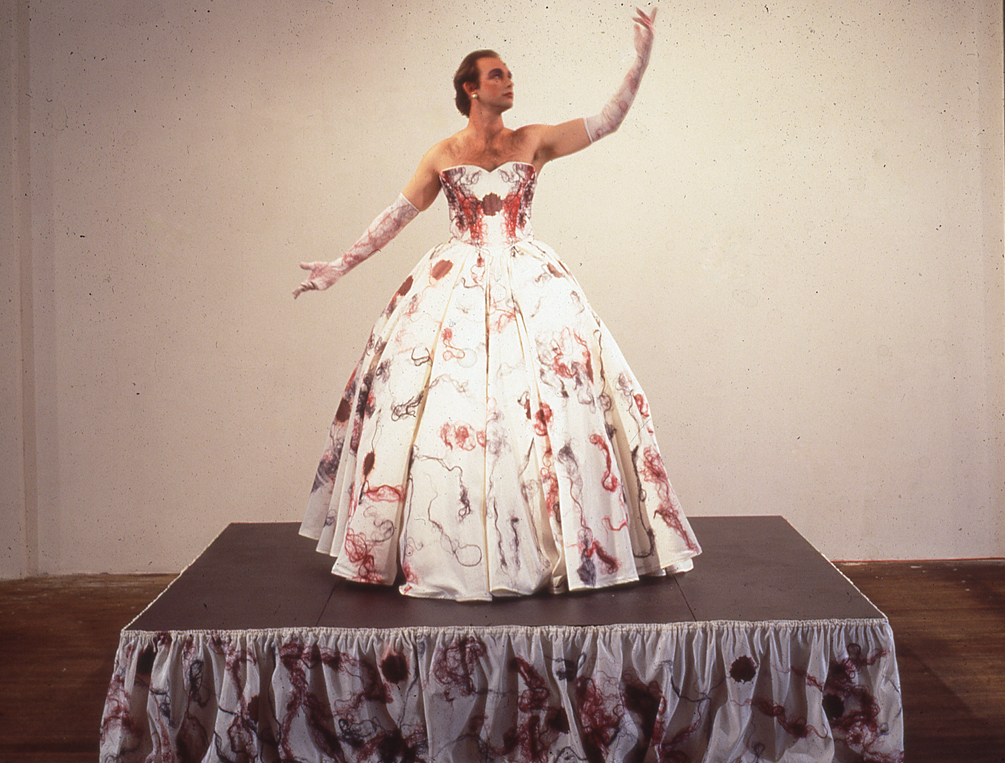 Hunter Reynolds and Chrysanne Stathacos. The Banquet, 1992. Thread Waxing Space, New York, NY.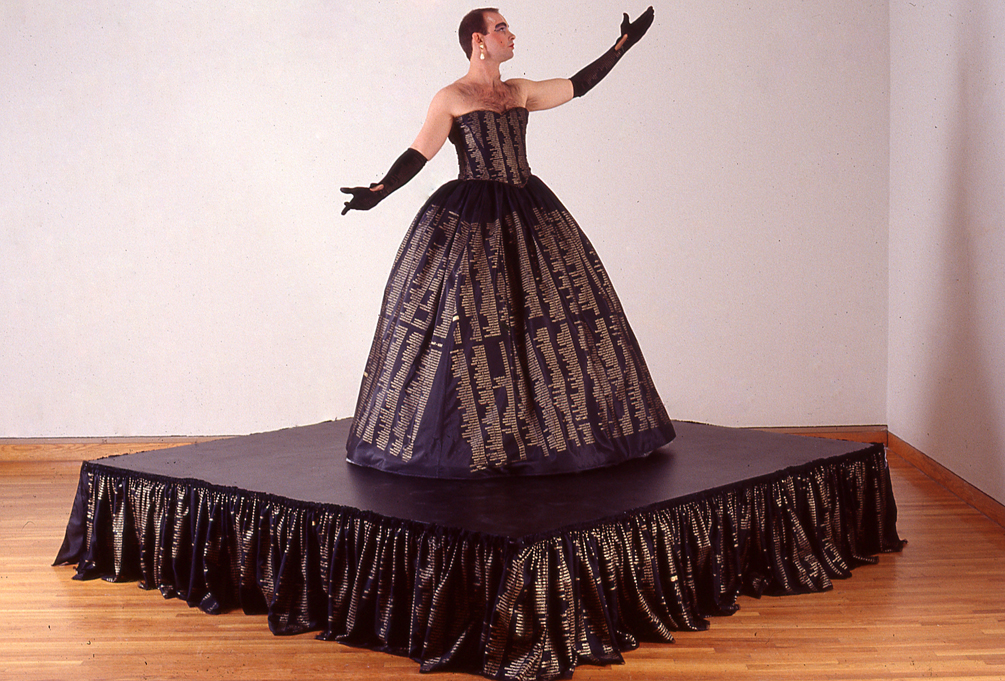 Patina du Prey's Memorial Dress, 1993. Photo by Charles Mayer.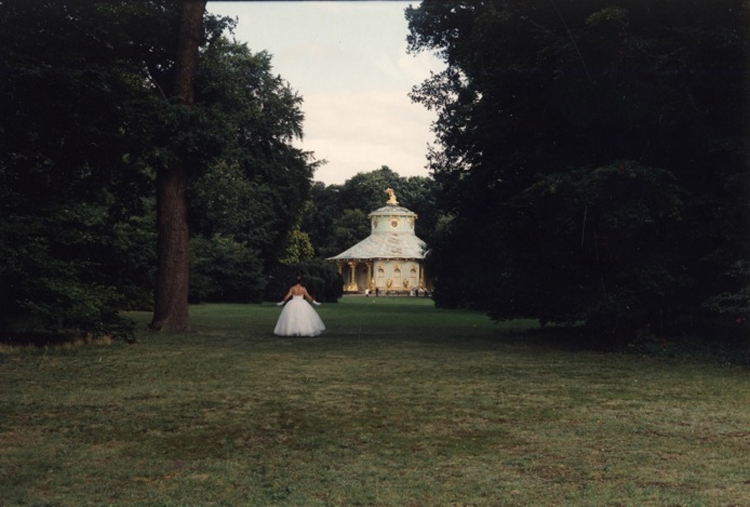 I-DEA The Goddess Within, A collaboration between Maxine Henryson & Hunter Reynolds. Approaching the Temple, Potsdam, Germany, 1993.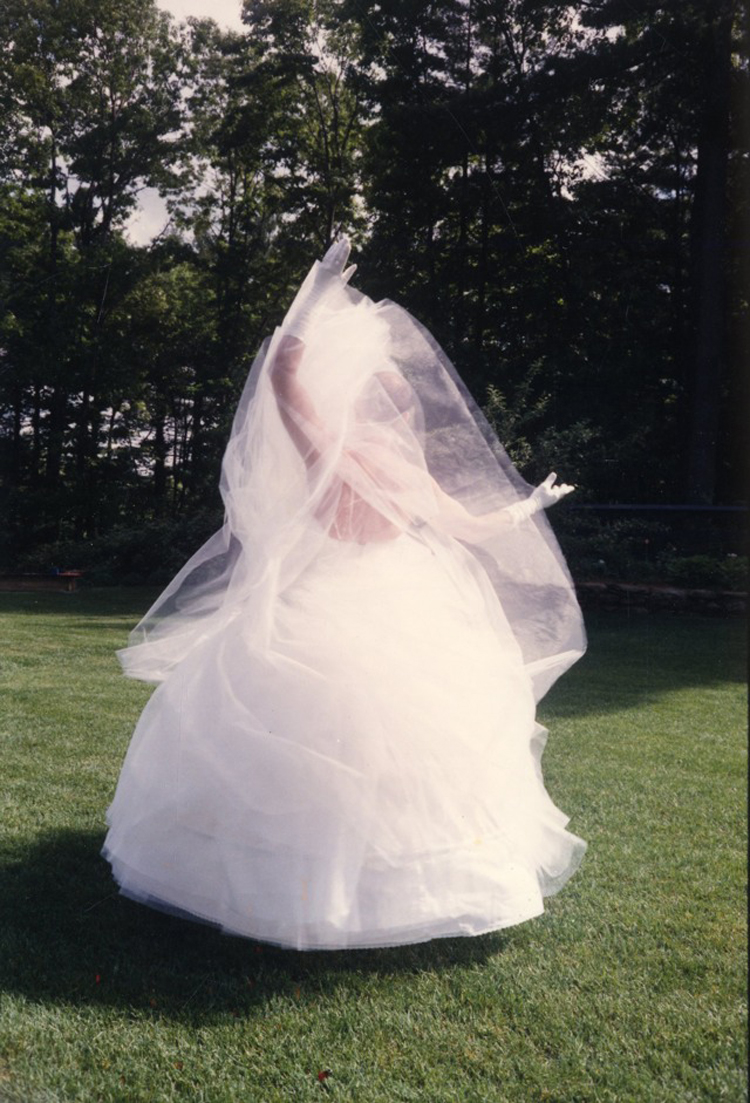 I-DEA The Goddess Within, A collaboration between Maxine Henryson & Hunter Reynolds. Dervish, Concord, Mass, 1993.
Other dresses in the show continue the theme of deep devotion and mourning. The Love Dress (1994), split down the center with alternating sections of light blue and pink is graffitied with lines of Reynolds' handwritten accounts of love, excerpts from his personal diary, covering the entire garment. This dress also includes a matching bag that covers the wearer's head, again on a small matching stage. It is surrounded in the gallery by small, framed works on paper: blotted lipstick kisses, each with quick, overlaid cursive messages — "I miss the taste of cum,"  "I will die for you," "home sucks," "I hate you," "I love you, " and "sleep with me and die." The display points to the insecurity, sentimentality, and volatility of living with AIDS.
A couple more dresses and framed photographs in the first room of the exhibition round out the breadth of Reynolds' work. A white tulle dress with colorful strips of photographs stitched together, The Mourning Dress (1997) is hanging, floating above the concrete floor. The sewn photographs show colorful close-ups of flowers from bodegas, a gesture to the way city dwellers celebrate life and mourn death. In this same room, there are three framed images of Patina in Germany, performing in a fully white dress, spinning in a performance titled I-DEA The Goddess Within (1993), a collaboration with Maxine Henryson. This project continued until 2002, a long-term undertaking that was restaged in multiple iterations. On the surface these works seem airy and elegant, but upon further examination of their dark nuances, they exert a powerful gravitas.
It takes some reckoning to consider what the work of Patina du Prey means today. 40 years into the AIDS crisis, and as we move forward with medical advancements and the prospect of progressive legislation, 37.9 million people, as of the end of 2018, are still living with HIV globally, and 1.7 million became newly infected that year alone. While the struggle of educating the public continues, artists like Reynolds have become paramount to understanding the devastation and our obligation. While facts and figures have undeniable influence on our considerations, it is the stories of love lost and profound suffering that reach deep into our hearts, asking us into the dreams and nightmares of real-life. In the here and now, Reynolds lives on, and his work feels as important as ever, as a call to consciousness, for change, and for the preservation of memories that may inspire and caution our future.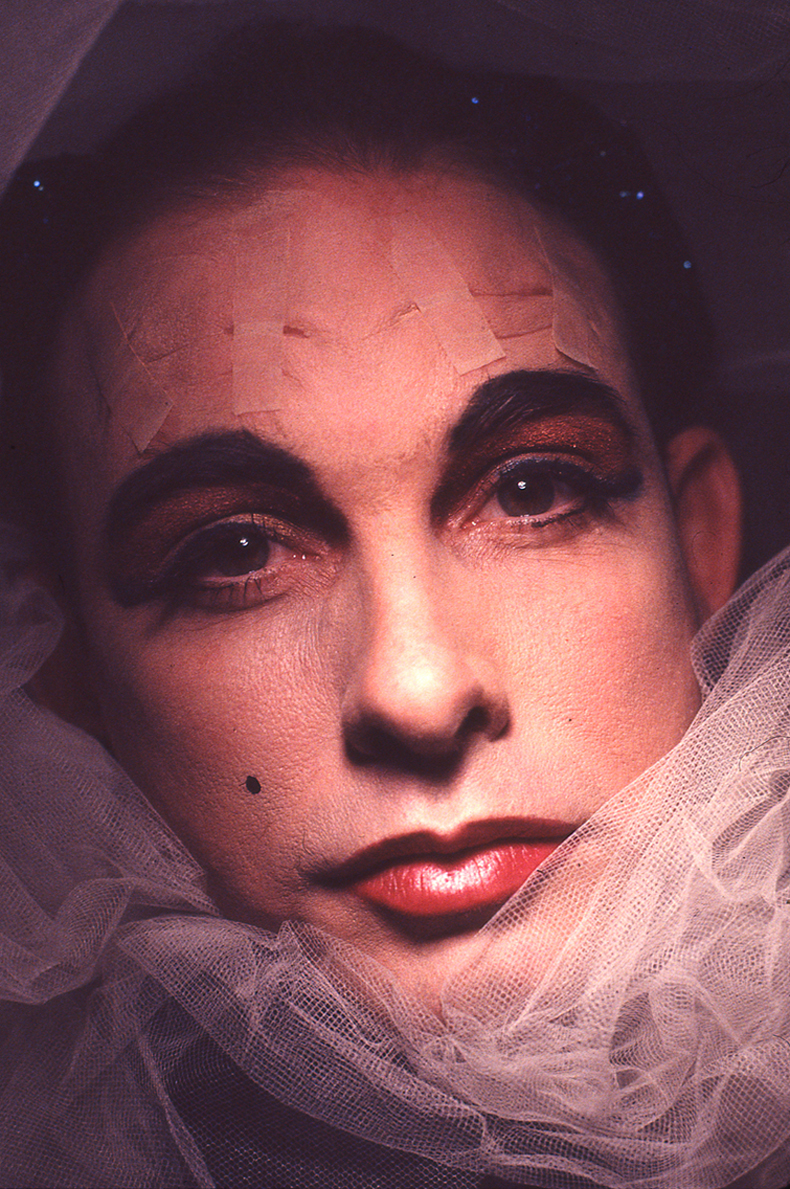 Patina du Prey, 1990. Photo by Robbie Lourenco.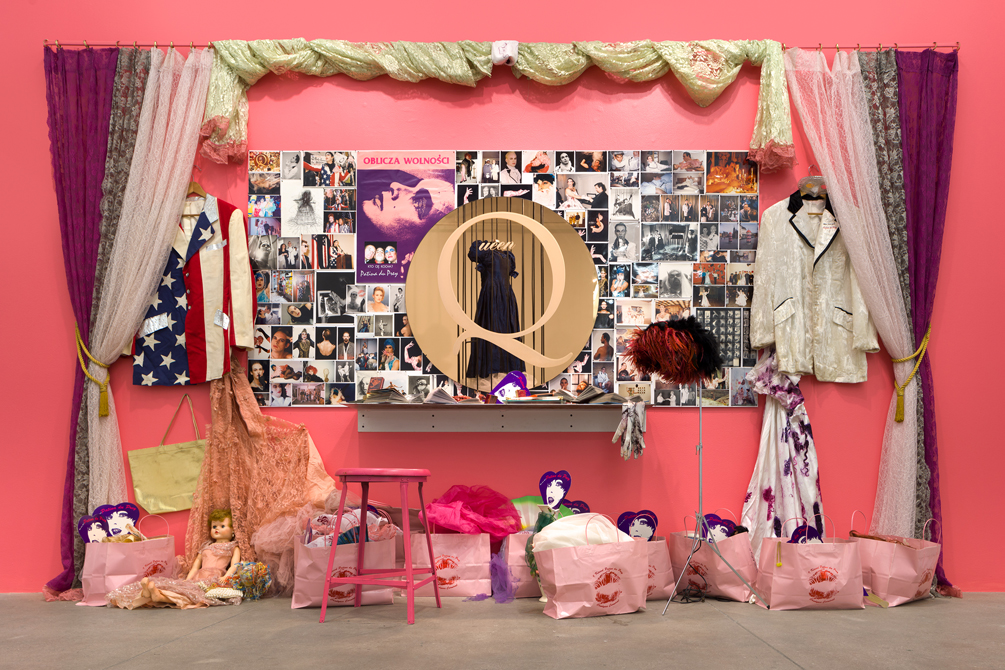 Hunter Reynolds, From Drag to Dervish, on view at P·P·O·W gallery, NYC. November 21 – December 21, 2019. 
All images courtesy of Hunter Reynolds and P·P·O·W, New York.