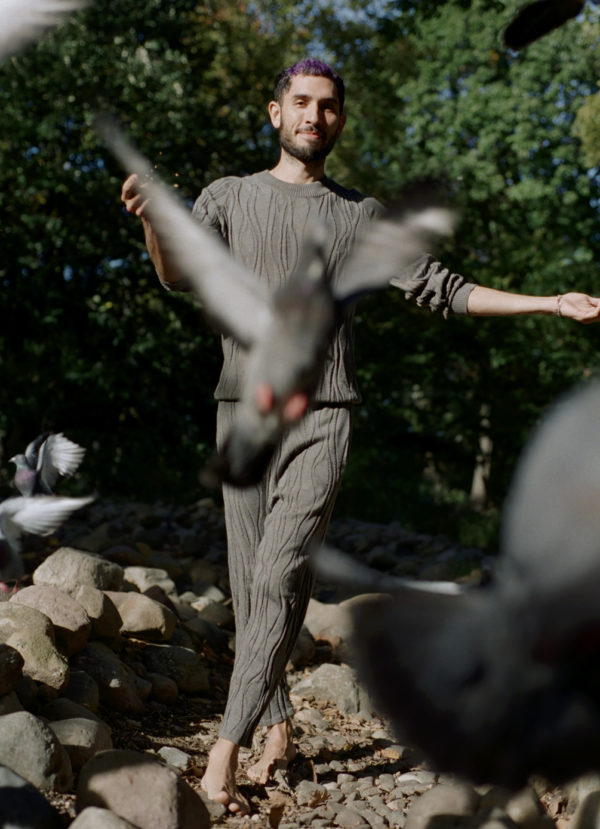 PAINTINGS BY IAN FADEN | PORTRAITS BY NICHOLAS SHAYA
IAN FADEN
Ian Faden's passion for bird watching has informed his painting, and vice versa. He obsesses over feather colorations and beak shapes with the same ardor he might describe the opacities and hues of a particular oil paint. Originally from Massachusetts, he attended Pratt Institute in Brooklyn and now lives and works in Bushwick. His recent paintings and drawings in two series, titled Tales, Tails, Tales & Tails and Fables for the Future, provide glimpses into a world that could be seen as post-apocalyptic or post-human, but might be better understood as post-anthropocentric. In this dimension, humans and animals have experienced a great leveling of power, all naked and attempting to survive, often on equal footing and in direct competition with one another. Instead of following a specific narrative, the work evokes a series of dream-like scenes and loose mythologies that build to form a larger paradigm in which all living beings are but creatures — people are animalistic and animals are personified — both fending for themselves amid tremendous scarcity.
Is the crow smarter than the mourning dove? The shifting hierarchy of intelligence and self-awareness is a running theme in Faden's work. In Yes Court, a mourning dove stands before their own reflection in a cracked mirror held up by a few watchful crows. However, it is difficult to decipher whether the mirror is broken because the bird has foolishly pecked at their own self-image or if Faden has included the crack as a symbol of the bird's moody interior mental state. The ambiguity of the scene, a setting without a story, has a surreal effect. Personal friends of Faden are featured in several of his paintings, thrown into this world of perpetual contest and in some cases granted animal features such as wings, horns, or hooves. Dreamy and often nightmarish, vignettes of torturous and sadomasochistic relationships between animals and humans add to the complexity of the power struggle — sexual dominance and submission are a carnal system of control, and something it's suggested all beings are subject to. Often in homoerotic poses, the figures both entice and disgust.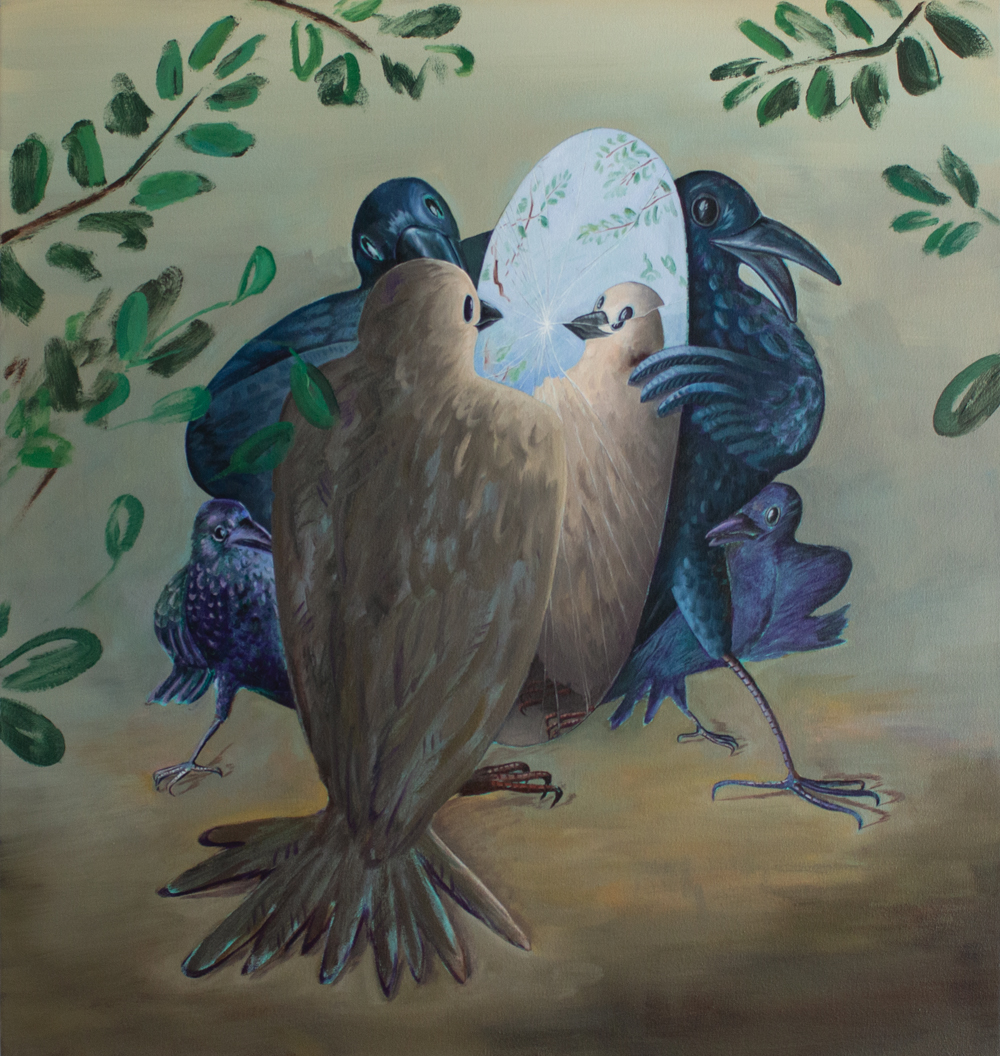 "Yes Court" (2020).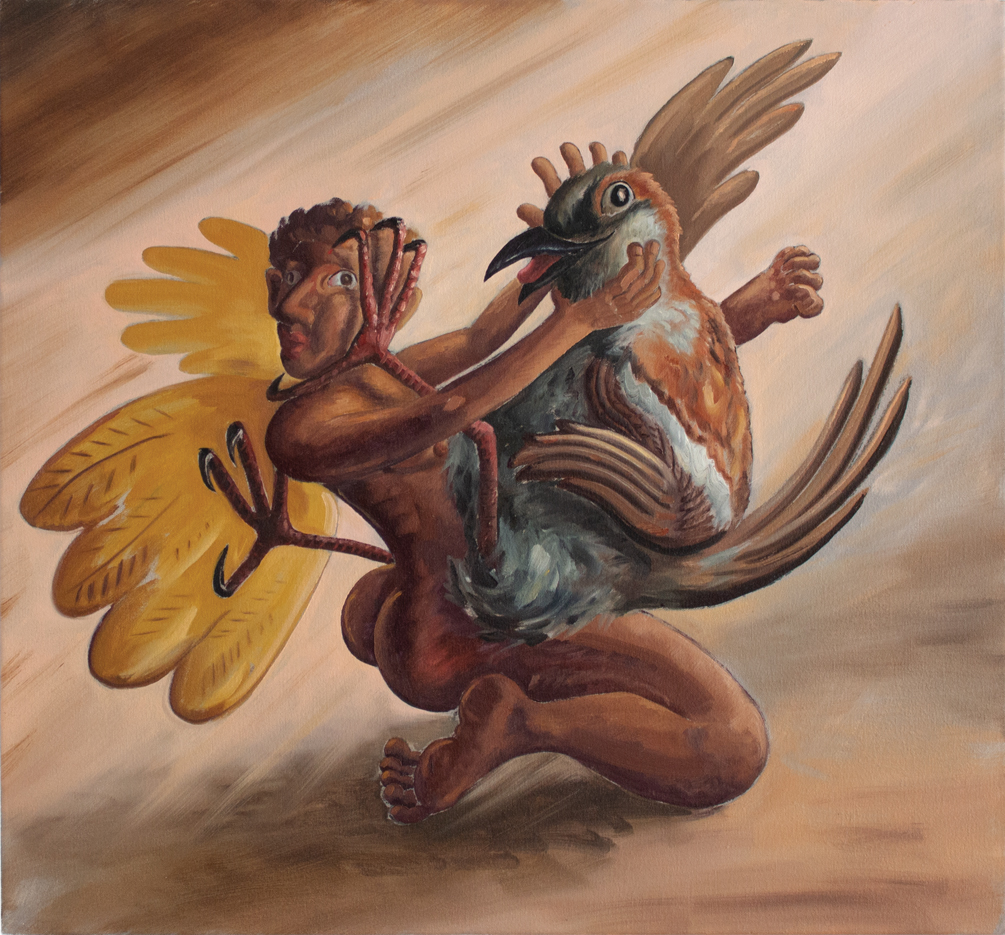 "The Fight" (2019).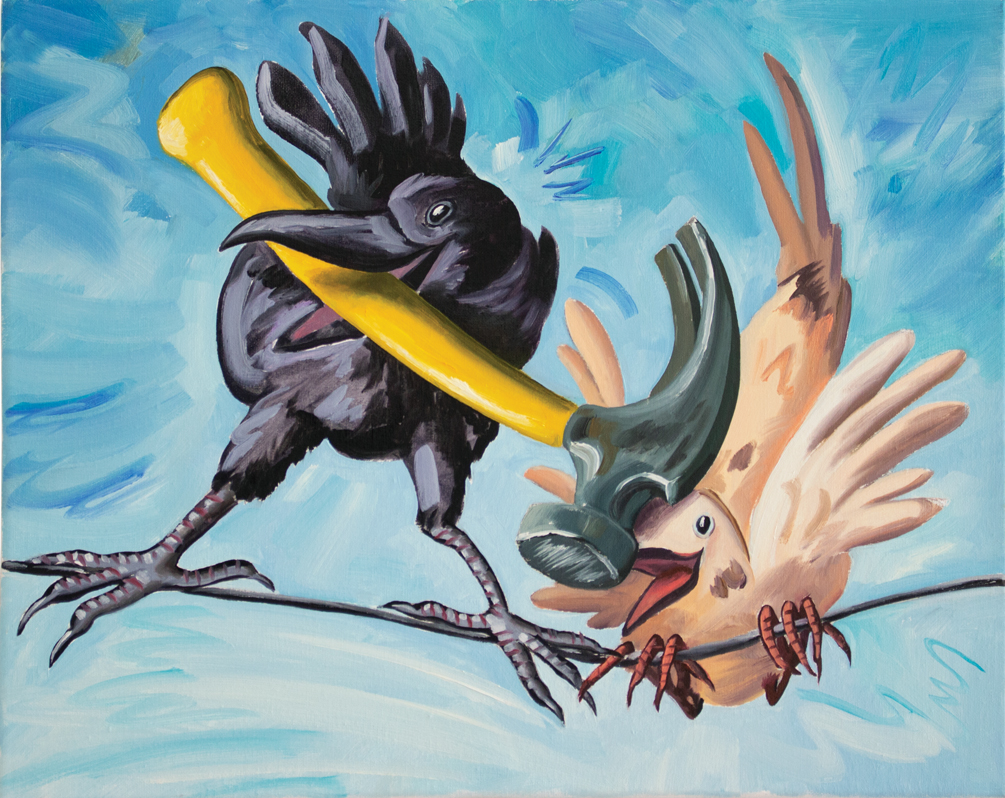 "Tool Play" (2020).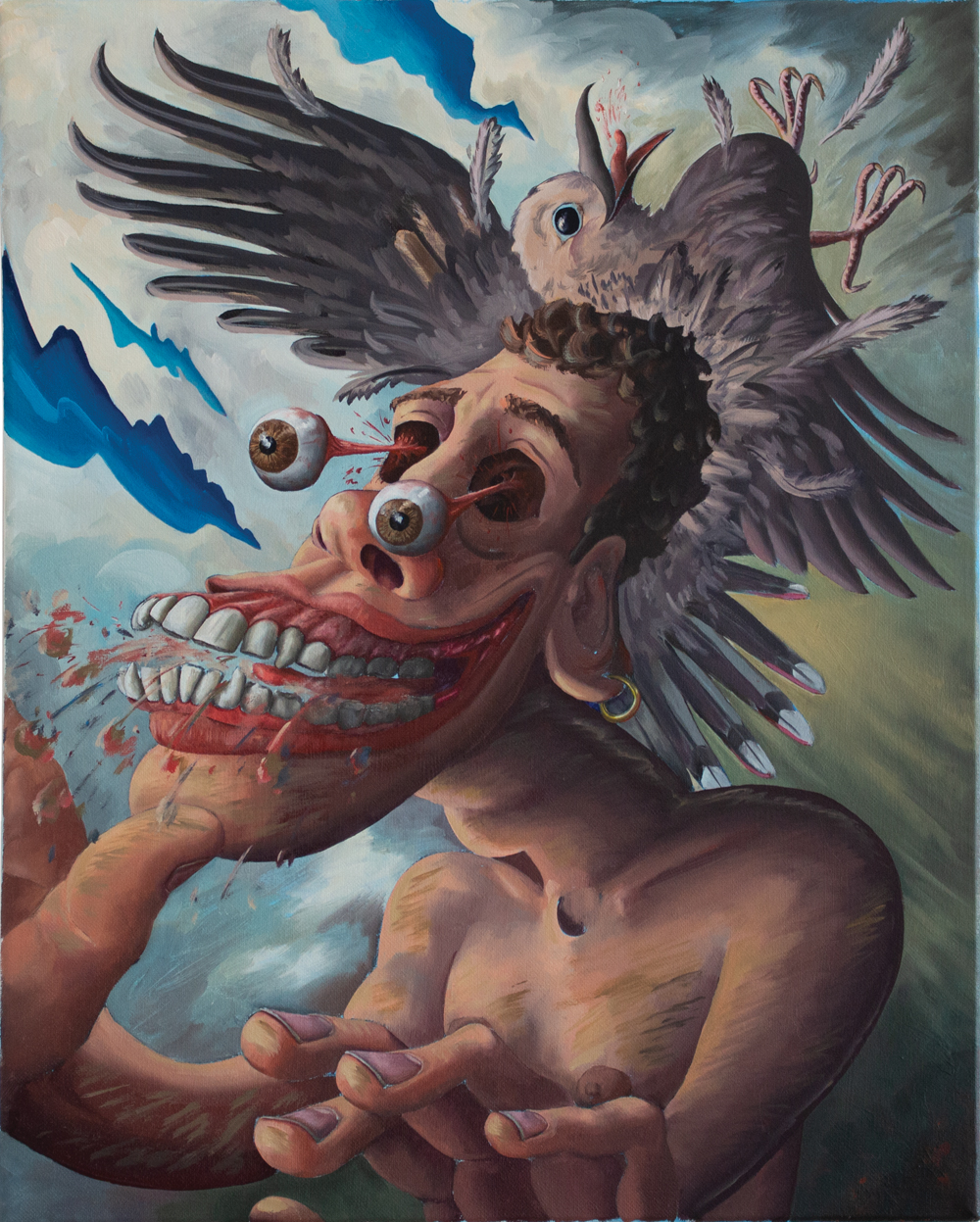 "Instant Death/Simultaneous Ecstasy" (2020).
In Johnny at the Watering Hole, a nude man and an equal-sized bird wearing a beak mask reminiscent of those worn during the Black Plague stand before a sparkling stream, both dipping milk jugs into the water, each aware of the other but focused on the task at hand. An ominous orange glow behind them is accented with expressive brushstrokes. These abstract moments, areas of the paintings that are more gestural or blurred, imbue the work with dynamism, suggesting movement but also magical transfiguration. Naturalistic grays and browns of the mundane world around us are combined with skies of other-worldly colors, from foggy periwinkle stillness to fiery sunsets. Vibrant underpaintings are often visible around the edges of Faden's figures and forms, giving them a vibrating quality.
Upon seeing these paintings, it is easy to find art historical precedence — the abstraction of J.M.W. Turner's skyscapes or Francis Bacon's contorted figures, the whimsy of Leonora Carrington or Hieronymus Bosch, or the political implications of Peter Saul or Philip Guston. And the artist himself has said his visions are inspired by Octavia Butler novels, Yuval Noah Harari's Sapiens, and Pier Paolo Pasolini's Trilogy of Life series. But the work stands on its own merit; it is comedic but also starkly barbaric, representational and abstract in both image and meaning. Faden is not a moralistic storyteller; he does not predict or warn against anything. Instead, he allows the imagination of his audience to fill the blank spots of his dark fantasies. He presents the nuances of competition in an altered context, opening up Darwin's old chestnut of what "the fittest" might mean for a person given the perils of a more equitable power structure.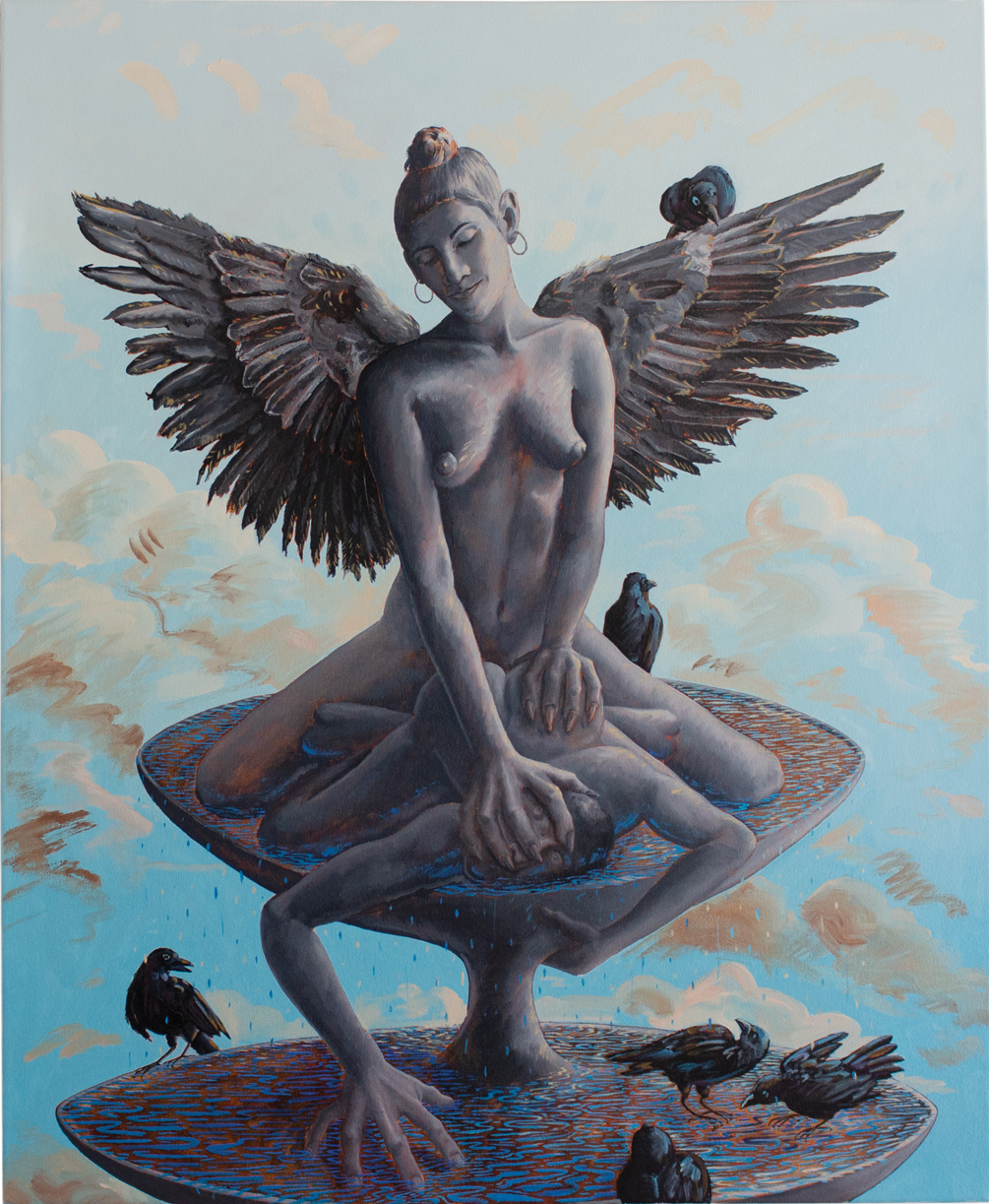 "Monument" (2019).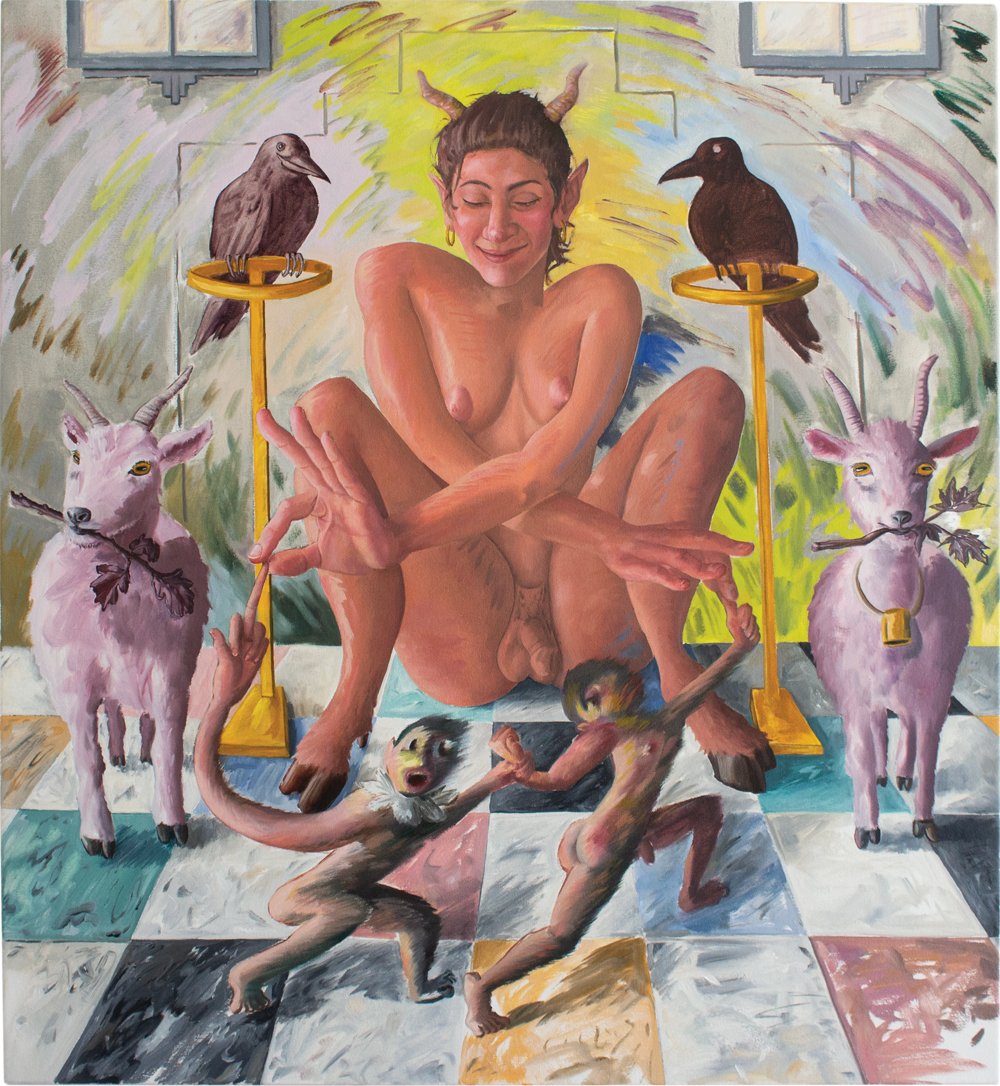 "The Dance" (2020).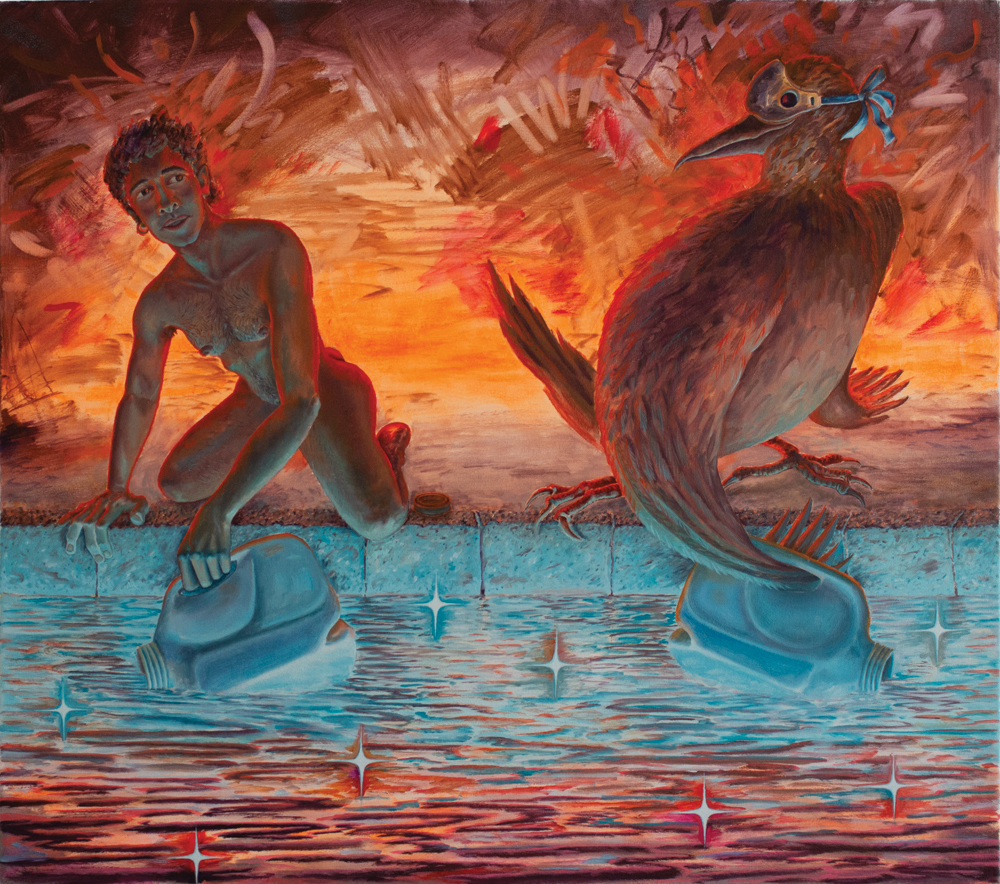 "Johnny at the Watering Hole" (2020).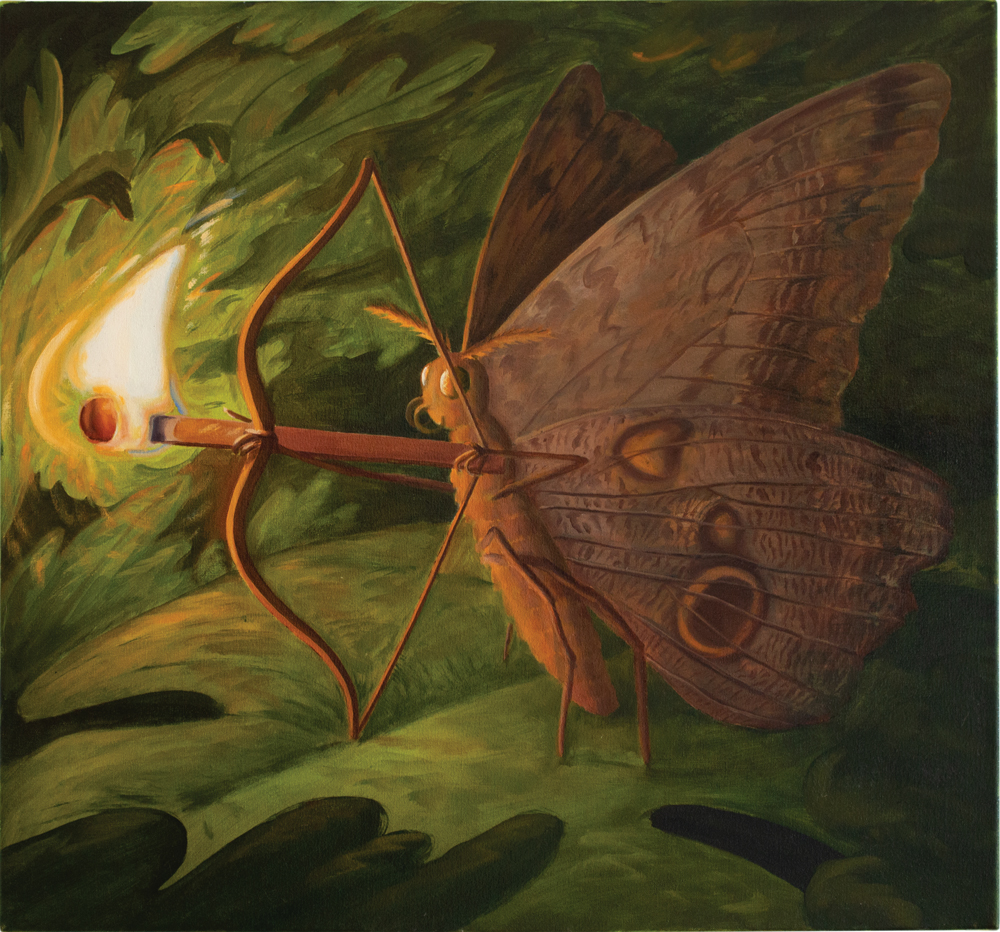 "The Great Moth War" (2019).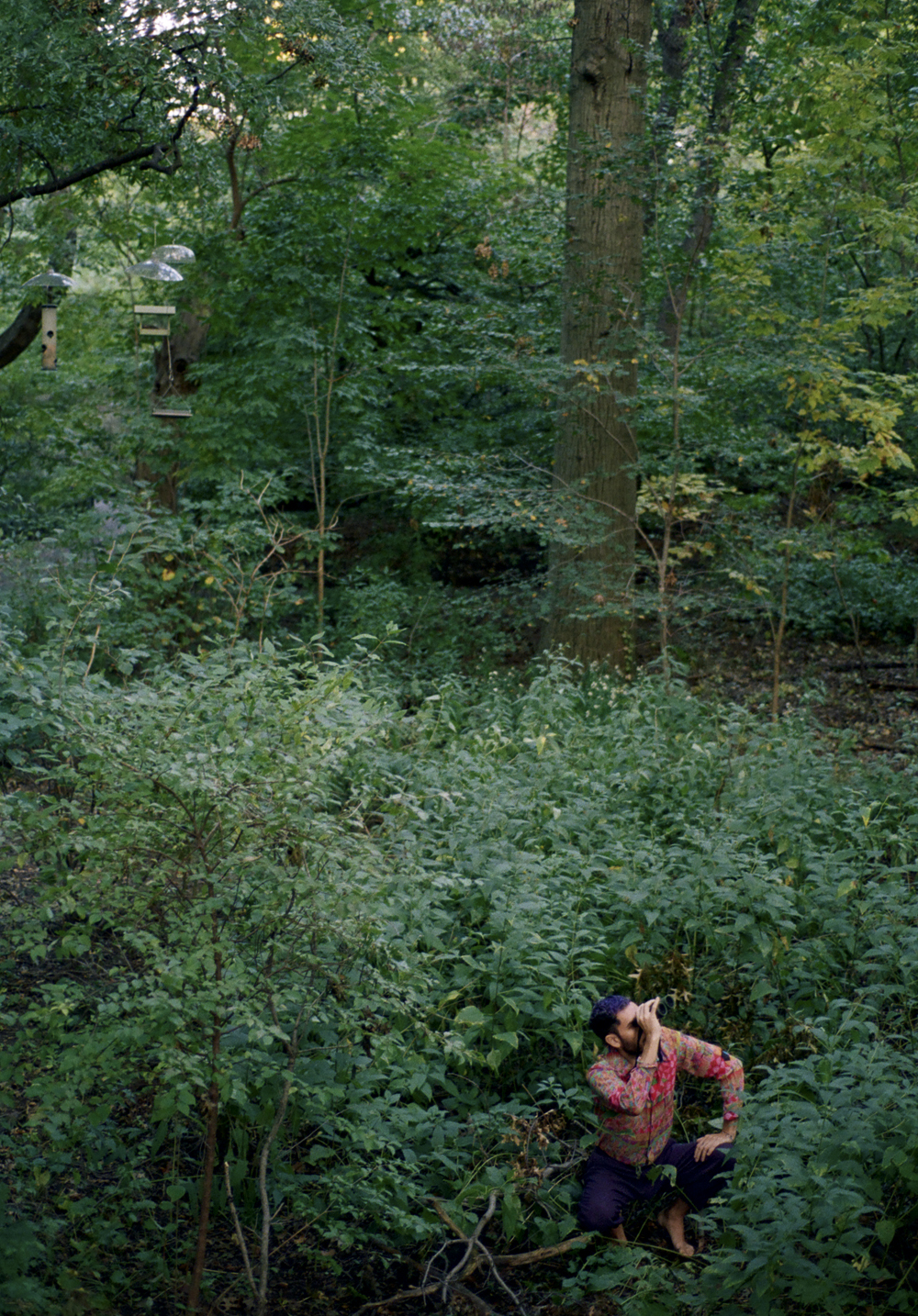 Ian Faden photographed at The Ramble in Central Park, New York City, August 2020.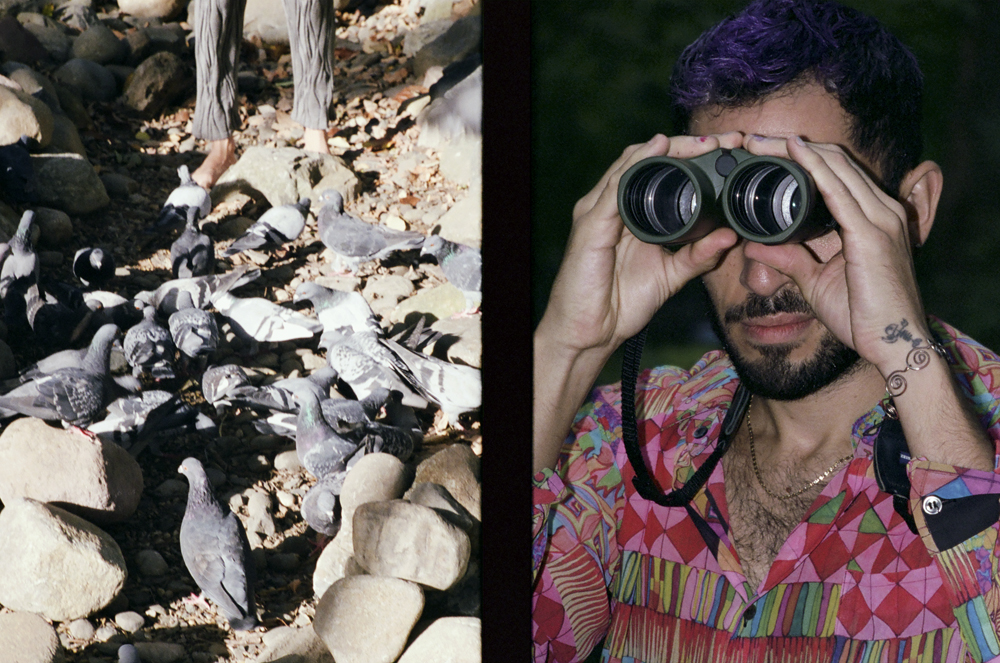 left and opening image: Ian wears sweater and pants by Julian Zigerli courtesy of Elkel NYC.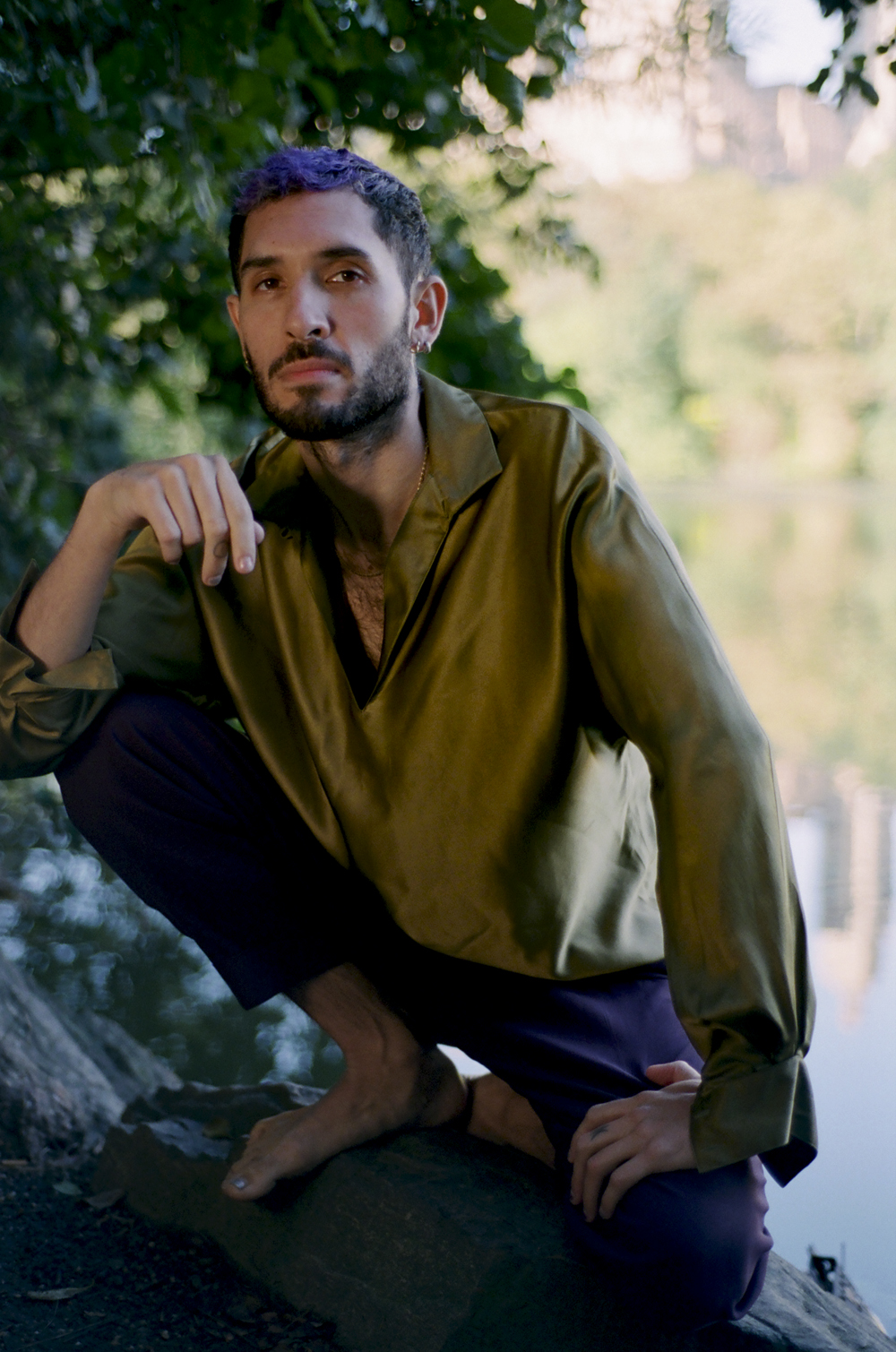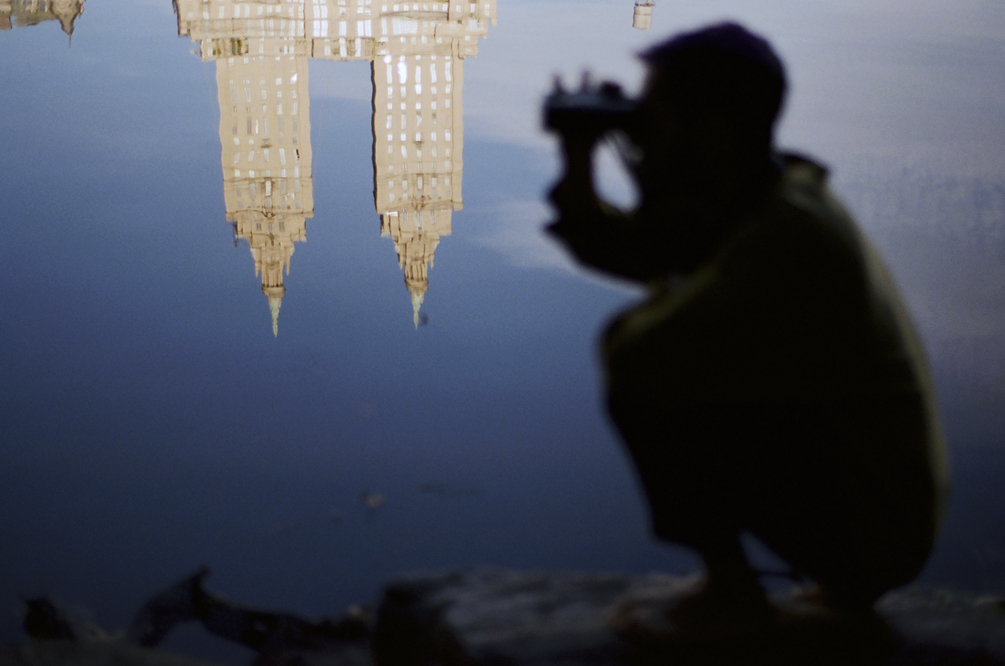 This story was printed in GAYLETTER Issue 13, get a copy here.