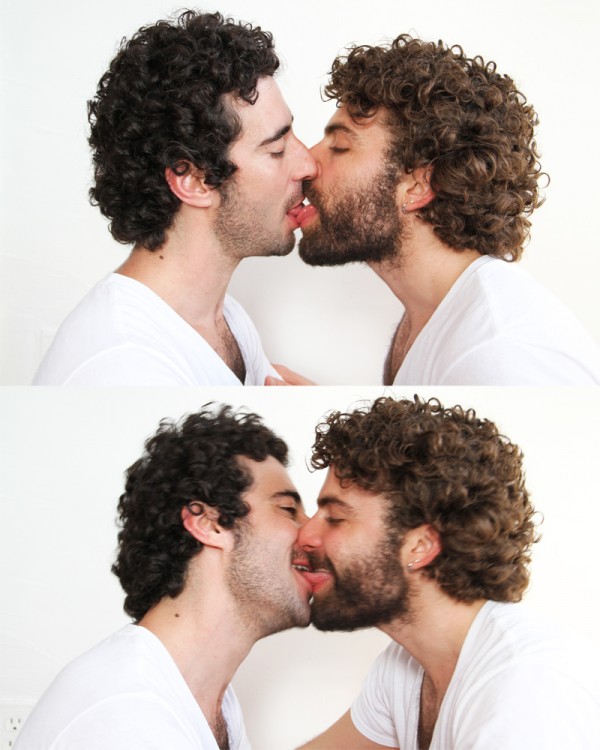 PHOTOGRAPHY BY RUNN SHAYO
Idan Bitton: First Kiss
'First Kiss' is a film project by artist Idan Bitton. It's an 84 minute and 24 second documentation of two men kissing — still camera, white background, no music, no costumes, no bullshit — simplicity at it's simplest. It's truthful and exposed. The kiss is set up like a laboratory experiment, as it's very sterile, very conducted, very organized and straightforward — then magic and science converge, much like the subjects of the piece.
"We shared a very special experience by making this video, which I will cherish forever. He is a good friend and a beautiful artist that is open for new creative experiences. For me, falling in love is a choice — we chose to be in love for 84 minutes, we shared each other's true self and beauty for these moments. The camera just happened to be recording."
Personally, I am amazed at the commitment seen in this work. 84 minutes and 24 seconds is a really long time to have ones tongue down another's throat. I get very excited thinking about where both of their minds wandered off to as they projected an extreme declaration of love. Were they consciously kissing the entire time? I doubt it. I'm sure a lot of self-reflection took place here — self-reflection at the hands of another.
"First Kiss offers a view into an intimate moment between two men. The kiss does not interact with the viewers nor seeks their approval. It just is, alive and present for 84:24 minutes."
YouTube deemed this video inappropriate after only 3 weeks and is now age restricted. Why? Who knows; fear, ignorance, homophobia? As Idan Bitton said — "a kiss is not dangerous to children".
More of Idan Bitton's work can be seen here.