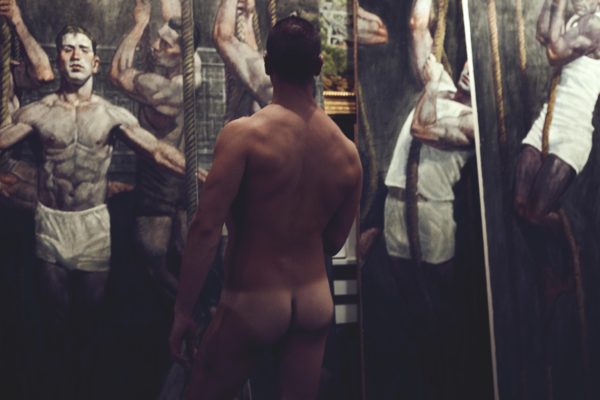 PHOTOGRAPHY BY AARON WILLIAMS
Inside Mark Beard's studio
"My studio is like a stage set of my family's home."
Athleticism, sportsmanship, camaraderie, bromance, love. We show affection and indulge in intimacy in many different ways. Mark Beard, the American artist and noted set designer, has been exploring the myriad dynamics which exist in relationships between men. Most popular are his drafts on paper of the male form and canvases varying in scene, but never without his signature, Adonis-like men.
Mark's work promotes antiquity, employing a saturated palette and details of yesteryear. There are Marines in uniform, wrestlers in singlets, a cohort of guys shirtless and wearing suspenders. Like Thomas Eakins before him, Mark's realism seems to signify that masculinity is inextricably tied to industry. Muscle, grit, competition all are underlying if not major themes. The artist has worked for Abercrombie, American purveyor of hot blondes and juicy pectorals. Mark was fortunate enough to cherry pick his choice of models to draw and paint. The selection of models he uses (most are friends of friends and run in theatre circles) has continued to grow over the years.
With all of the focus around the male form, it was a worth while question to consider how Mark sets about choosing his models, and what is the studio experience like for the artist. "My studio is like a stage set of my family's home," Mark told Elvis Maynard. With photographer Aaron Williams, Elvis attending a private sketching session with model Mic Adilardi to document the artist at work inside of his space. "I used to try and live as a modernist, but it wasn't really me." Mark said.
Along with family heirlooms and art, the artist's studio is a hall of treasures. His model stand belonged to his mentor, the American painter and longtime companion of Virgil Thomson, Maurice Grosser. The stand, which doubled as a coffee table, has been with Mark since Maurice died in 1986. There's also a portrait of Mark himself done by Tennessee Williams.
Mark Beard, Bruce Sargeant: the Lost Murals is up at ClampArt now through November 24th.
See more from the studio visit below.