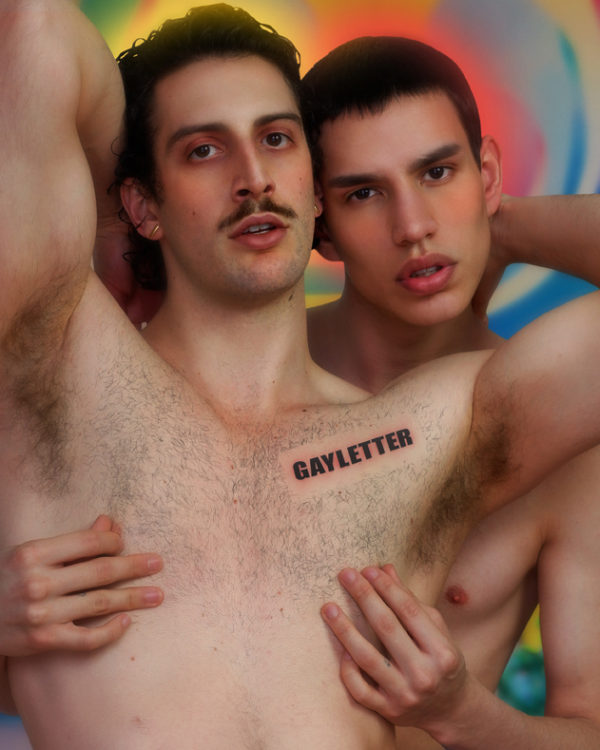 PHOTOGRAPHY BY MICHAEL THE III AND STYLING BY XAVID
Join The Parade
Artist Michael The III and his beau, Xavid, present us with a selection of vibrating looks perfect for our next pride celebration.
What does pride mean to you?
Xavid: Pride to me is when we as the LGBTQ+ community come together as one to face bigots, bullies, politicians, institutions and media who disagree with who we are or want to put us in a box and throw us into the chimney just because we don't fit into their "mould".We are here, loud and proud, to celebrate who we are, who we love and the ride of our life.
Michael: Pride for me, at least this year, has been a time to reflect on the achievements and progress of our community. I'm less interested in rainbows for the sake of rainbows or viewing us all from a distance. I'm interested in learning and educating myself on the individuals who have got us here. And when it's not time to look backwards, Pride is a time to remember that if we aren't throwing bricks, we need to be laying them down on the ground, paving a road for more people to tread, giving more opportunities, empowering more individuals of all types, and making sure it's love that binds each bring together.
What was your thought process behind the looks in Issue 10?
Xavid: I just wanted to have fun, I wanted it to be colourful, vibrant and with a personality that represents how I am as a gender-nonconforming individual. I wanted to exude "flabulousity" from head-to-toe.
Michael: Well Xavid did a great job styling the looks, and my thought process as the photographer was to reflect the mood of the clothing in each scenario; to imagine the clothes as part of the narrative and of course make it gay, queer, fun, everything we love for pride.
What do you look for in a party? 
Xavid: I look for safety: for an environment where we all can get along or and not be bullied so we can enjoy the music and the people that congregate in that space.
Michael: Any great party will have fun music and respectful guests but what I truly look for is a balance between a loud, thumping dance floor and a quiet area where we can talk and hangout with people we normally wouldn't. Sometimes that just means a back alley nearby where we can cool off.
What are qualities you admire in your partner?
Xavid: I admire that Michael can make my stubborn ass flip perspectives and see something in a way I had not before. Also, it doesn't matter how down I may be, he can take me out of my dark hole and bring me up to make me see my worth.
Michael: I think a sense of humour is the best thing to have in a partner and Xavid has that and more! Xavid's lips are iconic but the smile is what melts me. Luckily, I'm very much a water sign so I can handle it, as well as Xavid's abundant sass, unavoidable sensuality and loving sincerity.
Most underrated queen at the moment?
Xavid: Since I was really young La Tigresa del Oriente, a Peruvian star with a flashy sense of style got me really into what garments and fashion could be. People may see her as tacky or too much but to me she's inspiring. She's living her life in her fabulous world (a lot like Valentina does) and that is why I consider her to be an underrated queen that not a lot of people give credit to. She may not be a drag queen, but she is a queen in drag.
Michael: I suppose it isn't correct to say a queen who has won RuPaul's Drag Race who was invited to the MET Gala and who is known for consistent slayage is underrated but until Violet Chachki covers Vogue, I'm going to say she's underrated.
Favorite phallic food?
Xavid: Butternut squash, because I love how thick it is.
Michael: It's got to be bananas. Sometimes, I just peel back an uncut banana and look at it and wonder: WOW, how is something so perfect? How are you soft but not wet, firm but not hard, with such a warm, comforting flavour that is also rather unassuming and humble. Bananas are the best. "Banana" was also my first word, so there's that.
Underrated trend at the moment?
Xavid: Being yourself. Nowadays we get caught up on social media comparing ourselves to others but we might not be paying attention to who we really want to be. Is it because we just see something all over the internet, being sponsored, that we love it, or do we have a chip in our mind that we need to achieve someone's level to feel better about ourselves? So the underrated trend to me is being yourself for you.
Michael: Hearing new voices, hearing old voices who never got a chance to be heard, seeing new stories, finding new ideas … I think an underrated trend in this internet age is self-education. People do it all the time but it's not always conscious. With the amount of information out there, we can become experts in almost anything and I love when people tell me things they never knew before (that I surely didn't).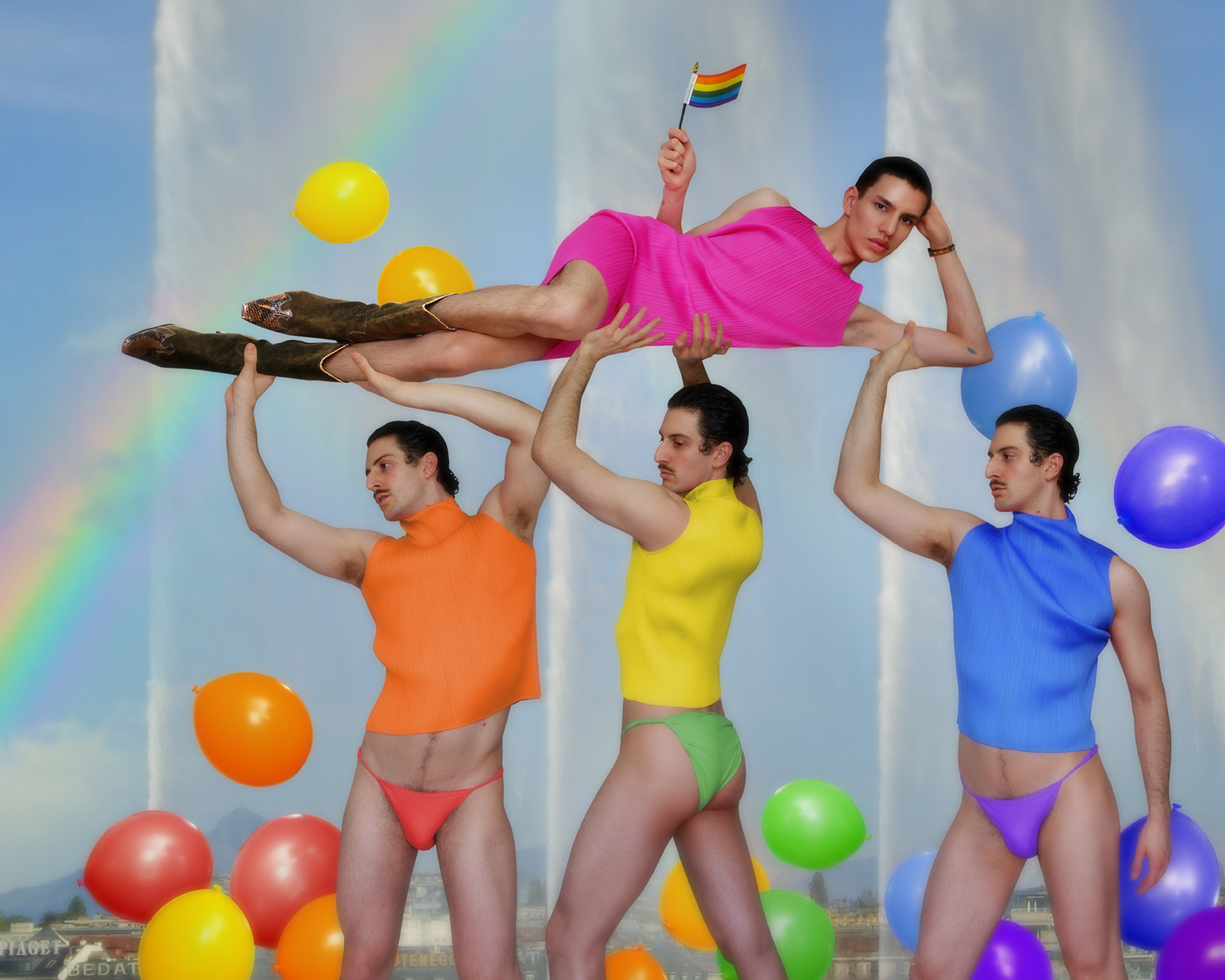 XAVID WEARS DRESS, SLEEVELESS TURTLENECK BY ISSEY MIYAKE, VINTAGE BOOTS BY PRADA, MICHAEL WEARS HIS OWN BRIEFS.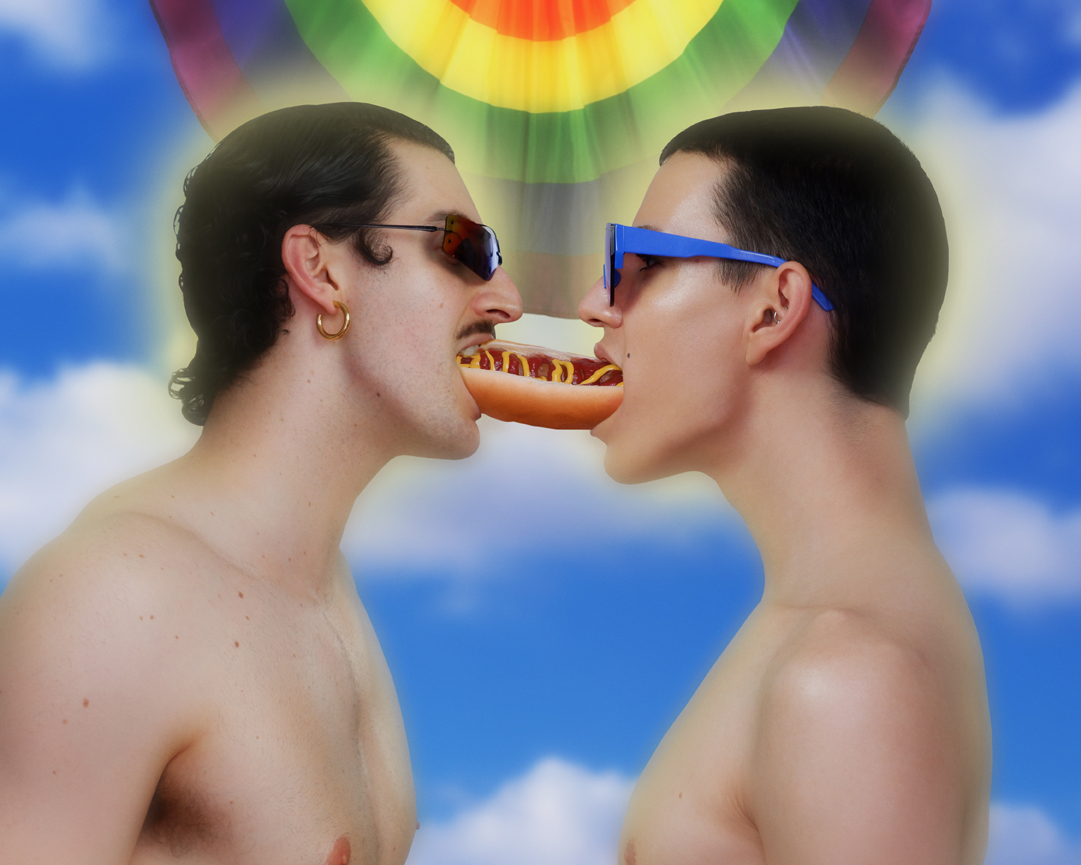 MICHAEL WEARS SUNGLASSES BY PRADA, EARRINGS BY SOPHIE BUHAI, XAVID WEARS SUNGLASSES BY BALENCIAGA.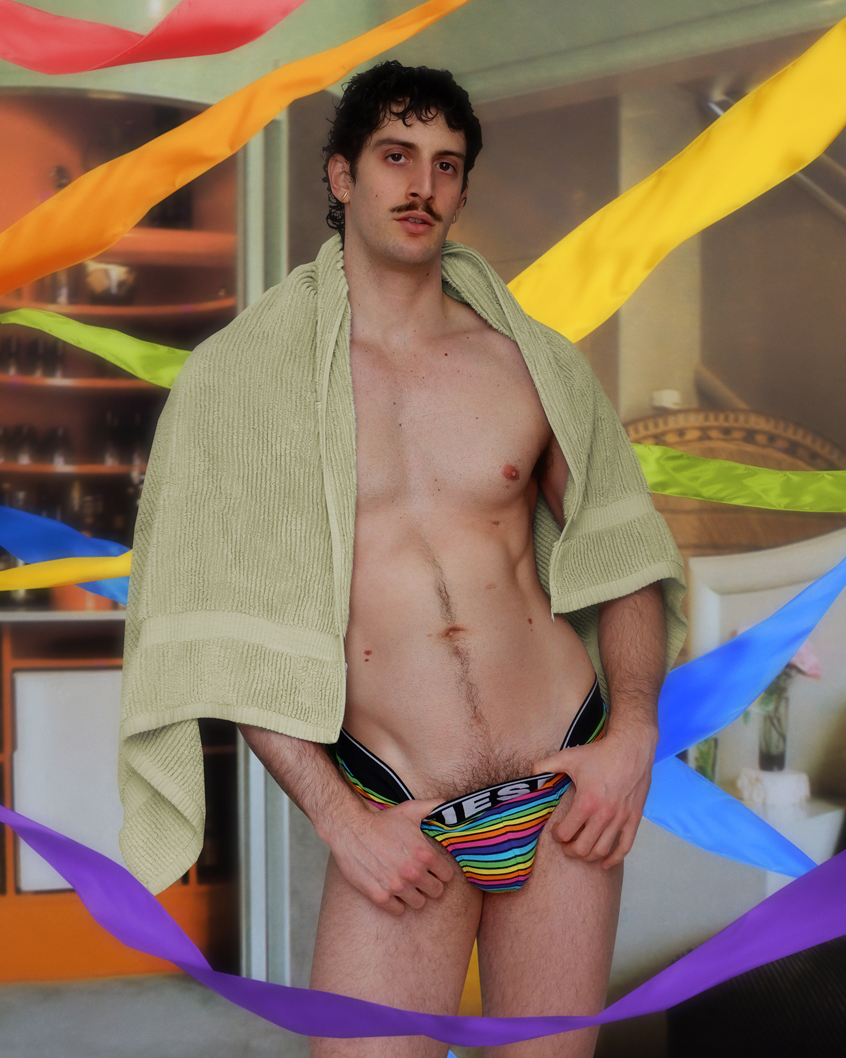 MICHAEL WEARS THONG BY DIESEL.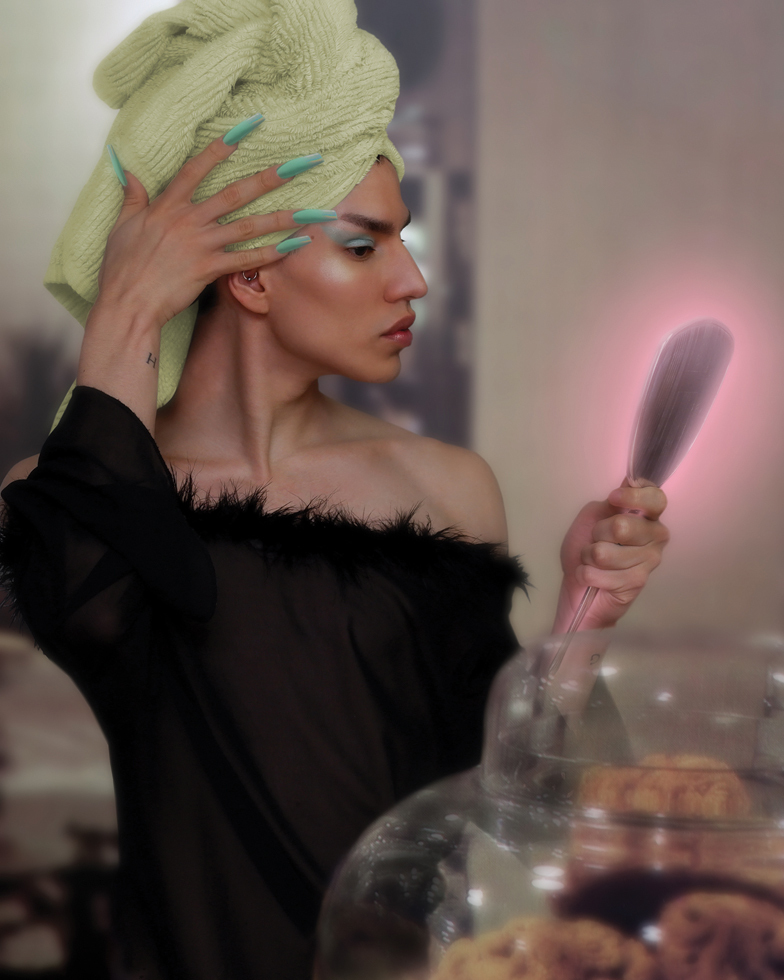 XAVID WEARS VINTAGE FEATHER CAMISOLE.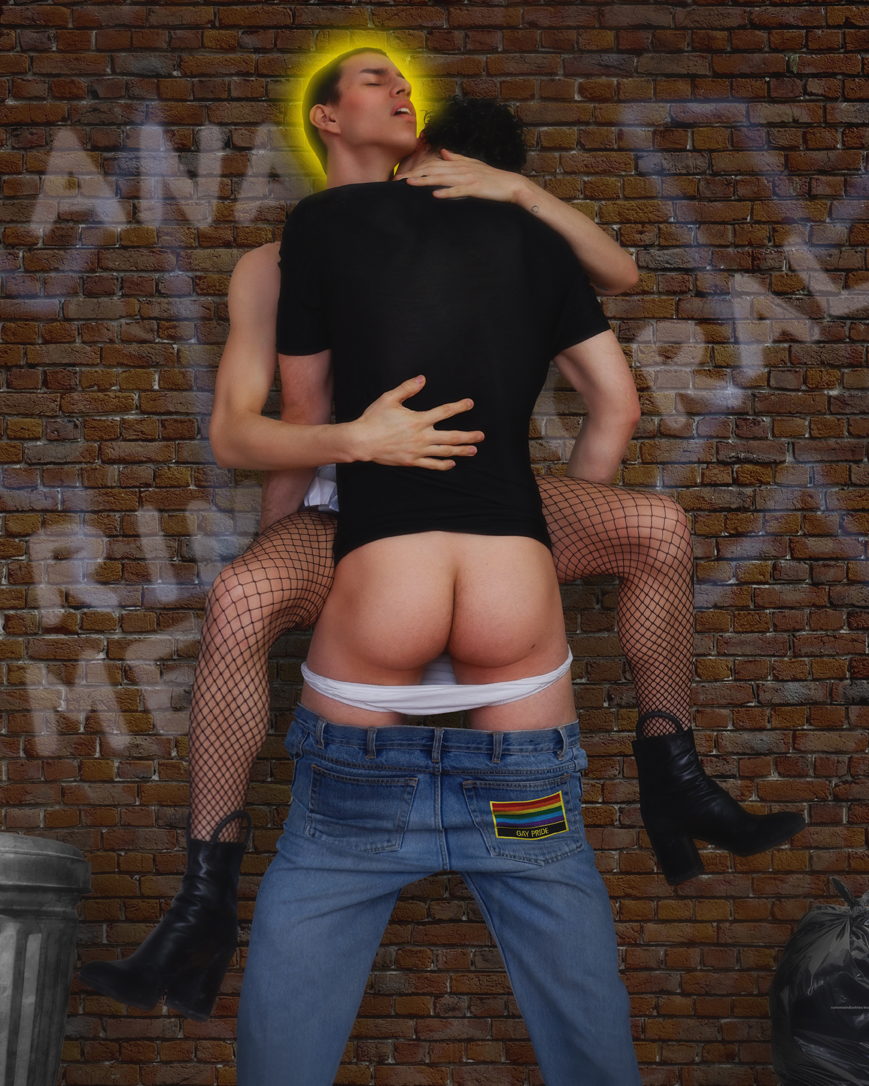 XAVID WEARS BOOTS BY RANDOM IDENTITIES. MICHAEL WEARS HIS OWN CUSTOMIZED PRIDE DENIM.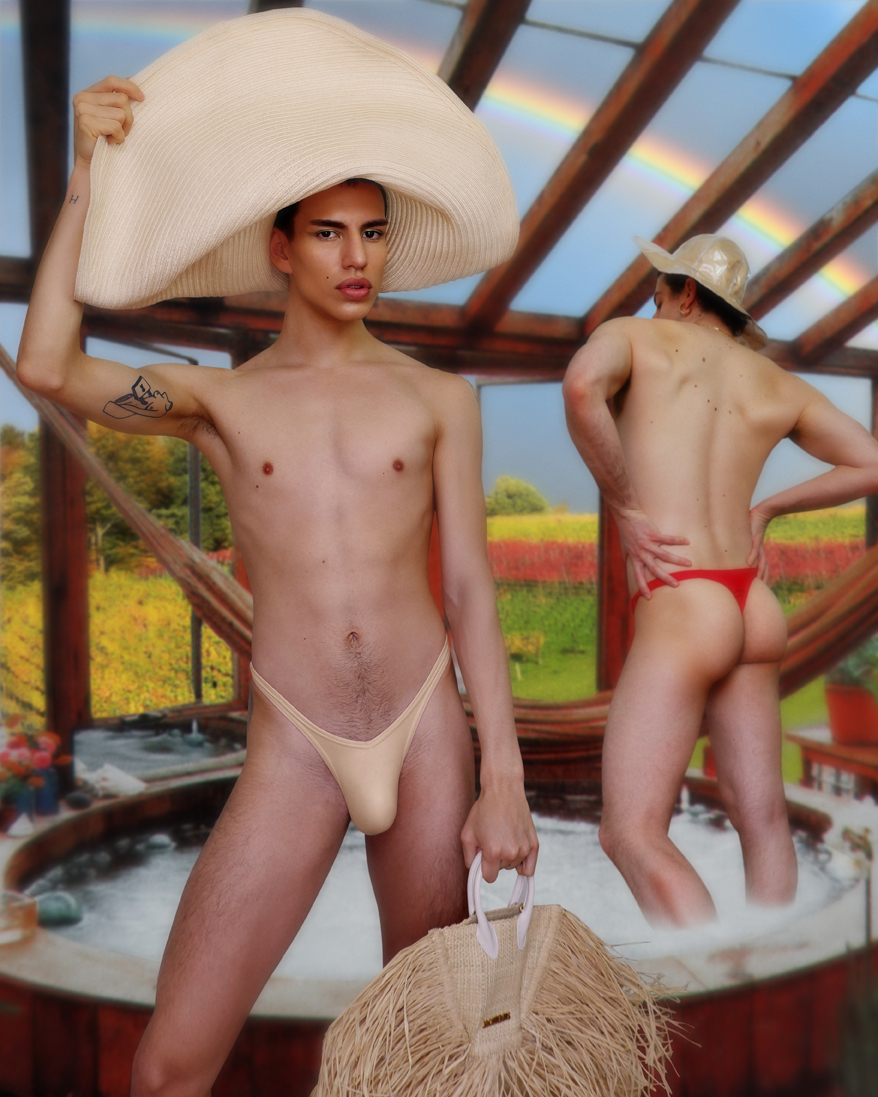 XAVID WEARS HAT AND POUCH BY JACQUEMUS. MICHAEL WEARS HAT BY COMME DES GARÇONS.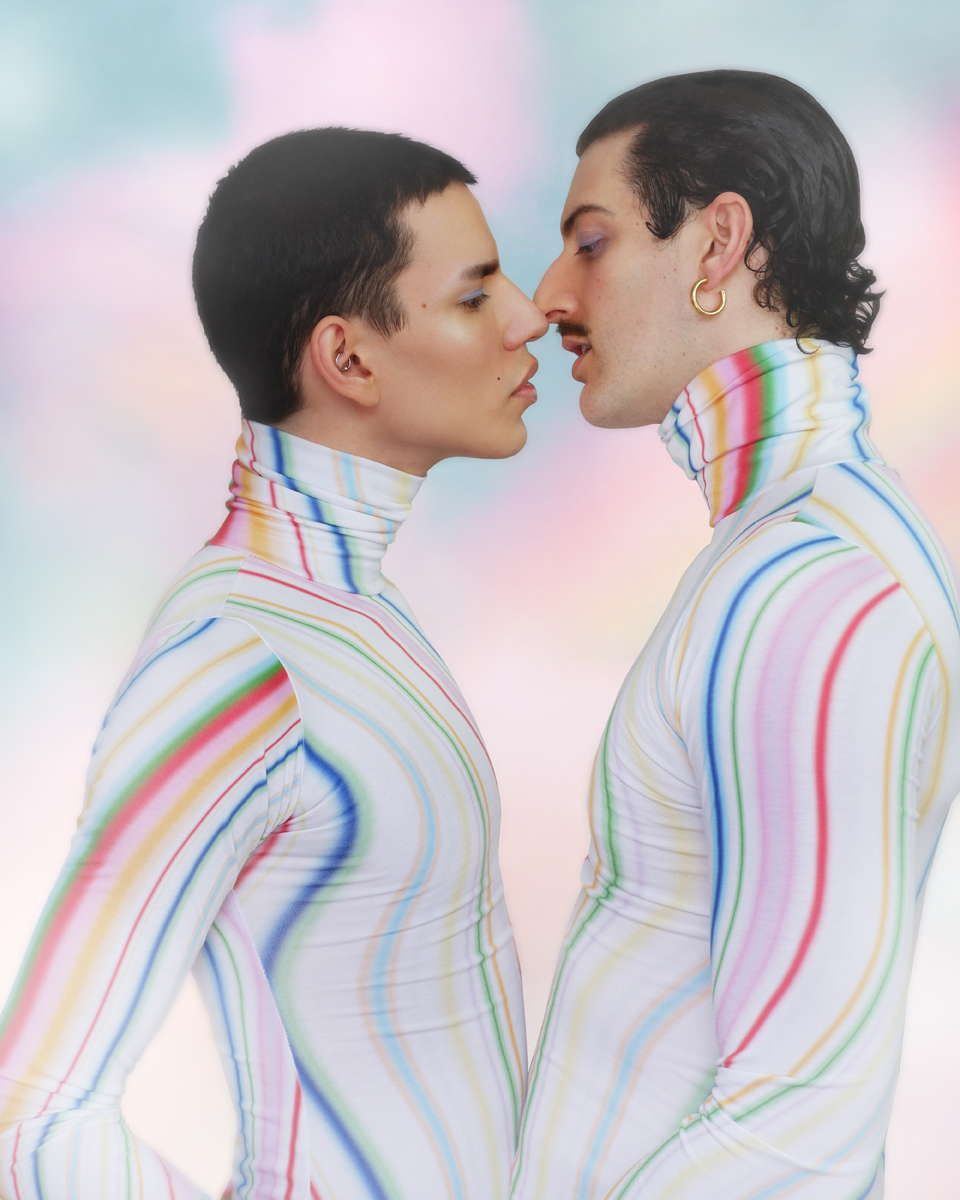 MICAHEL AND XAVID WEAR SSENSE TURTLENECK BY LECAVALIER, MICHAEL WEARS EARRINGS BY SOPHIE BUHAI.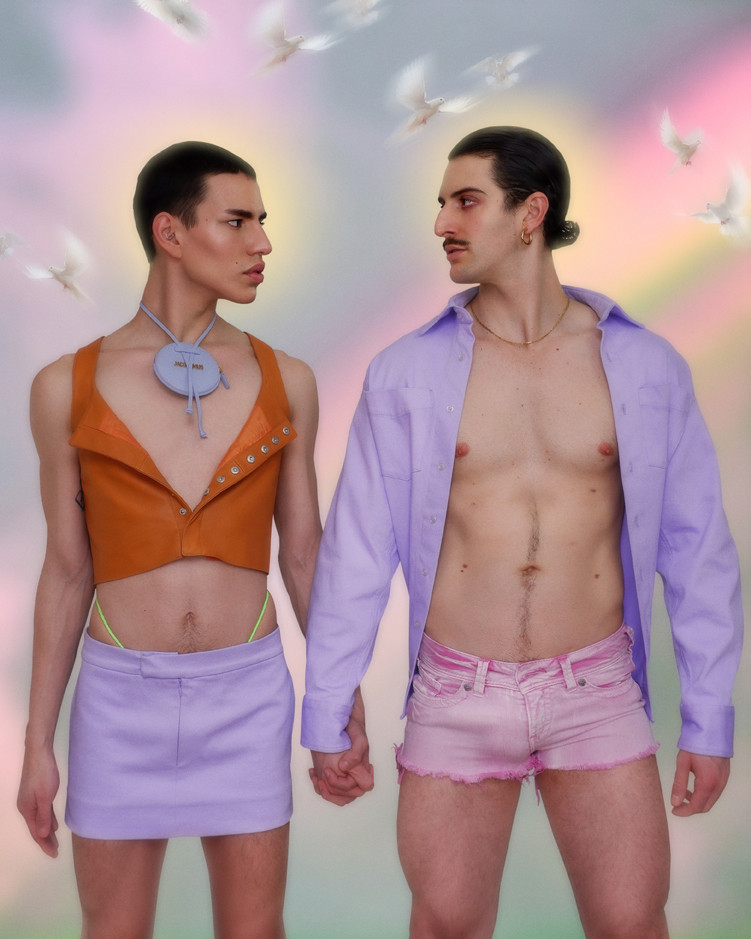 XAVID WEARS COIN POUCH BY JACQUEMUS, TOP AND SKIRT BY MONTHLY PAYMENT. MICHAEL WEARS HIS OWN SHORT SHORTS, SHIRT BY MONTHLY PAYMENT, EARRINGS BY SOPHIE BUHAI.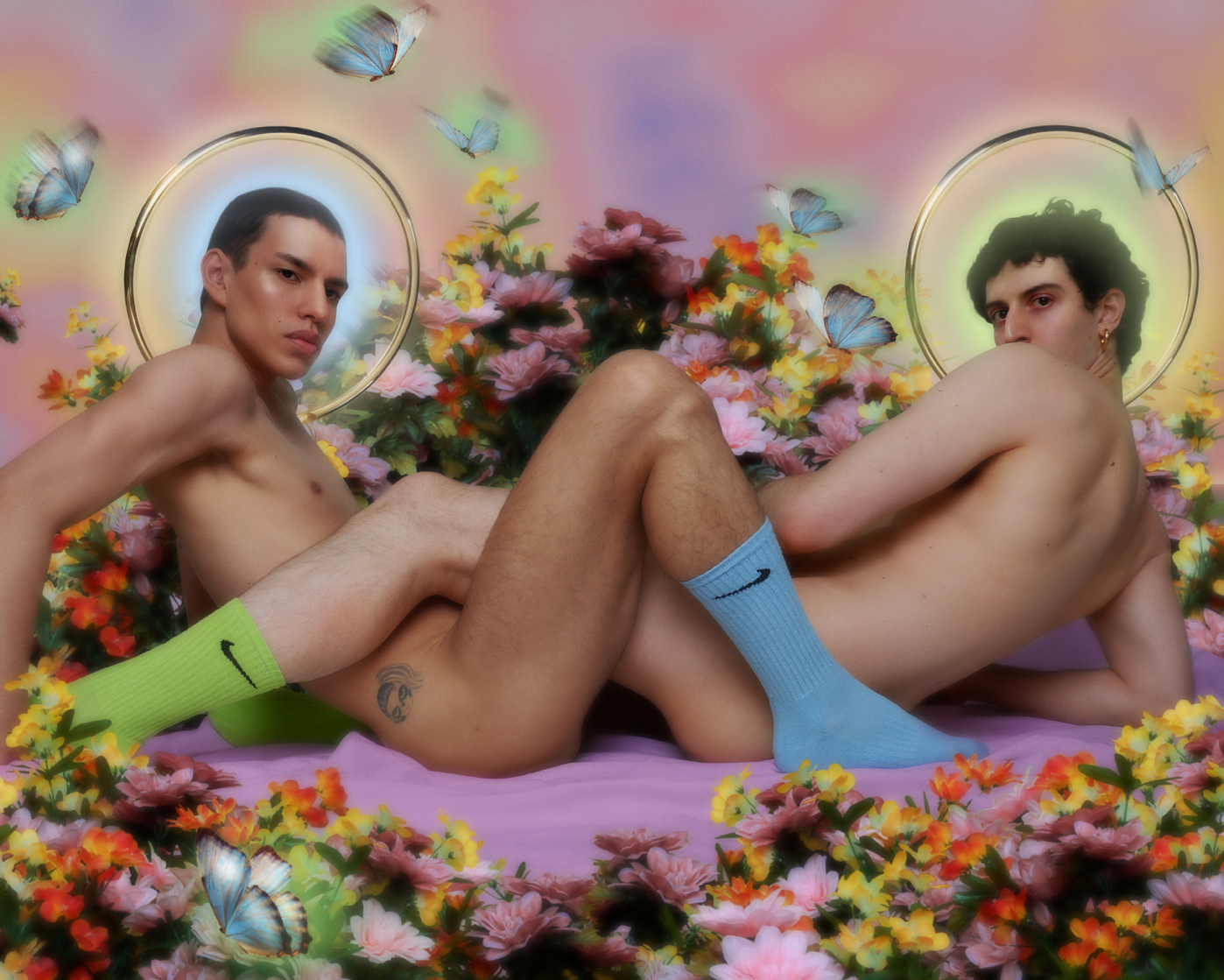 MICHAEL AND XAVID BOTH WEAR NIKE EDITION SOCKS BY ERL.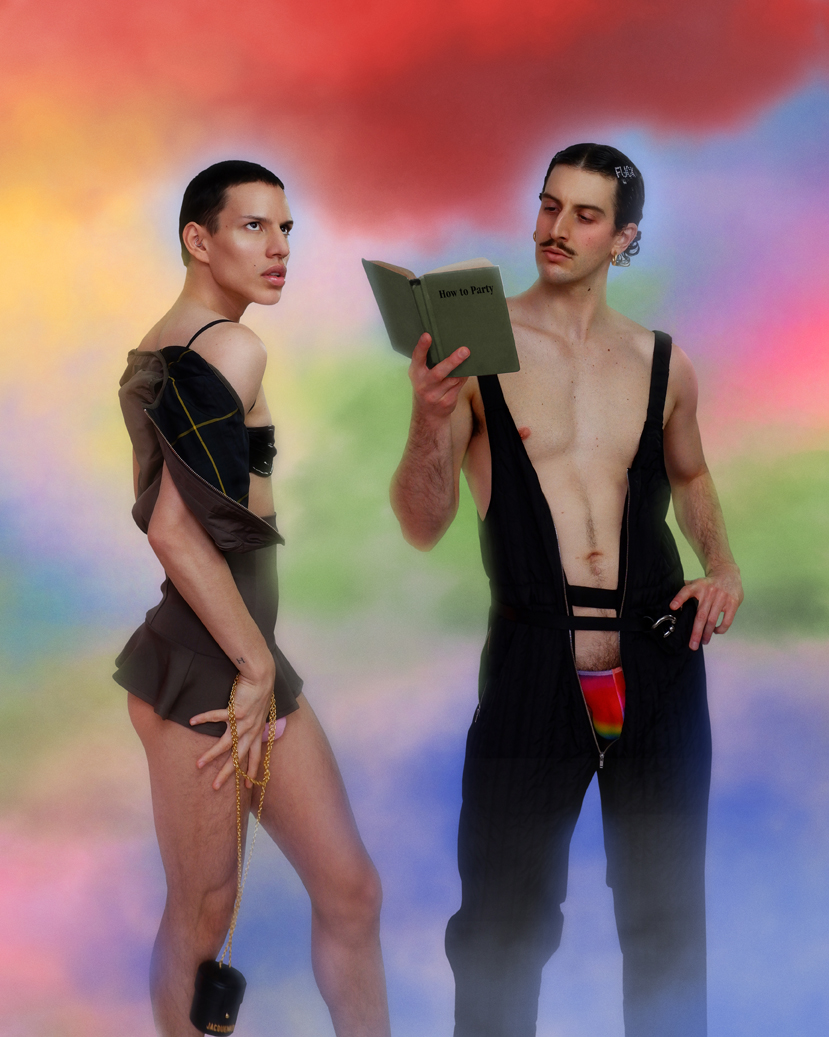 XAVID WEARS VEST, BELTS BY RANDOM IDENTITIES, BAG BY JACQUEMUS. MICHAEL WEARS JUMPSUIT BY RANDOM IDENTITIES, HAIR CLIPS BY ASHLEY WILLIAMS.