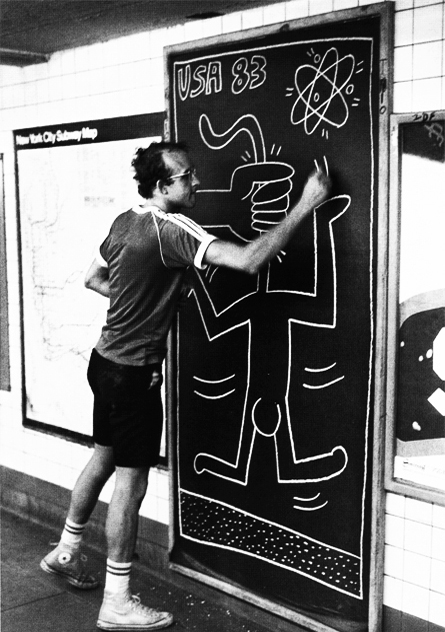 Keith Haring: 31 Subway Drawings
A collection of subway chalk drawings from the '80s.
Although the commute from Brooklyn to New York City is suffocatingly long and the path from the L train to the 2, 3 at 14th St. is unexpectedly steep (literally climbing up that mountain everyday), I get a lot of pleasure from all the drawings scribbled on top of subway station ads. Most of the time it's someone blacking out the eyes of a reality-TV star, making her look demonic or adding a thought bubble that is entirely inappropriate for children.
Back in the early 80s, there was a different type of subway art emerging from the bowels of NYC. Keith Haring: 31 Subway Drawings (Art Issue Editions, $50.00) is an amazing compilation of chalk subway drawings produced from 1980 to 1985. "Haring's drawings now exist solely in the posterity of myth. Because they were not meant to last…" The drawings themselves are intriguing, but when seen in photos (by Tseng Kwong Chi) they take on a fascinating historical context — juxtaposed with subway ads from the era, and commuters going about their business.
Not only does the book highlight the various "underground" works of Keith Haring, but also reveals to the modern viewer how these different forms of subway art aren't just child's play.
My perception of subway art has changed since reading the book, and I'm making sure to document it whenever it catches my eye, or makes me smile.