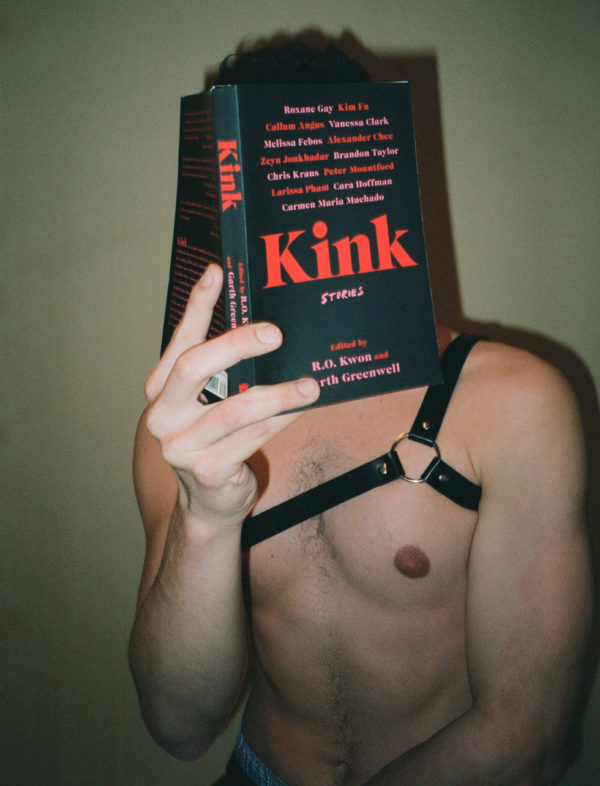 PHOTOGRAPHY BY ABI BENITEZ
KINK: Stories
Slapping, bruising, and bleeding love in a new anthology
In an ambitious new anthology, Kink, edited by R.O. Kwon and Garth Greenwell, prominent American authors like Alexander Chee, Chris Kraus, Roxane Gay and Brandon Taylor investigate sexual kinks and fetishes along with several other writers from diverse backgrounds. Each story is its own individual achievement, some better than others, but presented together, the anthology makes a strong claim for marginalized literature's commercial potential.
Kink leaves little up to the imagination. The characters are slapped, they're bruised, they bleed. As you read, keep in mind that kink, or BDSM, is built on trust, and "play," as it is coined by the fetish community, is practiced with specific language and symbols. It's important to remember that each participant has a "safeword" (used when someone no longer feels safe, physically or emotionally, inside of the scene) available to use at any time. "Are you okay, Jihyun?" a man asks his wife. "Is this what you want?" He, a newcomer to play, speaks for squeamish people everywhere. While reading, at times I too I searched for my own safeword. Things I never found unsettling now made me wince, like spitting into someone's mouth. For the reader more accustomed to kink, there are exciting moments of degradation, but for those unaccustomed, be prepared for shock and awe. The anthology, through writing that is controlled as much as it is unhinged, is filled with emotional manipulations and physical contortions. Each writer drums up their most serious literary postures, from realism to Gothic, to try and maintain the delicate subject matter.
The anthology's strongest moments are when characters have psychic breakthroughs. After denying herself time and time again, the narrator of Melissa Febos' "The Cure" climaxes the way she wants, and when she comes, she gets closer to herself. "Her not caring was voluptuous, sensual. It was a most substantial absence. It filled her like a good meal." she says. Unfortunately, the payoff is only begotten by forgoing the narrator's lesbianism and fucking "the last man she will ever fuck" in a bout of heterosexual conditioning. Situational modifications are a recurrence for the narrators throughout Kink. After all, kink does require one to play a version of themselves, and this is something queer people are often particularly good at. Perhaps true to life, in the anthology, the queers routinely receive the short end of the stick. In "Oh, Youth" by Brandon Taylor, a summer ménage à trois ends abruptly when love enters the arrangement. Grisha, a young architect, is asked to leave because Victor, Enid's husband, does in fact love him, so he is paid off, and banished immediately from the glitzy summer lodgings, departing without collecting any of his personal belongings. It's a decidedly queer ending to an otherwise well-rendered story. Queer people often see the world behind their own designs, making reality much more of a shock to the system when things don't work out quite right.
The queer characters are pushed to their limits most often, and are the only ones who have to use their safewords. And the queer characters are emotionally stagnant, more than once seen limping from their own narratives without love, and far from pleasure. The heterosexual relationships in the anthology are less tortuous to read, but they are even more flat. Though there are some standout exceptions.
One of the anthology's better examples of heterosexual play is Chris Kraus' "Emotional Technologies." "There is no experimental theatre in sadomasochism," the narrator explains. "Character is completely preordained and circumscribed. You're only either top or bottom. There isn't any room for innovation in these roles." Kraus, a master of literary self-fashioning, has made a literary career out of interrogating precarious romantic circumstances, and she has no problem intellectualizing her narrator's own interest in kink. Other characters, and other writers, have a much harder time doing so, and their writing pales in comparison. Reading someone like Kraus makes it clear which of these writers are tops, and which are bottoms.
Carmen Maria Machado is a top, and her "The Lost Performance of the High Priestess of the Temple of Horror" is the anthology's best. The gothic tale, set in gritty Paris, turns lust into trick theatre. Bess, a young girl, gets caught up with Maxa, an avant-garde performer who goes on stage and endures physical violence. None of it is real — she's stabbed with a trick blade, the blood is syrup — but Maxa's ability to emotionally manipulate her audience is certainly real. In graphic displays of body horror and personal sabotage, Maxa dominates the emotional arc of the story, forcing us to witness the myriad violence women experience regularly in their public and private lives. "But for women, gore was a unit of measurement: monthly cycles, the egg-white slip of arousal, the blood of virginity stolen through force of hand or the force of law[.]" Maxa's experience on stage is a physical manifestation of how society treats women. How readers respond to that violence have the potential to inform them about their own kinks.
Kink is stimulating for the mind and body, but like sex with the wrong people, it's boring at times. Too often, arousal is strung together with verbs and prepositions, making very different BDSM scenes sound very much the same. The want of her is not altogether different from the whole of him when read in succession. BDSM has a series of postures and positions, but that shouldn't mean the writing should wear a uniform. If BDSM writing continues to commercialize, I would hope it looks to its past, where the subject matter is frozen in time, but the writing continues to seem fresh. France has a wonderful tradition of BDSM literature. Look no further than Marquis de Sade, but also Herve Guibert's Crazy for Vincent and Anne Garréta Sphinx as good examples of how a writer might contort desire into a BDSM scene with writing that is stylish or experiments with structure. Guibert and Garréta's narrators deal with their romantic obsessions with pleasure at first, but that soon slips into writhing, mortal pain.
It may not aspire to commercial success, as the anthology's introduction notes, but in the years to come, Kink will be remembered as one. At the time of this writing, it has gone into its second printing just a month after its national release. Unfortunately what won't change is what was missed: The chameleonic experience of reading profound literature, or having great sex. Alas, Kink will continue to remind readers that everyone has needs that aren't being met, but it's important to remember that that can be changed.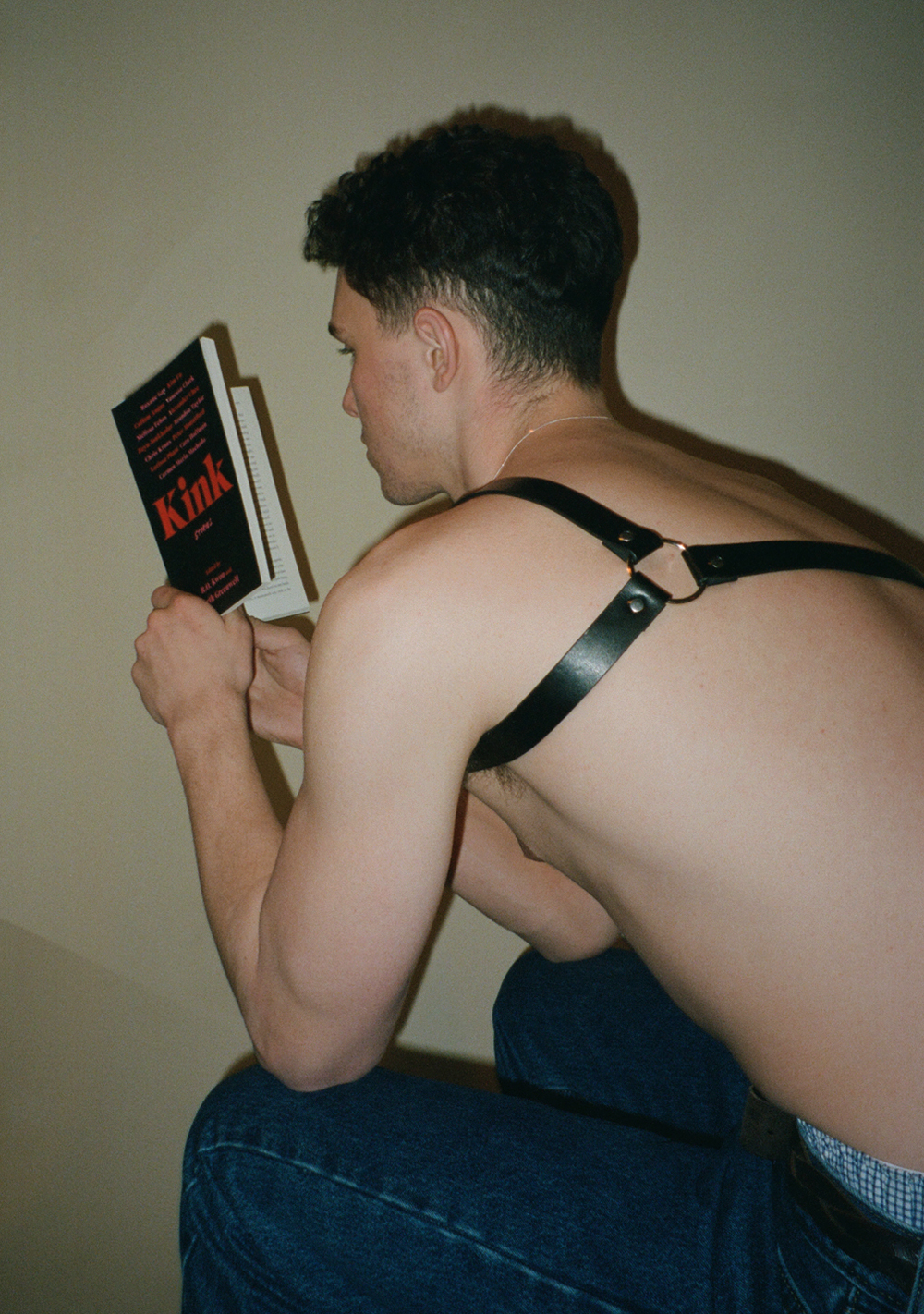 Kink: Stories. Edited by R.O. Kwon and Garth Greenwell, 288 pgs.