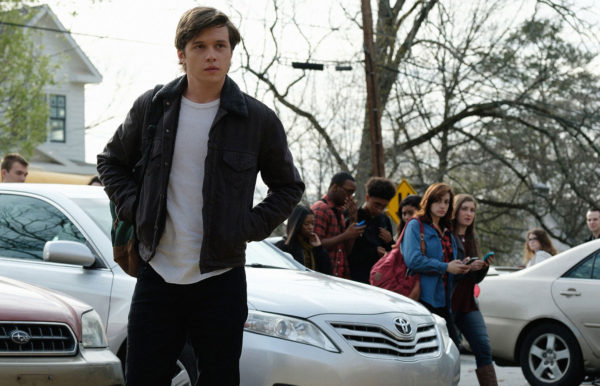 Nick Robinson stars as Simon in Twentieth Century Fox's LOVE, SIMON. Photo: Ben Rothstein.
Love, Simon
Free of shame, funny as hell and the first of its kind.
LGBTQ-films are usually produced by indie-studios, and appeal to critics' taste because of directors' choices or actors' portrayals. Because of the marginalized context, LGBTQ-narratives are a great lens for finer aesthetics. There aren't any beautiful landscape shots in Love, Simon, and the camera doesn't really linger in any scene, which makes the $17 million dollar 20th Century Fox production seem more like John Hughes' Sixteen Candles rather than Luca Guadagnino's Call Me By Your Name. Rather unconcerned with aesthetics in general, Love, Simon sets just one goal: Get the title character the love story he deserves.
At its core, the film is another big-budget teenage romance. Directed by Greg Berlanti and adapted from Becky Albertalli's Simon vs. the Homo Sapiens' Agenda, the film follows Simon Spier (the bucolic Nick Robinson) and his group of close friends in an affluent suburb of Atlanta. We begin with Simon discovering a Craigslist-like posting that results in emailing Blue, another closeted-student at Creekwood High School. Most gay men watching will revel in the glory of chasing anonymous men online considering some of us are doing just that every day, but Love, Simon isn't caught up in the throes of subversive desire. It's PG-13 realness. There isn't any back-alley cruising; no quick cuts of naked, damp flesh. Simon only says "Fuck" once, and he's really mad. He's like Sam in A Cinderella Story —  uninterested in eroticism but desperate for companionship. The film is 100 percent family friendly (as are most films that co-star Jennifer Garner) and that's what makes it profound.
After leaving his email open in the school library, Simon's blackmailed by Martin — a bratty-faced peer — who holds Simon's correspondence with Blue hostage in exchange for a date with Abby, Simon's close friend. Like every other gay teenager, Simon goes to great lengths to keep Martin from exposing his sexuality and in the process ends up trying his hand at a few gay stereotypes, which is fun to watch. He plays matchmaker, is a fashion consultant, then a troublemaker, and of course he solves everyone else's problems.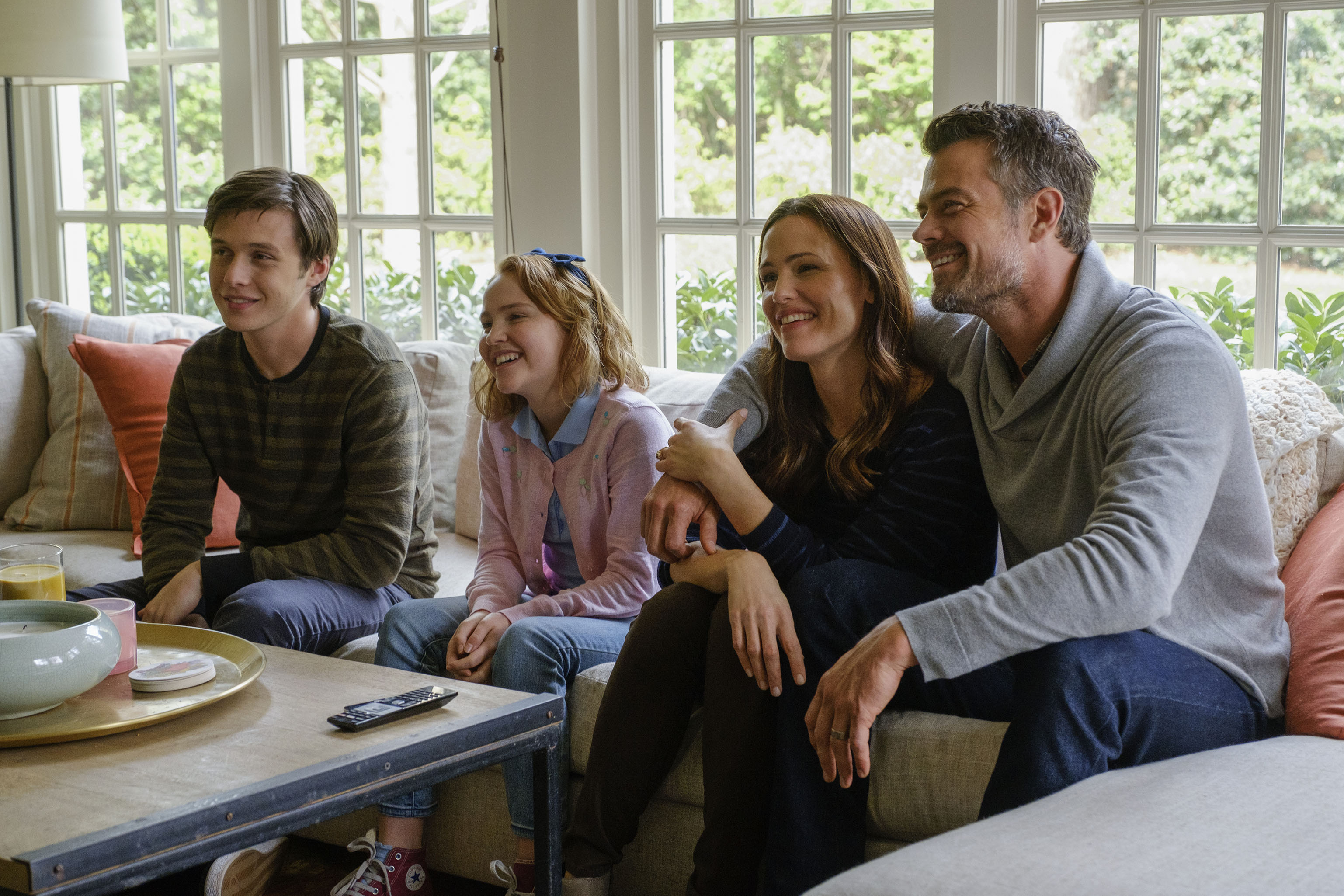 Nick Robinson (Simon), Talitha Bateman (Nora), Jennifer Garner (Emily), and Josh Duhamel (Jack) star in Twentieth Century Fox's LOVE, SIMON. Photo: Ben Rothstein.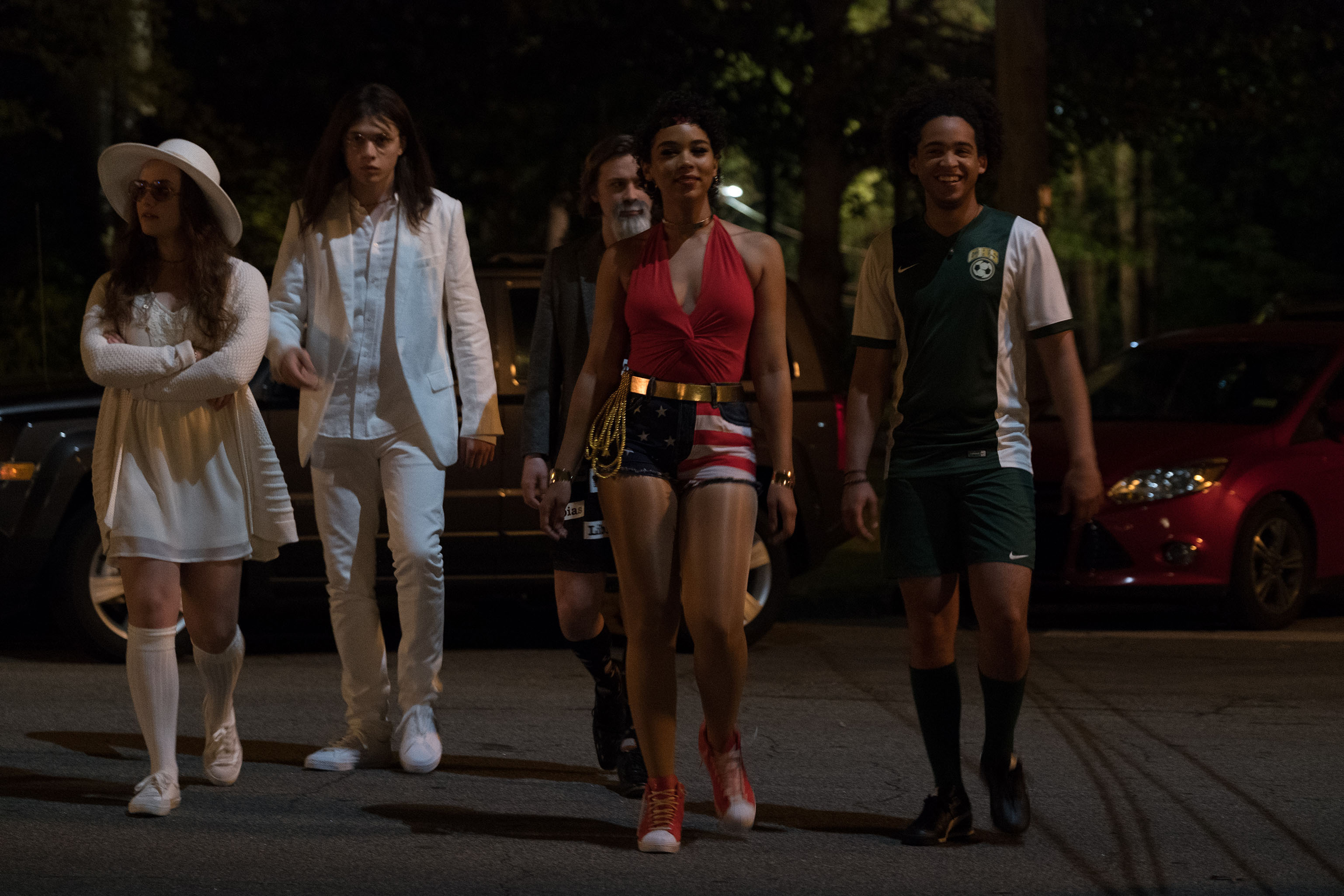 Katherine Langford (Leah), Nick Robinson (Simon), Logan Miller (Martin), Alexandra Shipp (Abby), and Jorge Lendeborg (Nick) star in Twentieth Century Fox's LOVE, SIMON. Photo: Ben Rothstein.
Some people creak their closet door open. I kind of punched a hole in mine. But unfortunately, Simon has his kicked down. His climatic coming out happens online, and he's not even present for it. Anyone who's fallen victim to online-hate will watch in horror as Simon's phone buzzes with incoming messages: "Hey bud, you OK?" "Can we talk?" "Simon, call me back." Instead of going to great lengths cinematically, Berlanti suggests, by keeping the focus on the phone and computer screen, that being outed can be as shocking as reading a terrible headline. The scene feels very familiar. Yet, what happens next revolutionizes coming-out narratives. Nora (Simon's younger sister, and a fabulous caricature of the modern school-girl who bakes for the whole family) comes into his room confessing she's seen the whole thing unfold and has reported it to the forum admin to take it down. "You could deny it," she suggests. Simon at this point has had his palm practically glued to his forehead in distress, but looks up at her and asks earnestly, "And why would I do that?" With that, a gay hero is born.
Maybe Love, Simon is working within the limitations of the closet, but the film itself transcends oppressive boundaries set up for homosexuals in society and inside film. Coming out is not a new idea, but gay characters have only been around for the last half-century. Only now, with Love, Simon, has a major studio picked up a film that focuses on a gay main character, making this the first of its kind in this new It Gets Better genre.
What is fabulous about Love, Simon is that rather than watching him fight to stay in the closet, you want to help Simon free himself from it. And so you're become a part of his liberation too. Maybe the film's not shot on 35mm, or hazy with lyrical subtext, but the joy of watching a young gay man take his historically oppressive situation and turn it into an act of power will forever make this a radical film. I can see gay boys across the nation taking Simon's taste — for fashion, for boys ("I kept having this reoccurring dream about Daniel Radcliffe"), for coffee with milk — and claiming it for their own. Lucky for them, and for us gays who have been out, Berlanti has created a film as pure as they come. It's free of shame, it's funny as hell, and it has a very happy ending.