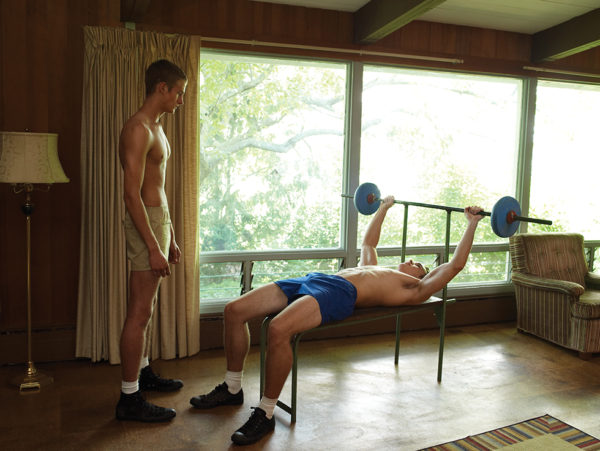 All images courtesy of ClampArt, New York City.
Luke Smalley – Exercise at Home
It has been 10 years since Luke Smalley created this body of work, and ClampArt gallery is celebrating the artists' latest exhibition titled "Luke Smalley (1955-2009) | Exercise at Home" opening on Thursday, November 29. Luke left behind an amazing oeuvre of photographic media before his early passing at the age of 53.
I have been a huge fan of Luke's work since I discovered some of his photos on Tumblr years ago, and I almost lost my mind when I saw his book "Gymnasium" back in 2004. Luke's work has been the inspiration of many fashion photo shoots. Often, I'll see a clear reference to his imagery and give him credit in my mind. In fact, his photos have been on a few of GAYLETTER's mood boards over the years. His work is so timeless and elegant; it keeps me looking back again and again.
"Exercise at Home" premiered in exhibitions on both the East and West Coasts in 2008, coinciding with the release of a second Twin Palms publication — the artist's third book. "It followed "Gymnasium" in its themes of "adolescent growing pains acted out under the guise of earnest athleticism."
Here's a preview of some of the work that will be on display at the exhibition. It runs through January 19, 2019.