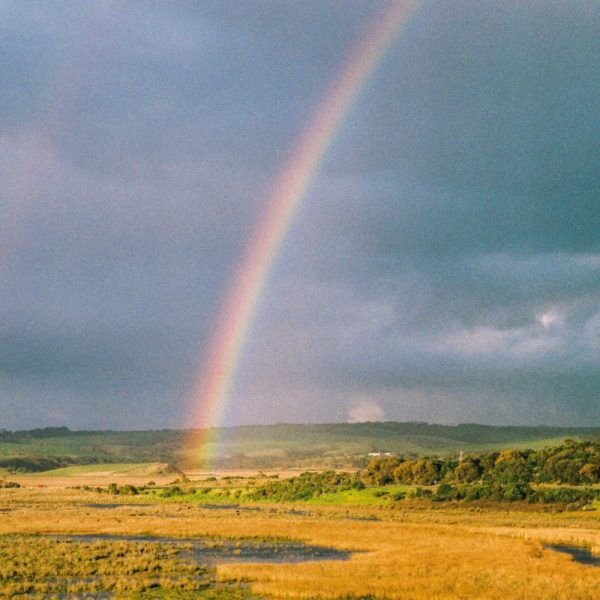 ep's artwork
MALLRAT – IN THE SKY
"It's not a bird, or a tree, it's a Mallrat with wings."
19-year-old Grace Shaw, performing under the name Mallrat has been harnessing her growing hype, from opening for Post Malone in Australia, then catching a wave, crashing in  Brisbane, and eventually finding herself at SXSW. And now, she's released her second EP, In the Sky (Nettwerk Music Group Inc).
Following 2016's Uninvited (2016), Mallrat builds on her ennui-laden pop style, though she has ditched some of the teenage exuberance from Uninvited for an atmosphere that's a bit more threatened — a bit darker, and more fevered. At the same time, however, she's grown surer of herself. She is never lost in the EP's exacting, hypnotic, and glowing production, and at times the immediacy of her voice is almost confrontational as on the chorus of the album closer, "Make Time" where she sings "I hope you'll be home real soon / It's getting dark and getting cold / I'm getting tired, you're getting old." Her songwriting is a bit like an early Lily Allen on "Groceries" ("Really sorry about your broken heart / I'm trying to walk on broken glass.")  Not just because of her pronounced Australian accent, but also by her sharp and detail-driven lyricism, her penchant for unexpected polysyllabic rhymes, and her agile, not-quite-rapping flow through fragmented beats.
Throughout In the Sky, she articulates the strange sort of self-death that takes place as one succeeds beyond the limits of their circumstances. With a painfully wrought honesty reminiscent of Lorde's Pure Heroine, Mallrat both begs for her rapture and aches not to lose the love she's known. She beseeches the stars for an abduction in a homebound UFO, searching the sky for a power beyond the clouds, looking for some being to reanimate her travel-worn world. She faces both forwards and backwards at once, her hopeful notes darkened in nearly every case by a felt knowledge of the cut ties that make this future possible.
Like any child of the Internet, Mallrat knows that a camera and a microphone can summon a global audience, and she sure as hell seems ready to meet it. If nothing else, In the Sky proves that the excellence of Uninvited (and especially "For Real," one of the best pop songs in recent memory) was no fluke. There's little doubt here that her debut album will be one of note. In the meanwhile, check out the music video for "Better"— where, in one scene, she dons thigh-high silver-sequined boots to chill in a trailer park. See the video below!