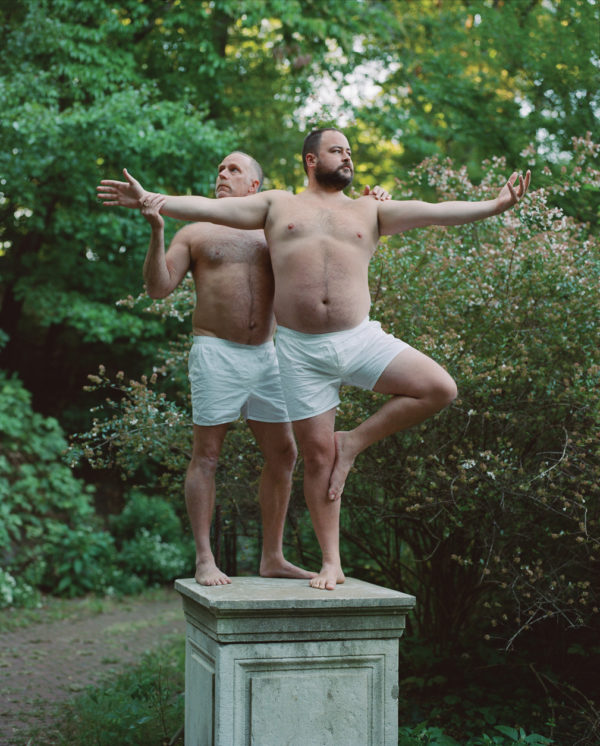 PHOTOGRAPHY BY MALIK DUPREE
MAN ON MAN
Roddy Bottum and Joey Holman are the musical duo MAN ON MAN. The two started dating 14 months ago and during quarantine this past spring, they began working on an album together, due out early 2021, they have already released two singles, "Daddy" and "Baby You're My Everything." Both songs are gorgeous odes to man-on-man love and lust.
"Daddy" is a thumping, melodic rock song made for moving your body, while "Baby You're My Everything" is slower in tempo and golden-toned — it's made for smoking weed and cuddling with a lover. The music video for "Baby You're My Everything" features Roddy and Joey in khakis and casual button-down shirts, meditatively wandering hand-in-hand in the desert. They eventually make it to a river where Roddy baptizes Joey by spitting in his mouth and then dipping him under the water.
Roddy has been creating music for decades. During the '90s he was the keyboardist for the massively popular rock group Faith No More. Joey has been playing music for some time, but is newer to the industry. MAN ON MAN was born out of necessity. Both men had recently lost a parent, and their answer to the grief that was all around them was to get busy. The restrictions OF quarantine only fueled their creativity: "As queer people, we work well with parameters. The history of our culture is judgement and homophobia that we've had to work around for our whole lives."
How did you two meet?
Roddy Bottum: We met in New York. We're both musicians. I think Joey reached out to me on Instagram and was asking about a song that my band, Imperial Teen, had written.
Joey Holman: He also has a band called Nasty Band that was opening up for Christeene, and I was going to that show so I was like, "Let's meet up, I'll be around." Then we just kind of stayed in touch. We talked about everything. There was stuff going on with my mom at the time. My mom passed away last September. It was May, four months before that happened and there was a lot of heaviness around that…He had lost his dad a while ago and I think we hit it off really quickly and talked about everything.
That's so great. It sounds like such a supportive and open relationship that started at the very beginning.
Joey: I really do feel that our relationship does hinge on a lot of support for each other because that's how it started. I reached out to him because I didn't know any other gay people that made indie-rock music.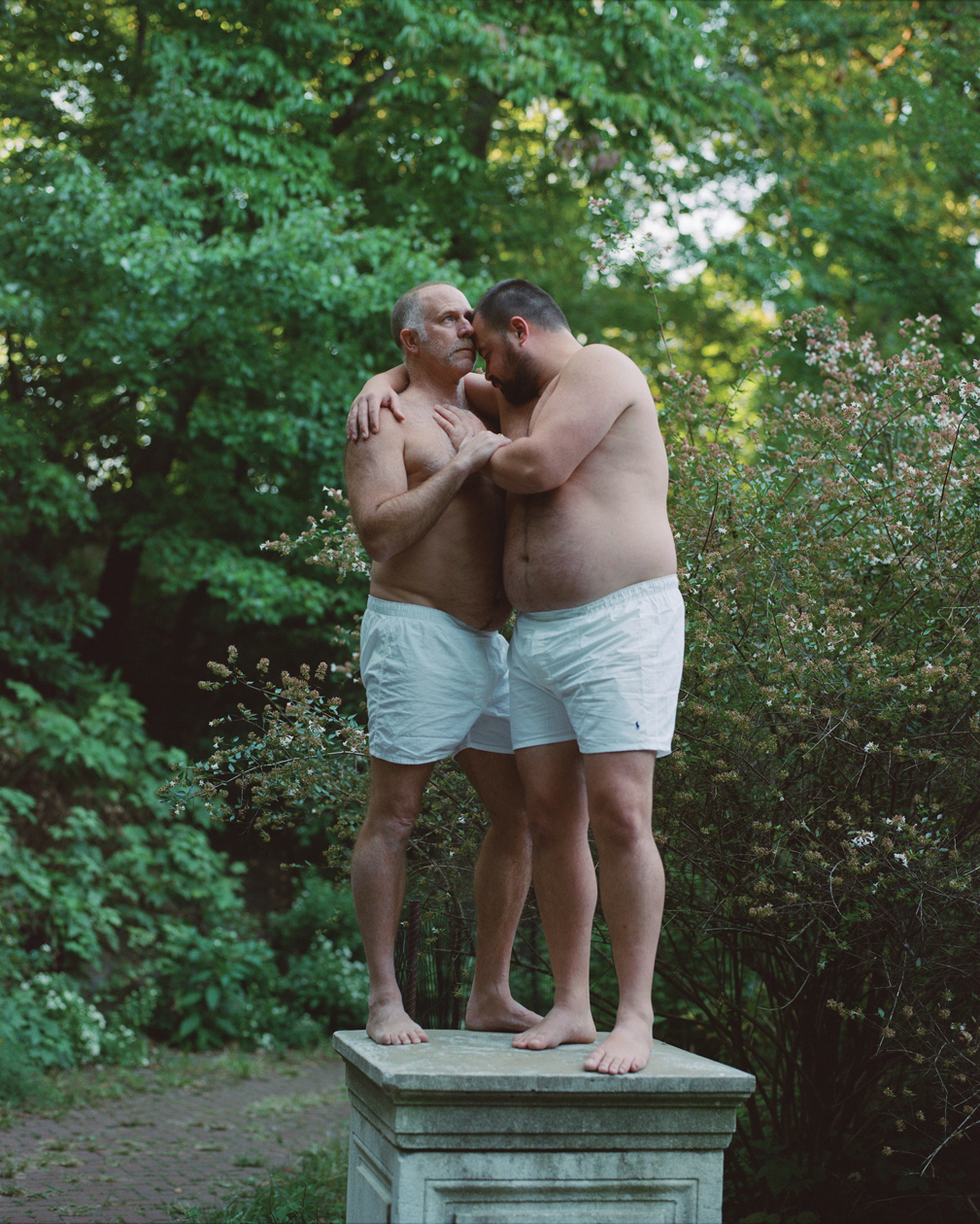 How would you describe MAN ON MAN?
Roddy: It's a band for sure. It's becoming a lot more political than when we started out, and by politics I mean a representational entity that addresses queer culture in ways that haven't been explored. Ultimately, we see it as sort of an outreach program that brings the community together in a series of safe places where people can express themselves without judgement.
A lot of LGBTQIA artists have to be the representation they want to see around them, right?
Roddy: One hundred percent. It became clear pretty quickly that it was a call to arms in that way. We released a video, and just by the response from everybody who felt what we were doing and reached out, we thought, Yeah, we're all in this together.
Did you start writing music together before heading to Oxnard, California for the Covid quarantine? Joey: We were on our way to California from New York City. I think we were somewhere near Texas and Roddy was like "What if we got some really simple gear and just kind of had an outlet?" This was around the end of March [2020] so it was the time of like, what the fuck is going on? We just ordered a bunch of gear and it was all waiting for us when we got to California. We unpacked that shit and we started making stuff together. We had no agenda, we had no idea what it would sound like. It all unfolded over the next few months like Wow.
Roddy: As Joey was saying earlier, when we first met, Joey's mom was really sick, and we got through that together. We have a history in our relationship of dealing with intensity together in a strong way. My mom got sick too at the beginning of Covid. Getting through meant being busy and staying creative.
Does being in a band with your partner change or create a new relationship between the two of you?
Joey: It's super vulnerable. Roddy is such an accomplished, established musician, [I'm thinking] is this the dumbest shit he's ever heard of in his life? There's so many questions — is this gonna be cool or not?
I wouldn't really say that we'd never really argued or discussed anything passionately, but you know when you're quarantining with somebody 24 hours a day, seven days a week, if you create this job for both of you where you record and work on music every day, you have those conversations. That vulnerability is bringing out different parts of you, and you kind of have to defend your shit.
In your music video for "Baby, You're My Everything," there are a lot of allusions to Christianity. Is this song a queer reckoning with religion?
Roddy: I don't think it's as literal as that. It's a love song about being in love and how that love catapults you into almost a supernatural force or a spirituality. We both knew, that whole baptism scene was sort of the pivotal moment of the video where we were reclaiming that process of a baptism in the great outdoors between two queer men.
Joey: I think the beauty of that song is the beauty of our relationship. I grew up super Christian, my family wasn't Christian but I became a Christian going into ninth grade. I was jealous of all the kids that got to go to youth camps and shit like that. It's funny, "Baby, You're My Everything" to me it's reclaiming and understanding this spirituality concept, but for Roddy it was about love and about our relationship. For me the lens that I see it through is totally about those questions, that deep shame, that judgement that I felt and still feel, and the confusion, then owning those experiences and translating them to what real love is.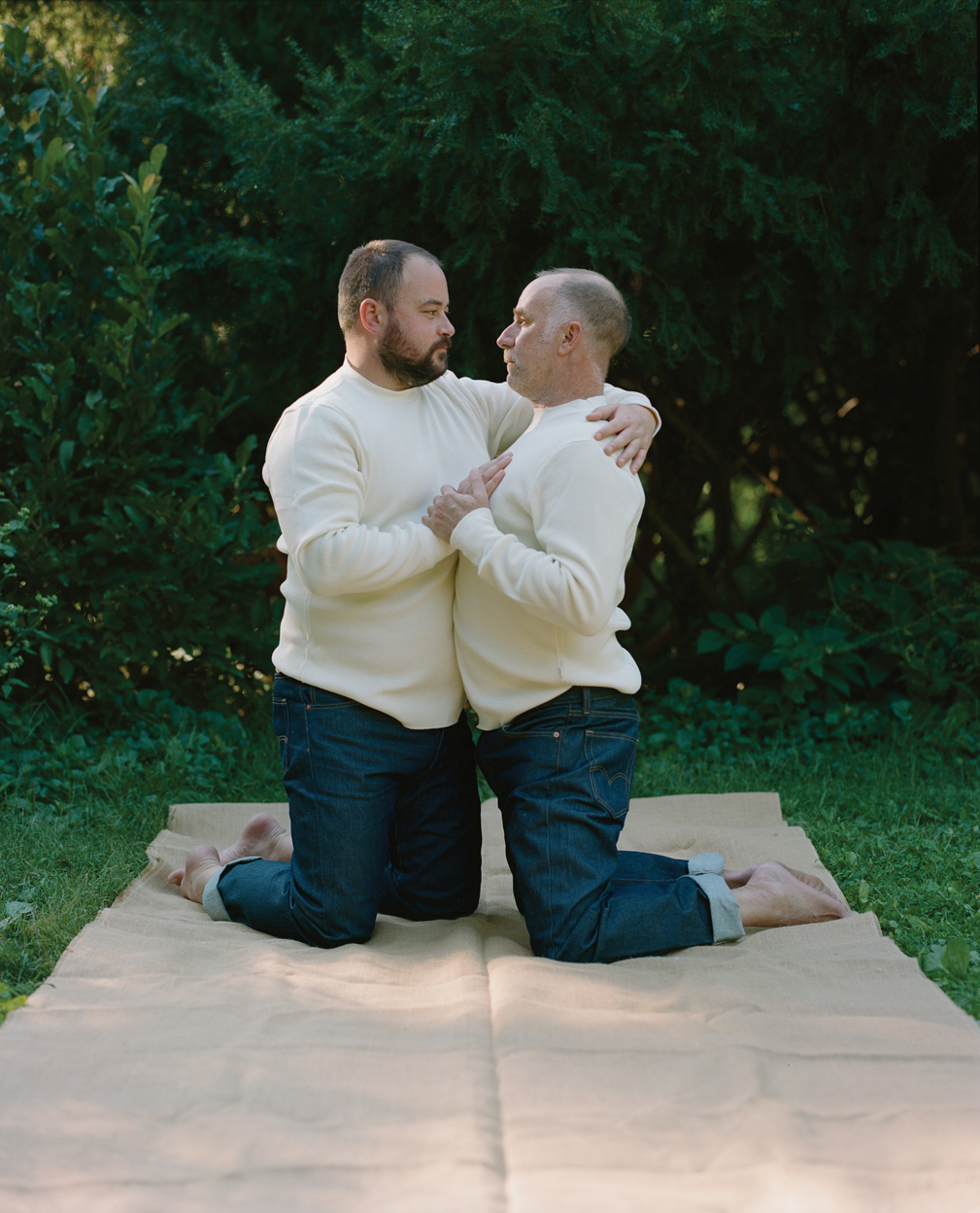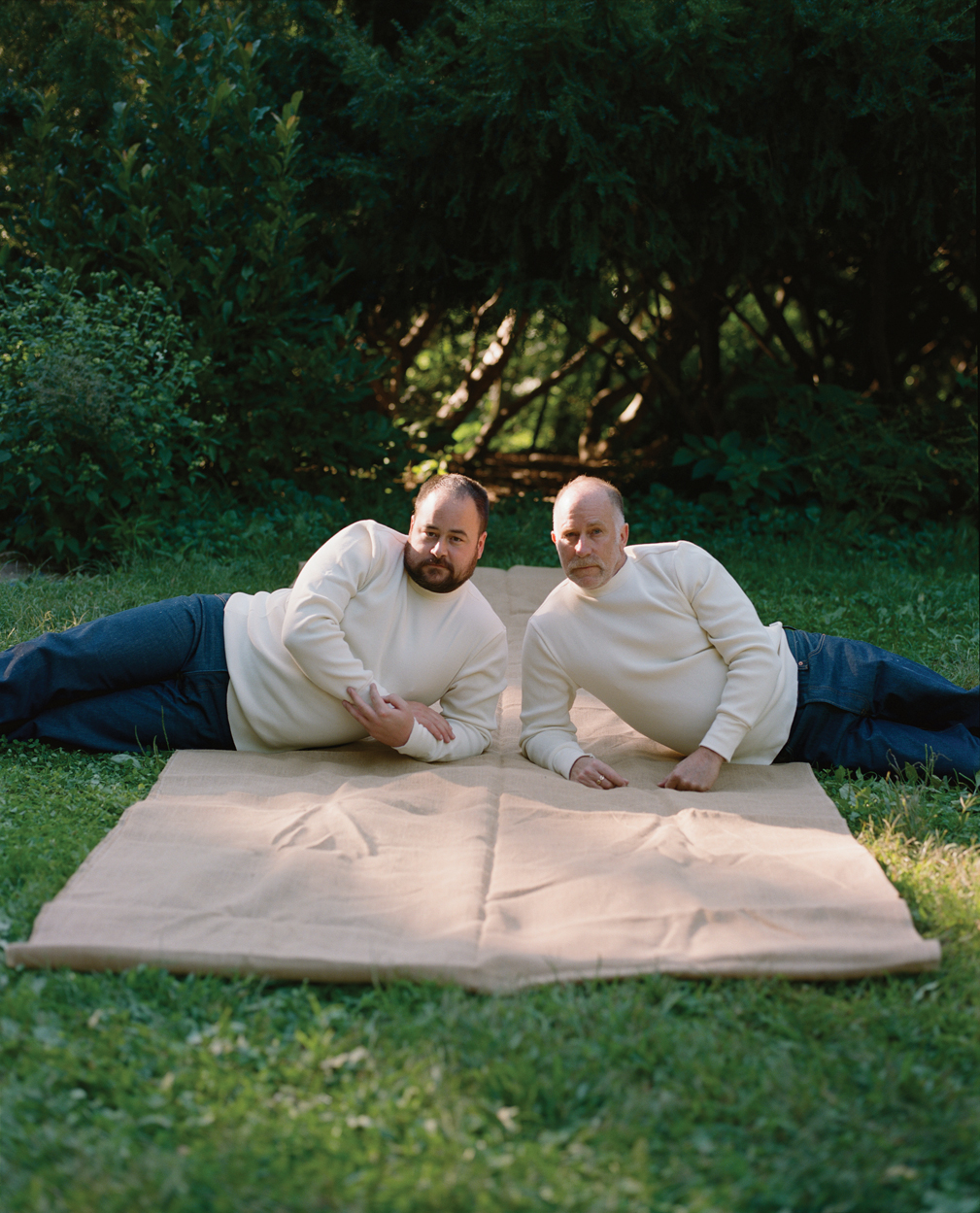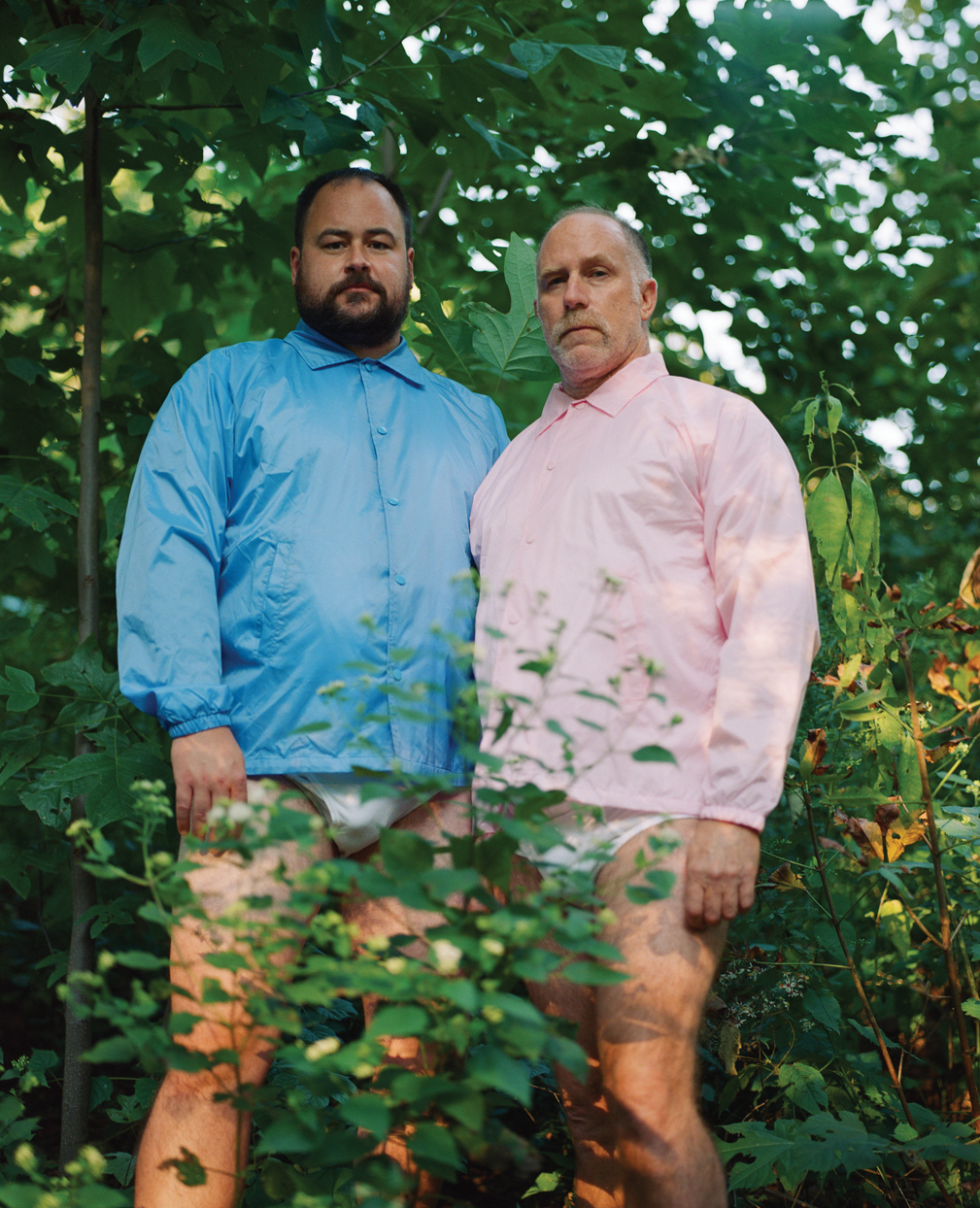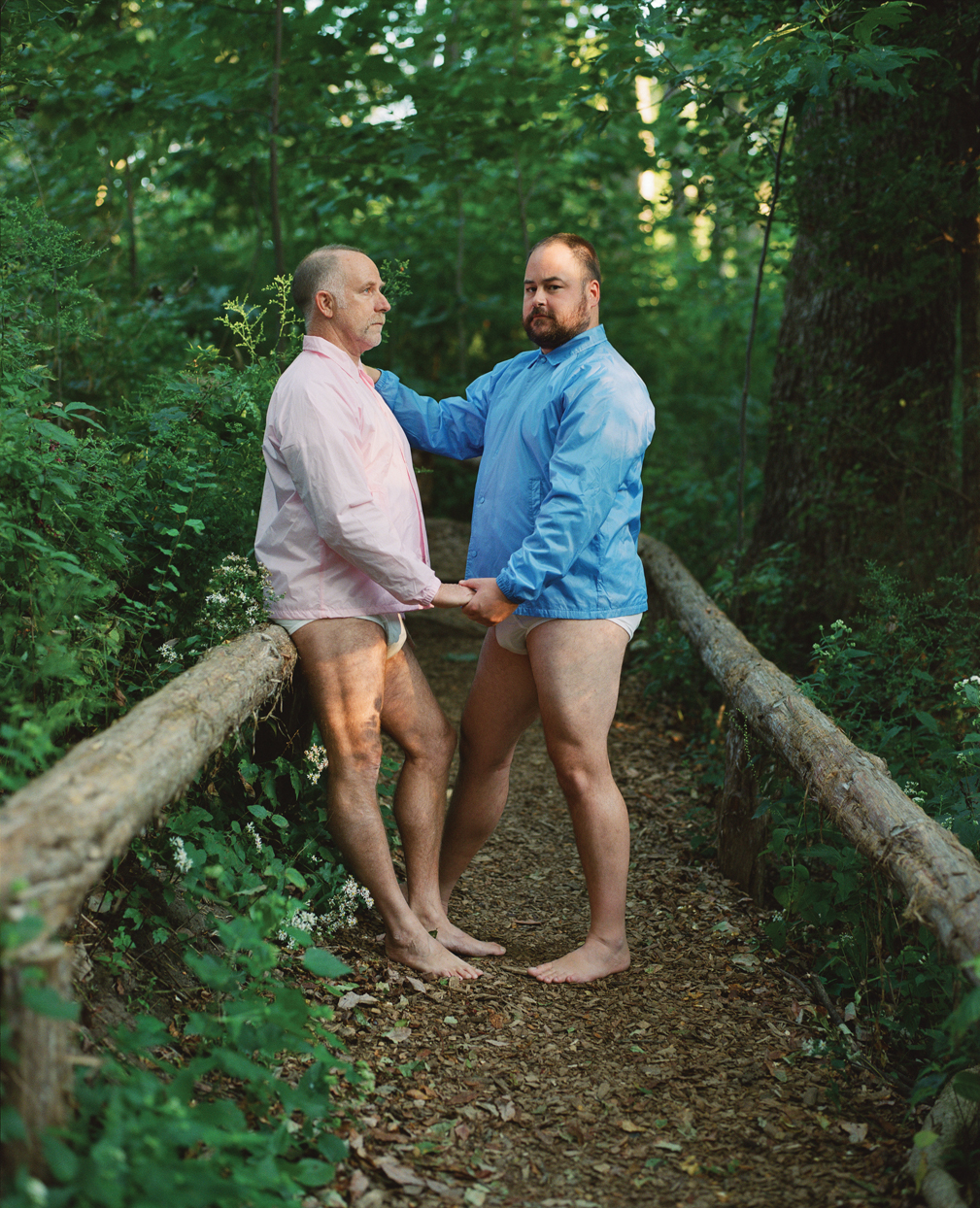 MAN ON MAN's music video, "Daddy," was taken down by YouTube over sex and nudity policies and then published again when you contested the decision. Do you feel LGBTQ+ artists are over-censored?
Roddy: One hundred percent, like that was a clear example. If we were a straight couple doing what we were doing in that video there is no way that it would've been flagged. Not in a million years. It was so safe. It's a testament to where we're going and what still needs to be done for the queer community. To a lot of people that looks outrageous and that scares people and thank god for that. I'm into being provocative but the flip side of that is there's so much discrimination.
Joey: When you introduce this new video and you're told that it's against the rules, you're forced to ask why? What's up? And the reason why it might not have been on our radar for being overly sexual is because part of the LGBTQ experience is sexual liberation. So what might be really tame for us, some people are going to be crazy grossed out by, and I can own up to that. A couple weeks ago, I had a family member telling me that our video is an embarrassment to our family and asked if I was making porno. It was laughable at first. For someone who doesn't experience these parts of our culture, it's going to be a little bit hard for them to understand what's going on. You know? It just speaks to the importance of art. If you are able to consume a lot of art then things are not going to be as shocking to you anymore.
Roddy: Queer art specifically pushes buttons like that. When we first put the video out, some hard rock website with a very straight bro vibe posted it, and we started looking at the comments. There was such mean, horrible stuff calling us "fat" and "old," and like "ew why would anyone do this?" That for me was as inspiring as all the great things that we heard from people who loved our video.
What's your preferred underwear style?
Roddy: You know? It's been controversial lately. When I first met Joey I was a white briefs kind of person and Joey's all about boxers. I got on board.
Joey: I love a Sunspel boxer. I love a Polo Ralph Lauren boxer. I feel like boxers are so much sexier than underwear, because you don't get everything immediately. At the same time, underwear can be really exciting because you know what you're about to get, so it's like Damn.
Roddy: We made that decision with the "Daddy" video, we were full-on like "white briefs."
How did you come up with the name MAN ON MAN?
Roddy: It's been a thing for me. Every band I've been in, it has been such a struggle with the name, but literally Joey just said it. It was the first thing that came to mind. Coming up with a name we were setting up a precedent like we've gotta not be disagreeable and let things work together. So he said that and I was like, "Great!"
Joey: We went into it with Roddy saying the name should be really representative of who we are. It shouldn't be Arm Chair or something like that. It should be very specific to what we're doing.
What do you find most attractive in a partner?
Roddy: Confidence for sure. If you don't believe in yourself, it's hard for me to get on board. And then a sense of humor.
Joey: A sense of humor and just a general friendliness. I think it's so sexy when someone is really open and not us versus them, like everybody is a human. It's so sweet when you see somebody that's just kind. I love that. With MAN ON MAN, we are embracing this tenderness that we don't always think is really available for us. A lot of what we see in the media, it's fierce, it's bitchy, but it's nice to get an invitation to just be sweet, warm, and loving.
Who do you want to reach with your music?
Joey: The dream scenario, would be to reach younger people who feel like none of the options of how to be gay, queer, or lesbian, or trans fit them and they're seeing two people who are open about their love and open about their interest in music. You know, nothing's cookie cutter, like nothing quite makes sense but it does make sense and I want people who might not feel represented in the queer world to know that they can do their own thing. That their own thing can look just like them and that people will like it and people will thank them for it. That's what I think this project is for me and Roddy. It's really an exercise in true expression and I hope we can reach people who need that and are inspired by that.
Roddy: More than anything, I really want to create a community. It's such a weird time that we're in right now. It's been sort of the dream for a long time to be doing shows. My life has always been that — coming to a show and meeting friends and having that strong community and the political force of that. I really want to figure out how to do that in the Covid times and create a community that doesn't have to be in a physical space. At the same time, I'd like to think that what we're doing is universal enough that straight people will get on board, but if they're not up for it, we're not gonna miss them.
Describe your ideal habitat to make love.
Roddy: You know, out of town with the shades down is really fun.
Joey: Anywhere by the water.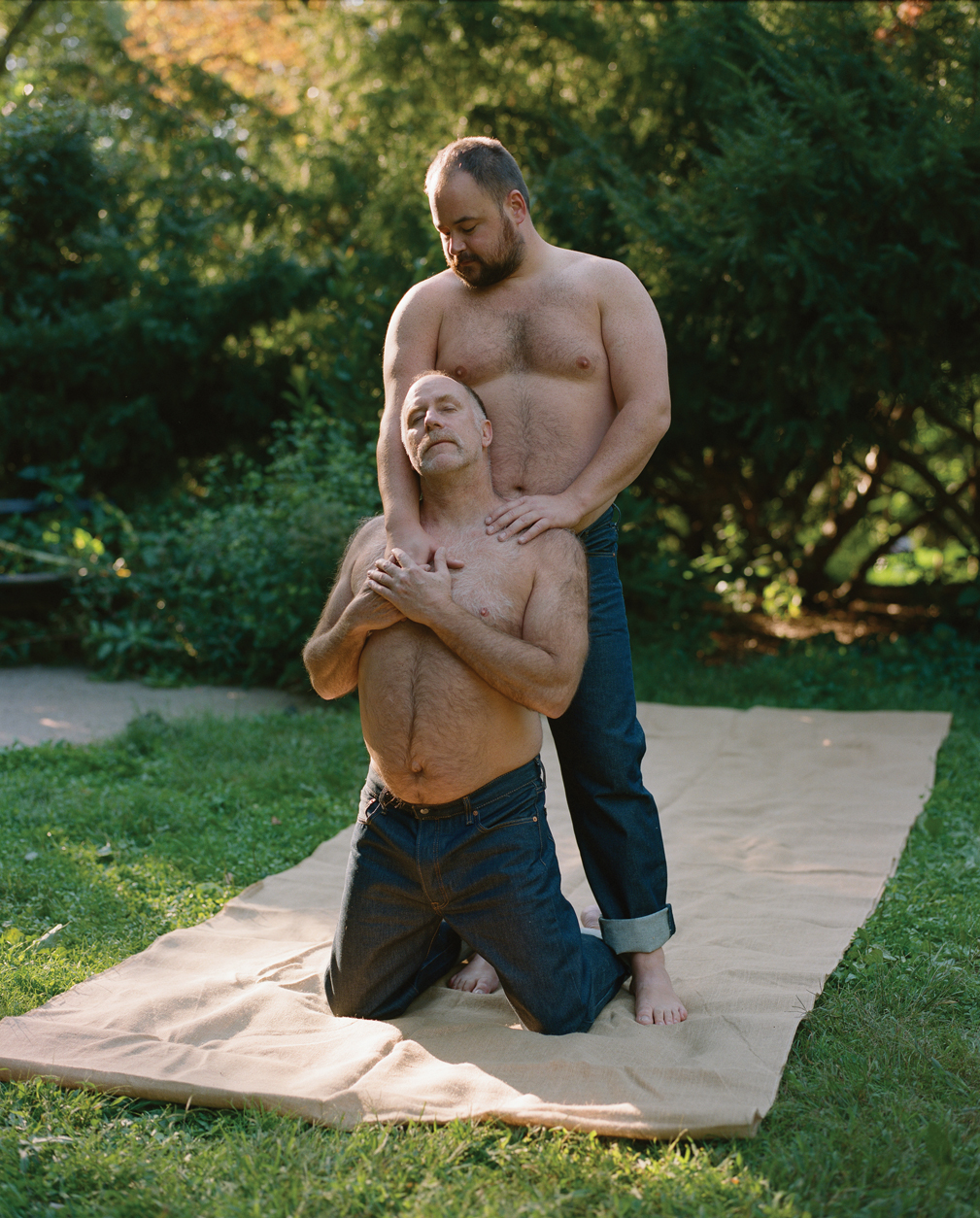 Roddy Bottum and Joey Holman photographed at The Vale of Cashmere, Prospect Park, Brooklyn, New York.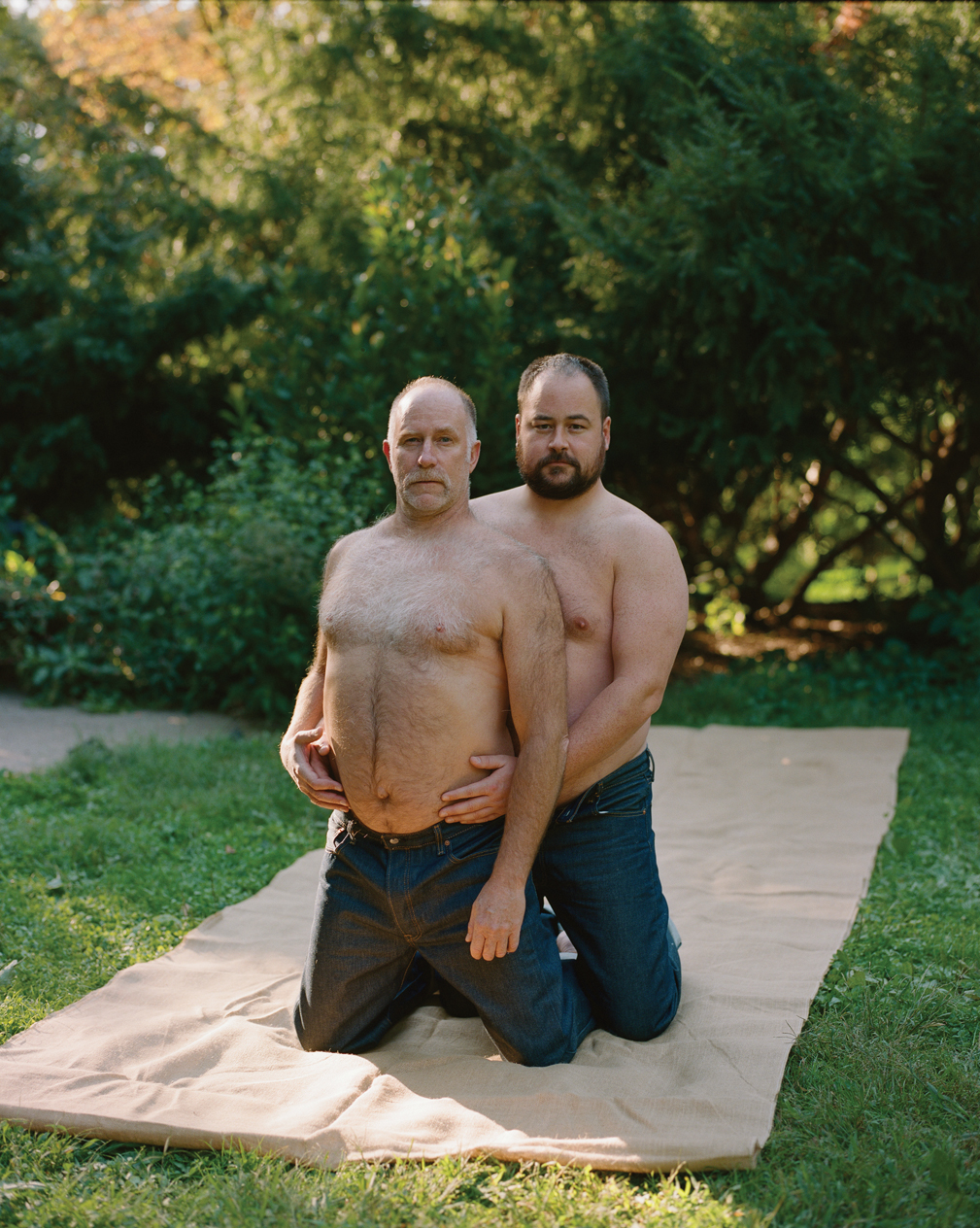 The Vale of Cashmere is a neglected and sunken garden in the Northeast corner of Prospect Park. This area of the park has been a cruising destination since the 1970s.
This story was printed in GAYLETTER Issue 13, get a copy here.