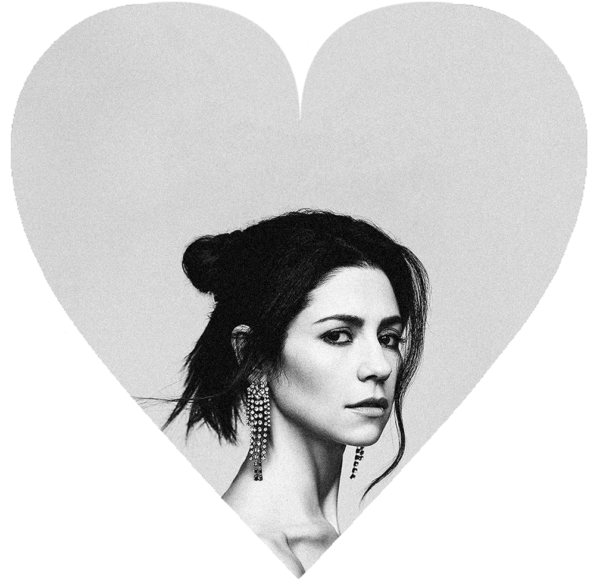 image via album's artwork
Marina – LOVE + FEAR
With the release of "Orange Trees" and its accompanying video, Marina (née "and the Diamonds") has completed the three-song annunciation of her upcoming album, LOVE + FEAR. The LP will be split into two eight-track halves — "LOVE" and "FEAR" — but unlike Marina's ultra-iconic Electra Heart, these songs are not delivered by crafted personae. They're Marina herself, unshielded, offering hard-won visions of calm. The long-term stan will immediately pick up on the lack of sharp tension in Marina's voice, which defined earlier songs like "Oh No!" from The Family Jewels, "Homewrecker" from Electra Heart, and "I'm a Ruin" from Froot. Although she sounds at peace, these songs are not boring. She's left the sparser production of Froot to return to a banging electro-pop backing, but with none of the friction of her first forays into the genre. She's come full-circle, unblonded, at ease with her own electricity.

"Orange Trees" braids her voice with a mellow acoustic guitar, rippling synths and a syncopated breezy beat, like a way chiller version of her collaboration with Clean Bandit, "Baby." It's summery as all get-out. "Handmade Heaven" starts in alienation — "I carry along a feel of unease / I want to belong like the birds in the trees" — which changes to relation, with the repetition of "birds of a feather fly together." The singer reconnects with nature in the handmade paradise of the song, which offers the rest of us a glint of the same feeling. Finally, "Superstar" is an ode to a love that transcends the dark, empty matter of distance: "All of the days that we spend apart / My love is a planet revolving your heart." The bright vocals are offset by a roiling trap-pop beat that drives the song into its explosive post-chorus. "Superstar" has the closest family resemblance to tracks from Electra Heart, except for its contemporary trap influence and, again, the utter lack of anxiety in Marina's voice.
In a dream, John Keats met a goddess of the moon, who told him: "The poet and the dreamer are distinct, / Diverse, sheer opposite, antipodes. / The one pours out a balm upon the world, / The other vexes it." This new Marina is the poet, the dreamer's vexation made holy, balming, and free. This is not to diss her prior albums — sometimes all you want a song to do is level with the chaos in your head. But these tracks offer a place for the mind to rest, not to simmer.
LOVE + FEAR will be out on April 26th, 2019. Judging by these early releases, it'll be a huge step forward for Marina. I'm pumped for an album so mature and energetic, insightful and danceable. This is Marina's answer to the anxieties and torments of our world today. It's not a pop star's funhouse mirror. It's a pop artist's mass medicine.