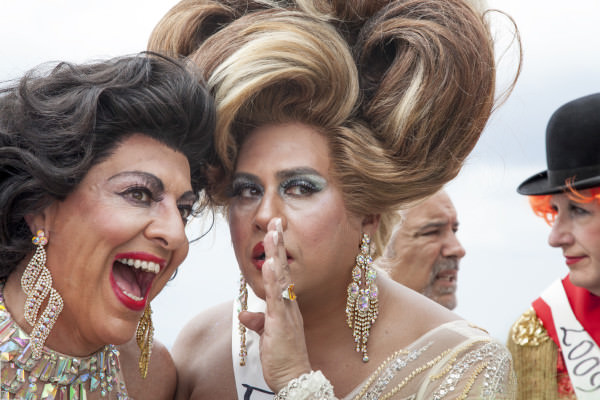 Photography by Susan Kravitz
Mascara, Mirth & Mayhem: Independence Day on Fire Island
Susan Kravitz's debut celebrates the home of the brave
For those who have ever visited the gay mecca known as Fire Island Pines, it may come as a surprise to learn that even after the Stonewall Riots the community was fairly conservative. In 1976, Teri Warren was visiting from the more queer-friendly neighborhood of Cherry Grove and dressed fabulously in drag. He was promptly denied entrance to a restaurant on account of his appearance. In protest, a group of drag queens decided to come back on July 4th and "invade" the town. Thus, the Invasion of the Pines was born.
Every year on July 4th, an ever-larger group of drag queens hop on a water taxi and invade the Pines. Photographer Susan Kravitz has for many years been there to document the event. Kravitz considers herself a "social documentarian of daily life." She first visited Cherry Grove as a straight married woman, and then returned a couple of years later as a lesbian with her camera in tow. Kravitz has worked as a photographer for over thirty years, exhibiting her photos in galleries all around the world. Mascara, Mirth & Mayhem: Independence Day on Fire Island is her first book.
The book spans the course of four decades, intermingling photos of different eras to create the effect that every year's invasion actually took place on the same eternally long day. The political backdrops of the photos change, every decade presenting unique tragedies and triumphs, but the magnificent queens remain the same.
The photos themselves are as majestic as the royalty they capture. The viewer isn't relegated to being just a bystander, but is thrown into the middle of the invading crowd. It's in the thick of things that we are able to appreciate the feeling of community that the Invasion evokes. We can see the joy on people's faces and the small moments of intimacy between participants. As the event grows in popularity, the 4th of July Invasion has become a campy alternate Pride, giving a whole new meaning to the term "Independence Day."