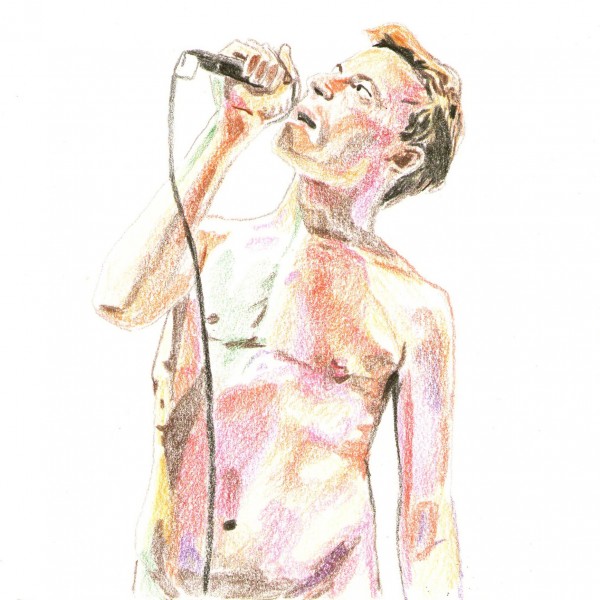 ILLUSTRATION BY DEVIN WALLACE
Max Steele's Mapplethorpe
The ginger performer talks about his latest show at BAX
Max Steele is a 29-½ year old Brooklyn-based artist, and a modern-day renaissance man if ever there was one. Writer of the psychedelic porno poetry zine Scorcher, member of queercore goth rap duo B0DYH1GH, actor who's graced La MaMa and LOGO TV, performance artist, and "go-go boy of the damned" at New York's queer punk party QxBxRx, his is the boundless talent that inspires and sort of intimidates. His effortless charm, obvious intelligence and humor, however, make him refreshingly approachable – his cheeky smile practically jumps out from his words.
We got to chatting with him about his upcoming show, Mapplethorpe (pronounced MAPplethorpe, like a map), his final project as Artist in Residence at Brooklyn Art Exchange (BAX). The California-native talked about the show itself, his artistic inspirations, moving to New York and what we can expect to see from him in the future.

Hey Max, thanks for taking the time to chat with us! Your new show, Mapplethorpe, is just days away — how are you feeling? I feel equally thrilled and terrified. I've workshopped songs and stories from the show at various clubs over the last year, but I haven't done the full show in front of an audience, and I think an important part of the show will be the presence and feedback from the crowd. I'm looking forward to it as a party.
First of all, you're an actor, musician, go-go dancer, writer, poet — have I missed anything? I think it's worth mentioning that I am also a Leo.
And if you had to describe yourself in just one word? One word that we haven't already used? Charming? Brave? Sweet? Let's go with Sweet.
Now, for our readers, could you give us a brief description of Mapplethorpe? Mapplethorpe is a solo cabaret show about a fictional singer, bound for glory, who introduces himself, his style, and his ambitions.
And what made you decide on a reggae-infused cabaret production? I'm interested in how cabaret, as a form and as a tradition, is on one hand kind of conservative while simultaneously capable of being a vehicle for revolutionary, radical ideas.
The reggae thing is that while I personally really love reggae, and deeply appreciate it, it's not mine to sing. I wanted to make a joke about someone treating something just as a genre, as a style, and how short-sighted and awful that is. I wanted to try to find a way to perform, and therefore lampoon, entitlement, wrongheadedness. Similarly with the title, I wanted to get something wrong on purpose.
Your character's chosen name, Mapplethorpe, is consciously disconnected from photographer Robert Mapplethorpe, but I'm assuming he's had an influence on you personally? He's influenced me insofar as he's an icon. The show isn't about him at all because no one could do a show about his legacy and do justice to it. It's an impossible position, which is interesting to me. I wouldn't say he's an influence, but his status as an often-claimed yet untouchable icon influenced me. The complexity of his legacy influenced me. Glenn Ligon's work is part of this. No offense, I have nothing but the deepest love and devotion for Miss Patti, but I haven't read that book about being kids. I'm interested less in him the individual person, him the individual artist, and more in the culture around him, what he comes to signify, how someone comes to be a symbol and for what reasons.
You've been in New York since 2006 — how has living here affected you creatively? I never planned to live here. I thought after college I'd move back to the Bay Area and make punk music. But then I spent a summer in the city, and I love it in New York and never want to leave. I am so grateful to live here among so many really inspiring and amazing people, who continually challenge, surprise, scare and excite me.
You've said elsewhere that this show is about getting things wrong, about Failure — can you explain what you mean by that? I often write characters who are unreliable narrators, as a comic effect. It's funny if the audience knows more than the person onstage. It can be easy to laugh at ignorance. This time, I wanted to make something less obviously funny. Mapplethorpe isn't ignorant, he's just wrong. It's not that he doesn't know any better, he does know something, he just knows it in the wrong way. It's a little scarier, but I think the payoff is better once you realize what he's doing.
"A journey of self-discovery… both an inspiration and a cautionary tale." How much has Mapplethorpe been influenced by your own experiences? Narratively, this is fictional. But personally, I've struggled a lot over the last year with dealing with anger, feeling like I can't experience or express my personal anger. So I wanted to make something where someone felt eminently entitled to express themselves, even if they're doing it in a kind of backwards way.
You've described this as your most experimental and risky piece of artwork, what does the audience have in store? I've performed music in nightclubs for years, but usually much shorter performances, with original songs, and with much more beauty. This show is much funkier, more bodied, and much more stripped-down than anything I'd ever do as Max Steele. It's also riskier in terms of tone — this character is not nice, and I think I (Max) am. He's a bit creepier. The audience can expect to be reunited with songs they didn't know they loved, and they can expect to change their mind a few times during the show.
And what about you — what are your plans for after the show closes? Part of me wishes I could say I was taking a break, but I'm not. It never ends! On May 17th I'm having a release party at the Bureau of General Services — Queer Division to celebrate the release of the new issue of Scorcher. The newest issue has been three years in the making, and I'm very excited about it. Then in June I'm reprising part of the show I made at BAX last year (Encourager) for a performance downtown, and my gay goth rap band B0DYH1GH is putting out a new mixtape and performing a special evening set at Macie Gransion, and we're also part of a Lilith Fair tribute at Joe's Pub. There's a lot to look forward to. I'm excited.

Mapplethorpe will be performed at the Brooklyn Art Exchange, 421 5th Ave. Brooklyn, NY. From Friday May 2nd to Sunday May 4th. Get your tickets here.