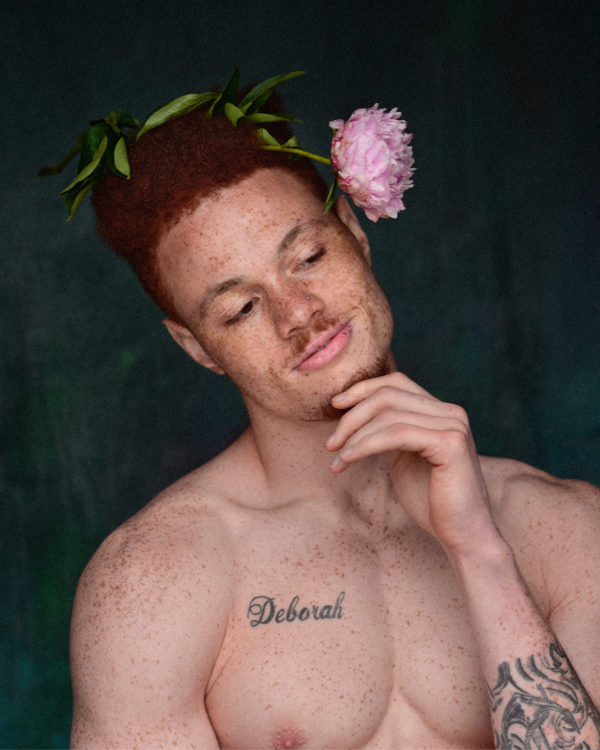 Photography by Björn Jonas
Meet Stacey
A floral encounter with an up-and-coming model
When you're a fresh-off-the-bus young model from Pennsylvania, you've got to be open to anything. We (me and photographer Björn Jonas Larsson) met Stacey on the rooftop of our studio and knew we had to shoot him. It didn't take much convincing to get the young football player to became our adorned Adonis, with hair styled by Niko Weddle.
The concept for the photographs were inspired by the season (it was Spring when we shot him), and all the gorgeous flowers blooming. It seemed that we'd seen plenty of photos of young girls adorned with with flowers, but far fewer men. In the name of gender equality we decided to dress up a hot young man in in Spring's finest.
As an avid football player, Stacey had all the gorgeous musculature that a touchdown-loving man would cheer for, but the striking thing about Stacey, aside from his sweet demeanor, is his tattoo on his right pectoral muscle bearing the name Deborah in proud cursive letters. Yes, gentlemen, Deborah is the name of Stacey's mum.
Stacey was able to both show his tough-guy exterior via that dangerous model scowl that says "I'm pretty but I'll hurt you," and at the same time give us some delicate and unguarded moments. So thank you Deborah, you raised a well rounded young man not afraid to give a middle finger to the patriarchy.