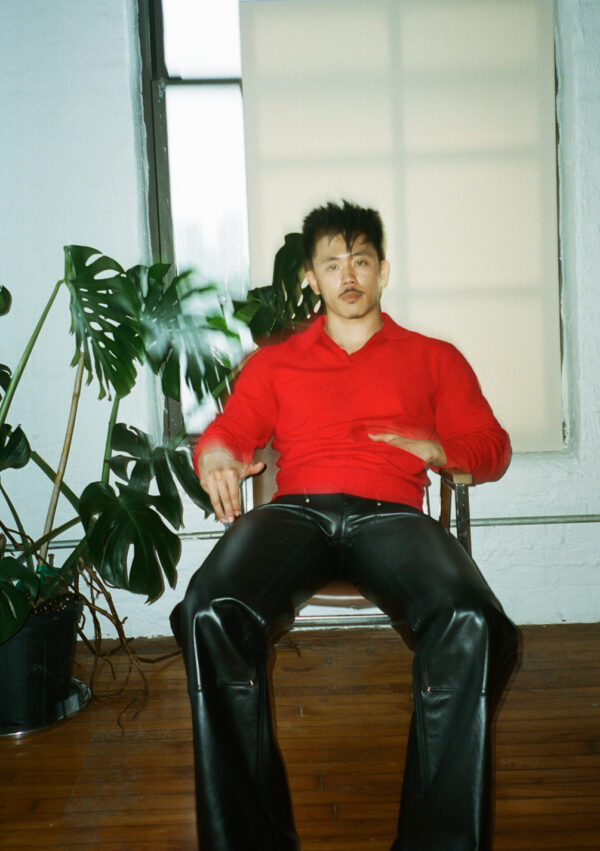 PAINTINGS BY OSCAR YI HOU | PORTRAITS BY BY ABI BENITEZ
Oscar yi Hou
A show of new paintings by Oscar yi Hou is on view at the Brooklyn Museum for nearly a year through mid-September of 2023. East of the Sun, West of the Moon, the exhibition's title, refers to a poem by the artist that riffs on the feeling of in-betweenness and the innumerable stereotypes of East Asian people in Western cultural imagination. In yi Hou's brushy, expressive portraits, the artist costumes himself and friends as a spectrum of characters — from Bruce Lee's role of Kato on the 1960s television show The Green Hornet and anime Dragon Ball's Son Goku to Old Hollywood "geisha-girls" and Spaghetti Western cowboys. He then builds painterly frameworks around his figures, centering them against a spare architectural scene. The compositions, reminiscent of symbolic quincunxes and coronas around saints, are then embellished with an intersectional mix of floating icons and symbols (including references to Japanese and Chinese artworks from the Brooklyn Museum's collection.) These marginalia feature creatures like butterflies and cranes, sometimes swooping to overlap Chinese calligraphy or graffiti tags, motifs like Internet symbols and Taoist taijitu, stars from flags or sheriff's badges. The illuminations contextualize their sitters as much as they obfuscate them, pointing to the rich complexity of the painter's relationship with each subject and the ways in which constructed, long-standing identities may be adopted and rebuffed.
The show developed from a detailed 3000-word proposal yi Hou wrote, gathering many of his ideas from previous exhibitions and emphasizing the importance of pairing text with image, a central touchstone in understanding the re-appropriation at play in his work. He uses the terms "yellow iconicity" and "coolieisms," reclamations of slurs, to describe racist and anti-Asian representation in popular media. By helping write many of his own accompanying texts panels for the show, yi Hou is able to anticipate his audience, to contextualize, educate, and critique. In artworks that incorporate various forms of both Chinese and English text called "poem-pictures," a wall panel at the museum explains, "Referencing and adapting the Chinese aesthetic tradition known as the Three Perfections, yi Hou's practice combines painting, calligraphy, and poetry."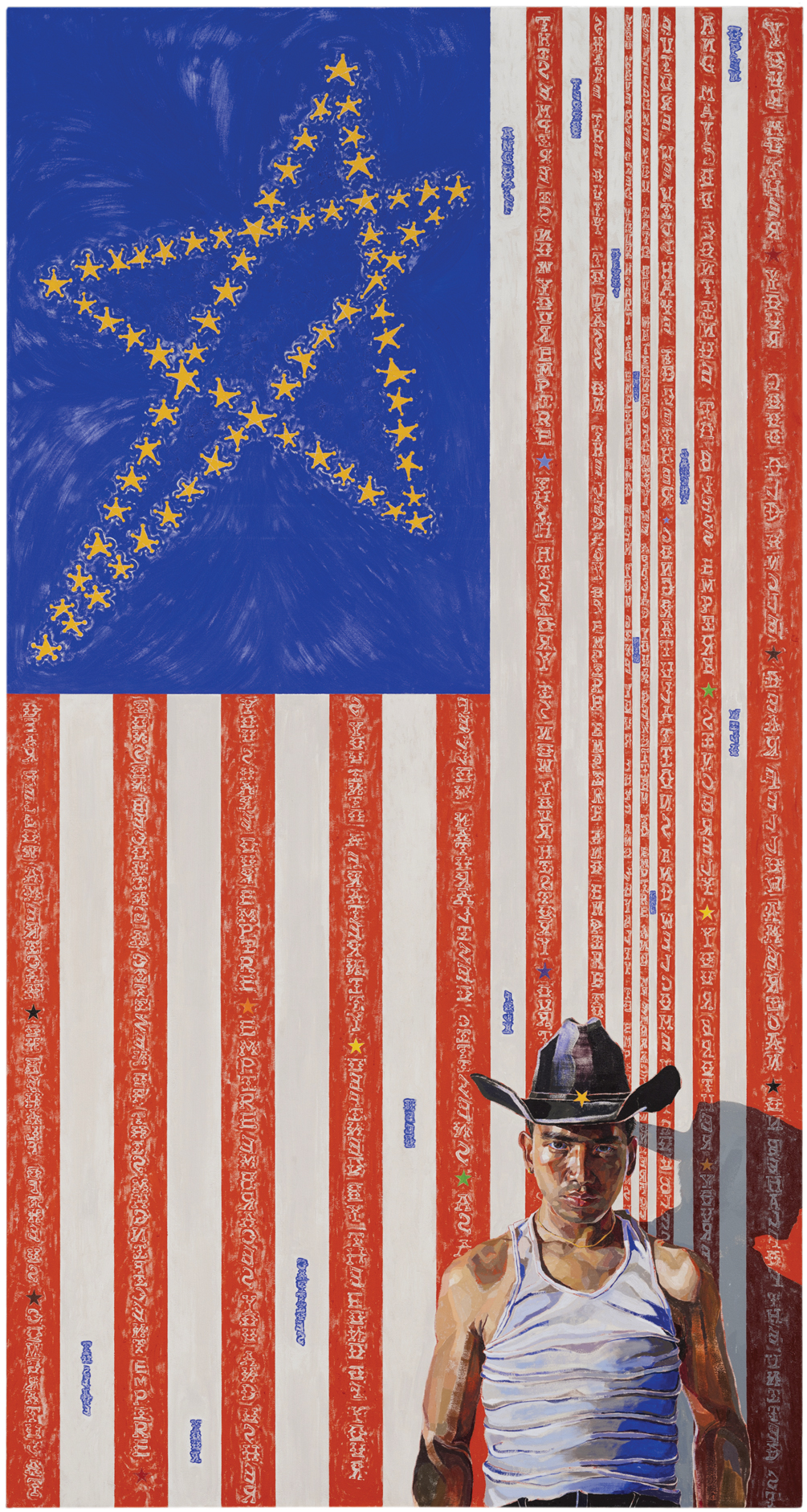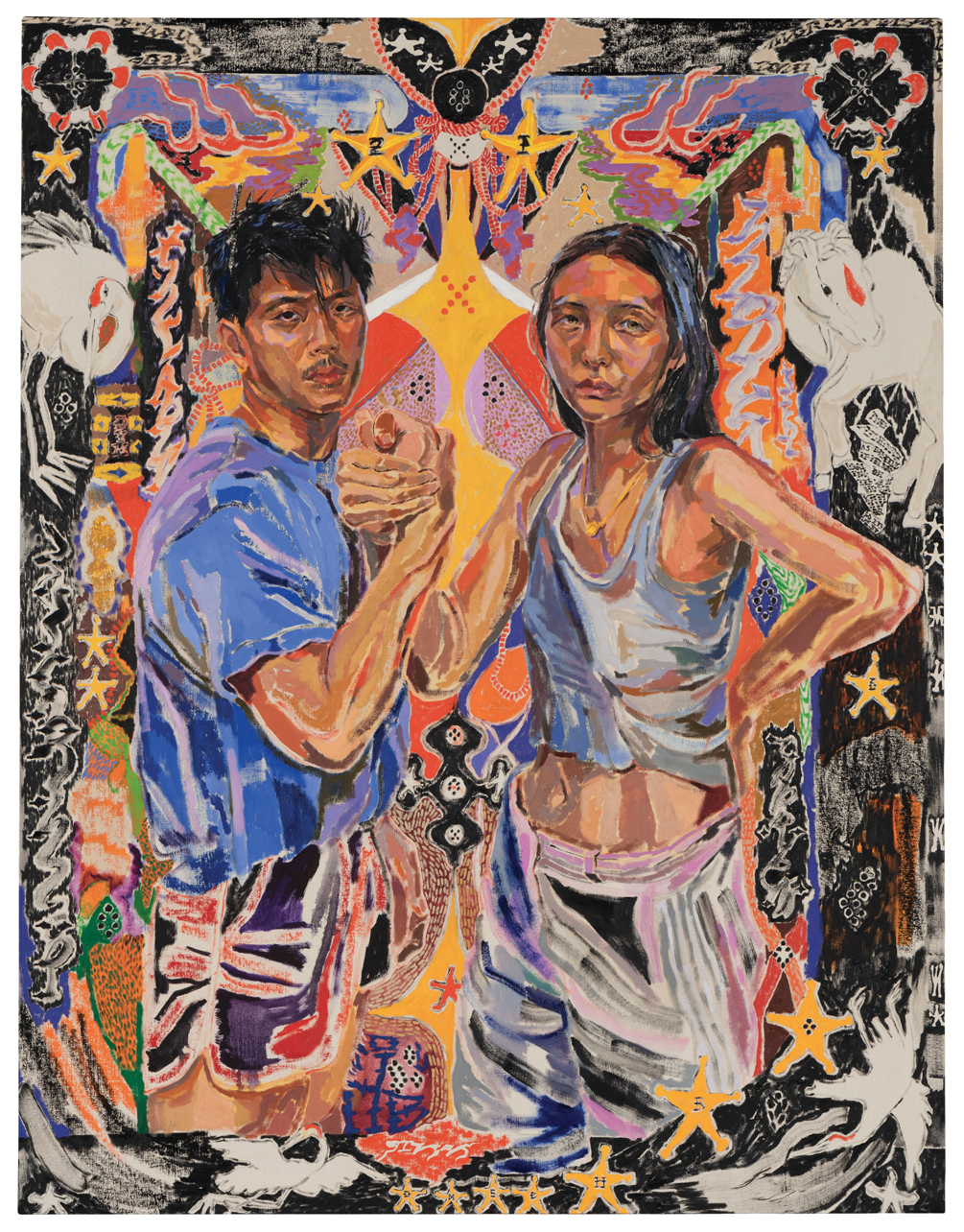 "The Arm Wrestle of Chip & Spike; aka: Star-Makers" (2020).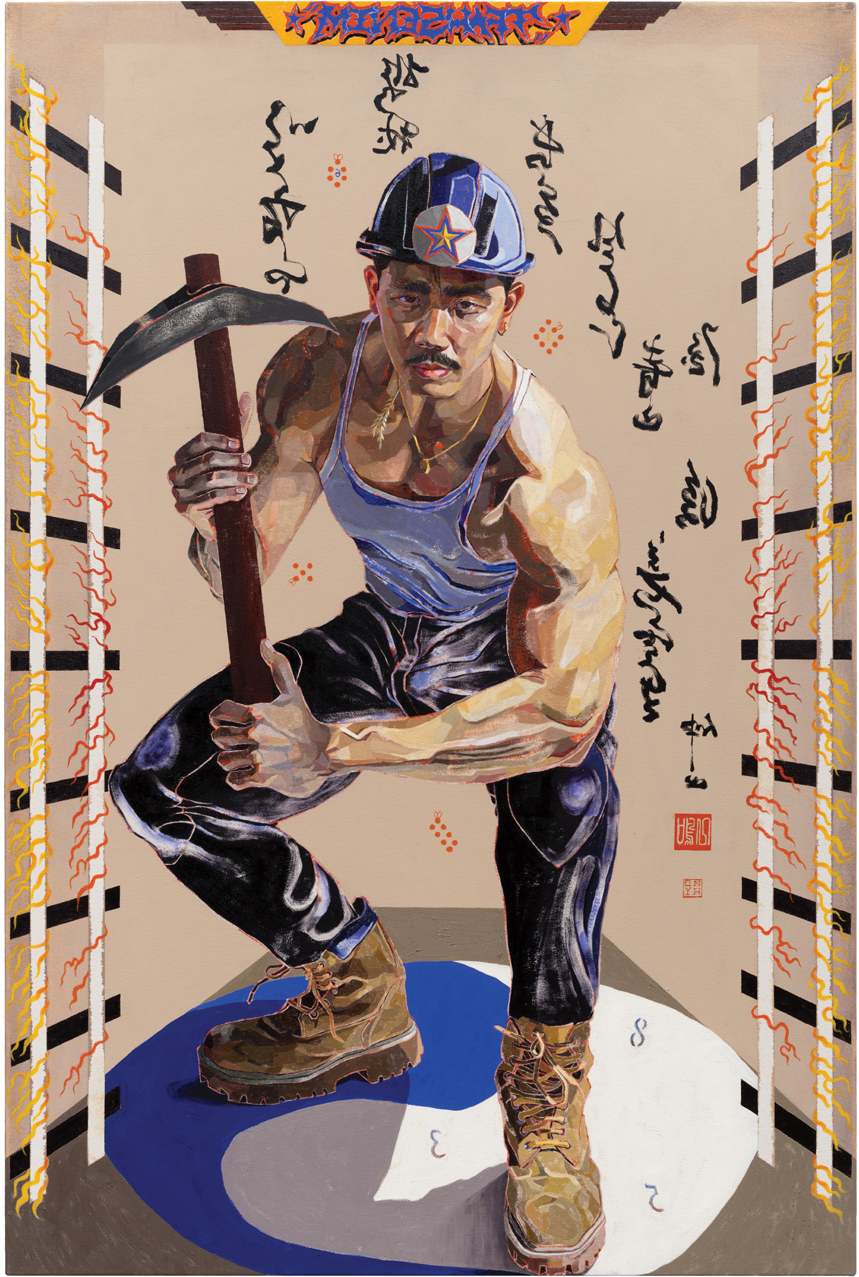 "Old Gloried Hole, aka: Ends of Empire" (2022).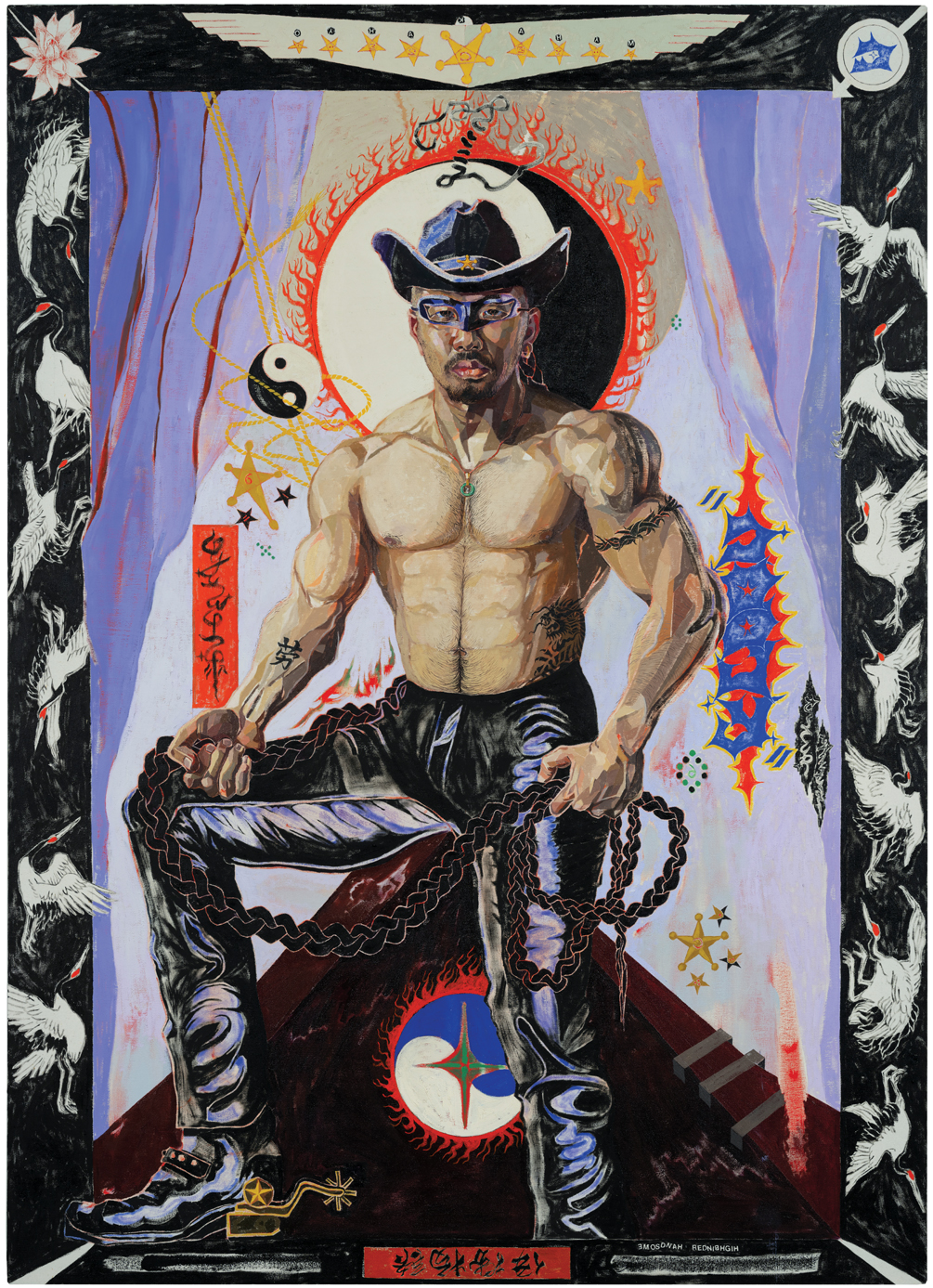 "Coolieisms, aka: Leather Daddy's Highbinder Odalisque" (2022).
In one of his self-portraits, Coolieisms, aka: Gold Mountain Cruiser (The Mineshaft's after-hours trade), yi Hou becomes a muscled miner, complete with a large pickaxe and hard helmet — a reference to artist and illustrator REX's image of a man emblazoned on shirts and flyers of the Mineshaft club, a seedy, members-only hangout for kinky leather daddies and the sexually eccentric in New York's meatpacking district. In another portrait, Coolieisms, aka: Leather Daddy's Highbinder, Odalisque, a beefy subject wears a leather fetish mask, hat, and chaps while brandishing a thickly-bound whip made of hair instead of leather, a traditional braid worn by Chinese male immigrants that became a symbol of feminine inferiority in bigoted 19th-century discourse. By staging these kinds of paintings, yi Hou empowers his performers and himself, presenting a twist on persistent racial and gender expectations. These artworks and his others, along with his personal brand of integrated didactics, use the lure of nostalgia and the embarrassment of assumption to lay bare ingrained cultural prejudices, while somehow maintaining the inherent beauty of portraiture.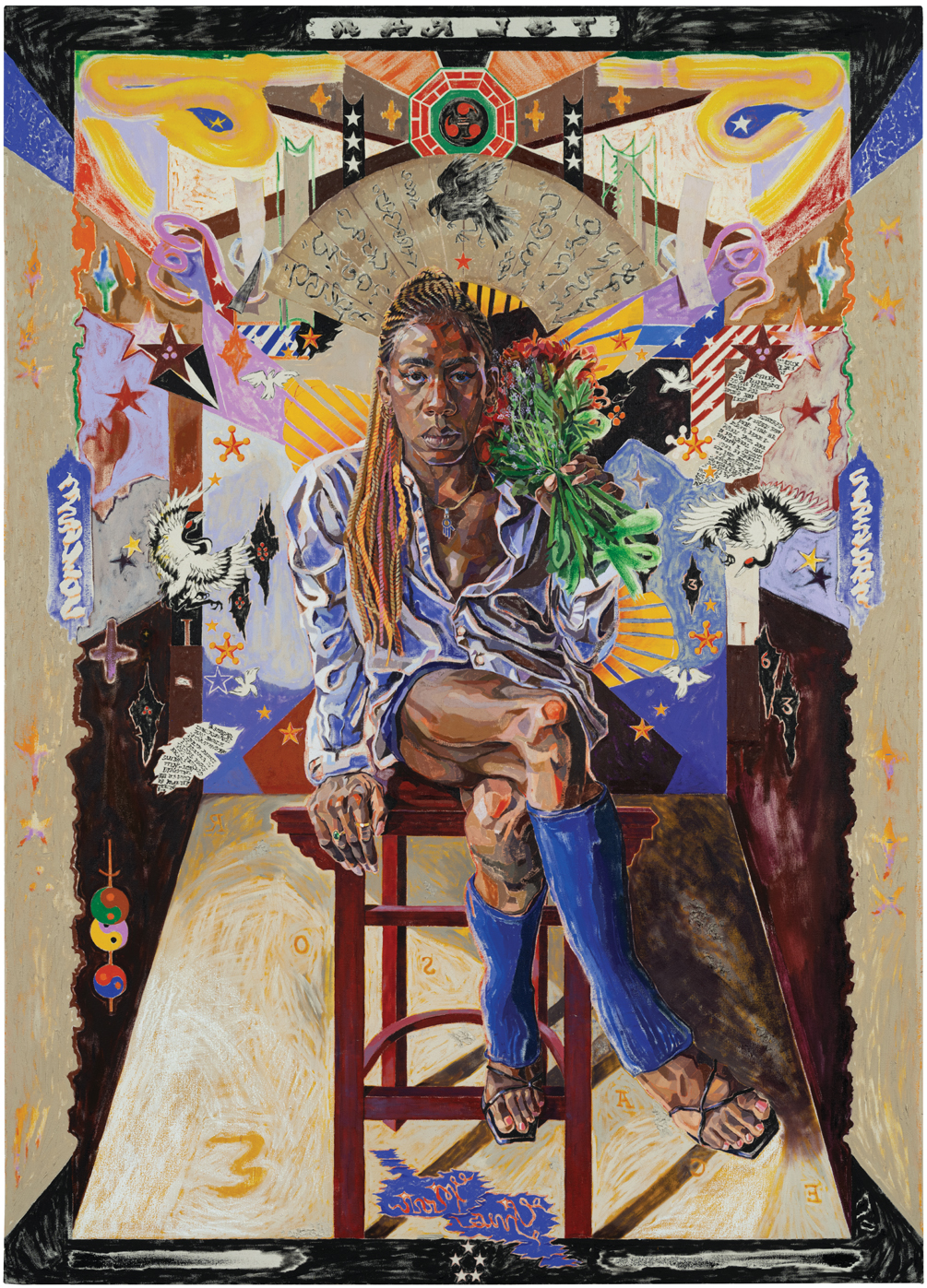 "Une rosace entre me, toi, and l'autre, aka: l'éventail of l'orient (Mont-réal-est)" (2022).
"All American Boyfriend, aka: Gwei Lou, Leng Zai" (2022).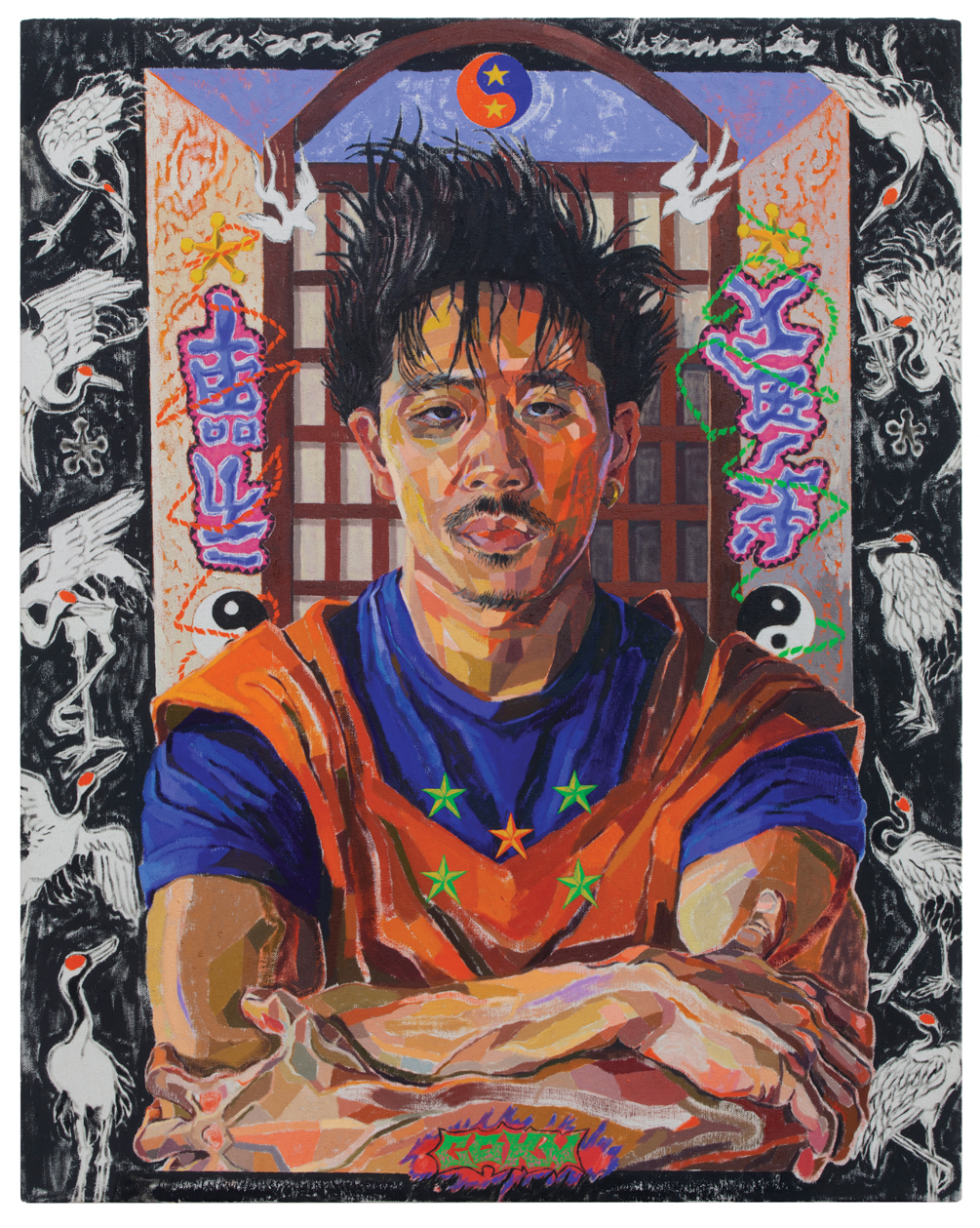 "Coolieisms, aka: Sly Son Goku turns 23" (2021).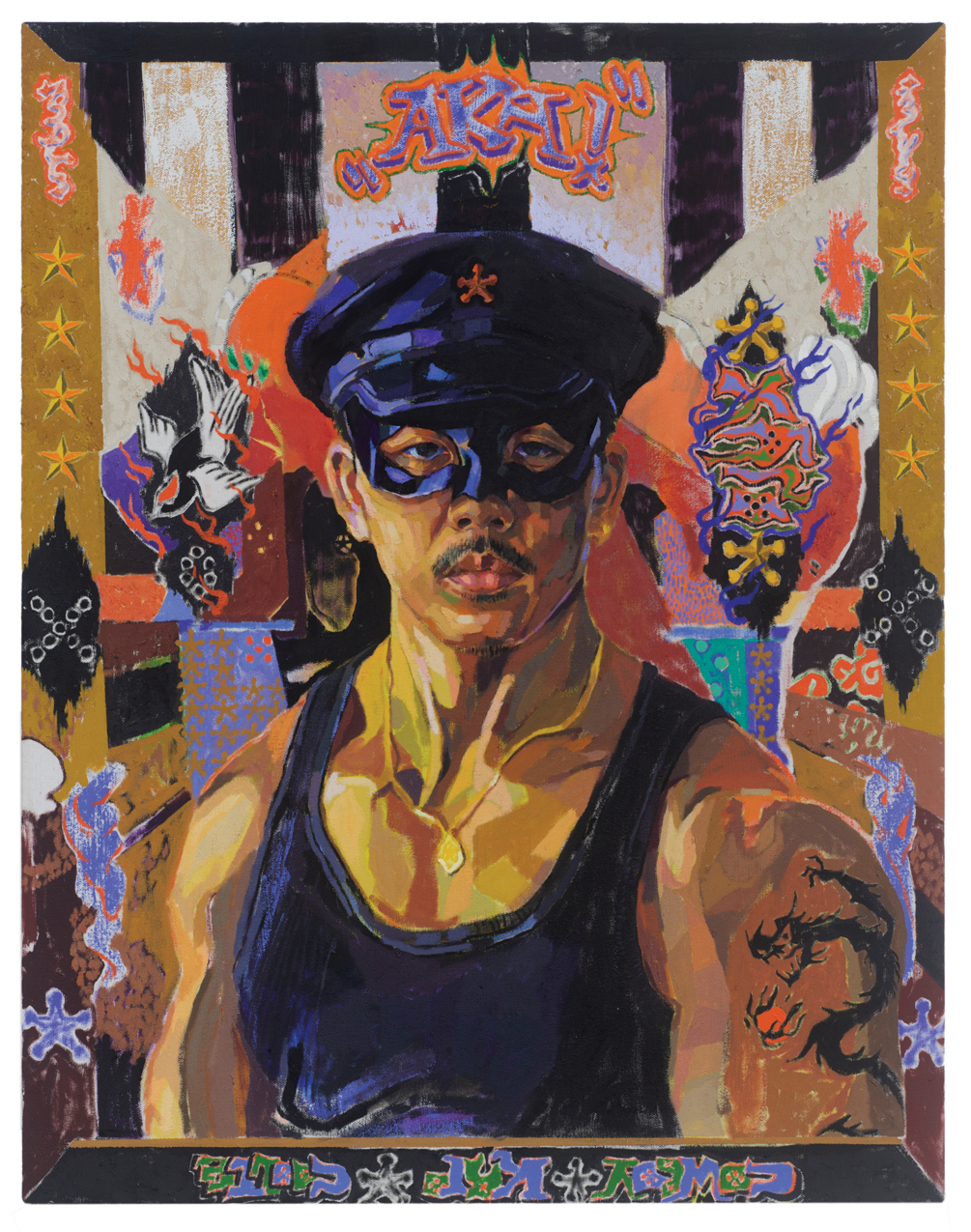 "Cowboy Kato Coolie, aka: Bruce's Bitch" (2021).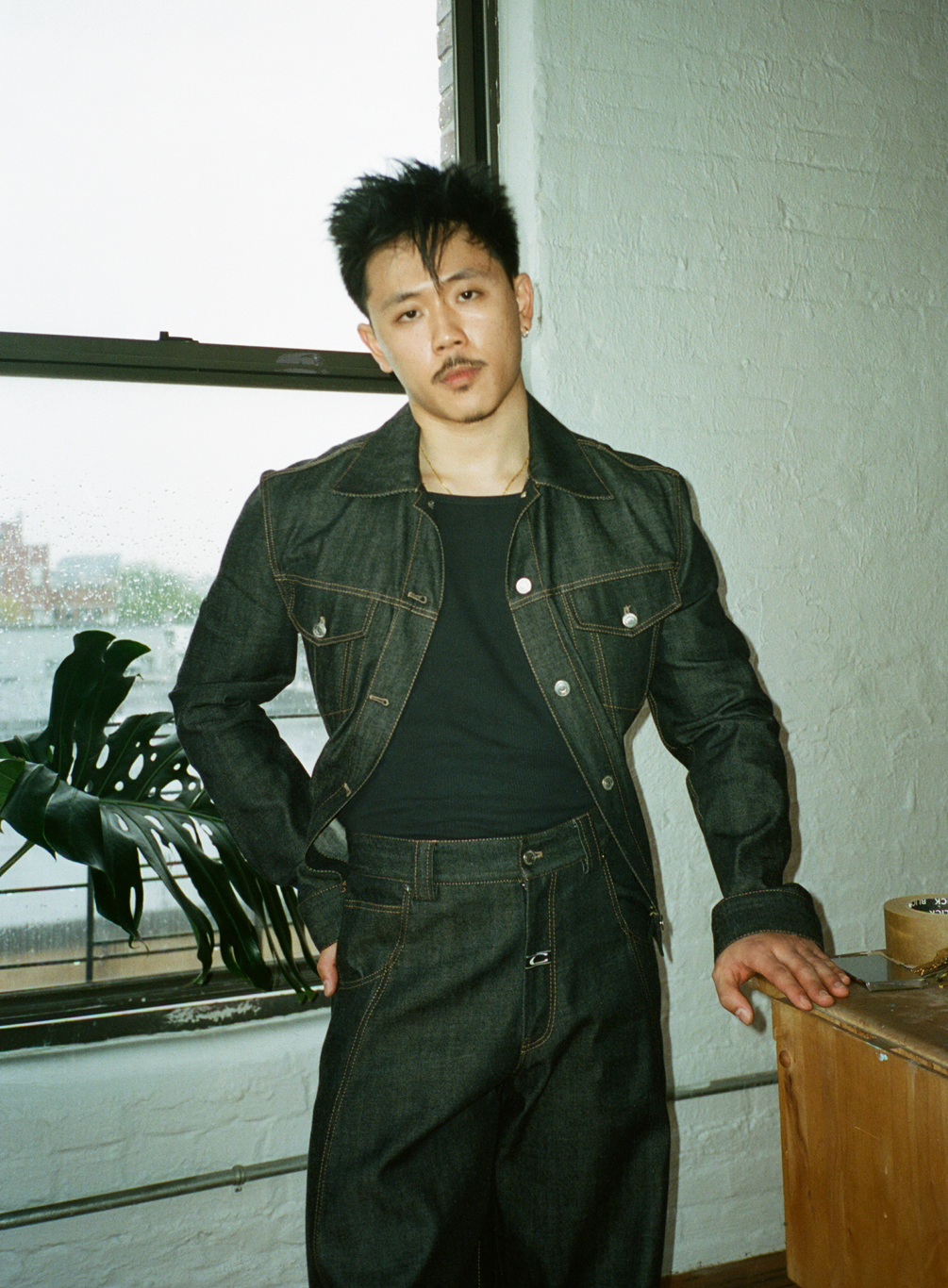 JACKET AND PANTS BY COMMISSION.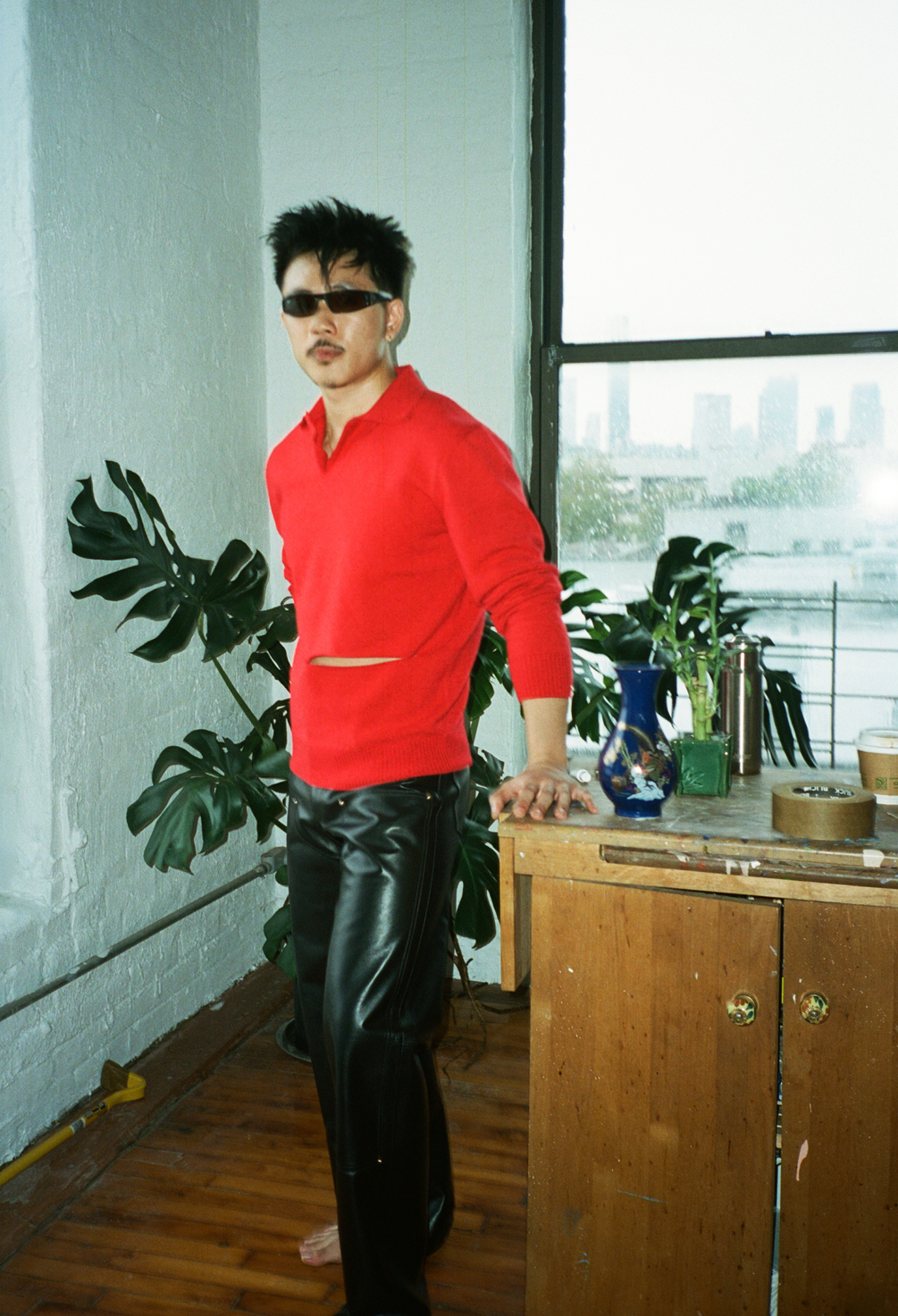 TOP AND PANTS BY COMMISSION.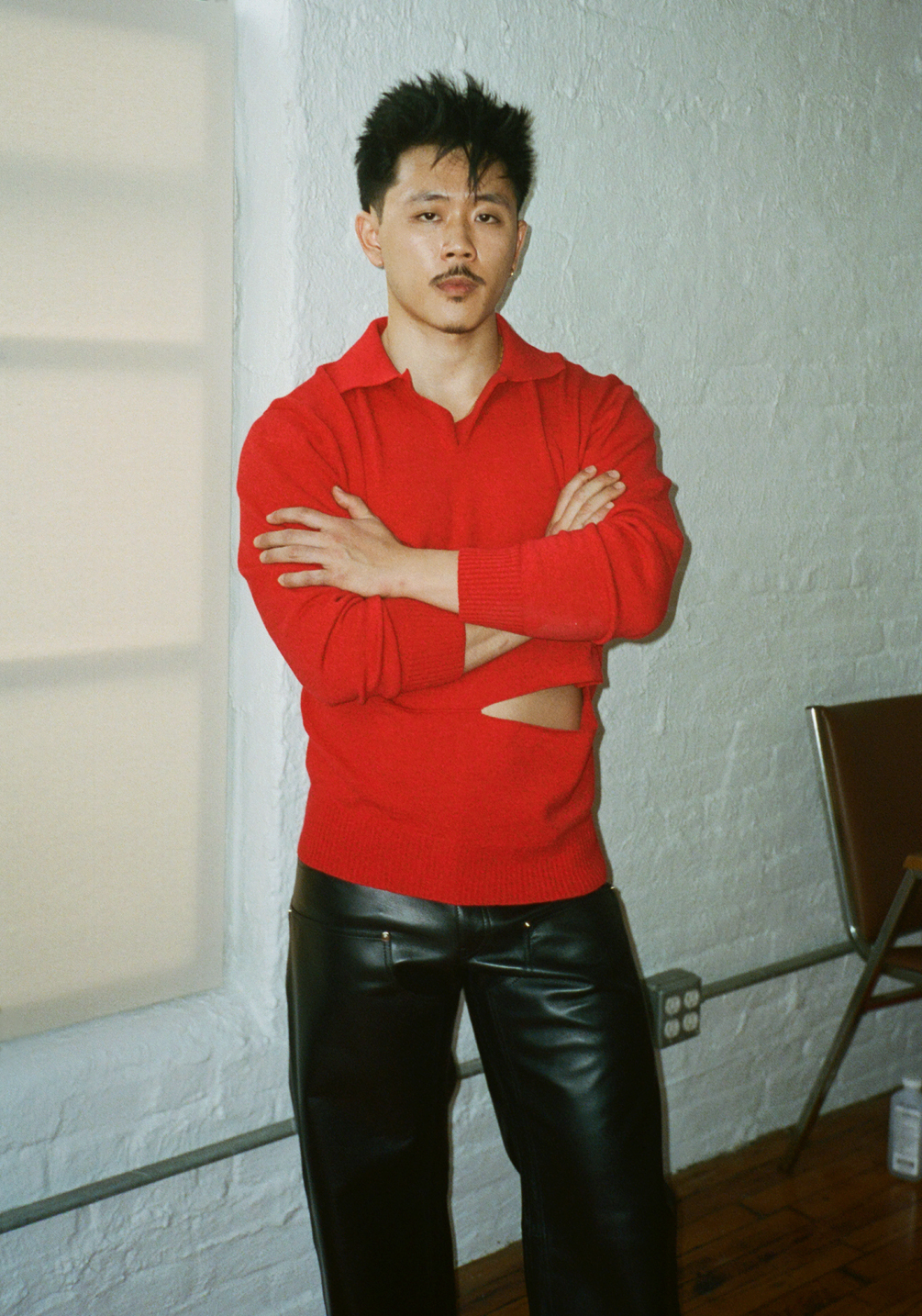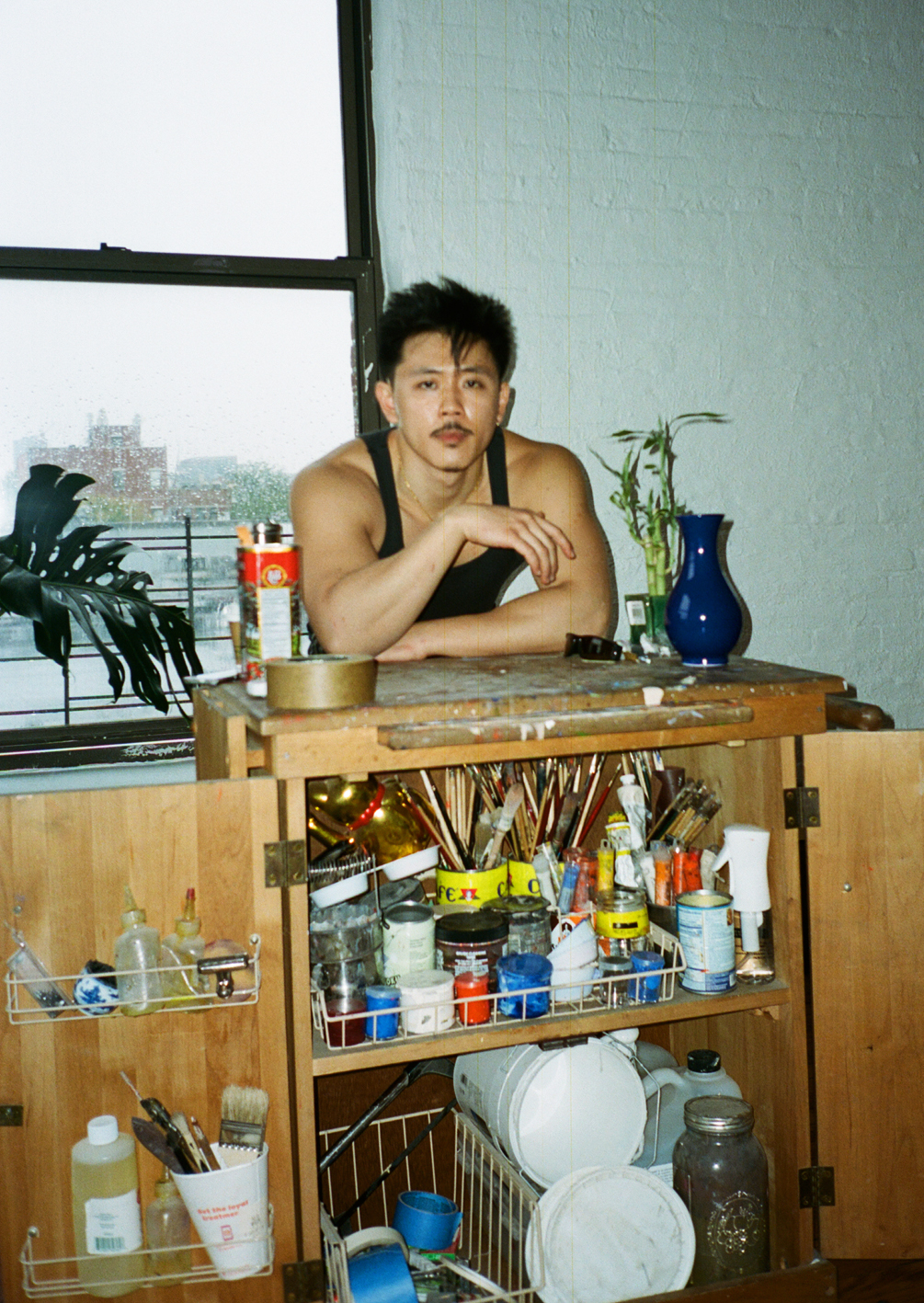 Oscar yi Hou photographed in Brooklyn, NY. September 2022.
All artworks courtesy the artist and James Fuentes LLC, New York.
This story was printed in GAYLETTER Issue 17.