A conversation between besties and musical collaborators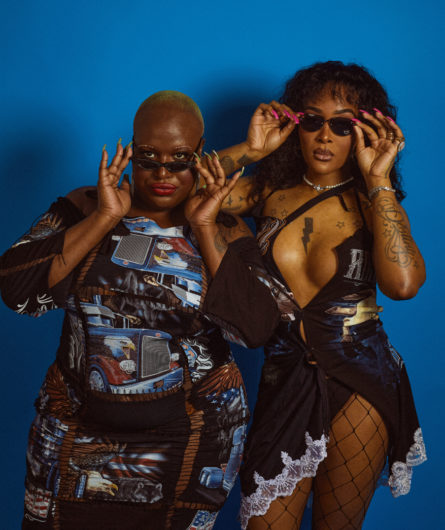 Miss Boogie: Hey sis. For those who don't know, tell them who you are.
Trannilish: It's Trannilish. You could call me Lish, AKA Ms. Titties Gigantic. My look is dramatic.
Miss Boogie: Miss Boogie over here, AKA Miss Boogie What's Goodie also known as Ms. Douche Down. Sis, so what song are you starting your day with?
Trannilish: I'm going to start my day with a little bit of Kaytranada, Teedra Moses "Be Your Girl." What about you?
Miss Boogie: So it's this cute song. It's like an older song, but it's called "Hold It Down" by this collective 4hero. I really love the lyrics so you should check that out. I don't know if I've sent it to you yet, but I will soon.
Trannilish: Yeah, definitely send that over.
Miss Boogie: Yes sis, okay. My memory is usually faded because I smoke too much, so what's our link up story? How did we link up?
Trannilish: We linked up in summer 2009 when I was doing my little fashion thing, you know, body paint, makeup. And you hit me up because you were walking the Latex Ball and you wanted me to do your makeup. Myspace days.
Miss Boogie: Right, a decade ago. I remember like it was yesterday.
Trannilish: Over a decade ago, bitch.
Miss Boogie: So it was the Latex Ball and the category was Female Figure Runway and they said bring it like a magazine editorial. …