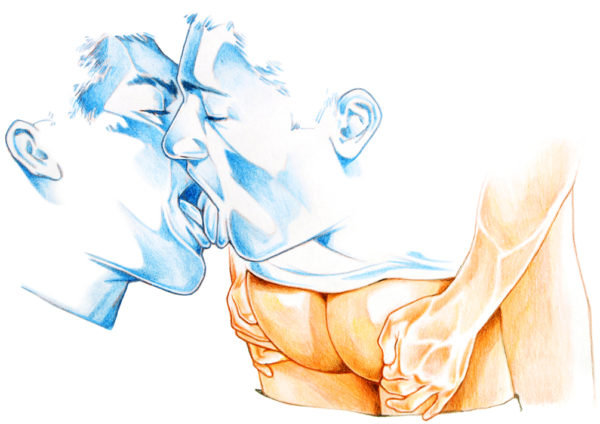 DRAWINGS BY POL ANGLADA
Pol Anglada
The clever artist explains his drawing process and remembers the passion in teenage daydreams.
Pol Anglada grew up near the Pyrenees Mountains, in the Catalan region of Spain, less than two hours from Barcelona. On his dad's side, they were electricians; on his mom's, farmers. His grandma was a talented seamstress who taught him how to sew. In awe, he would watch her work with clientele, friends and neighbors, repairing ripped seams and hemming skirts and pants. As a hobby, his dad and granddad would draw, and sometimes his dad would play a drawing game with him. "My dad might ask me to envision Spider-Man as a princess, or a princess as Spider-Man, or he might tell me to imagine Godzilla and King Kong. He would say, 'What if they fought: Who would win?' And once we had finished laughing at the idea, he would say, 'All right, now draw it.' "
When his dad was young, his family traveled across Europe, and he developed a passion for magazines, comic books and graphic novels. Censorship was pervasive in this last phase of Spanish dictatorship; the open display of nudity and sexual content was illegal. But because he was able to travel internationally into his late teen years, Anglada's dad amassed a broad, immodest collection of printed media, which he later shared with his son.
"A big chunk of my dad's books were erotic magazines and comics. I became obsessed with them," Anglada remembers. "They were all intended for straight audiences, but I remember seeing [Bob] Mizer's Physique Pictorial and trying to spot where you might see a dick or bum." Anglada used these images as references, filling sketchbooks with drawings and creating romantic stories in his mind.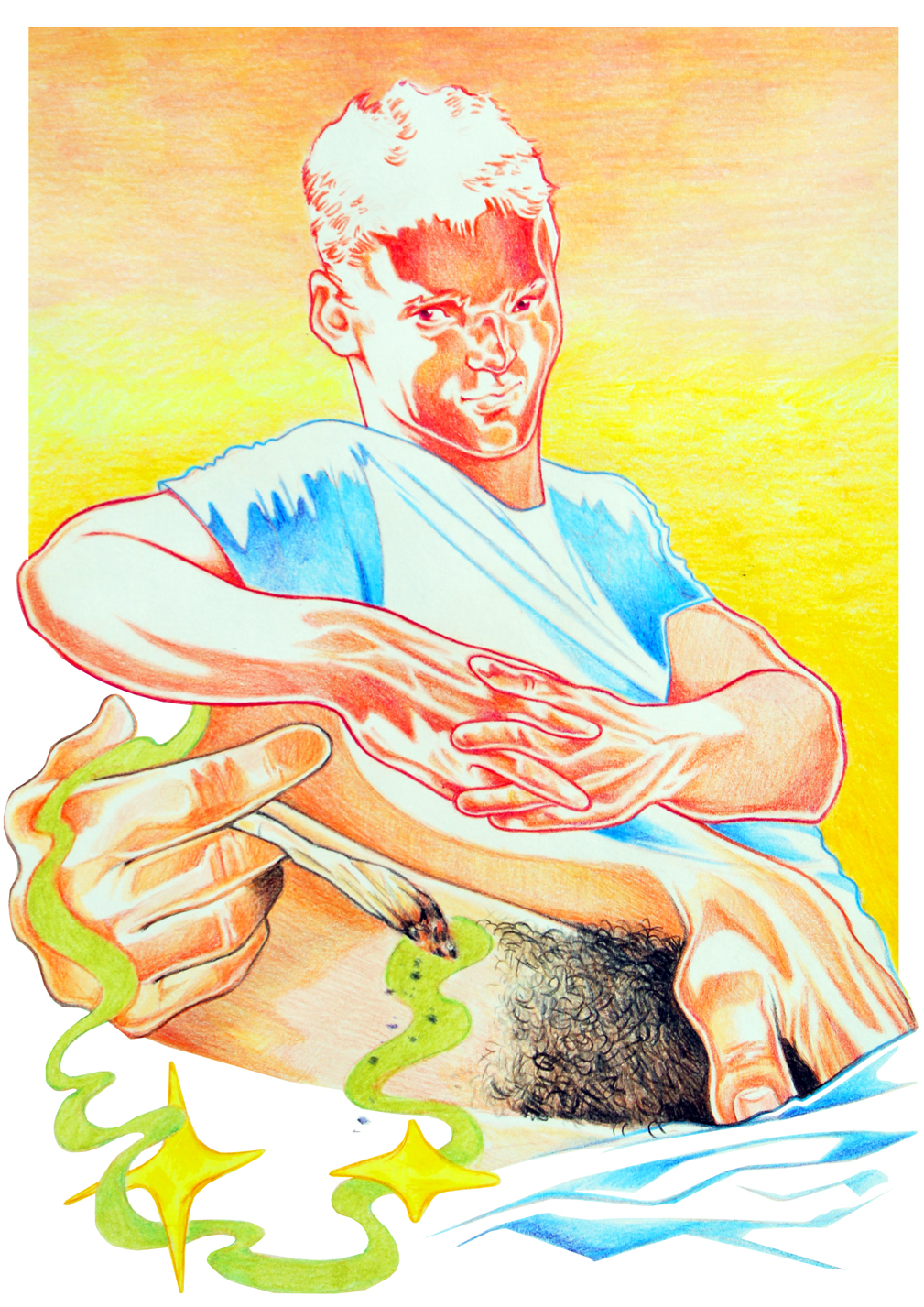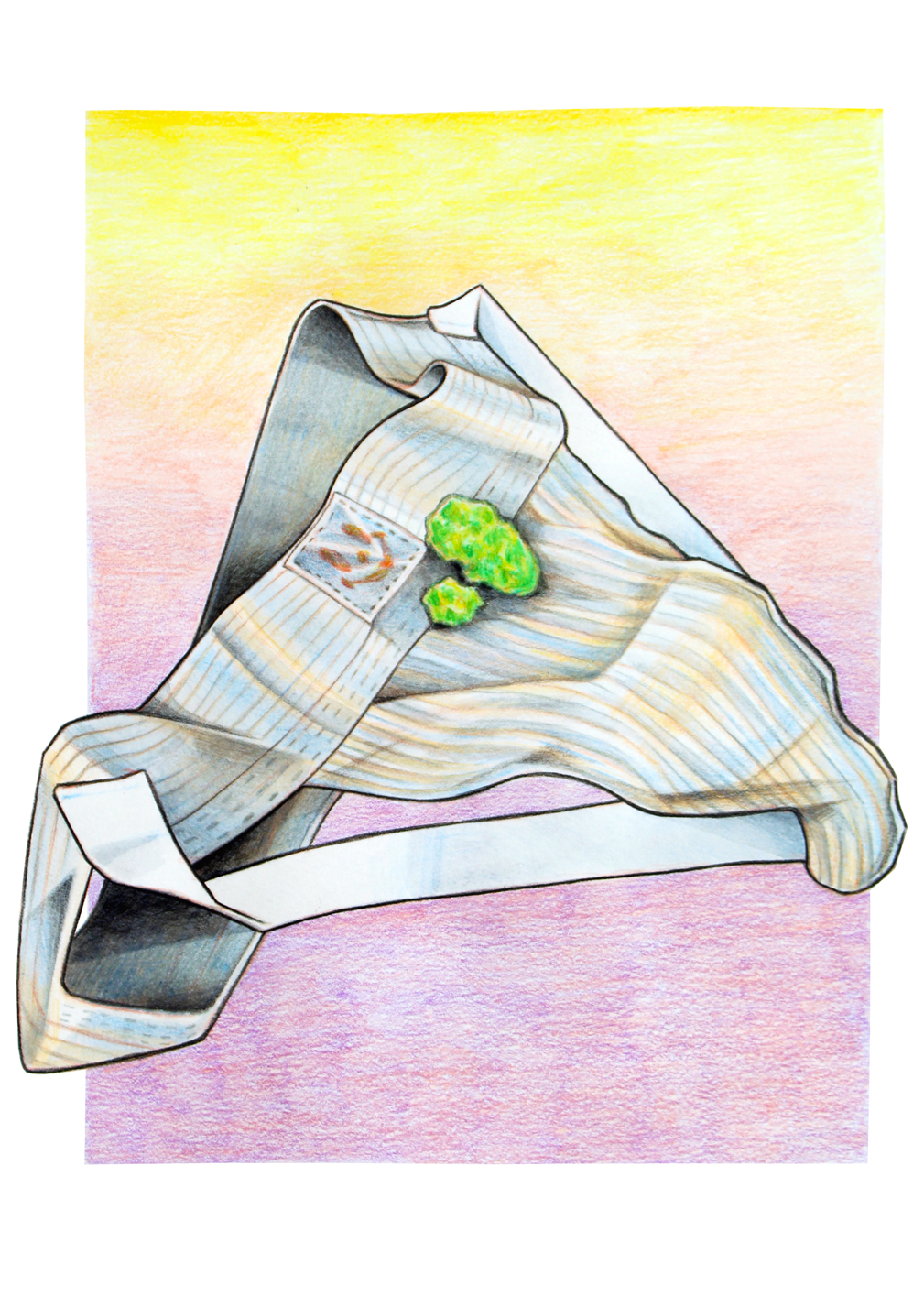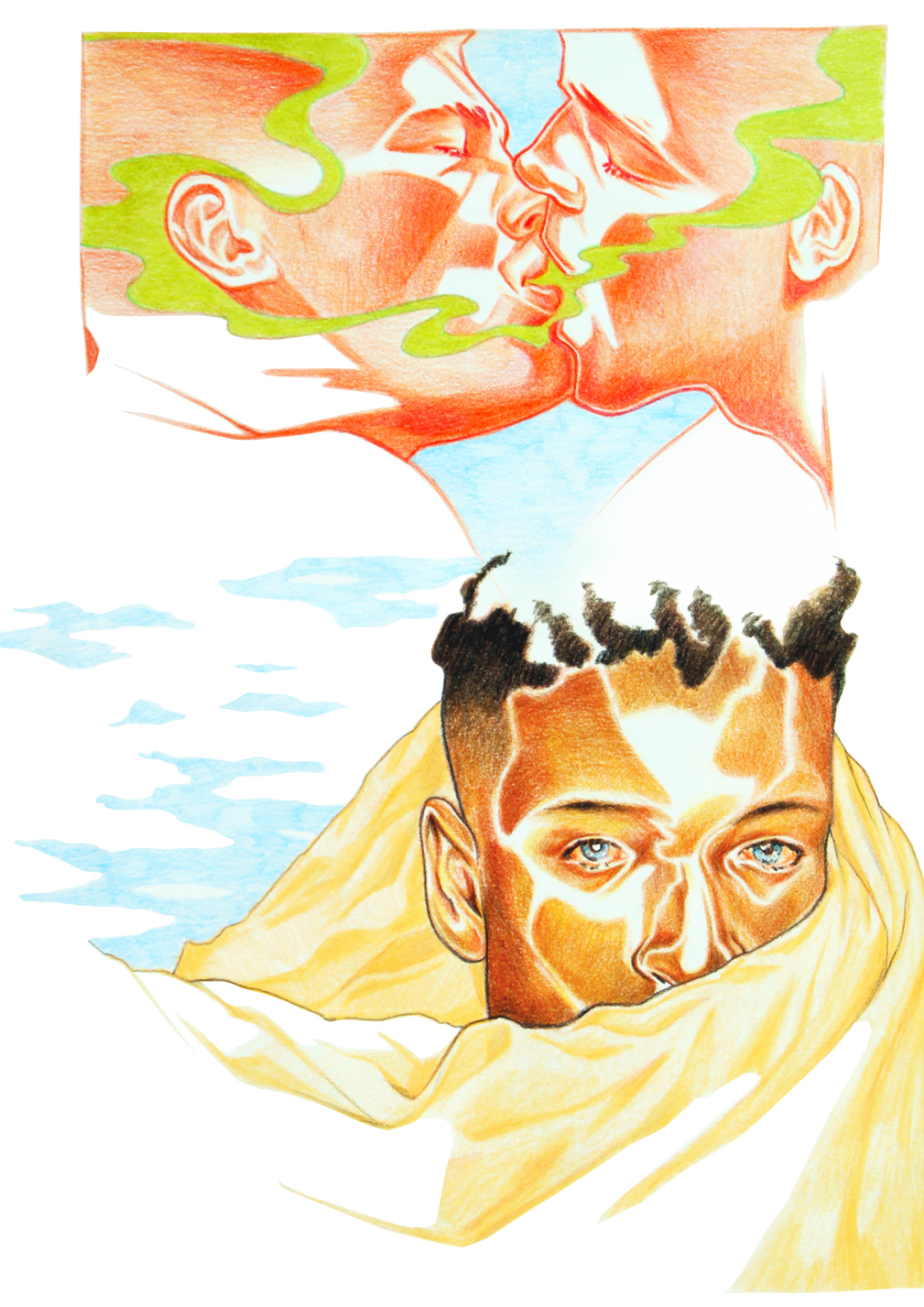 In addition to his small-town school and an English academy, Anglada attended an after-school art program with friends. Challenged by the traditional art setting, he began working in chalk, charcoal and paint, producing still lifes of vases and plastic fruit. Later, he earned a baccalaureate near his hometown, diving into a more technical form of drawing but majoring in fashion. Continuing that track in Barcelona, he graduated with a degree in fashion design, moving to Paris afterward and working for Balmain, Balenciaga, and then Loewe. Drawing remains his safe space, though — his way of switching off, offering him freedom of imagination his day job cannot provide.
In 2016, Anglada and a couple graphic designer friends began Free Time, a magazine dedicated to the leisure activities of people they admire, young and old. "It has become a fun project," he says. "Paris and the fashion industry can be a bit uptight sometimes."
Aside from the print publication, Free Time produces clothing for sale on their website. Anglada hand-paints jeans in a patchwork style, covering them in small assorted images—his signature nude figures, but also clowns and devil faces, fruit, flowers, abstract forms and graffiti. They also sell T-shirts. Comical editions include a rooster, captioned "happy cock" and "come ass you are," with the "o" in "come" stretched around a man's butt as he pulls on his cheeks to reveal a dainty asshole.
When drawing, Anglada usually works with colored pencils, preferring reference photos to live models and landscapes. He tries to keep a regular, daily regimen of sketching, working from found images and whatever he has in front of him: pencil shavings, beer cans, half-smoked joints in the ashtray.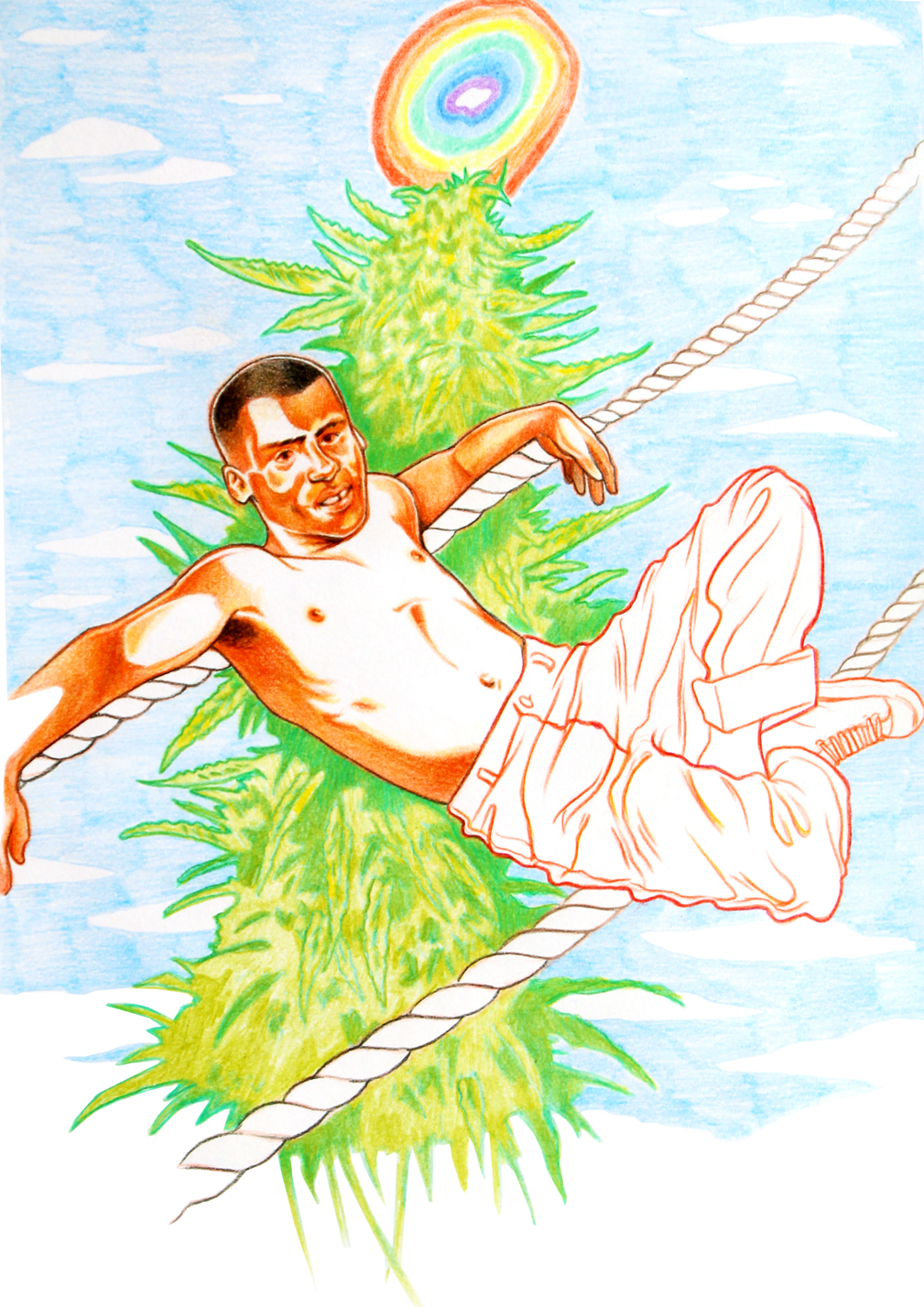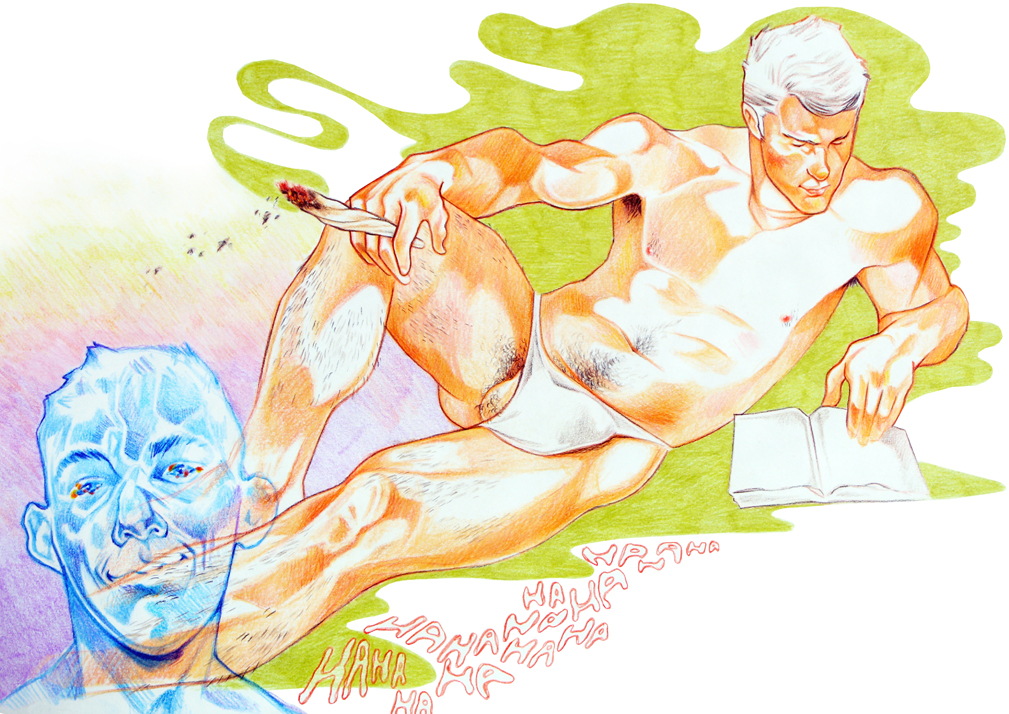 Sometimes he loosely develops stories for his figures: Maybe that man is a half-naked farmer posing with his marijuana plants, or they're a pair of tipsy migrant alcoholics who pause their hike for a kiss.
"I'll get obsessed with a certain kind of pose, a hand gesture, or the way eyes stare, trying to figure out what makes it interesting," Anglada says. "I enjoy kissing and intimate scenes, but you never see a dick or anything explicit. Using colors and expressive lines, I imply a mood, letting the drawings lead the viewer into finishing the story in their own head."
In the past few years, Anglada has also created art for fashion advertisements, including an architectural wrap during Pride for the new JW Anderson storefront in London. The building featured a large, colorful drawing of two men kissing, and another of a man wearing a skirt while triumphantly carrying someone else on his shoulders.
"Queer, to me, means marching to your own beat, doing you, and at the same time, being able to wear your heart on your sleeve and defend who you are," he says. "I've always been interested in how subcultures market themselves to the world in an appealing way. Magazines and advertisements do it; they turn a niche subject into an object."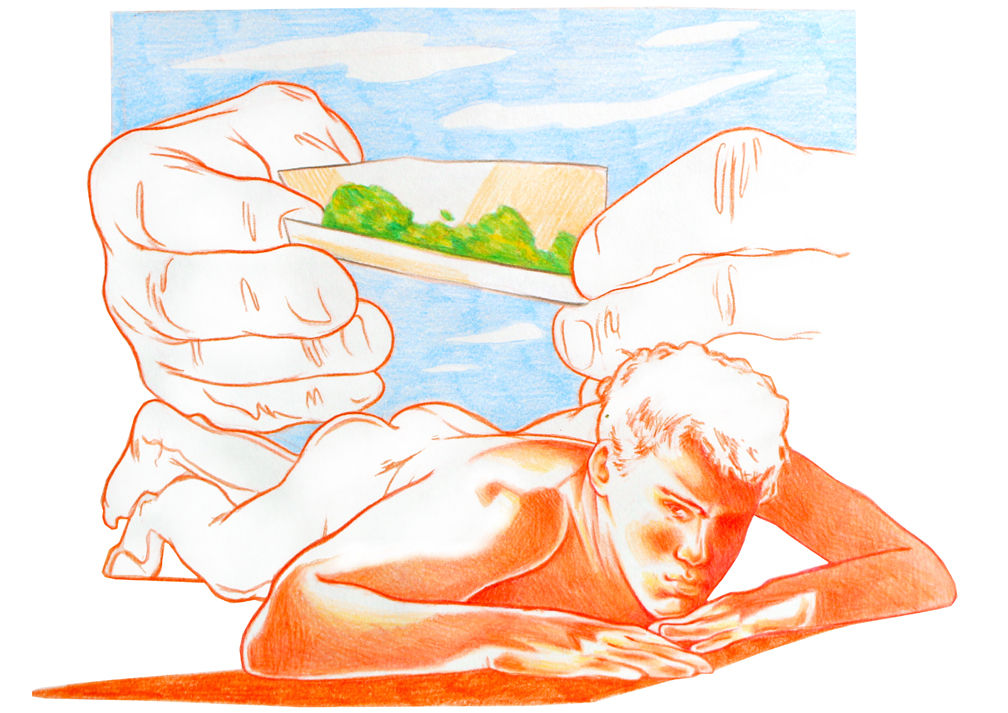 Paul created some exclusive drawings for GAYLETTER issue 11 to accompany this editorial. To see the full feature, click here to get your copy.