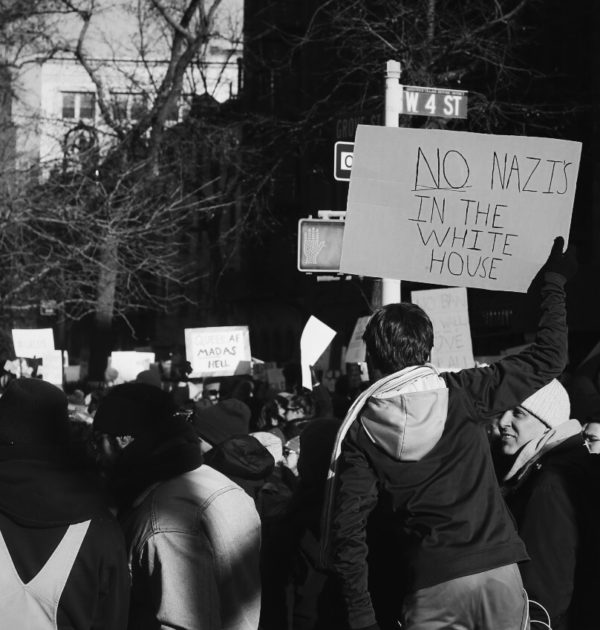 PHOTOGRAPHY BY SAM GAMBERG
Protest White Supremacy and Donald Tr*mp
NYC fights back
Two days ago hundreds of white supremacists, neo-Nazis, and KKK members rallied in Charlottesville, VA to "protest" the removal of a Robert E. Lee statue, chanting racist, xenophobic, anti-Semitic, and anti-LGBT slogans, praising Tr*mp, and committing violent acts of domestic terrorism against counter protesters. One of these terrorists rammed his car into a group of people on a crowded street injuring at least 19, and murdering one. Many politicians, activists, and celebrities denounced these actions of white supremacy, while our pig-in-chief, in his first statement about the terror, blamed "both sides" for the violence. This is all happening in 2017 — and it shouldn't be shocking.
We are living in a time where racism and many other systems of oppression are thriving in the United States, and it has always been this way because these systems are institutionalized. It's crucial that we take accountability for this display of white supremacy. We need to ask ourselves daily what we are doing to combat it while taking note from Kimberlé Crenshaw and recognizing our individual privileges on an intersectional level.
If you're in NYC, there's a protest at Tr*mp Tower on 5th Ave. today (August 14th) at 4:30PM, and he's going to be staying there —so show up. And if you can't show up physically, show up with coins and donate to organizations like the Charlottesville Chapter of the NAACP. Kamala Harris said, "If you've ever wondered what you would have done during the Civil Rights Movement, this is your opportunity to find out."
Silence is violence people — figure out what side you're on and come out and protest.