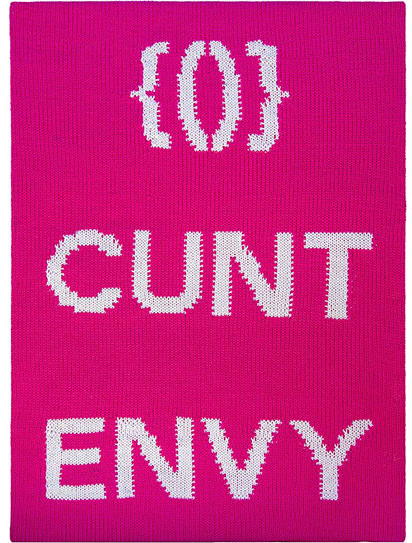 Ben Cuevas - Cunt Envy, 2014 Knit wool yarn on canvas, 32" x 23".
Queer Biennial in Miami!
Hotel Gaythering hosts the first queer group show during Basel 2014
From December 4th-7th the "hetero friendly" Hotel Gaythering will be hosting the first Queer Biennial during Miami Art Basel 2014 titled "Art on the Edge in a Warm Climate." Bringing together some of the biggest names in the Queer art world. The show features a large range of different media, from installations to drawing salons. It's curated by Rubén Esparza and presented by Alex Guerra and Sephan Ginez.
Some of the featured artists (which include some GAYLETTER friends and contributors) are Rick Castro, Ben Cuevas, Rubén Esparza, Connie Fleming, Jon Vaz Gar, Angela Gleason, Glen Hanson, Chasen Igleheart, Josef Jasso, Brian Kenny, Bruce LaBruce, Alex La Cruz, Scooter LaForge, Jeremy Lucido, Ian MacKinnon, Slava Mogutin, Mel Odom, Gio Black Peter, Miguel Angel Reyes, Robert W. Richards, Tawnie Silva, Jacques Smith,  Alonso Tapia, Joey Terrill, Maurice Vellekoop, Rich Yap, Austin Young and the list goes on. If you are in Miami this week and want to take a break from the massive fair and possibly run away from some of the most pretentious galleries in the world this is the place for you. If you are not into queer specific art, maybe because you are homophobic or ashamed of being gay, or simply "don't like labels" but you want to get laid during the day, you'd probably have a good chance here. They'll be hosting several receptions during Basel on December 4, 5, 6, 7, from 7:00PM – 11:00PM — told you, there's gonna be plenty of cruising!
For more information: queerbiennial.com