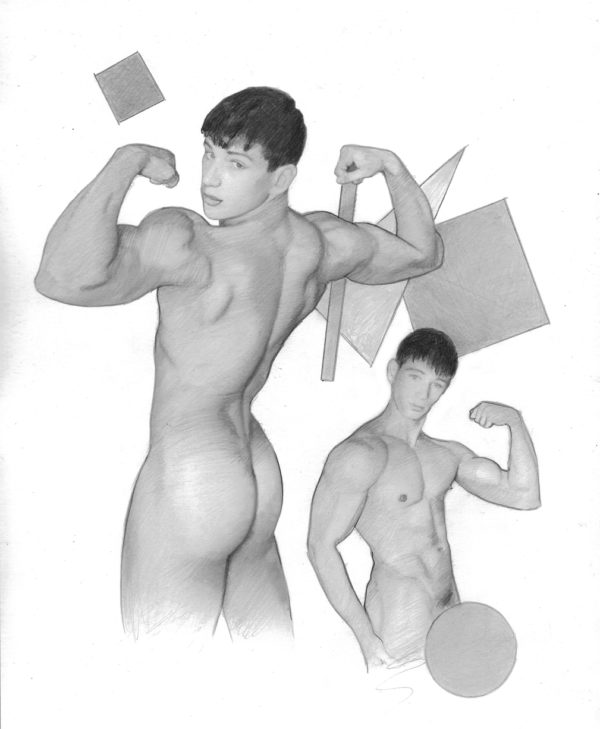 DRAWING BY SILVIA PRADA
RENO GOLD
The GAYLETTER Back Page
Reno Gold has been making money from his immaculately sculpted body since he was an 18-year-old stripper in Reno, Nevada. Names he went through before he got to Reno Gold include Sebastian Valentino and Richie Rose. Now at 24, Reno has moved his talents to OnlyFans. He's been doing it for two years, but in the last year his income on the platform has exploded. Even with the 20 percent cut the company takes, he often manages to pull in over $100,000 a month. In total he's earned over $1.2 million. The quarantine has been a golden opportunity for Reno.
"Covid has been really good for business just because people are craving that human interaction." Reno now resides in Miami, but he was born in Illinois. He is currently single, telling us that his number one focus is his work. "I talk to my subscribers every single day. When I wake up, I immediately check my messages, answer them, and then hit the gym. Then I come home and film. I think it'd be kind of hard to have a relationship." When asked to give us an official job description Reno responded with "local Internet hooker" or "digital panhandler."
Reno loves his eyes but he says, "my dick brings me the most pleasure, so he's gotta be my favorite." Reno has plenty of fantasies, and he's been lucky to fulfill some. "I actually lived out one of my fantasies a couple of years ago when I was traveling to Paris." Reno and his date went on a big Ferris wheel at night. "We were the last ones on it before they closed, as we got to the top, I bent him over and fucked him. We went around three times until I finished inside him. It's going to be hard to top that."
This story was printed in GAYLETTER Issue 13, get a copy here.