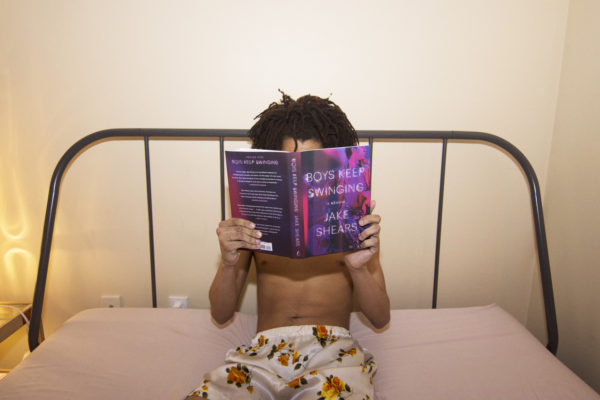 PHOTOGRAPHY BY CONNOR ATKINS
BOYS KEEP SWINGING BY JAKE SHEARS
How a small town boy went from jock straps to pop stardom
Before a celebrity begins writing a memoir, they need to decide who they're writing for. Is it for fans, or a general audience? For any gay or LGBTQ+ identifying celebrity there's another layer of consideration: Is this for the community?
In Boys Keep Swinging (Atria), Scissor Sisters' front-man Jake Shears claims "I don't make music just for gay people," but his brutally honest memoir delves into nuances of queer existence that are rarely seen in print. For example, when Derek (aka Del Marquis, lead guitarist for Scissor Sisters) makes an off-handed remark about "trashy bottoms" it leads to a physical confrontation with Jake:
"A jealous animosity had spewed out of me that I had been shoving under the rug. I felt threatened by Derek's fascination with representations of masculinity: the utility van he drove around, the butch-worship. I thought that because I was a freewheeling fag, it somehow made me less-than. I allowed myself to wear sequins and prance around the stage, performing queenery. But I told myself it was twice removed, an act. I still carried shame about who I was."
It's a powerful moment of self-awareness that most gay men can relate to. At its heart, Boys Keep Swinging is the story of an effeminate boy realizing he is an outsider. He'll need to learn to harness the anger, and hidden mental anguish that are often supplemental to being a fag.
Often as I was reading, I wanted to reach through the page, grab Jake by the shoulders and shake some sense into him. You can do this. You're talented, you're good looking, get out of your head! Then I'd shake him again, a little harder, and say, Be nicer to Ana Matronic! But it wouldn't matter. Hell, if Bono couldn't talk sense into him, what the hell could I do? Even when Jake was literally at the top of the pop-charts in the UK, he was mired in a dark depression – what he calls "the hurt that remained under my skin." It's sad to read, because for anyone who went out and danced to his music, we were having so much fun.
Few people could understand what Jake was going through but luckily they were the exact people he was hanging out with. Holy shit does he name drop, and it's the who's who of gay heroes. Dan Savage was an early mentor. Elton John convinced him to get on Lexapro. Anderson Cooper fucked him in Rome and told him to get a real job. This is not a complete list but there's also memorable scenes with Kylie Minogue, David Bowie, George Michael's ass, and lots of cameos by New York legends like Kiki & Herb, Mother Flawless Sabrina (R.I.P.), Amanda Lepore, Miss Guy, and Michael Formika Jones. (Mistress Formika made the unfortunate mistake of getting mad at Jake for canceling a show… I bet she didn't think she'd be getting called out on it in a hardcover book some twenty years later!)
Plenty of shade is thrown in Boys Keep Swinging, and I was highlighting all of it. Jake really, really, hates Stomp; he blames the New York Times for the disparate levels of success Scissor Sisters had in the UK and US; Elton John's nickname for Jake is "Britney Shears". Also, apparently Ana Matronic was not a fan of "Take Your Mama," and has serious time management issues. There was a lot of drama behind the scenes with Scissor Sisters, so super-fans are sure to devour that, but in hindsight Jake seems willing to take the lion's share of the blame, albeit begrudgingly.
A celebrity writes a memoir so the world can remember who they really were, and in their own words. Either that, or a celebrity memoir can be a vanity project. Jake has chosen to cut his guts out and write with them for this book. He doesn't hide his faults, of which there are many, like wearing maybe the filthiest shirt that's ever been worn in an author photo. But in Boys Keep Swinging you'll also find out why everyone who has ever met Jake is enamored by him.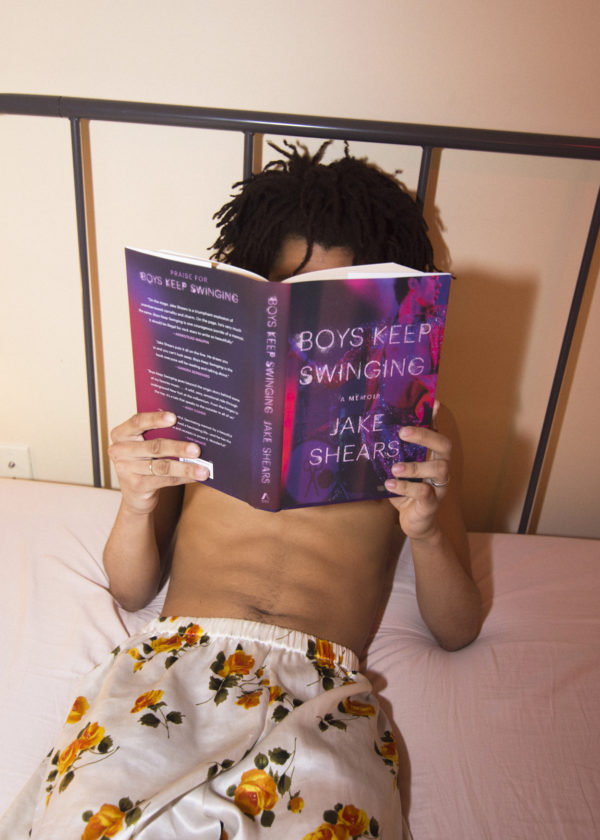 Boys Keep Swinging is available now. To get your copy, buy here.