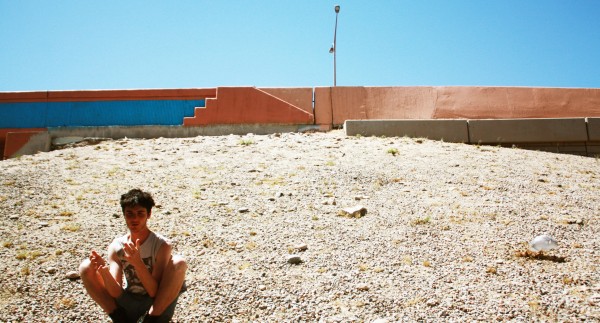 ROAD-TRIPPING IS QUEER. PT.4
I understand that David Lynch has been referenced in each post. It's unintentional — trust me. Maybe I haven't gone traveling through the USA — maybe I've actually crawled into the head of David Lynch… our hotel room in Albuquerque looks extremely Lynchian.
After enjoying the Lynchian installation we walked across town to the liquor store so we could get smiley before arriving at the "best gay bar in Albuquerque," Sidewinders. The guy behind the counter at the liquor store was wearing a Jack Daniels t-shirt but the Jack Daniels had been replaced with the word Redneck — he said "ya'll be safe now" — what a cliché, brilliant.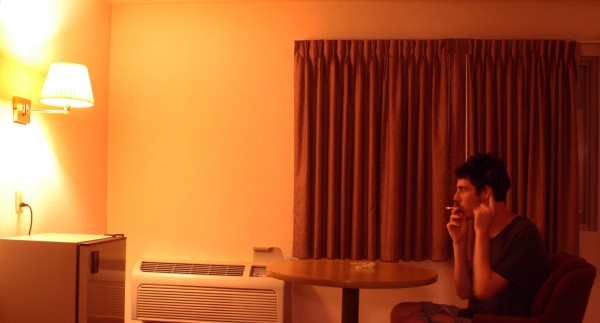 After going back to the Lynchian room and getting perfectly floppy armed we called a cab — one and a half hours later the cab came. (Since Alice wasn't happy with the photo I posted last time I thought I'd make it up to her with this divine Casually Waiting For Cab shot — mine too)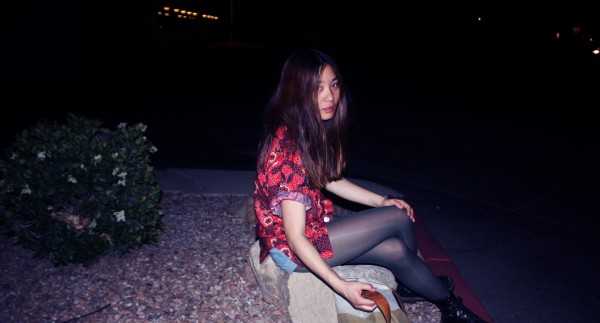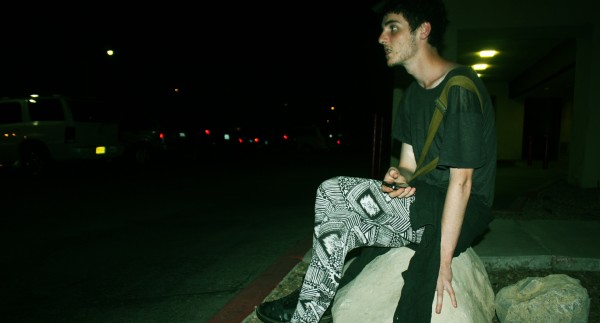 Sidewinders — what a horrible place to be, cool drag queens but depraved patrons. While there I was thinking about what to refer to these folks as. I've decided to go with "derelict sleazes." I understand that this is a generalization but I honestly wasn't presented with any other kind of person, other than the employees and the performers. One 40-year-old guy offered me to join him in a drug fueled orgy with his homeless looking friends, I turned his offer down and he snapped his fingers at me. At first I was annoyed and thought he was a bastard but then I realized that he's 40 years old and still hasn't learned how to be a human, I no longer resent him, I pity him. One consistent attribute of all these gay bars we've visited on the road is that everyone is in costume. Either you're in drag or you're in another kind of drag, a bro drag — a disguise so that the people in town won't beat you up. I don't dress particularly flamboyantly but I always feel like the biggest diva in the room — other than the drag queens of course. The one good thing to come out of our night at Sidewinders was that Alice got to see her very first drag show — she was so happy. I told her that it really wasn't a particularly great show, but she didn't believe me — I'll have to show her some Manhattan shows, she may explode.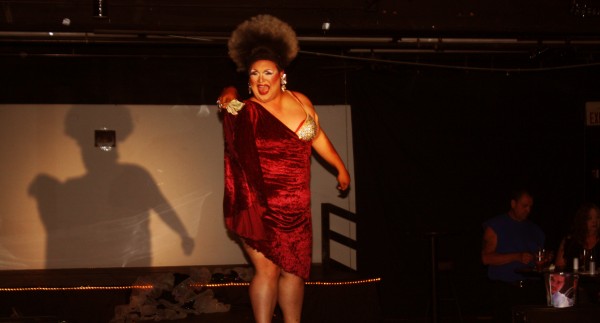 It's quite a shame because I did really enjoy Albuquerque as a city but these fiends that go Sidewinders really ruined the perception. Back to highway in the early morning hours — we were picked up after about four hours, I will refer to this guy as "the man who knows everything" or TMWKE. This wasn't a two and a half hour drive from Albuquerque to Gallup — this was a two and half hour lecture on Navajo culture, gang activity, secret underground military bases, hang gliding, weather, highway repair, Australian cuisine, Korean cuisine, health care and other things. TMWKE also told me that the world heroin supply goes through Singapore and that you can find drugs easily on the street there — easier than most countries…he has never been there and I lived there for 13 years but he declared that I was wrong and he was right. This ride gave me time to consider the function of knowledge. Yes, TMWKE is a smart guy but the way he used his knowledge made me want to loose all of mine — I've decided that speaking opinions and sharing knowledge makes you seem really stupid.
We arrived in Gallup and decided to grab some "Chinese food" — TMWKE told us it was some of the best Chinese food he'd ever had (he's been all around the world, except Singapore) — the food was horrendous, maybe he's not so smart after all. We had won. I know I sound terribly petty at this point but if you met TMWKE — you'd understand.
After our education in Chinese cuisine we walked under the highway bridge to hitch a ride to Holbrook. My boyfriend Noah and the lovely Monica were waiting for us in a concrete teepee there — the iconic Wigwam Motel — they are our final ride to Los Angeles. Under the bridge Alice was approached by yet another meth-head who wanted to sell her some earrings or maybe even a hat — she wasn't interested. I never really knew how common meth was until this trip, each city and each ride was somewhat related to meth. Most of the time it was people who didn't do it saying it was all over the place, others were on it and others had friends who were on it. I guess it comes out of severe boredom because most, if not all, of the cities we visited had very little to offer in terms of recreation. It really was quite depressing. We also passed a sign while driving through a Native American reservation that had a picture of a tribe and the words "Don't meth with us" slapped over there faces – weird sign I thought. We also passed another sign in the same area that had a photograph of a Native American baby with the words "Abortion is not the Indian way" written on it. The integration of Native American culture within the desert area is really odd — many dolls for sale, many rugs, lots of jewelry…it's a combination of exploitation and guilt tripping…
We hitched our last ride — it was yet another pickup truck which is perfect. We've found a new love for pickup trucks — I want one. One hour later we arrived at the concrete teepee with Noah and Monica — wunderbar.
Meet our friends.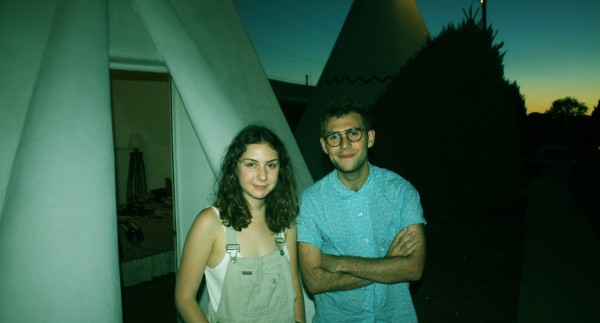 Meet our Wigwam — our new favorite place on earth.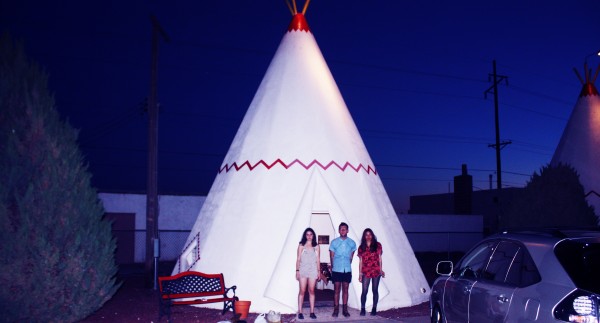 Surprisingly there isn't much to do in Holbrook outside of our Wigwam, certainty no queer bars to report on. This left us with one option — walk across the street and buy some tequila, margarita mix, salt, lemons and really cool plastic cups. This was definitely the perfect way to reconnect with reality — drinking in Wigwam with friends. No more strangers, no more thumbs, no more signs, no more bars, no more meth — just seeing familiar faces and listening to our own music (most drivers played despicable tunes and most bars followed suit). Monica got a little bit restless so we decided to wander to a nearby desert rock and discuss truckers.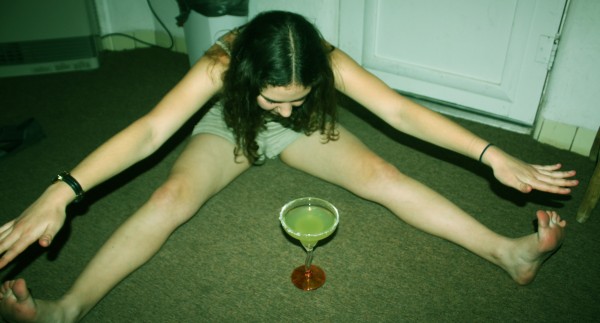 Waking up in a Wigwam with your boyfriend, who you haven't seen in awhile, is a pretty interesting experience — you should try it. Another morning spent rushing to get back on the road, this is our last time. The ride was long but lots of fun. After approximately 4 hours we had made it to California.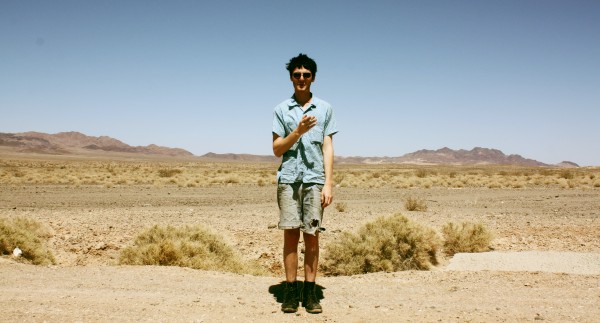 Here's the list of places we hit up on the trip:
Manhattan (NY) to Pittsburg (PA) to Zanesville (OH) to Columbus (OH) to Dayton (OH) to Indianapolis (IN) to St. Louis (MO) to Springfield (MO) to Mt. Vernon (MO) to Joplin (MO) to Big Cabin (OK) to Sallisaw (OK) to Shawnee (OK) to Oklahoma City (OK) to El Reno (OK) to Amarillo (TX) to Moriarty (NM) to Albuquerque (NM) to Gallup (NM) to Holbrook (AZ) to Los Angeles (CA).
Here's the list of transportation:
Train from Manhattan to Pittsburg. Recently divorced man in van with carving of an elk. Police officer with nothing better to do. Guy who recently moved to town. Daniel Johnston look-alike. Man with dead eyes and strange topics of conversation in military pickup. Man who spent three years in prison and beat up fags. Friends of Frank Booth. Bus from Indianapolis to St. Louis. Bus from St. Louis to Springfield. Wunderbar teenage couple with child. Amazing old psychedelic woman. Hunter S. Thompson minus the genius. Hank Hill and Bobby Hill. Old guy with booming voice. Doctor who loved jazz. Christian family with foster child. The teenage millionaire. Young mother with loud children leaving her crack head husband. Woman and children with unsettling  hair style. The glorious Ezekiel. The terrible Tony. The starvation comment guy. The glorious Michelle. The college students from Flagstaff who drove really fast. The man who knew everything. The final couple with the pickup truck.
After seeing a large chunk of America I have come to the conclusion that America is weird and unbelievably diverse — each city felt almost like a different country. Alice and I decided that this trip was particularly weird because most of the time was spent either on the side of the road covered in grime with our thumbs out or sitting in a car with someone you have nothing in common with trying your best to converse. This sounds painfully dull and utterly repetitive but the interesting thing was that there was not a dull moment. We spent a week and two days observing and contemplating. In regards to gay culture in middle America — it seems rather challenging but also more communal, what we have in Manhattan they lack but what they have we lack. There isn't any need for pretension in these places because none of it really matters — there is oddly a stronger sense of equality in the Bible Belt. This trip was grueling and surprising. I now encourage some sympathy for the devil.
Now I get to stay in Los Angeles until the 28th of June — no more road life.
The act of hitchhiking with my fag-hag, the lovely Alice, from NY to LA is a novel experience above all else. Trains, buses and strangers cars will serve as our main modes of transportation — fortunately/unfortunately. This plan is foolishly romantic but clichés exist for a reason — because they're wonderful!