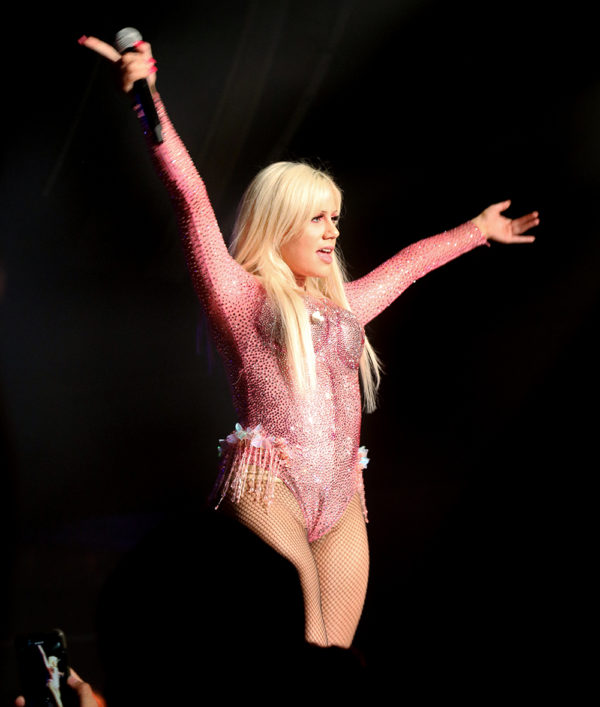 SLAYYYTER PHOTOGRAPHED BY GRANT VERNON DURING HER PERFORMANCE AT BUSHWIG NYC 2019.
Slayyyter by Slayyyter
Slayyyter's debut inaugurates the new
Slayyyter first pinged our radar with her standout singles "BFF" and "Mine" over the last year, in which she emerged shockingly — almost aggressively — ready to take over. With Hustlers' pre-recession extravagance domming the box office and Normani's "Motivation" video single-handedly rocketing the early 00s back to pop culture's forefront, Slayyyter is our first true heir to Britney Spears' Blackout. She reformulates the icon's decadent sonic finale to an epoch of celebrity excess and shamelessness. The density of Blackout, its grimy pink-and-blue oversaturation, its raw desire to wield acquired power — in short, those qualities that made it critically rejected the year of its release — are spun by Slayyyter's post-ironic revelation of all the satisfaction that darker pop can bring to light.
We still haven't had enough of "Mine." This level of pop ecstasy—think "Vegas Strip fantasia," "champagne and shotgun weddings"—has had no equal this year. The simplicity of the lyrics and Slayyyter's hyper-emotive delivery (so excessively felt it's almost parody, but never quite) creates a dreamy space within the propulsive, Uber-to-the-club type beat. In short, it's a hit. "BFF" ("Smoking up inside my white Jeep / with the pink seats") and "Daddy AF" ("Playboy in the grotto / I've been popping bottles / All night") stand out as other examples of Slayyyter's approach. Their production is dense, heavy, and hyperkinetic, well-suited to SOPHIE's world. The mixtape vacillates in mood, but what remains constant is its intensity, its excess, and Slayyyter's hypnotic, committed vocals.
While the pop of the 2010s documented our mass adaption to the internet (like Katy Perry's use of "epic fail" in "TGIF," and Taylor Swift's caption-lyric "I don't know about you, but I'm feeling 22"), Slayyyter feels born of the internet, molded by a newer imaginary. The digital era is over: its stars have become queens, and the next generation of pop princesses are rising to claim their crowns in the 2020s.
With this debut mixtape, it's clear that Slayyyter belongs up top.