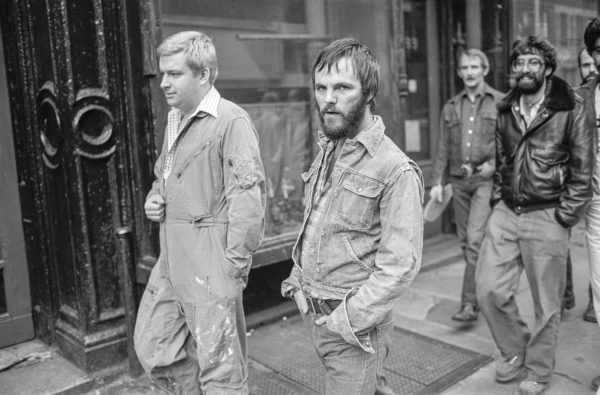 PHOTOGRAPHY BY SUNIL GUPTA
Sunil Gupta, Christopher Street 1976
Sunil Gupta moved to New York City in the early 1970s to pursue an MBA, but the city had other plans for him. After realizing he had a passion for photography (Gupta would often hangout on Christopher Street and photograph the young men who were bravely creating some of the first gay public spaces), Sunil left the prospect of an MBA behind and began studying photography under Lisette Model at The New School.

The images he captured during his graduate career, nearly a decade after the Stonewall Riots yet years before the AIDs crisis, are compiled in Gupta's new book, Christopher Street. He shows us a different era, one in which gay men are dressed in Levi's and leather, where they walk down Christopher Street proudly sporting sideburns and mustaches. Gay sex, as political revolution, was part of this era, too. Men would have sex on street corners and behind parked trucks, not just for fun, but as Gupta says in a recent Guardian article, to be "bad and proud of it."

Sunil shows us this kind of intimacy in his photos. Flipping through the pages of Christopher Street feels like cruising. Men look straight into the lense as they walk past, some smile, some smirk. Gupta does a brilliant job of capturing the gay scene of the time. "What was initially a hobby quickly found a purpose in the fledgling gay liberation movement, documenting gay rights marches as well as the burgeoning gay scene. In retrospect these pictures have become both nostalgic and iconic for a very important moment in my personal history." Gupta is now based in London, and has presented his photography in more than 90 international solo and group exhibitions.