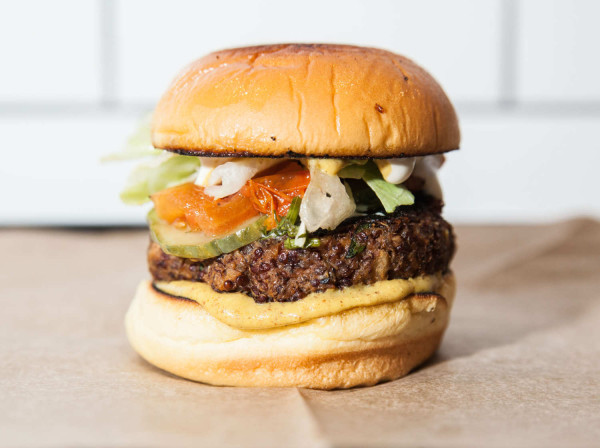 EAT: SUPERIORITY BURGER
If you read the two star review the New York Times just gave this tiny East Village veggie burger shop, or its glowing review from NY Mag then it may sound like we're jumping on the bandwagon by writing it up. But before you draw such an offensive conclusion (GAYLETTER doesn't jump on bandwagons, we create? Build? Lead? them, god dammit!) The thing is, I live directly across the street from Superiority Burger, and I've become a bit of a regular — the girl at the counter even knows me by name (you knew I was cool, but not THAT cool). My VIP status has given me ample time to form an opinion about the place. So let's get started. The reaction to this place's namesake burger has been mixed. Most people seem to think it's good for a veggie burger but doesn't come close to competing with the real thing. And that is true. But that's OK.
For those of us that prefer to clog our arteries with chickpeas instead of ground beef, this is one hell of a veggie burger, and when paired with one of their amazing sides — obsessed with the swiss chard and halloumi, love the burnt broccoli salad with eggplant red chile coriander vin — it's an even more satisfying meal. Whether the place is worthy of two stars I'll let you decide. But I'm glad it's there.
Superiority Burger, 430 E 9th st. open Wednesday-Monday, 6:00-10:00pm