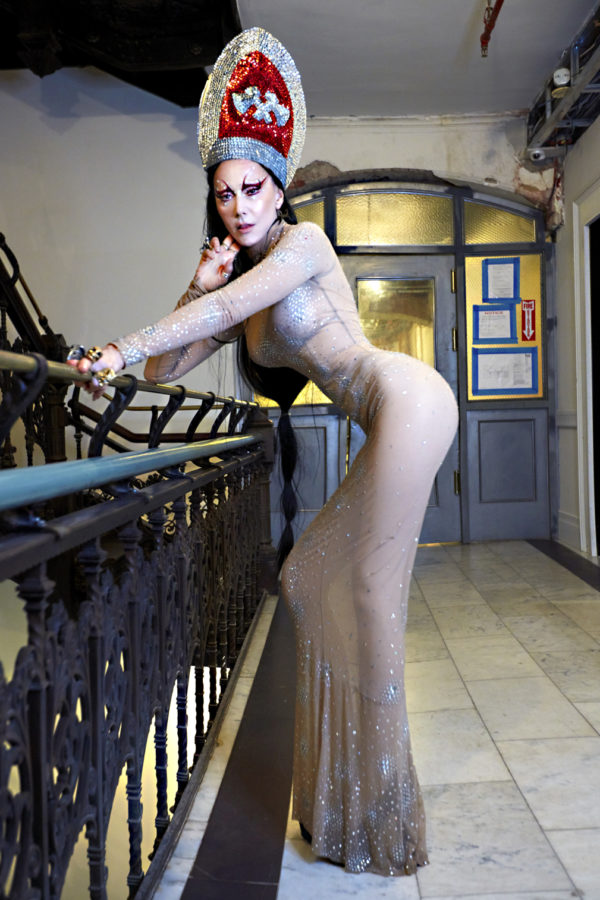 Susanne Bartsch photographed by Tony Notarberardino at the Chelsea Hotel in New York City.
SUSANNE BARTSCH
We captured Susanne's looks during a 5 week period while she was hosting her 'On Top' party via Zoom...
There is only one Susanne Bartsch. The queen of New York nightlife has been throwing parties for decades and nothing can stop her, not the first plague to affect our community, during which she threw balls to raise money for those most impacted, and not this current pandemic. Susanne is continuing to bring together the best of nightlife, but now online. The digital events she's been organizing are a joyful escape for those stuck at home, and a lifeline for many performers who have no other way to earn a living right now.
Do you want to start with history or do you want to start with now? Oh, you know the history.
Well tell me a little bit about how you came from Switzerland and how you first got into doing parties? I came to New York for a love affair. It was February 14, 1981 and I came for love but I fell in love with New York instead. I loved everything, the energy, and the possibilities.
At the beginning, I was in the fashion business. I had a store on West Thompson Street where I was importing young English designers like Body Map, Galliano, people who were still in college then, Stephen Jones, Leigh Bowery, Rachel Auburn, and to grow I decided to put on a show called "New London in New York." I did that at the Roxy in May of 1983. There was a line around the Roxy of people waiting to get in. I felt high. I was addicted. So that's how I started. I never thought I was going to be in the party or event business, and here I am however many years later. I love bringing people together and creating a platform where they can express themselves. It's not judgmental, and anything goes.
What is it that makes a great party? Has that changed over the years or is it the same formula? It's the music, the space, and the mix of people to be honest. That's the secret. People being excited to come, you can't buy that. It's a fabulous thing to be able to create that for people [for them] to plan a look and say I'm going to forget my troubles and let my hair down and be appreciated and share and see people for real rather than be an 18-year-old-boy on social media. You know?
Is there something unique about New York City that makes it the perfect place for parties? I think New York is such a brilliant mix of people from all walks of life and from everywhere. It's like a big pot of stew. New York is such a great backdrop for everything, you know? It's such an easy place to get things done. The way it's laid out, up and down, left and right — it's easy to get around. London is like a jigsaw puzzle.
Tell me about these virtual parties you're doing now. What's the challenge of that instead of doing an in-person party, or is it the same? I mean I'm pretty green with digital life. You know I've never even facetimed. When this [pandemic] came about, I was like "oh my god, what do I do?" I'm very people oriented. People energize me and helping people and creating things is important to me. It's like meditation. To create something that's within you and then you make it happen, it's such an amazing thing. The day of Bartschland Follies — it's really a great show — at the McKittrick, they called me up and said we have to cancel because we're not allowed to put x amount of people in a room. So I told some of the people from the Follies, "why don't you come over to my house and why don't we film the show here. No audience, just performers." Joey [Arias] came, Dirty Martini. We were following the [social distancing] rules. I had five people here. I had them do their show and I filmed each one not knowing what I was gonna do with it. A week later, we had to quarantine. I called this show Strip Down and it's now on the Drag for Fans site.
At that moment, I said I've got to keep this going. I still want to do a look and dress up and have somewhere to go. So finally I wanted to take the party from the club to the couch. I did it once and got such incredible feedback and such an outpouring of love and gratitude. People were saying it's giving them hope. It was just so successful I felt like I had to do it again. Plus the motivation for doing this was to support my community. We were really heavily struck. There isn't going to be any big gatherings for a long time unless they find a vaccine. Most of us haven't even gotten on unemployment. So I said, you know, if I could sell tickets, and then I could pay everybody something, at least it buys food for the week.
To me it was more important than ever to do something to unite people, to have a connection with each other even though we can't touch each other. It's really fun. Every week I have the best hosts. This week I have Trinity the Tuck; last week I had Crystal Methyd.
I love Crystal. Yes, she's fabulous. The week before I had Detox. So every week I've had one of these [Drag Race] girls hosting, and it's been really beautiful. Everyone's been really helping and I've made enough money to pay people. I've been doing it every Thursday from 9 to 11. I'm going to keep doing it on a weekly basis and see how it goes. I'm going to do a big Pride edition: a longer version where I'm going to bring together the world. I called Berlin, Paris, Tokyo, London, L.A., New York, and Cape Town.
How do people pay to get in? Do you use Venmo? I sell tickets on Eventbrite. The ticket link is always on my instagram which is @Bartschland. I'm doing this myself financially, I don't have sponsors. I'm taking the risk every week, and every week I'm biting my nails to see if I'm getting the money back that I'm spending.
Is how you dress up online different for how you dress up in person? The looks are the same. I tried to tone it down, but I could not. If I could learn how to be simple I would, but I can't.
Below are Susanne's looks captured by Tony Notarberardino at the hallway of the Chelsea Hotel during 5 week period while she was hosting her 'On Top' parties (via Zoom):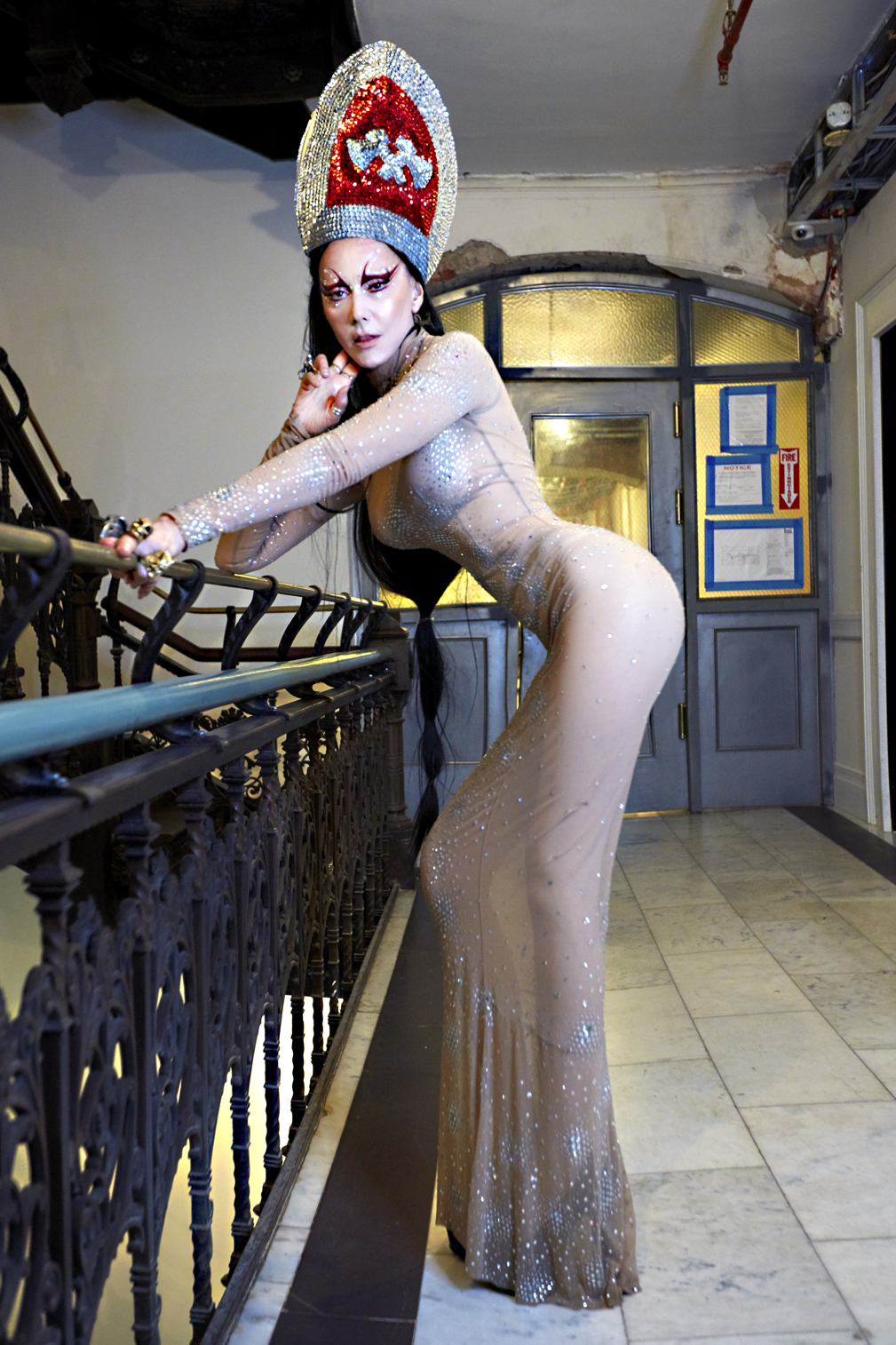 April 23, 2020 — DRESS BY ZALDY. HEADPIECE VINTAGE. SHOES BY VIVIENNE WESTWOOD THROUGHOUT. WIGS BY CHARLEY BROWN. MAKEUP BY DENEY ADAM.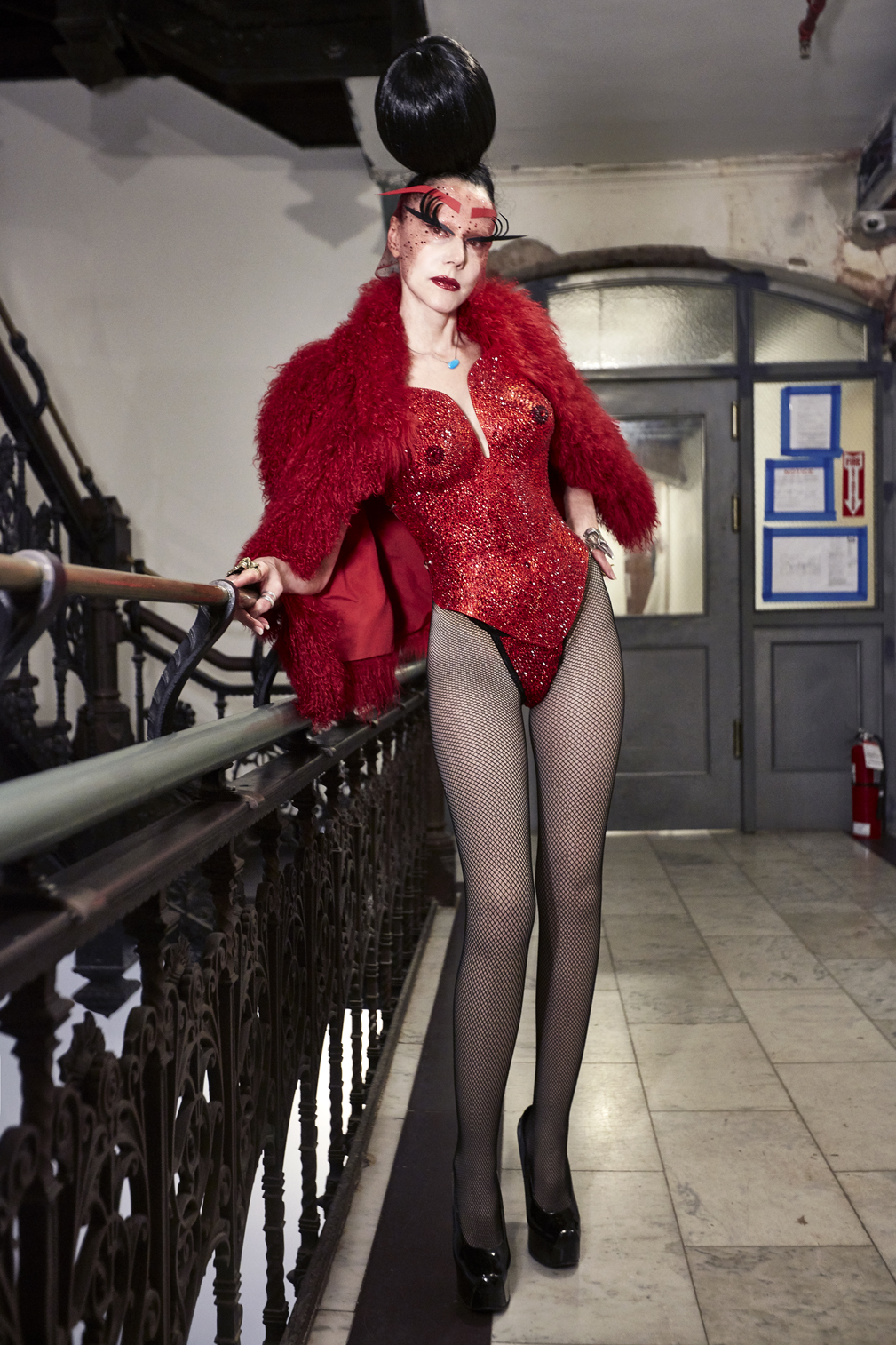 April 30, 2020 — JACKET AND CORSET BY SPARKYLE STUDIO.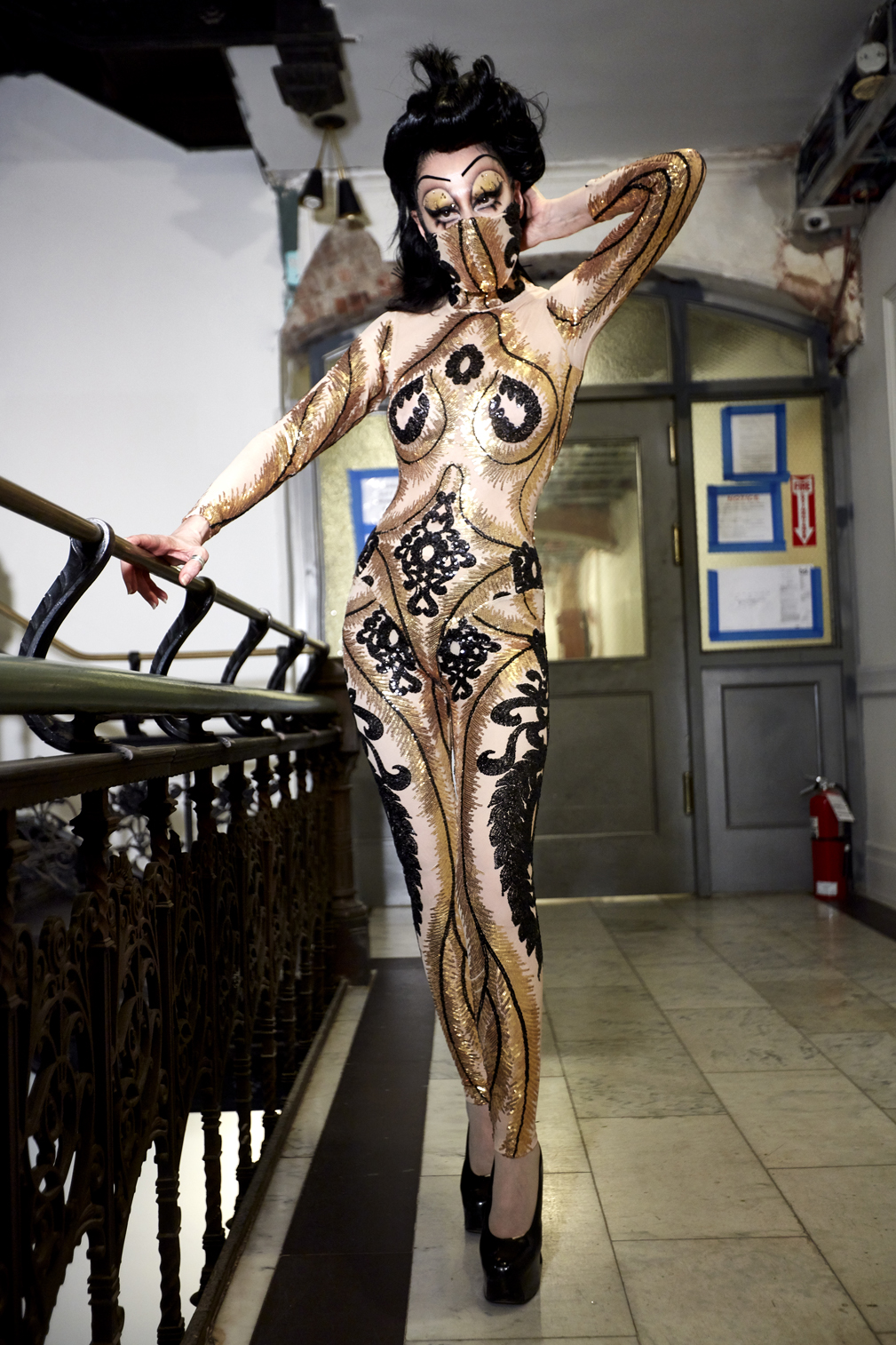 May 7, 2020 — BODYSUIT BY DAVID DALRYMPLE.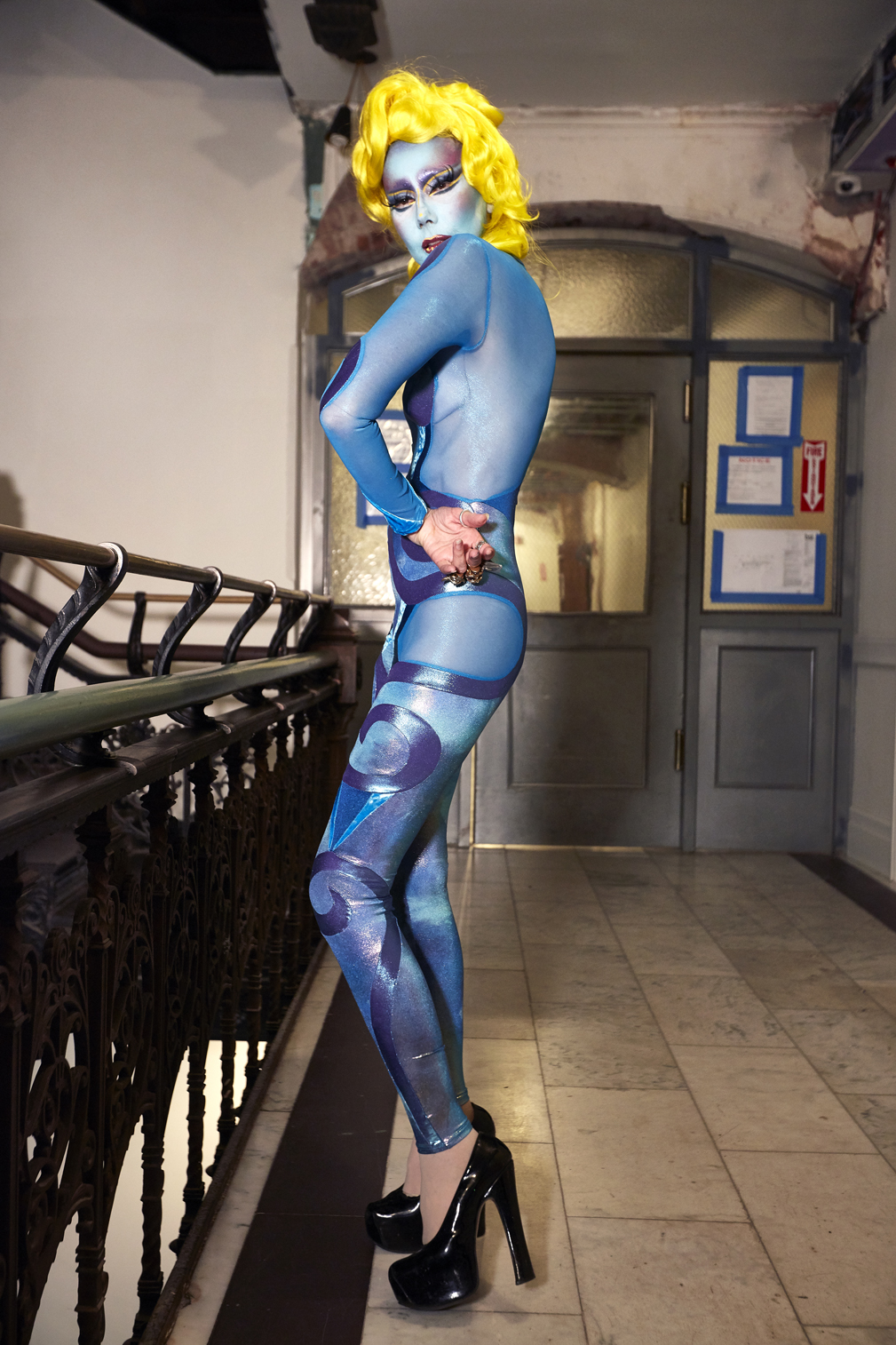 May 14, 2020 — BODYSUIT BY BCALLA.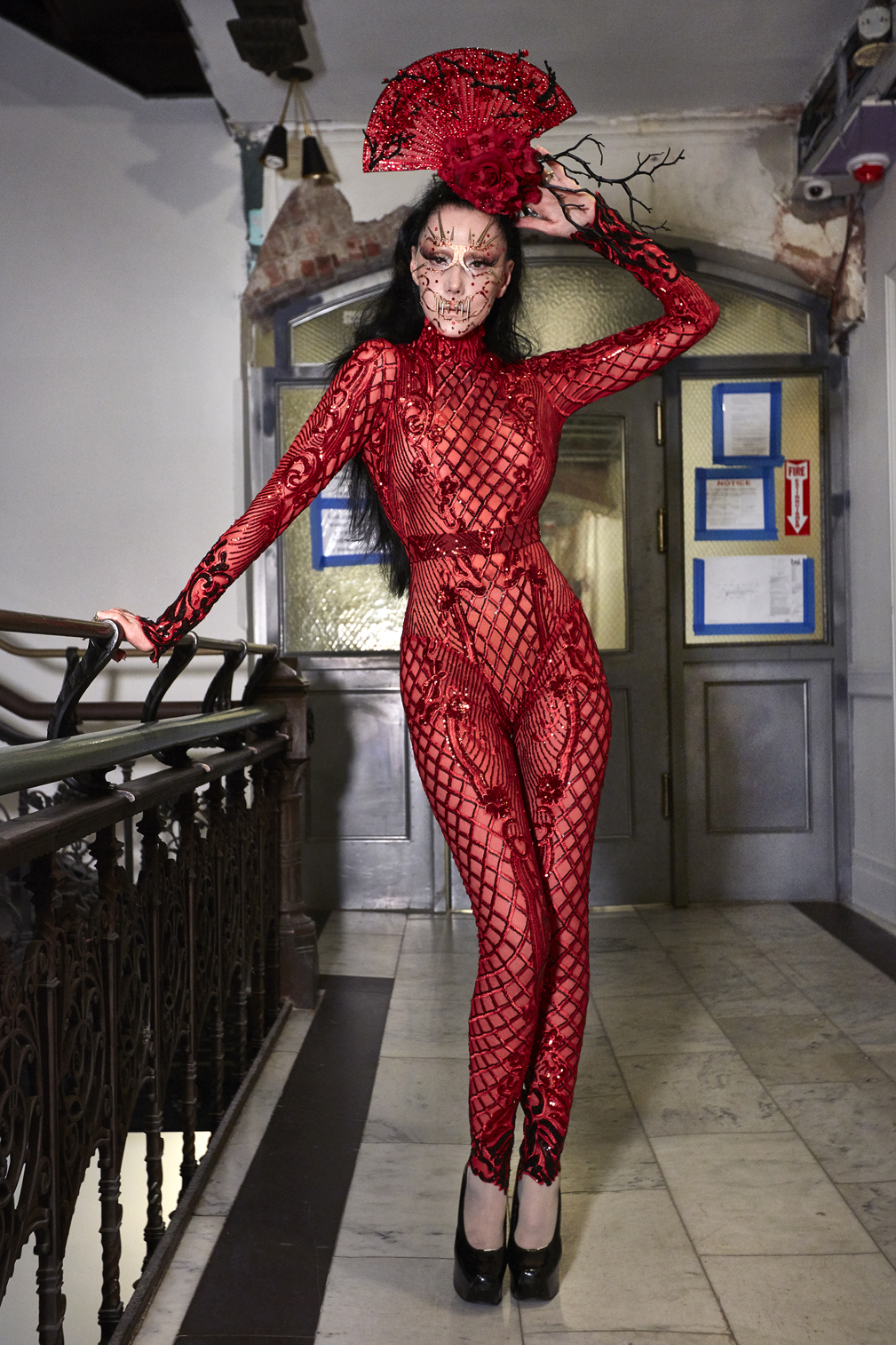 May 21, 2020 — BODYSUIT BY DAVID DALRYMPLE, HEADPIECE BY SPARKYLE STUDIO.
This story was printed in GAYLETTER Issue 12, get a copy here.