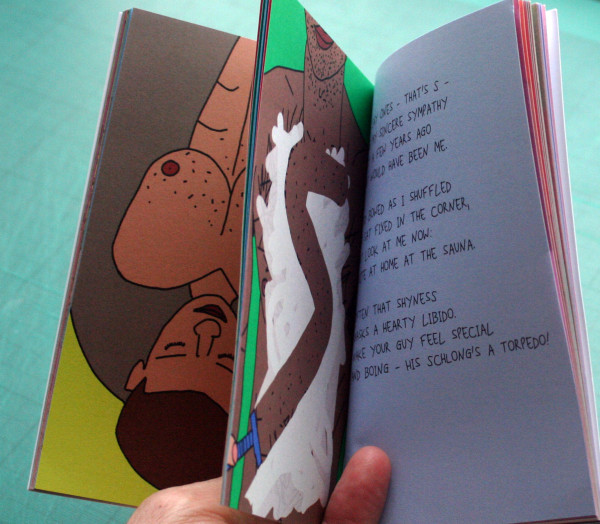 Photography by Michael Wynne
The Bathhouse Hornbook
A new zine written and illustrated by artist Michael Wynne
After a long day of work bestowed upon us from bosses or professors, all some of us want to do is curl up with a real good book. I know I am not alone when I say over the course of the workweek, I am expected to read a lot of nonsense, so when choosing my recreational reads, something like a fantastic zine is always first choice. Zines and art books alike are often witty, short, colorful, uncensored, thought-provoking, etcetera. Here is where I introduce Michael Wynne — "author of some books, maker of some cards and wrapping paper, lover of men." See? Witty and short.
Wynne lives in London and has been creating zines for nearly three years now. His most recent, The Bathhouse Hornbook, will be launched at the New York Art Book Fair coming up this weekend, September 18-20. "The Bathhouse Hornbook is a light-hearted poetic introduction to men and their behaviour in the bathhouse. An A-Z of the people you'll find and the things you can do in the sauna."
"The story is built around a young man's first visit to the sauna and his more experienced guide. Alongside 26 illustrations depicting the letters of the alphabet, the book aims to entertain and instruct, to take stock and to caution, to be mildly serious and boldly lighthearted."  — I've never been to a bathhouse so though I'm taking notes for my actual college courses, I'll gladly take some bathhouse notes, and I suggest you do too.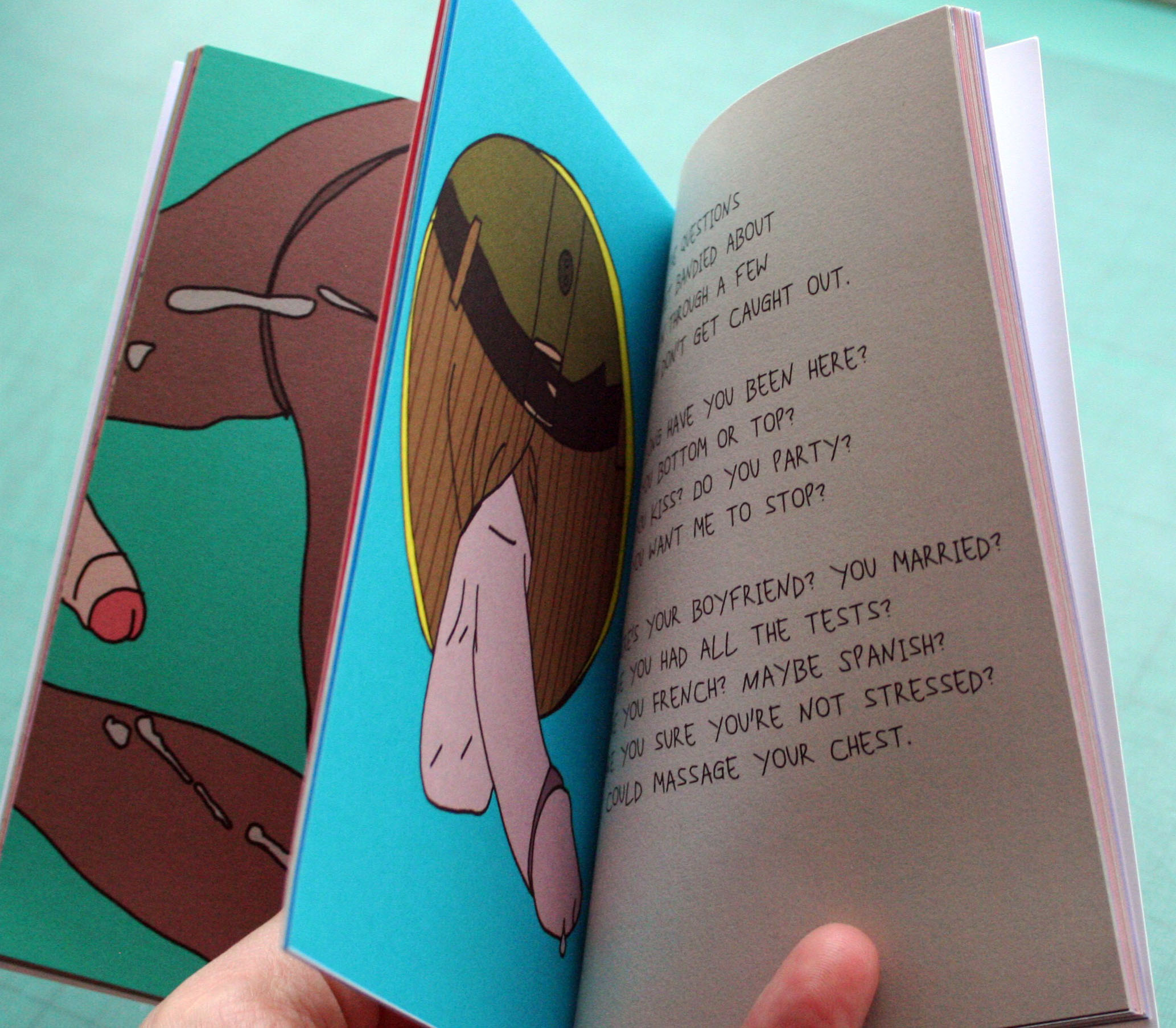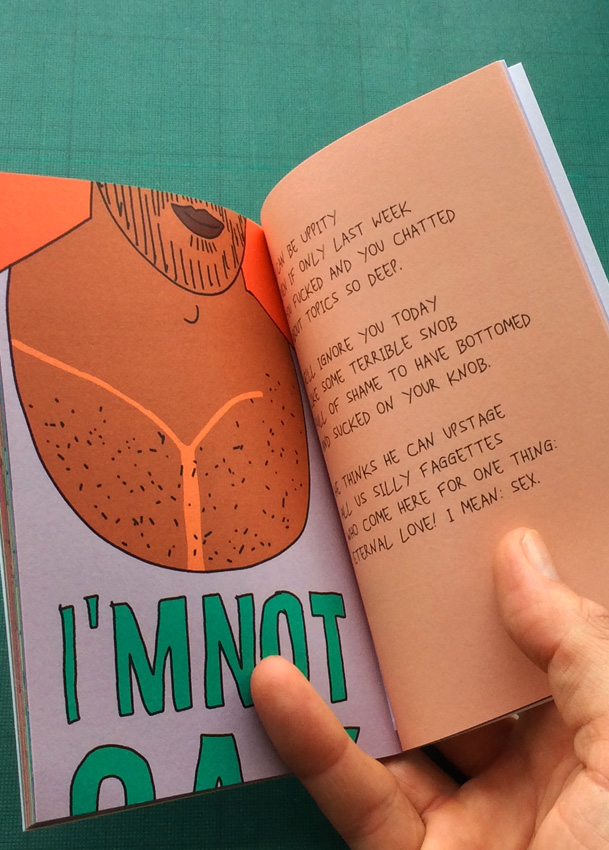 Check out what he had to say about his upcoming release below:
When did you conceptualize the idea for The Bathhouse Hornbook? The zine went through many transformations. It was going to be a book about all the men I've had sex with from A to Z by country, and then by name. And then I thought about setting it in a specific space and I'd wanted to do a zine with cut-outs about the sauna and although the original plan was to do that project without words, the two projects gradually merged. The zine went through many changes, but the idea to combine pedagogy and promiscuity was born about a year ago.
Are your images inspired by real people/penises? Definitely real people. Even though the images and the rhymes are quite lighthearted and very colourful, I felt that if I based everything on real experiences and real characters, that would come across. The plan was to be playful and silly, but to have an undercurrent of seriousness.
Did you interview any other bathhouse attendees for content? I like to talk to the people I have sex with in saunas, so I'm always gathering stories and anecdotes. Voyeurism isn't my thing, but I do also like to observe people. Observing men having sex in the steam room when you're not really turned on by it can be a strange experience. It becomes anthropological.
With less people reading poetry and less men attending bathhouses, what about your Hornbook is relevant for 2015 and beyond? I know The Bathhouse Hornbook is quite lighthearted, but there is a serious side to it. The story ended up being about an older man showing a younger man around the sauna. It's the younger guy's first time there. But I think no matter how old we are, we're always teaching each other how to be in the world, and in queer or gay spaces, in particular. A couple of the books I had in mind when I was working on The Hornbook were The Beginner's Guide to Cruising from 1964, which is extremely funny, and The Faggots and Their Friends Between the Revolutions. If mine is a fraction as funny and as instructive, I'm happy.
How many bathhouses have you visited and left feeling like a success? How many were not a success? Amsterdam – yes. Paris – yes. Arras (France) – yes. London – yes. Tel Aviv – no. Berlin – no. Helsinki – no. Frankfurt – yes. Barcelona – yes. Sitges – no (but I went in the winter). Brussels – yes. Lisbon – yes. Istanbul – yes. Leeds – yes. Brighton – yes. Edinburgh – yes. So I guess a success rate of about 15:4.
Bathhouse daddies or bathhouse fisters? Can I do both? Or be both?
Working on any other projects? The next project is just starting out. It'll involve rent boys. It might be a book or a zine, or it might be a set of flashcards. I'd also like to do a photography project in bathhouses in London because some of them, like in all money-driven cities, are being closed down to make way for swanky apartments and will just disappear without a trace. Someone needs to document that they were here, that we were here, that this is where a lot of nice sex went on.