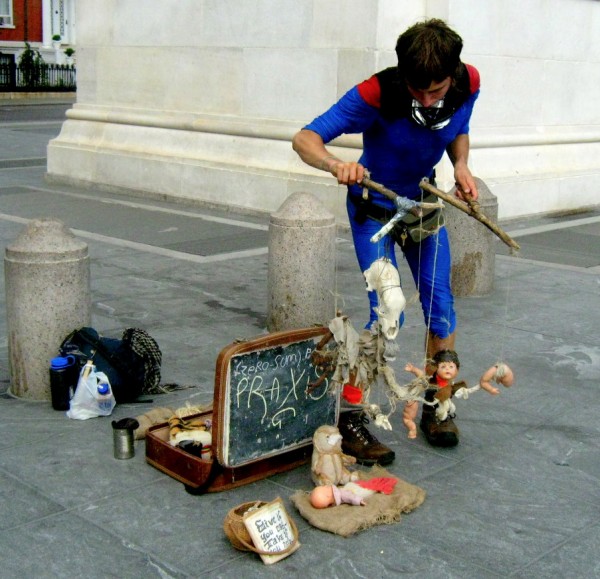 The Enormous Face
I've had a few months of reluctance in regards to this article. I kept asking myself if this was at all relevant and or appropriate for GAYLETTER — my desire to expose this character has since abolished my neuroses. GAYLETTER is merely a vehicle for revealing, promoting and discussing intriguing things and happenings of queer interest in New York City, right?
I happily present to you — Enormous Face. He's an artist who apparently does everything. The first time I saw him I was under the influence, it was about 3:00AM and I was at the Bedford Ave. station. I was with a group of friends — we shared a real experience. Adorned in a leotard was Enormous Face, he was blowing repeatedly on a harmonica while performing a puppet show of nightmares. I heard one rather conventional woman say to her friend "is it art?" her friend then replied with a face of sheer terror "I don't give a fuck!"
I've seen him a couple times and I hope to run into him again soon. My friend Jordan actually texted me one afternoon asking me if I was at Union Square, I replied with a simple "No, why?" — Jordan then responded with a video of Enormous Face and the message: "Never mind, I thought I saw you performing." You may have seen him at a subway, or potentially on America's Got Talent.
Every time I see Enormous Face (either in the flesh or behind the shiny glass that lives in my laptop) I get the sensation of my ears popping upon descent — however, my ears do not pop, they're too distracted by what I am witnessing, not viewing…witnessing. This queer artist is about as transgressive as they come which is interesting considering I will typically default "transgressive" artists as unimaginative people who rely on cheap thrills, but there is something undeniably and sensationally enchanting about this Enormous Face character…plus, he seems to genuinely enjoy the cheap thrills.
You must visit his website, if you can call it that. I've always thought of his website as more of an assemblage of a treasure trove, a map, a maze without an end, a cabinet of curiosities. To put it simply, it's a directional-less shit-show of extensive and unorganized psychotic matter that you can literally, I mean truly literally, get lost in. There is music, games, fake dream journals, collages, videos, drawings, writings, documentations and I'm sure there is more zany benevolence that I have yet to uncover.
I do in fact have a contact with Enormous Face and was thinking about potentially interviewing him but I opted out for this humble post instead. This guy lives under a cloud of mystery in my head, loosing that would be a real sadness.
This is a new and fascinating breed of camp — and if there's one thing we can all agree on it's that the world can never have enough camp.