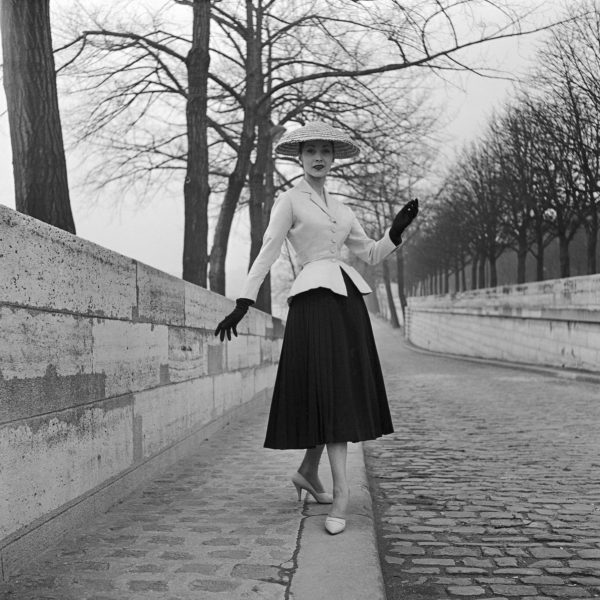 Christian Dior (designer). Bar, afternoon ensemble spring-summer 1947 collection modeled by Reneé 1955.
The House of Dior: Seventy Years of Haute Couture
"Dior is a key name within the past, present, and future of couture."
The House of Dior, founded in 1946 by the eponymous Christian Dior, should need no introduction, but in case you are unfamiliar, The House of Dior: Seventy Years of Haute Couture is a lavish introduction to the breathtaking evolution of one of fashion's most honored houses. Dior is a titan in the fashion industry that has continuously boasted successful lines of ready-to-wear fashion, fragrances, leather goods, accessories, timepieces, jewelry, and, of course, haute couture. Together with the National Gallery of Victoria, Dior has released this brand-new, gorgeously constructed book to celebrate their 70th anniversary.
In the foreword, the director of the National Gallery of Victoria, Tony Ellwood, writes: "This fully illustrated publication…explores the rich history of the fashion house, the design codes synonymous with the House of Dior, insights into the Dior atelier workrooms, and the role that accessories and perfume have played in expressing the complete Dior look."
Written by Katie Somerville, Lydia Kamitsis, and Danielle Whitfield, The House of Dior breaks down each era of the house since its inception in 1947, separated into sections and themes based on the tenures of the many legendary creative directors of the house: Christian Dior (1946-1957), Yves Saint-Laurent (1957–1960), Marc Bohan (1960–1989), Gianfranco Ferré (1989–1997), John Galliano (1997–2011), Bill Gaytten (2011–2012), Raf Simons (2012–2015), and the first female creative director of Dior, Maria Grazia Chiuri (2016–present).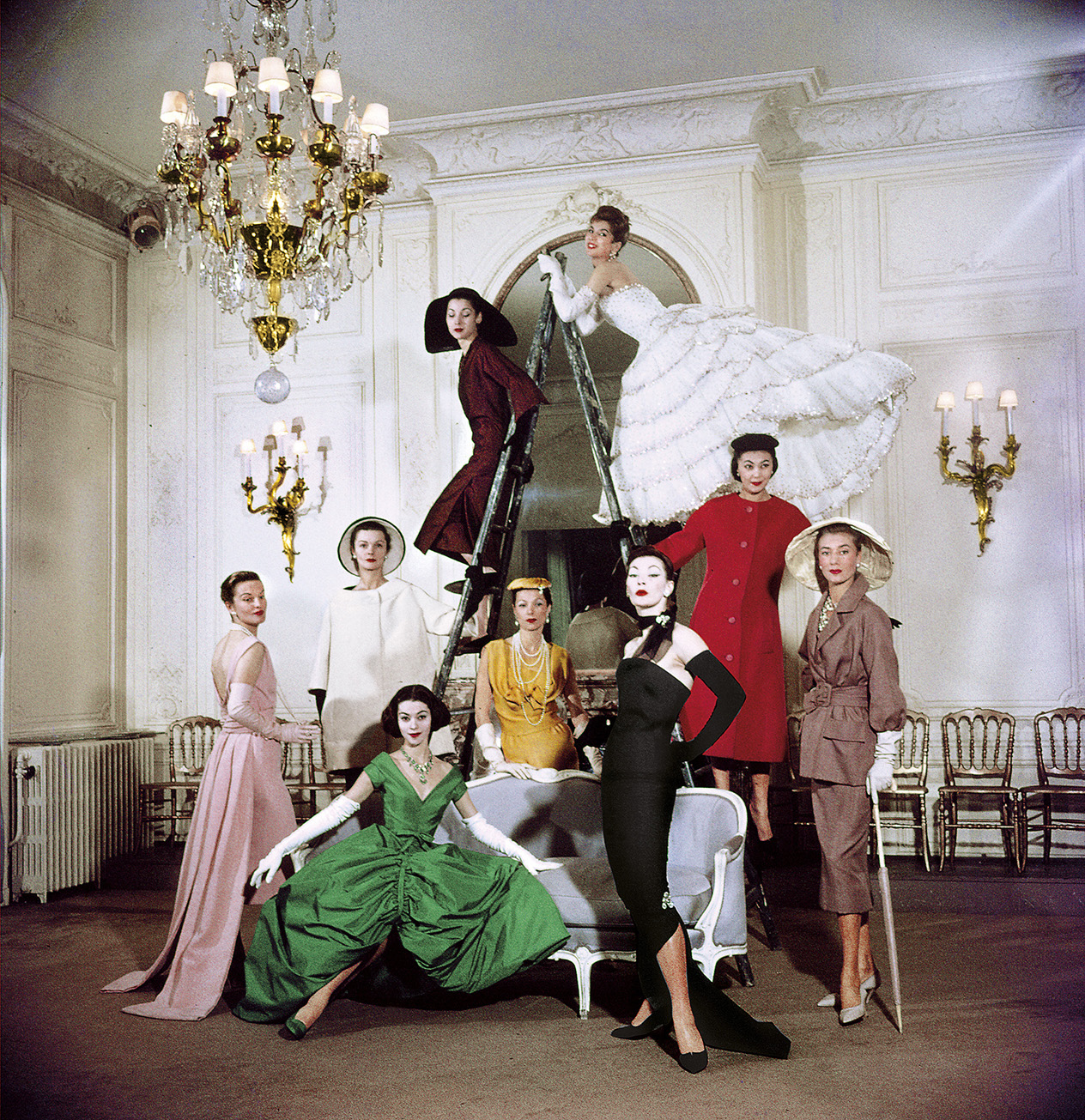 Christian Dior mannequins in the salon of House of Dior's headquarters. 30 Avenue Montaigne, Paris 1957. Photograph by Loomis Dean, featured in LIFE magazine 1957.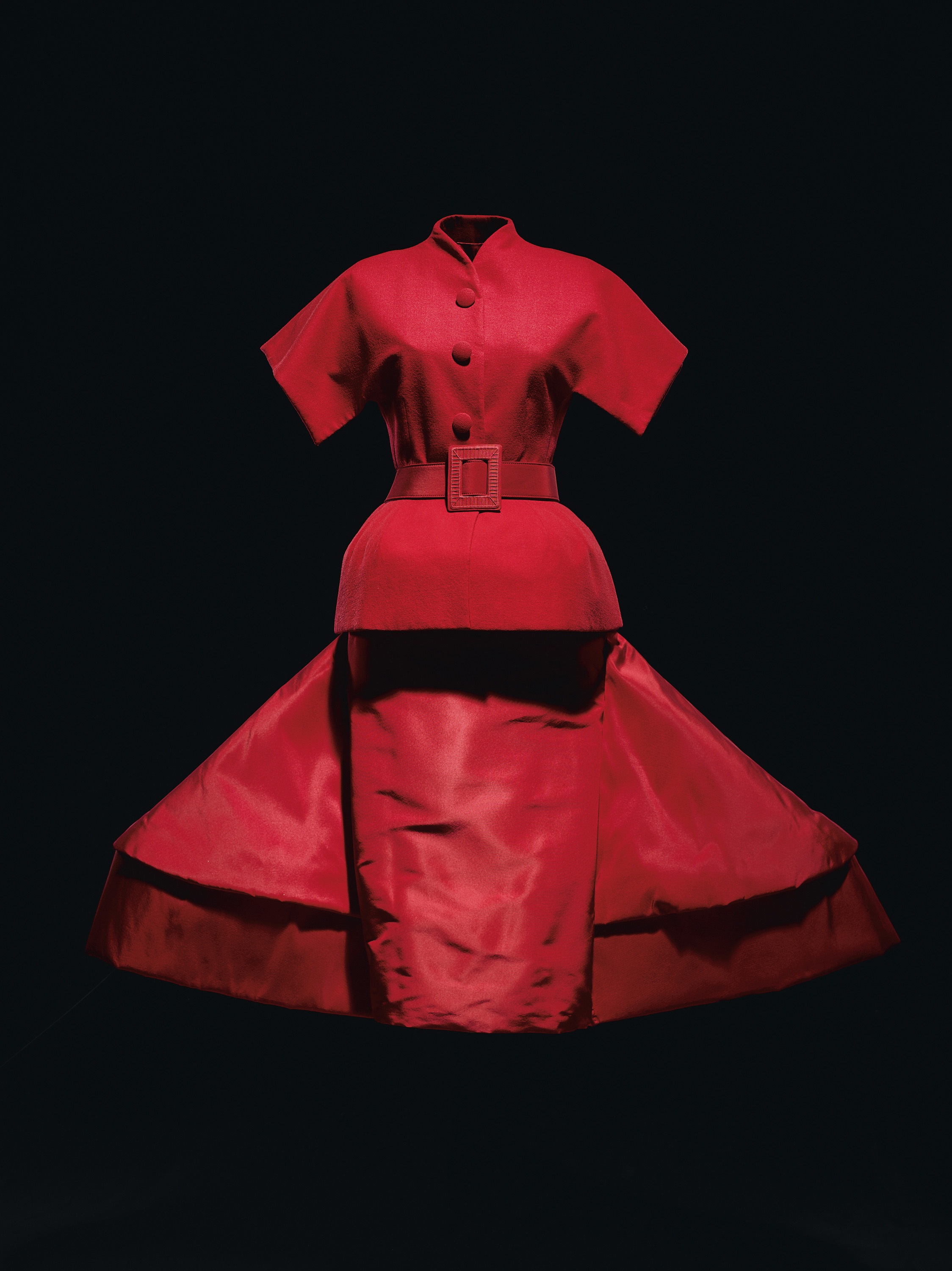 John Galliano (designer), Look 12, Jacket and skirt ensemble 2009, spring-summer 2009, Dior Heritage collection, Paris.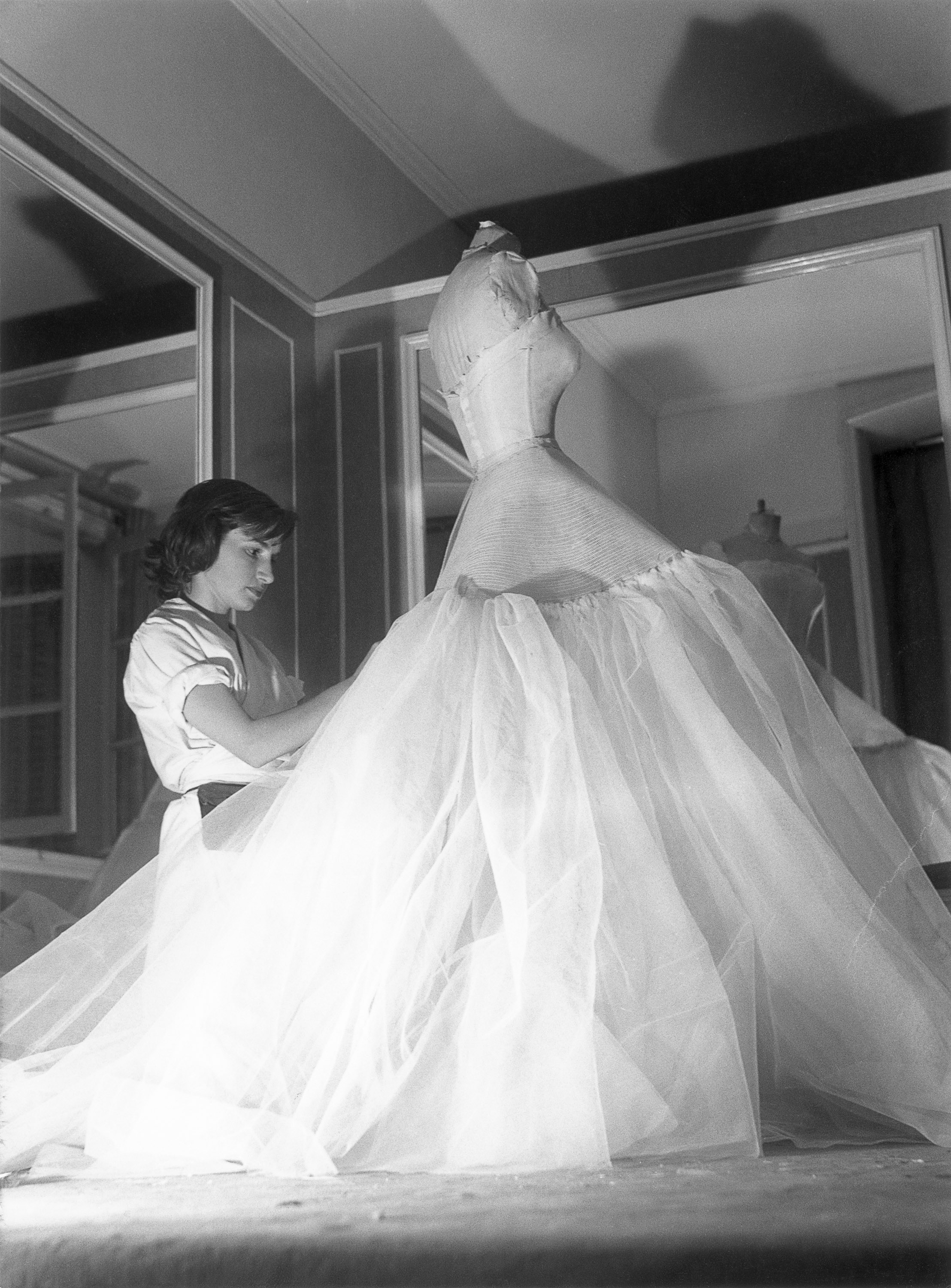 Inside the ateliers of the House of Dior, c. 1950.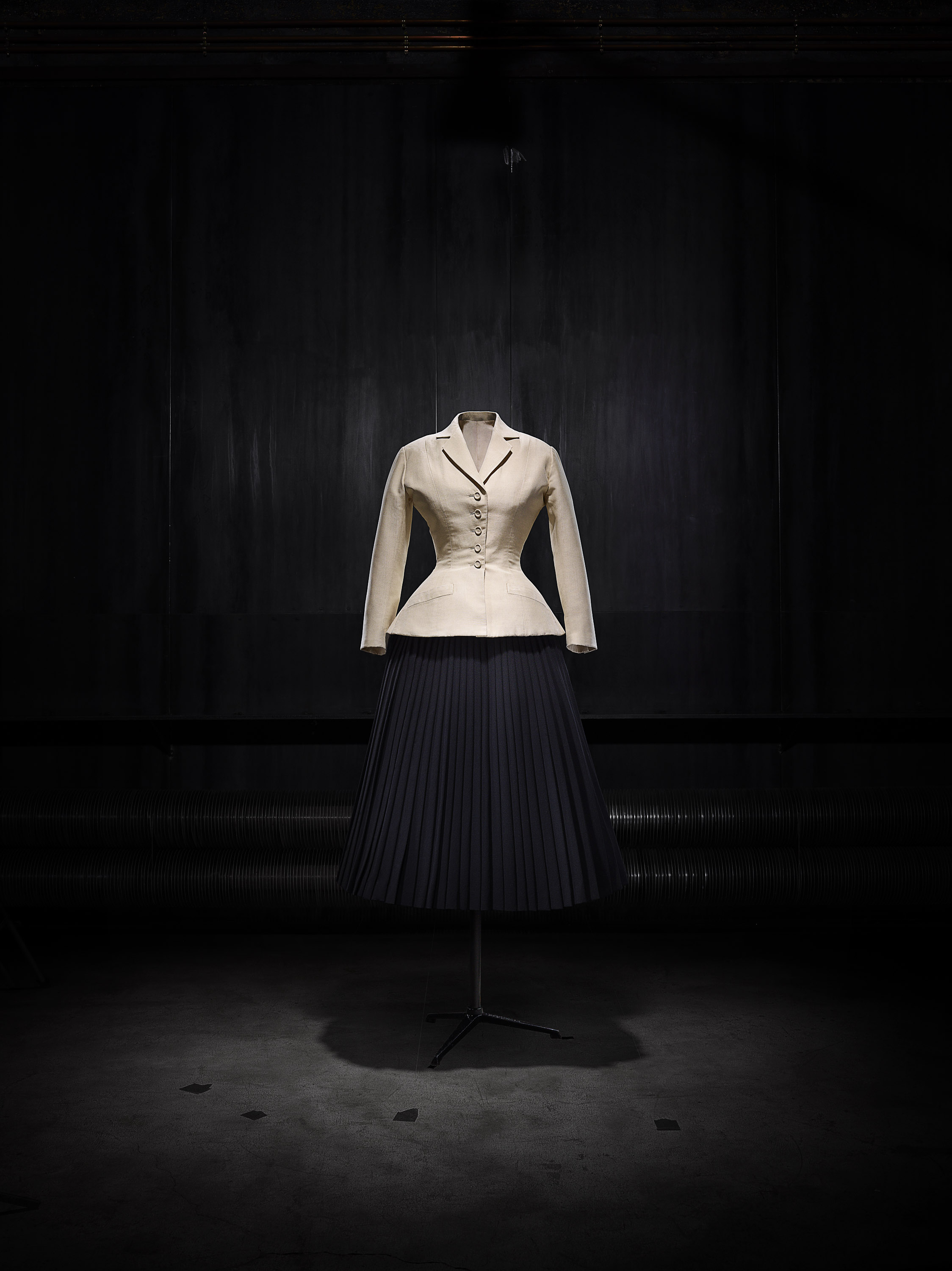 Christian Dior (designer). Bar, afternoon ensemble 1947 designed, 1987 made, Corolla (Corolle) line, spring-summer 1947.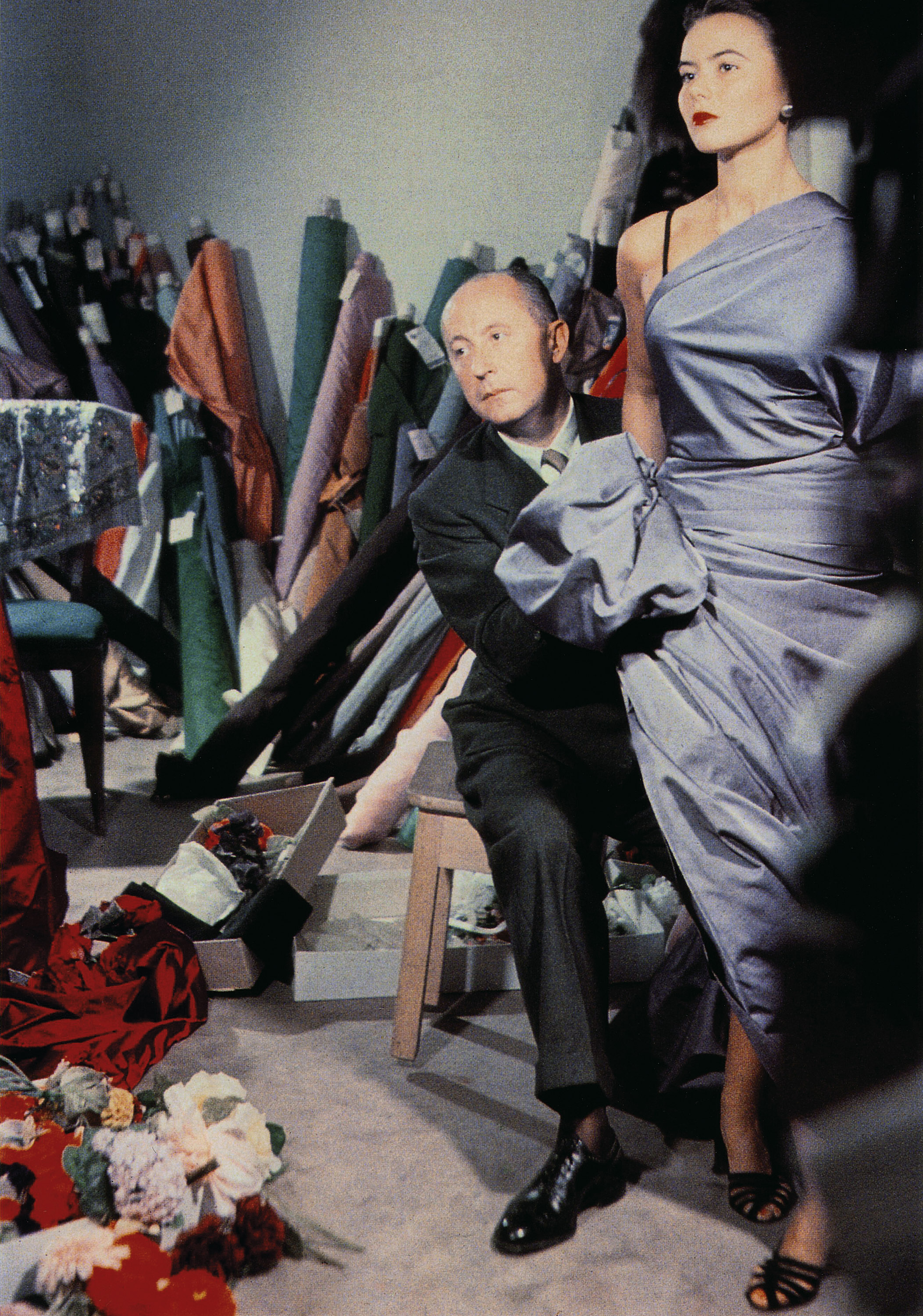 Christian Dior draping fabric over fashion mannequin Sylvie c. 1948.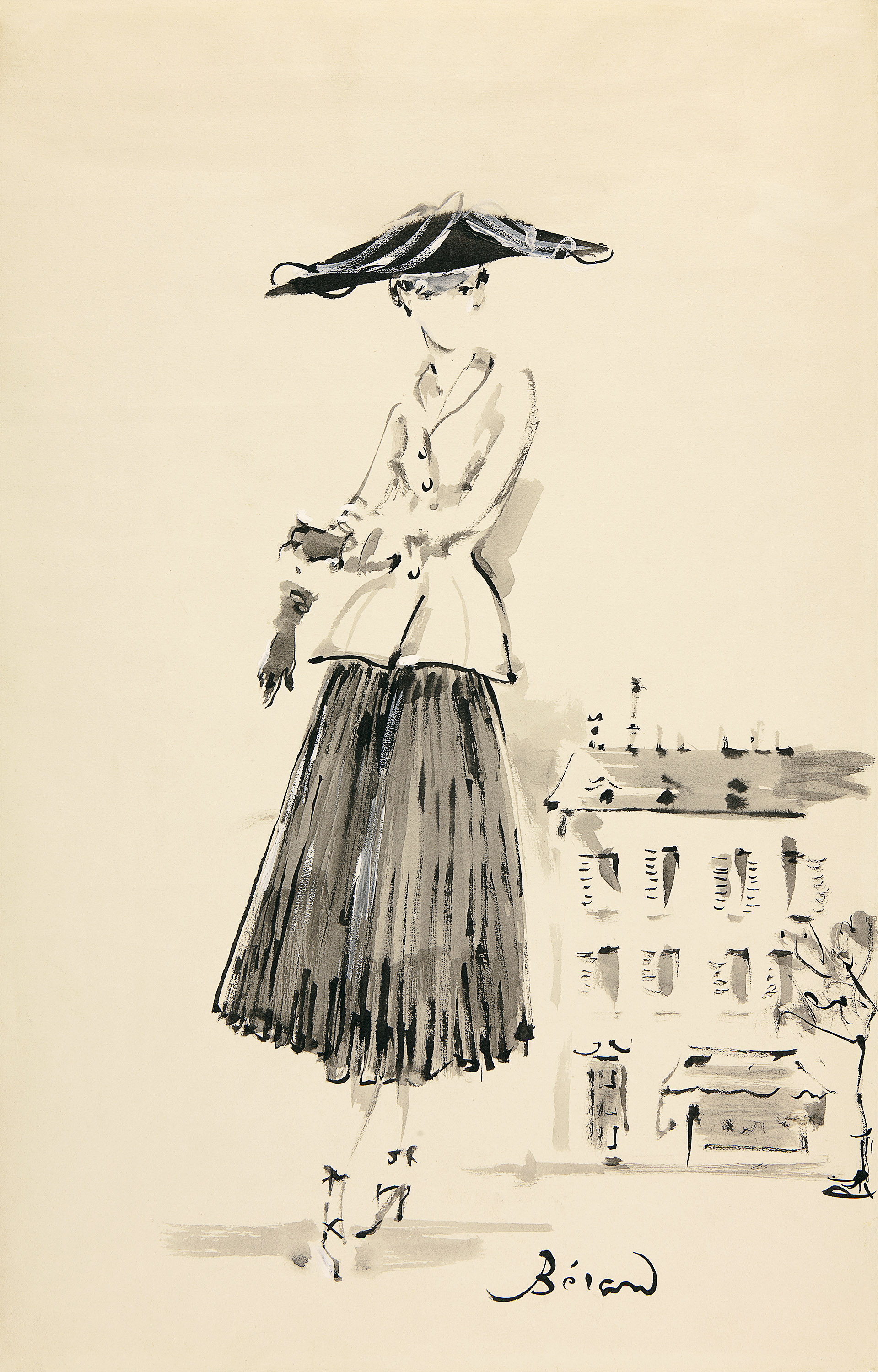 Christian Bérard. Illustration of the Bar, afternoon ensemble 1947. 
The book details the historical and cultural importance of Dior's fashion eras in conjunction with full page images of the contemporary collections. One of the most striking images in the book, taken by photographer Sabine Weiss, shows a young, poised Yves Saint-Laurent surrounded by "house mannequins wearing Trapeze line, Spring-Summer 1958 Dior Heritage collection, Paris." The photo is opulence epitomized: it features an elegant room gilded in white and silver, with Laurent in the center of thirteen beautiful women, all wearing his couture dresses, gowns, and coats designed and constructed during his brief career at Dior. It is a momentous photograph, with Laurent just a hop, skip and a jump away from premiering his own namesake label, and eventually changing the landscape of fashion forever.
In the "Message From Dior", which precedes the imagery, CEO of Dior Sidney Toledano writes, "as a defender of exceptional French haute couture savoir-faire, Christian Dior was a revolutionary, a fashion visionary. His legacy is of such richness that it has never ceased to inspire the various creative directors who have succeeded him at Dior."
This book offers the most comprehensive and meticulously detailed account of the entire history of the house. It's sumptuous, ostentatious, and avant-garde, not unlike the icon Maison Christian Dior himself.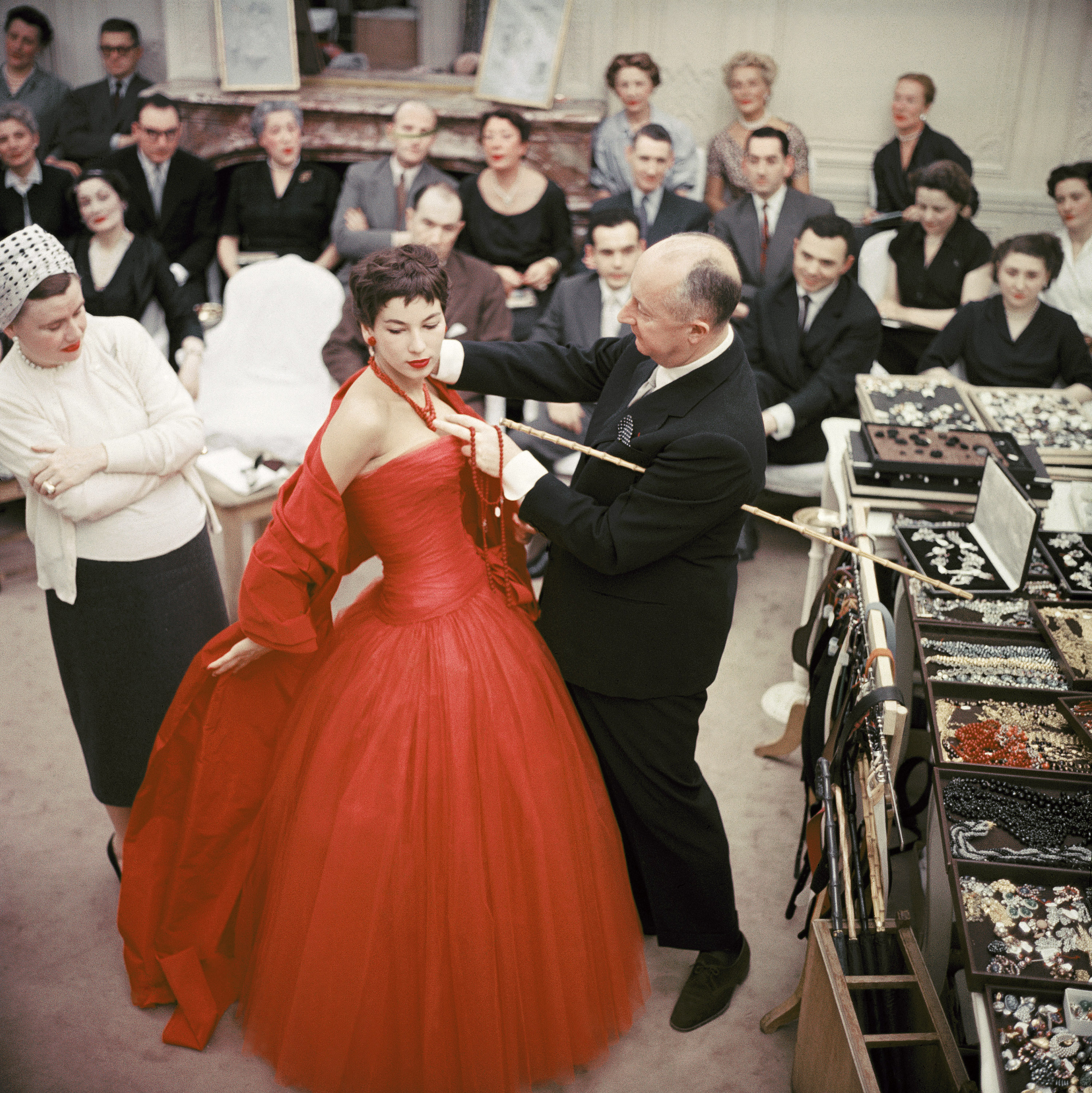 Christian Dior adjusts the accessories of the Zaire dress, on his star mannequin Victoire, during rehearsal for the autumn-winter 1954, haute couture show.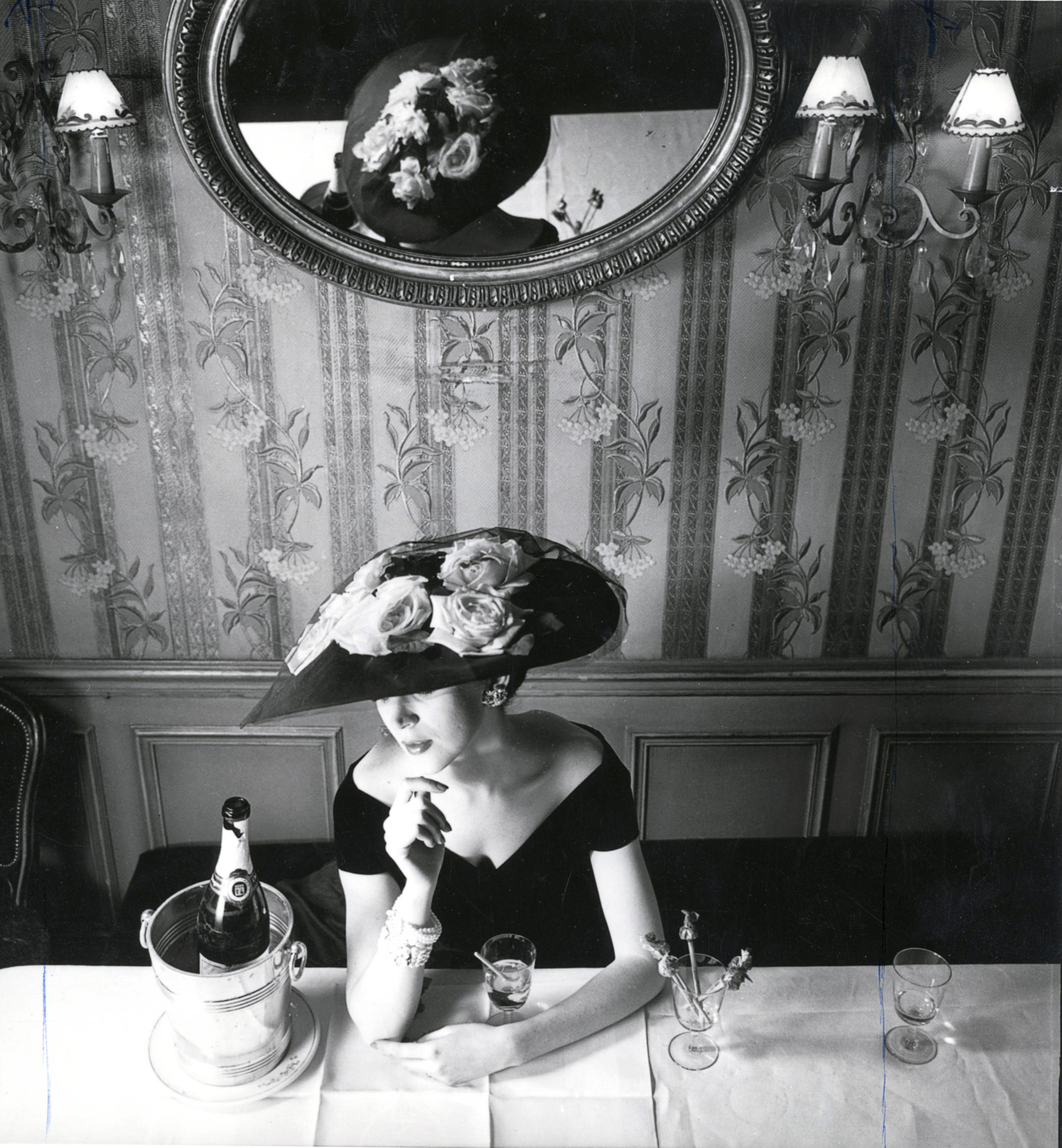 Christian Dior hat, spring-summer 1956 haute couture collection. Fleche line.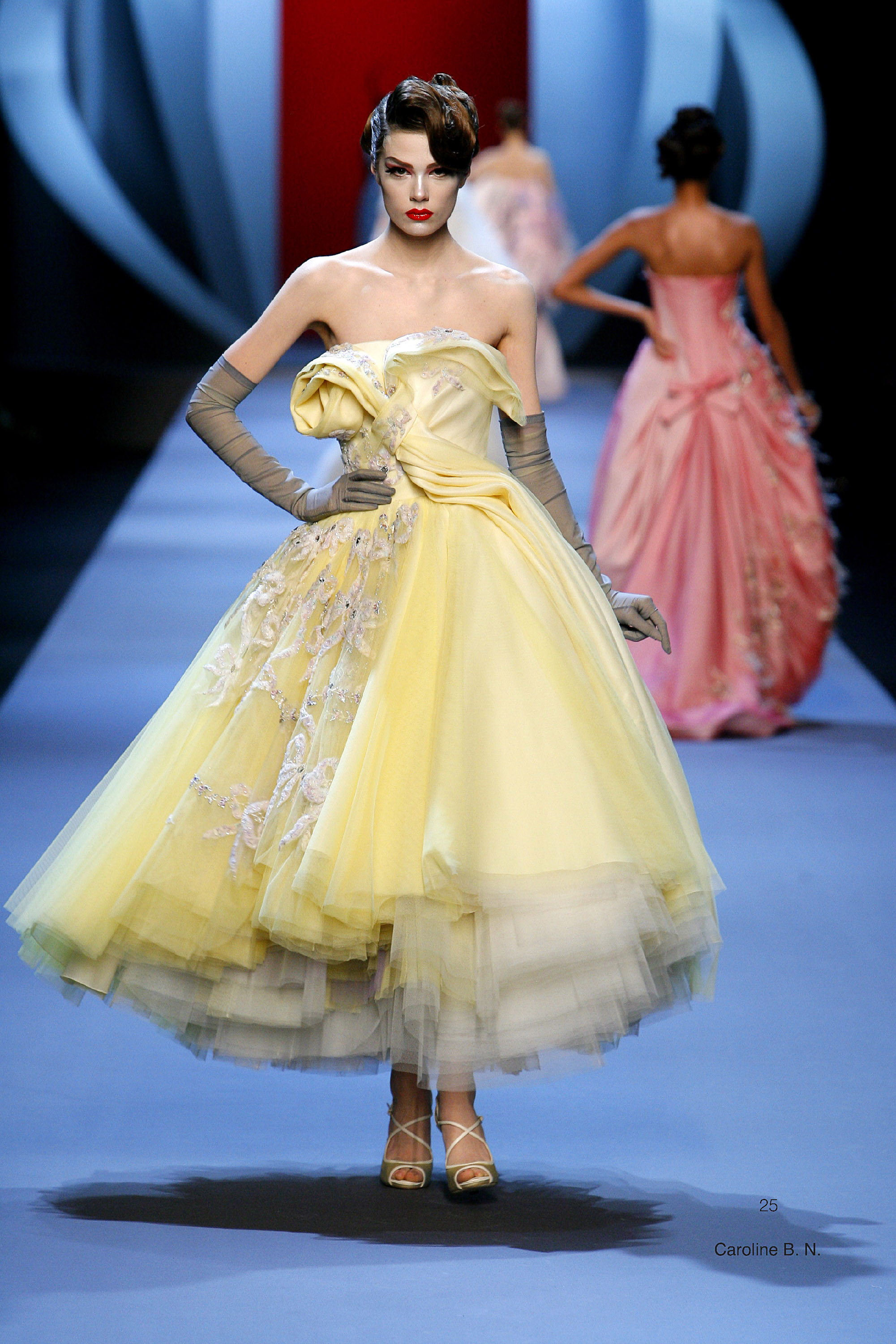 John Galliano (designer). Look 25, spring-summer 2011.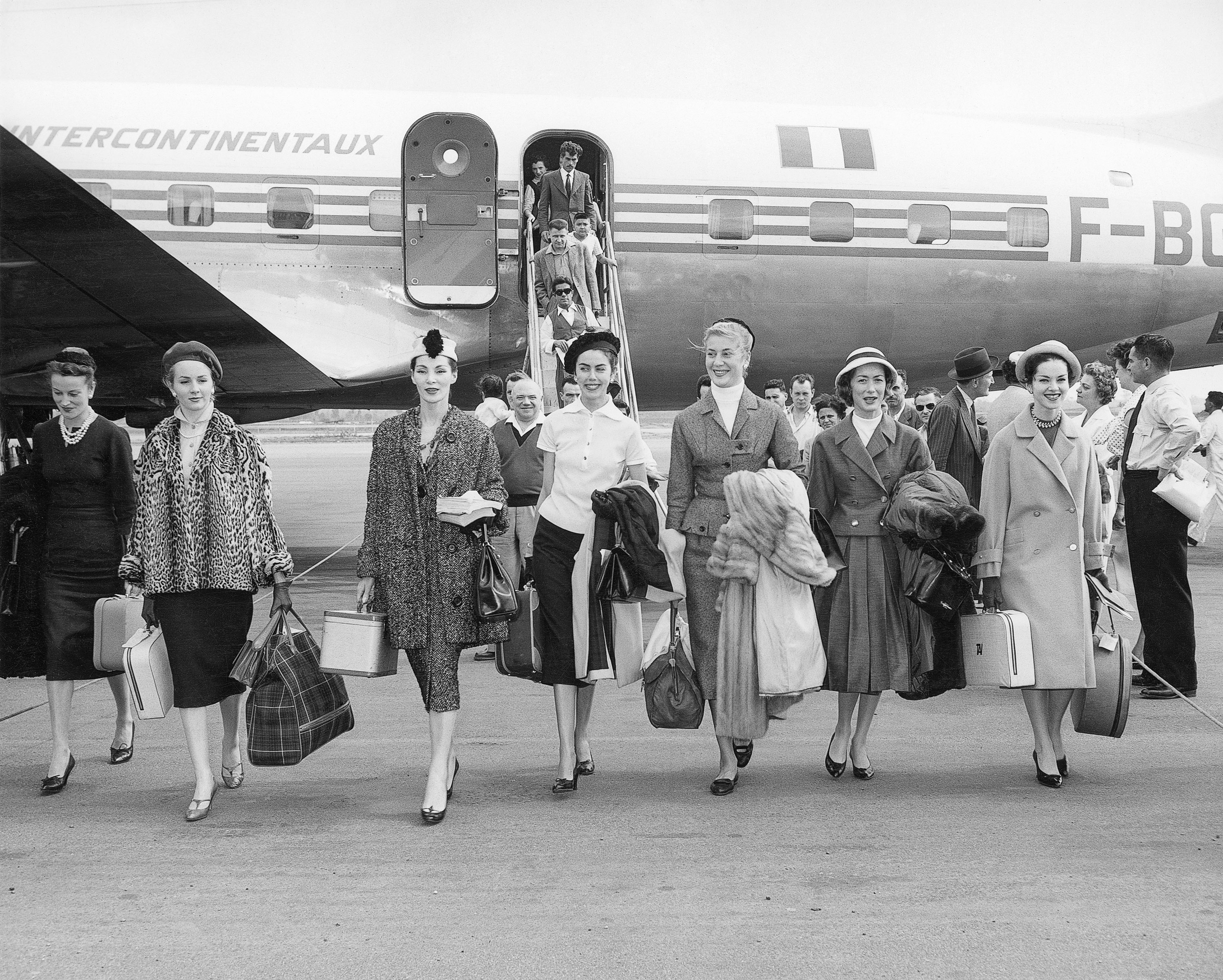 Christian Dior mannequins arriving in Australia for the presentation of the autumn-winter 1957, haute couture collection, Christian Dior's last collection, November 1957.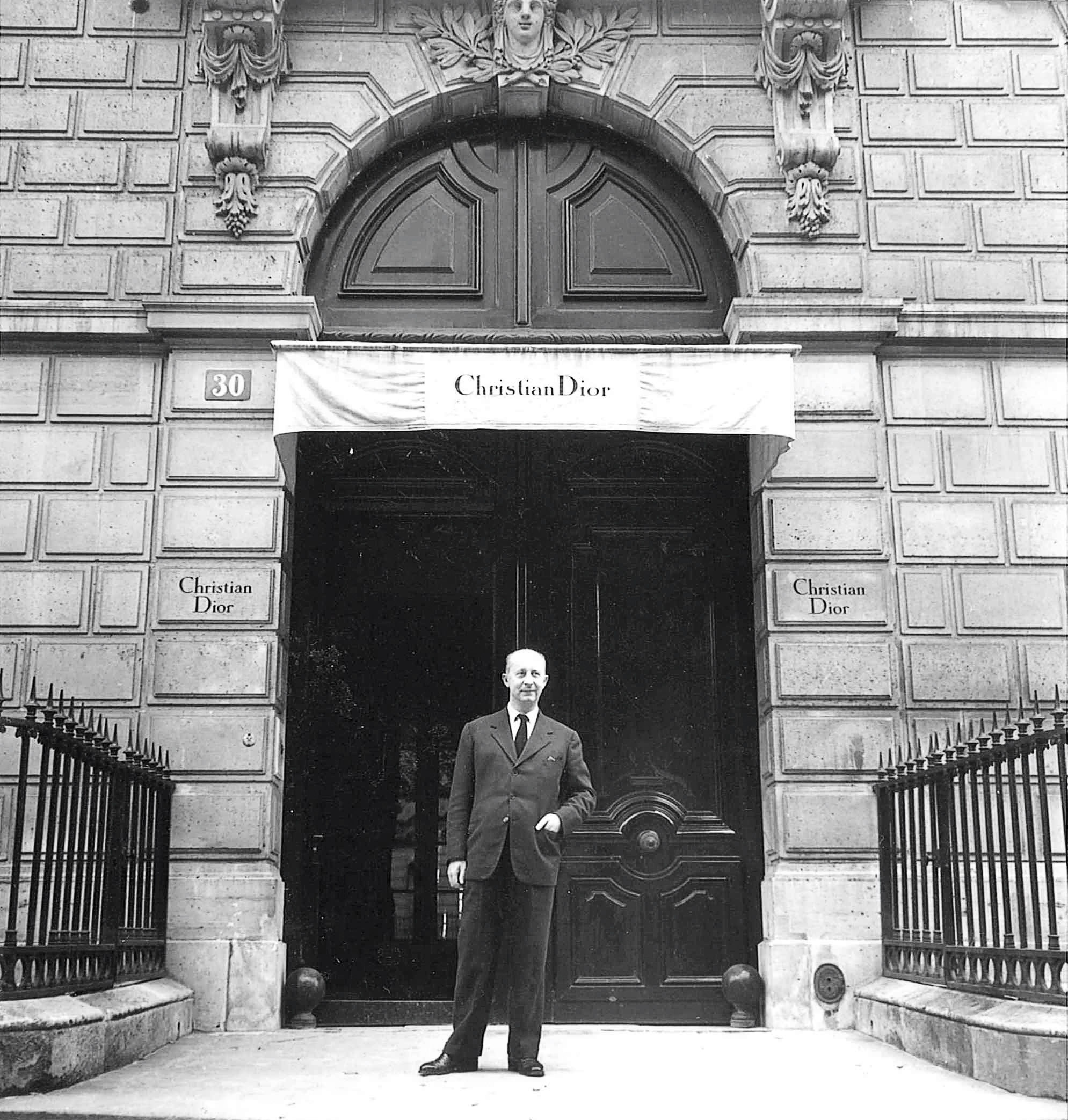 Christian Dior.