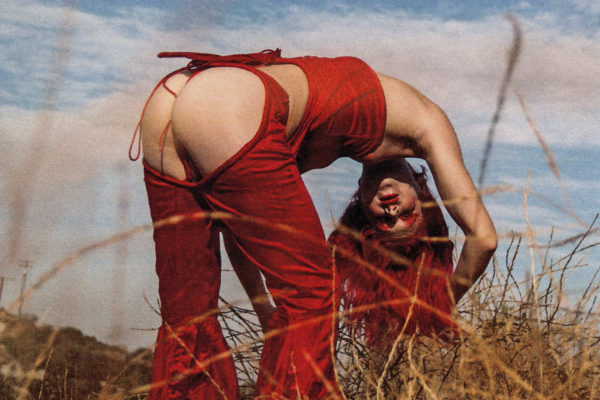 Photography by Max Rothko
The Savage Ranch Residency
A judgement free space where sexuality and freedom of expression is encouraged.
Love Bailey is an artist of many mediums. Her most poignant work seems to be life itself. On Instagram, she markets inclusion to the highest degree, monologuing through her Instagram-stories and offering advice to live a more open, love-filled life. Her bio reads: "I'm not afraid of my Shenis."
Besides styling, creative directing and hosting/throwing a number of lavish cabaret-style parties in Los Angeles and New York, she has recently begun a residency program at her coveted and enigmatic Savage Ranch. Sprawling over 45 acres of land, the Savage Ranch Residency is open to artists of every medium: From painting, to sculpture, to performance, to design. Her very first resident was Sinead O'Dwyer, a fashion design student from London exploring everyday perceptions of the body through one-of-a-kind pieces patterned for individual bodies.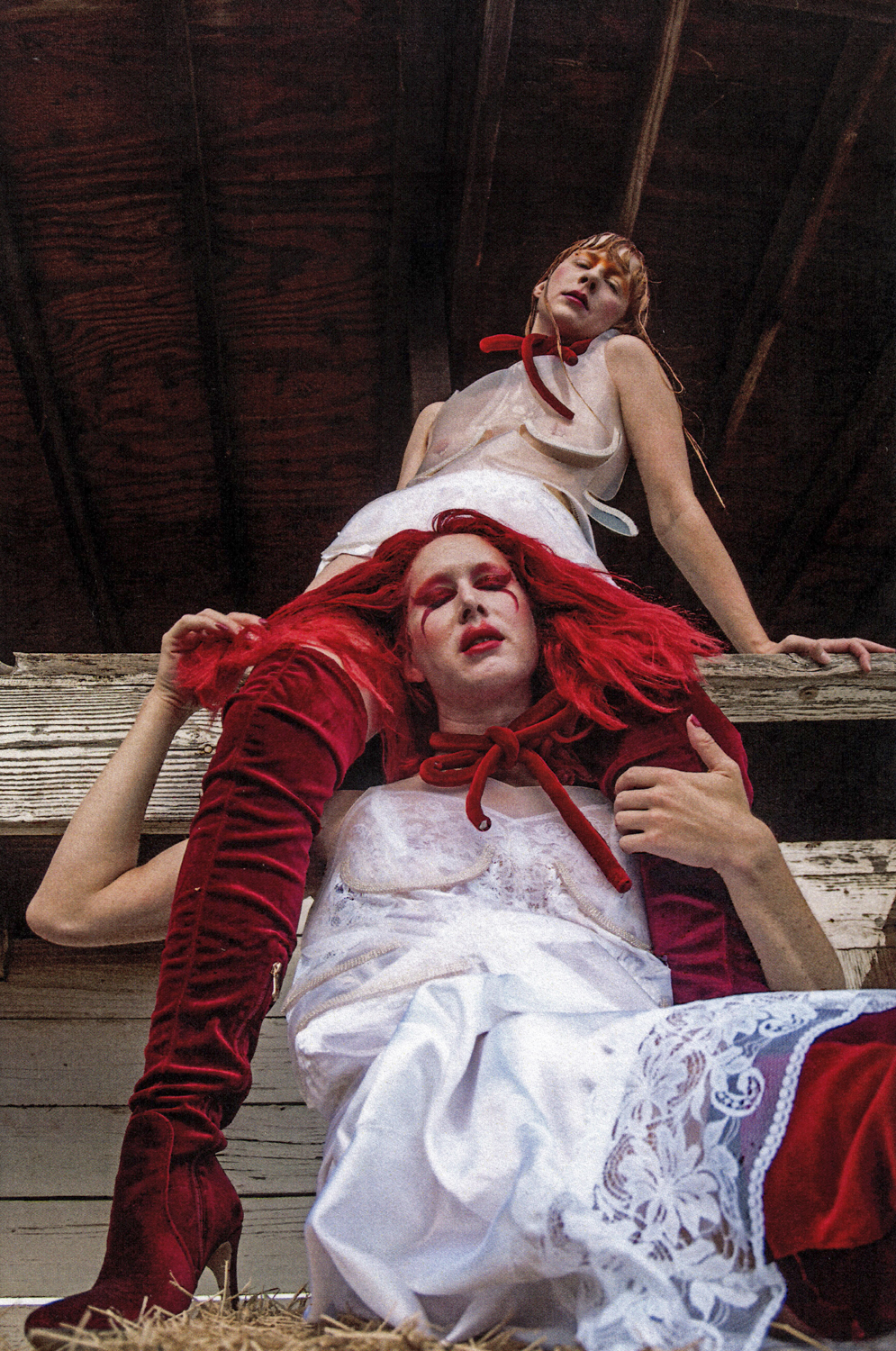 "The Savage Ranch Residency is an opportunity for artists to come explore a ranch outside the concrete jungle and get in touch with nature," Love told me over e-mail. "We offer a judgement free space where sexuality and freedom of expression is encouraged. With 45 acres of land, 7 horses, 4 pigs, chickens, lesbian construction workers, and a weed farm, we offer an experience that is different from anywhere else. We are dedicated to making this ranch a utopian fantasy by giving artists a safe space to create."
Photographed by Max Runko, Sinead and Love modeled the pieces made over the two-week residency. Sinead offered her own words on the experience for those who want to learn more about their experience.
—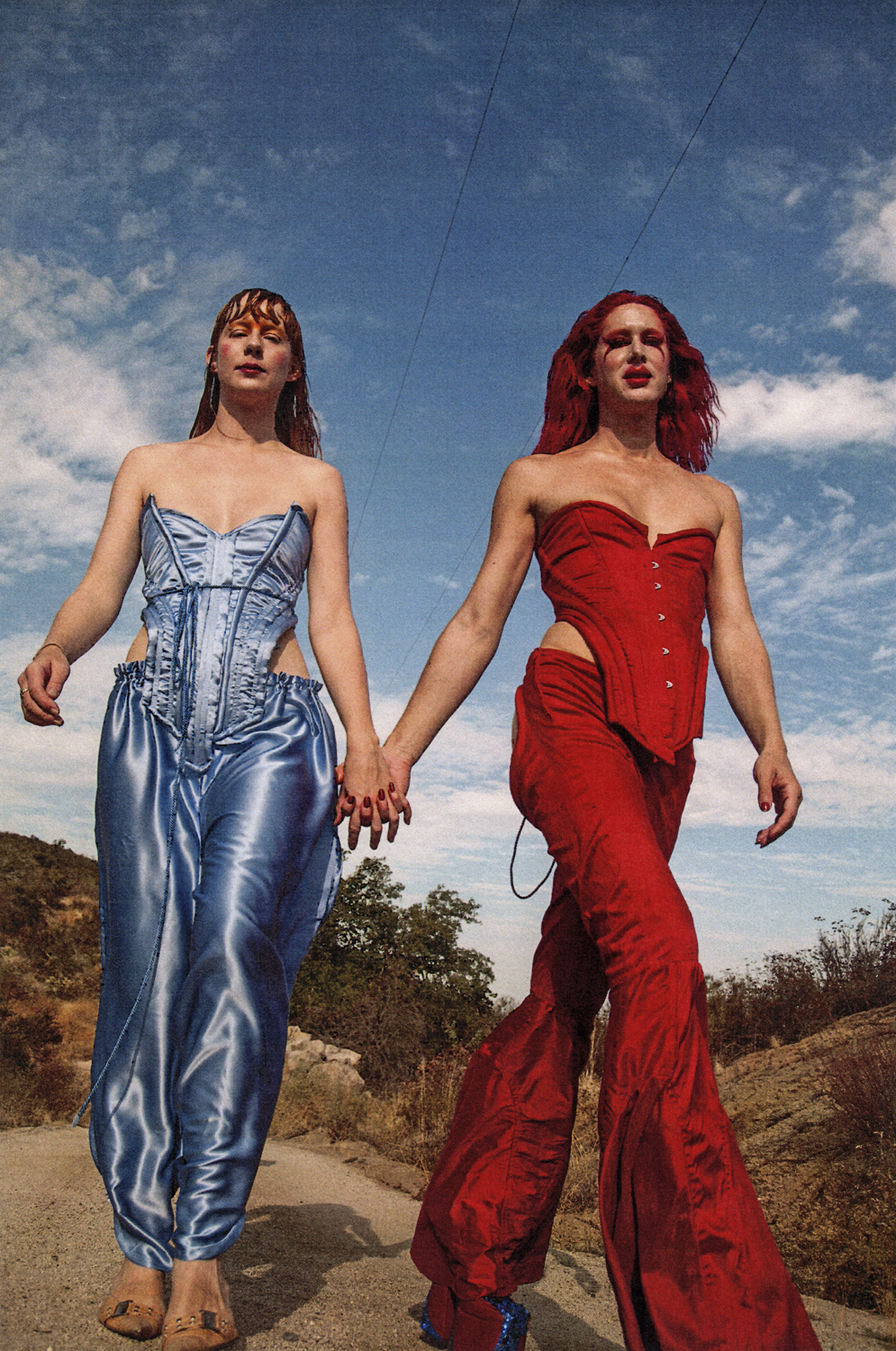 I felt instinctively drawn to the Savage Ranch ever since spotting Love Bailey a few years ago. I wanted to be part of the queer utopia Love seemed to be building, or at least witness it first-hand. However, on my way from the airport to meet Love for the first time in L.A. it struck me that I really had no idea what was in store. My driver kept repeating, "You came all the way from London to meet someone you only know through Instagram?" He seemed genuinely concerned.
When Love and I finally met, I felt a sort of apprehension between us. I was so nervous as we were about to spend two weeks together in the middle of the desert and had never met. She arrived dressed in all red and donned that enigmatic smile of hers. I quickly felt at ease and the weeks following melted away. The unknown became my biggest liberator.
We drove to the Savage Ranch in the dark. When I woke up that first morning I realized I had found myself transplanted into this incredible landscape of purple mountains, blue skies and yellow straw where the colors changed all day long. The porch became my studio and the roof became my bed. We slept under the stars after the scorching heat drove us out of the house. There was something intimate between Love, the desert, and myself during the hot nights: Dreams were more vivid and sweaty and intense. On the roof, it felt like you practically fused with the stars. It was just us, the dogs Frosty and Bella, and Love's irresistibly endearing mother Judy.
Every day I woke up early while the air was still cool and would work through the first hours of the day comfortably. By the afternoon the wind blew everywhere and the heat of the scorching sun really beat down. This made my pace extremely sporadic and I had to accept that my environment was telling me to accept it.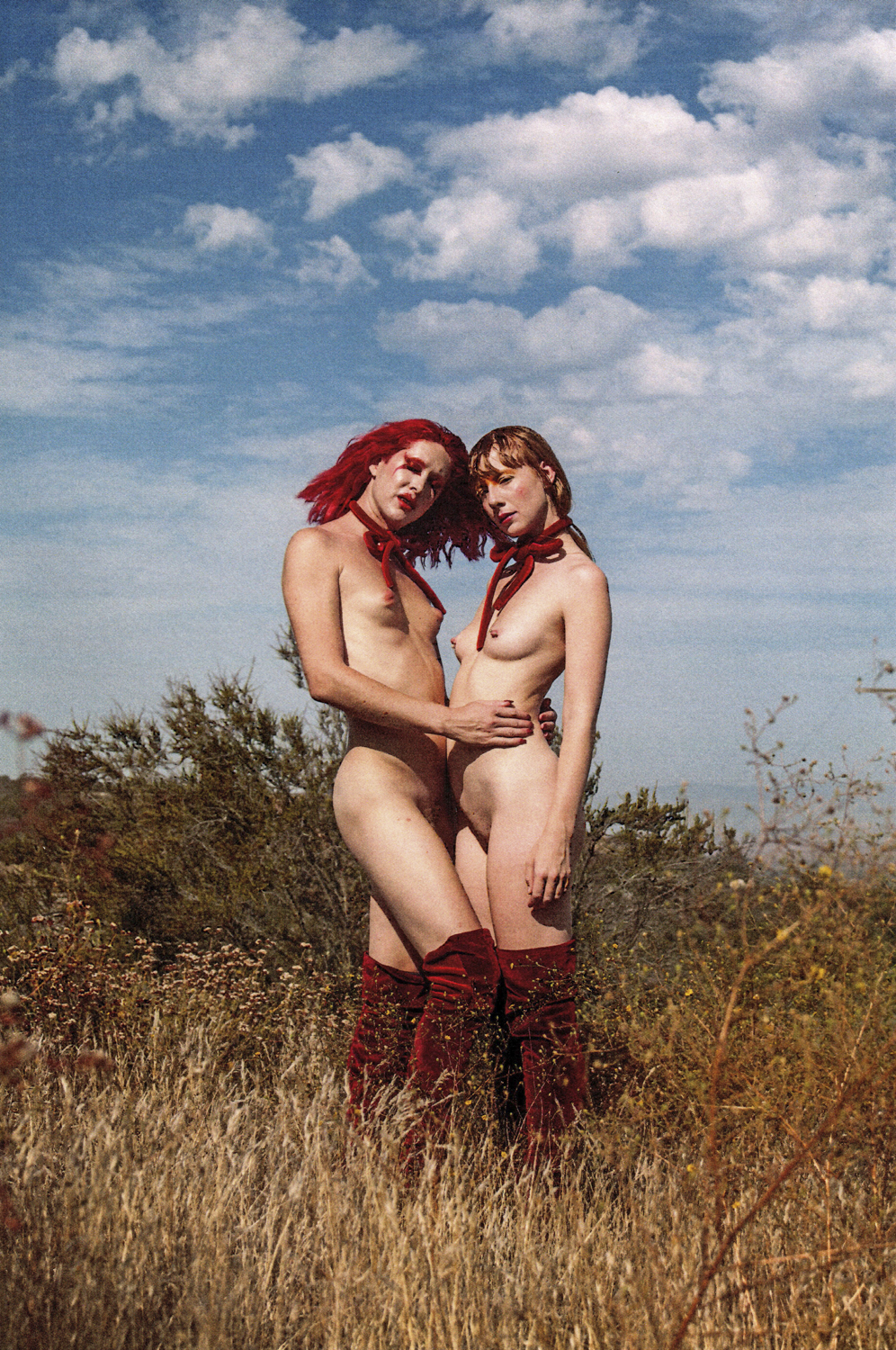 Being at the center of the ever-changing landscape made my body feel so alive and so tactile. Love and I took our moment for breakfast together every day and then worked separately and in combinations until the sky began to darken. We would watch the sun set and eat under the black, star-marked sky. I had found a temporary space for myself inside of Love and Judy's house full of rituals.
Often we'd escape into Temecula, a neighborhood nearby where we'd sneak a swim in a forbidden pool, or eat frozen yogurt in the afternoon. But the spell of the Savage Ranch was not broken, but rather juxtaposed with BBQs, teenage girls and an all-boys club drinking beers where Love's transgressive energy became all the more daring.
It was two hot, intense, and seductive weeks with my scarlet sister. It was vulnerable and confronting, affectionate and free. I melted proverbially into the landscape; making work I had not anticipated and forged a connection I will always hold close.
—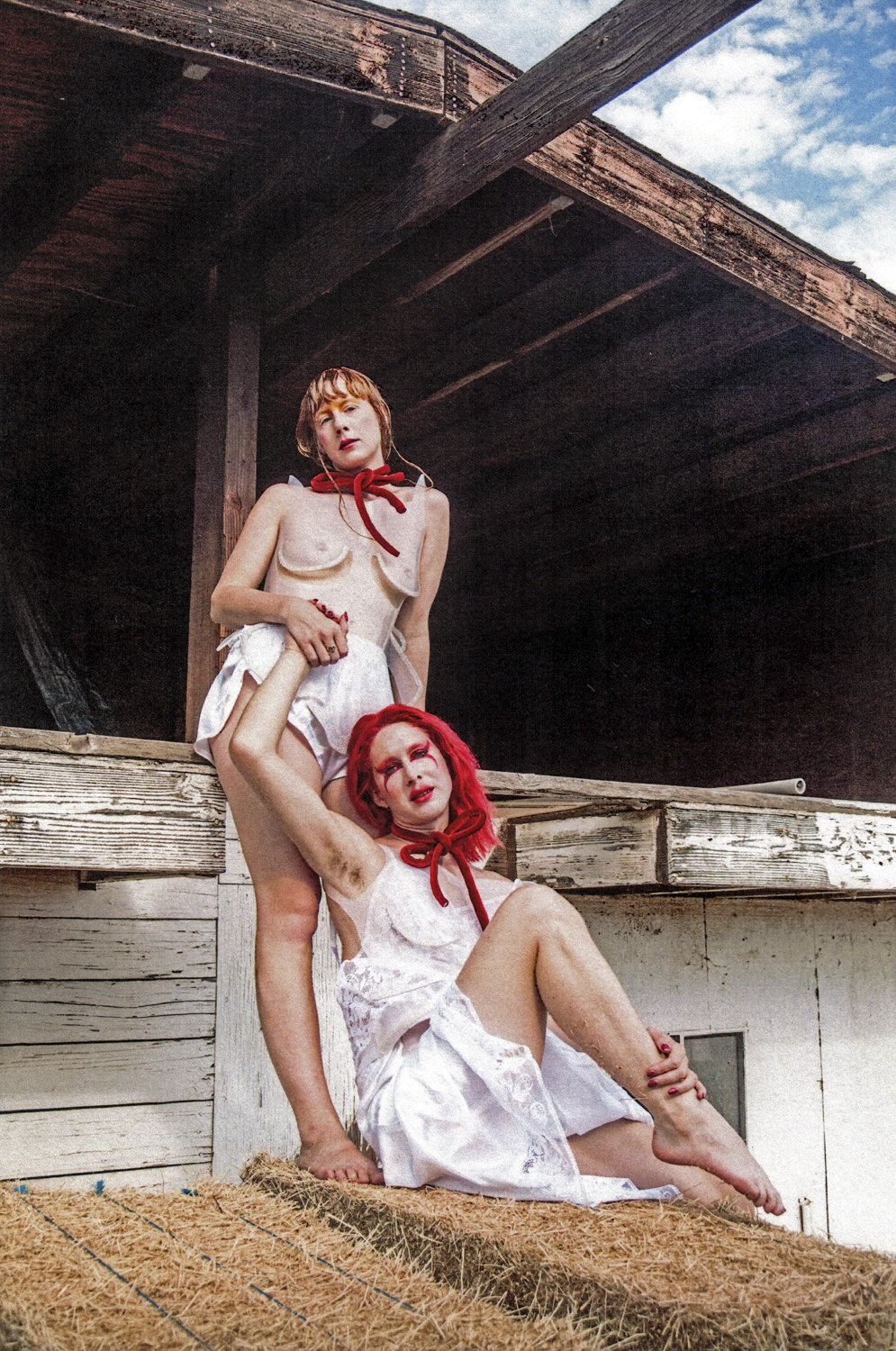 In the essay you mention wanting to be a part of Love's queer Utopia: what does that look like to you? The Savage Ranch is very wild and free. I think that that is the essence of Utopia.
As a designer who plays with gender, what are your thoughts on combatting the binary-driven fashion market? There would be a big change in the fashion industry if clothing wasn't shown in separate men's and women's fashion weeks but rather all in one, or with a different sort of division not dictated by gender or other binaries.
The idea that our minds perceive and evaluate our bodies through a framework of cultural and societal signals and rules is something that I find fascinating. Fashion is a main player in dictating a lot of these rules so it is interesting to consider that the body shape that is pattern cut on by the majority of fashion designers is very flat in comparison to the volume of bodies on average. I'm fascinated by the idea that by wearing garments pattern-cut to fit another body we are then wearing a body on top of our own bodies.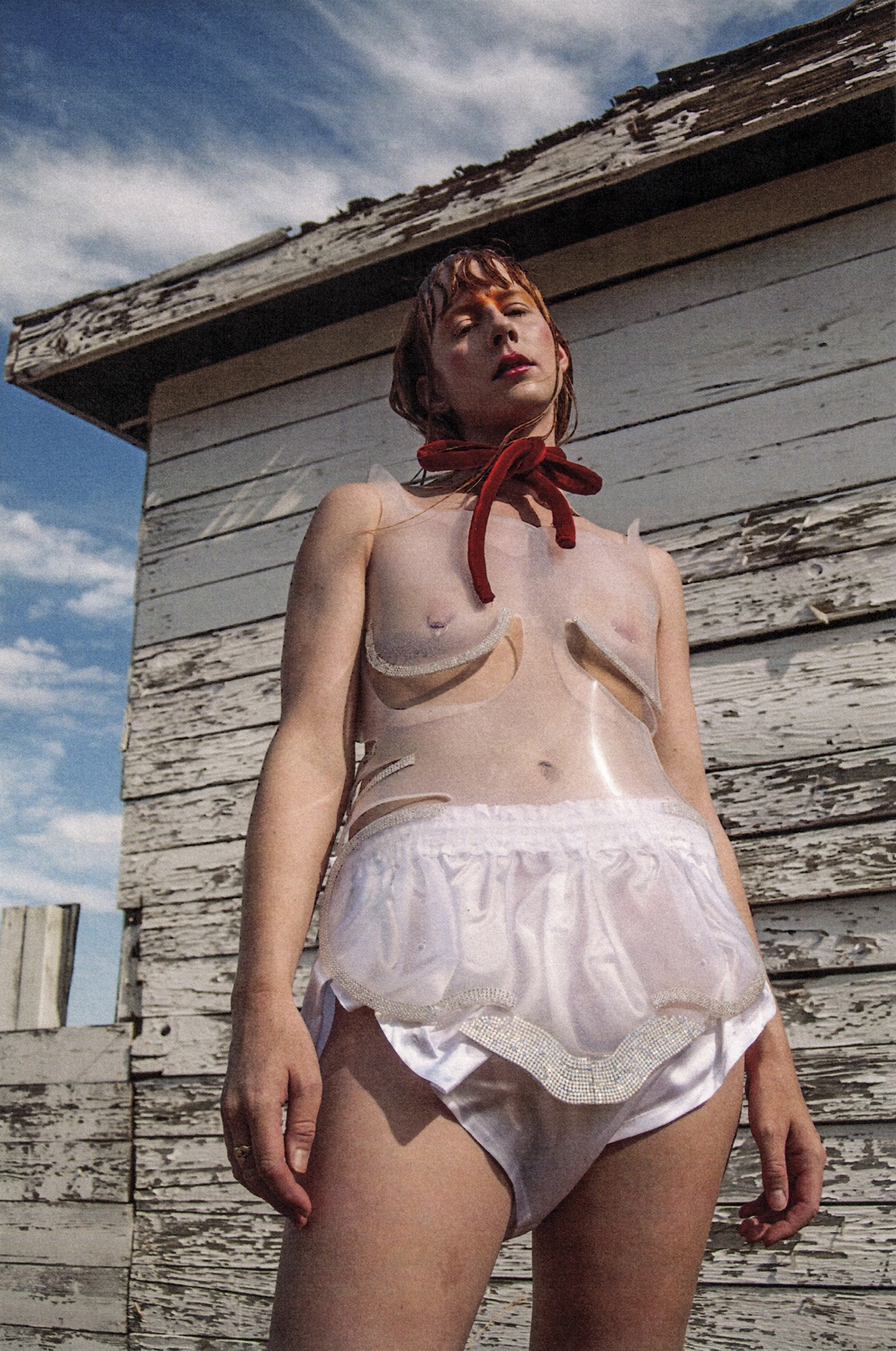 Is there a particular aspect of femininity that enticed you to use the pieces to focalize breasts? I don't see my work as focalizing breasts necessarily, my work is a reinsertion of the volumes of the body into the fashion dialogue. I began doing this by drawing those close to me and creating flat molds of these drawings in silicone. In the work I am currently developing I do this by literally life-casting friends and making a wearable shell of their individual shapes. In both instances I use these shapes to create garments that plot a relationship between the wearers body and the body that they wear through illustrative lines and transparency.
How is the body an artistic landscape for you? Because each body is totally unique.
If you're interested in applying for the ranch, qualifications include: "a willingness to learn something new, a focused body of work, a reverence for mother nature, a love of animals, not being offended by nudity, faggotry or weed, and not too pride-full to take out the trash. If you think you have what it takes, don't hesitate, pick up your fingers, slather up that keyboard and email us at thesavageranch@gmail.com."