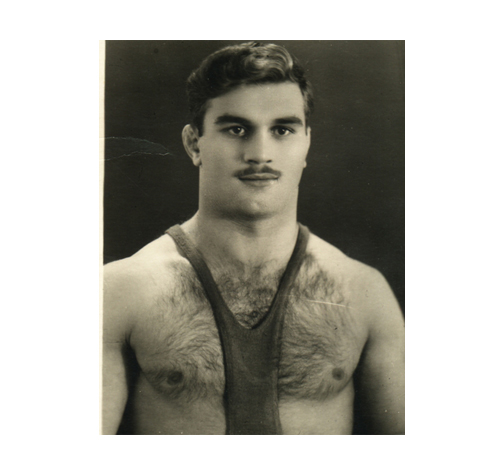 Avtandil Koridze, Greco-Roman wrestler.
The Spectrum Wrestling Party
Whether or not you know it, you've probably missed the sight of boys in fleets, wearing spandex singlets, parading around your high-school gym to "warm up." Or, it's possible you're just craving a healthy dose of some good ol' "locker-room talk"? (…Too soon?) Or, maybe you're just trying to have a cocktail amongst a bunch of submissive, sweaty queers rolling around some mats…
Come out Dec. 9th for The Spectrum Wrestling Party presented by no one other than… The Spectrum Queer Wrestling Club! Take the L to Halsey and head over to The Dreamhouse, Spectrum's newest incarnation, to stretch out, sweat, and pin, or get pinned, depending on how things go. There will be 3 mat spaces in rotation, and like all beautiful, fun, and sexy things in life should be: participation is optional.
All wrestling will be under the watch of a ref, and will be "safe, sane, and consensual." Obviously, we're not ruling out sensual, as well. And importantly, any and all skill levels and genders welcome! (Along with checking account balances: contact Spectrum for volunteer opportunities to work the party.) Suggestions for the night include a $10 Admission, a singlet, and your John Hancock… You'll need to sign a liability waiver if you want to wrestle. Check out the Facebook event here if you want to know more!
December 9th: $10, The Dreamhouse, 10-22 Wyckoff Ave. Ridgewood, NY.