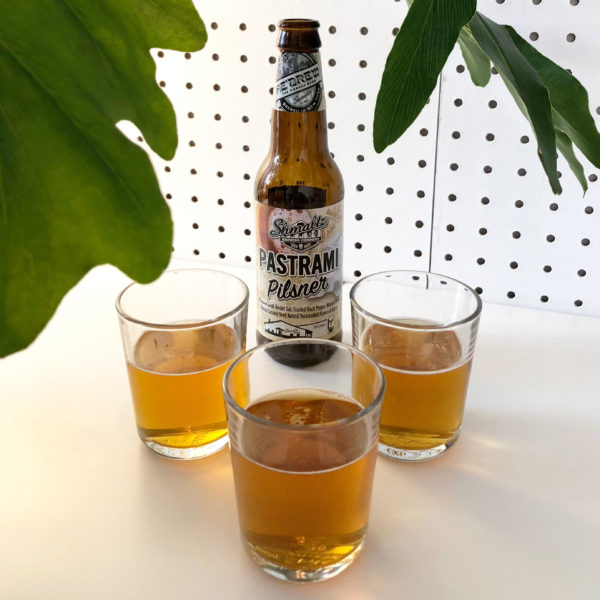 PHOTOGRAPHY BY CONNOR ATKINS
3 Queens, 1 Pastrami Pilsner
A bottle of beer arrived to the office, so we had to taste it.
Rare will you find our office working without a fully stocked bar. There is always the occasional beer floating around if you're feeling on edge, and we've got plenty of half-empty bottles just dying to be mixed.
When we get emails about alcohol, we always open and read. If it's new, we always ask to try it, since at the office we work better under the influence. After all, this is a creative environment!
On a relatively slow Friday at the office, three of us took to sampling the latest beverage that delivered to our mailbox.
QUEEN A
The Shmaltz Brewing Company Pastrami Pilsner's label is a little busy. I see that they're trying to get the point across to let you know that they're an artisanal brew, which I think it's fine because beer design bottles are lately more extra. I smelled Pastrami at first, then it went away. An iceberg-lettuce taste came through, and that gave it a touch of freshness. As I'm drinking, it's growing on me. I can see myself on a rooftop drinking this beer; she's starting to taste like a meal: a cheap deli-meat sandwich made with a bit of mustard. She's 5.5% Alc — I am not mad at that. I'll be right back… So, I walked away for a minute, had a puff-puff-pass with Queen B to see how it mixes with it. (Let's be honest, if I am considering this beer for my next Spring/Summer, I need to picture myself in the proper situation.) Pastrami Pilsner works with smoke because she doesn't fuck you up like an IPA. The Pilsner is nice with organics. I am curious to see how I feel if I have a few others, they only sent us one bottle to taste.
QUEEN B
Okay, like Queen A said, she actually smells like a Pastrami sandwich. I don't have the best track record with Pastrami, but I'm not mad at this pilsner. And only a little bit triggered! It doesn't really taste as much like pastrami as it smells it, but rather it tastes like when you're eating a pastrami sandwich and then take a big ass gulp of Stella. I'm usually not here for gimmicky-treats because they often feel cheap and one-note like a pickleback shot. Mz. Pastrami Pilsner doesn't feel gimmicky though! She's pretty good — good enough for me to take her seriously, which I wasn't expecting when we received her via USPS. I'm halfway through my glass and I can confidently say I'd drink another. After taking a couple puffs with Queen A, I'm noticing the bizarre mustardy undertones. Color me shook!
QUEEN C
Pastrami Pilsner does exactly what you think it will: tastes like a simple sandwich, smells like a beer on tap and gives you a buzz after just 6 oz. My first sip was so strange. My taste buds thought this was a sandwich, but my head knew it was alcohol. Queen A and Queen B were already making weird noises as they started sipping. For my first sip that standard pilsner, tin-like flavor faded fast to horseradish. It's a bit complex, the palette, and probably hard to swallow if you're sensitive to savory flavor, but luckily I'm not, so I went for sip number two (then three, four, and five). The mustard seed starts to make herself known after that first taste. To be honest, I wonder what my dad would say about this beer. My initial thought is to be grossed out by it, but really I'm not. I was so steadfast about getting my notes right I denied the puff being thrown in my direction.
We highly recommend this to anyone prone to daydreaming. This is full blown Willy Wonka realness. Also, if you're interested in skipping meals, this drink makes sense. Regardless of your status, Pastrami Pilsner has an awesome, lowbrow taste that's wonderful for switching up the day.