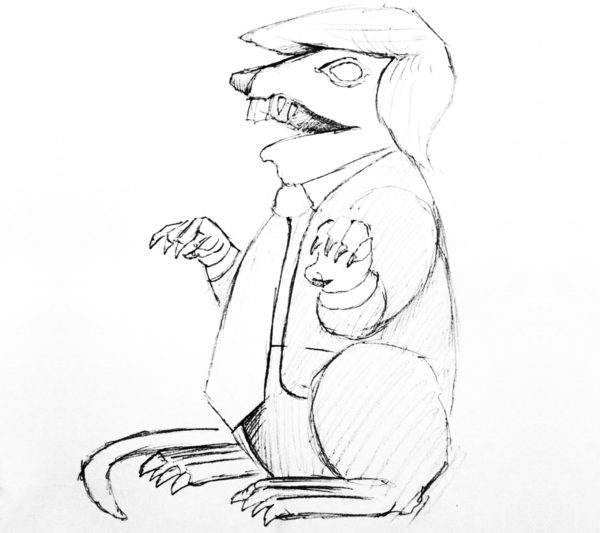 Jeffrey Beebe Trumpy The Rat Sketch, 2017.
Trumpy the Rat
Help make this inflatable Trump-esque "Scabby the Rat" a reality
There's a long history of scabby rats being used to symbolize resistance and ridicule. However, there's no historical instance of a president worth resisting and ridiculing with a 15 foot inflatable scabby rat. At least not until Donald Trump (ooof!). BravinLee programs (manned by Karin Bravin and John Post Lee) and artist Jeffrey Beebe have teamed up to design a huge rat — complete with Trump's "too-long tie, ill-fitting suit and ludicrous comb-over." Honestly, the only thing missing would be the fake tan — but rats can't tan. That'd be silly!
The purpose of this project is three-fold. On the most basic level, BravinLee would like to have this inflatable rat manufactured (it'd take about 12 weeks from funding to completion) so that it could be used in New York and elsewhere in anti-Trump protests. A longer-term goal is to form the Public Display of Disaffection Political Action Committee (PDDPAC) which would use the power of art to influence and strengthen opposition to Trump and his administration. Beyond either of those tangible goals, however, is the less-tangible but just as significant intent to show that art and creativity are crucial in times of darkness.
The maiden inflation is slated for July, 2017, and you can help bring all this to fruition. According to the Kickstarter campaign, $10,000 in funding needs to be raised. Presently, $4, 524 has been pledged by 114 backers but there are still 23 days left!
You can help fund the project and learn more about the campaign here.