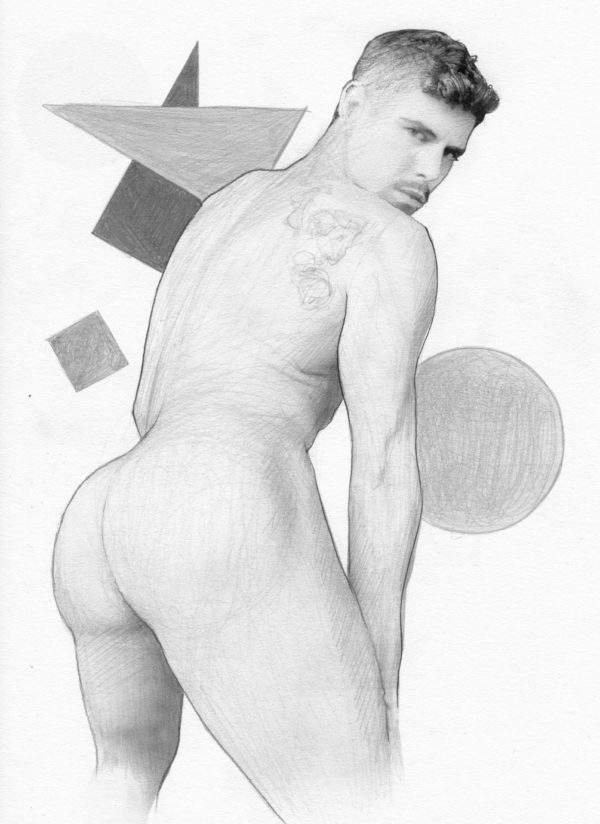 DRAWING BY SILVIA PRADA
VALENTIN AMOUR
The GAYLETTER Back Page
Valentin Amour doesn't want to be pinned down — figuratively, at least. Born in a small town near the west coast of France, the 29-year-old was trained as a ballet dancer until shirking the art form in their early twenties. Any who have recently encountered the performer through social media, Onlyfans, or scenes for Lucas Entertainment will understand that Amour's appeal requires little explanation. With a penchant for jockstraps and an ever-arched back, they've captured the attention of hundreds of thousands.
The theatrical moniker "Valentin Amour" is a marriage between the performer's given name, Valentin, and their pseudonym "Amour" — chosen with help from their mentor, Austin Wolf. Beyond its ring, Amour was drawn to the the name for its campy allusions to sex and romance and representation of Amour's heritage.
Despite the relatively conservative climate in which they were raised, as a child Amour was free to express their sexuality. Like many, they found joy in playing dress-up with their mother's frocks, fashioning makeshift nails, and dancing ballet. After taking weekly classes in their hometown, they attended a boarding school and later a conservatory for dance in their early teens. At 20, after completing a masters in contemporary dance, they joined a professional ballet company with a focus on modern techniques like Martha Graham. However, Amour's ballet career was short-lived. After one year dancing professionally, they felt bored by the discipline's petty politics and quickly left ballet.
In the years that followed, they found their footing as a porn star. While they've recently worked with major adult studios, they're careful to remain non-exclusive. For Amour, regardless of the studio attached to a project, every scene must remain an honest expression of their sexuality. Ultimately, they're committed to keeping things fresh — a contract does not seem to be in the cards.
As Amour nears their 30th year they continue their journey with a singular momentum. Excited to see where the next decade takes them.
This story was printed in GAYLETTER Issue 16, get a copy here.