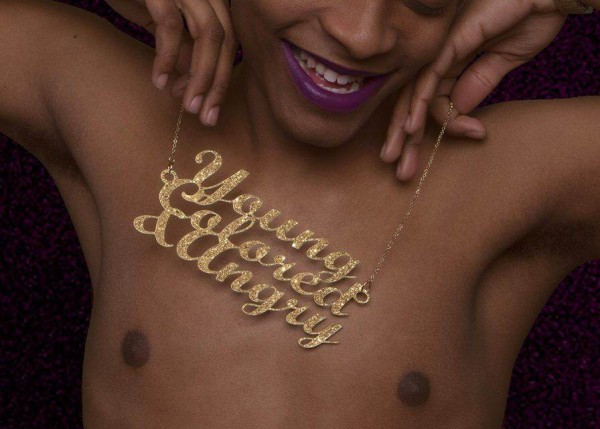 Photography by Elliott Jerome Brown
Young Colored & Angry
A new exhibition featuring the work of young artists and academics of color from across the globe
Photographer Elliott Jerome Brown likes sex and public spaces. This fascination is on display in his editorial, "Meet Me At The Toilets," inside Issue II of GAYLETTER, and it's also how Elliot first collaborated with Iranian-American artist Ashley Rahimi Syed: as freshman at NYU Tisch, Syed made a video based on Elliott's project exploring "The Ramble," Central Park's once-legendary gay hookup spot (from a time when anonymous sex took place in the woods, without phones. Grindr meets Shakespearean pastoral comedy).
Elliot and Ashley are now the Editors-in-Chief of a new online magazine, "Young Colored & Angry," which "exclusively features the work of young artists and academics of color from across the globe." The provocatively named magazine goes live April 25th, and the gallery show Elliott andAshley have co-curated to launch it looks as powerful as the title.
From 4:00PM to 6:00PM, Palestinian artist Anas Hamra will Skype in from Gaza to discuss his video installation. Towards the end of the night, Sound artist Dyani Douze and rapper The Quazzy Faffle Show will perform their commissioned piece, "an experimental Lullaby for the mind affected by racial inequality in America." Throughout the evening the work of Victoria Elle, Rindon Johnson, Daryl Oh and many notable others will be shared in honor of the new magazine.
Young Colored & Angry aims to help create "more spaces where people of color are the dominant voices and the executives of their own work," Elliott says. In imagining the magazine, "We knew what we wanted based on what we weren't seeing." One of the creators' prime goals for their charged content is "making the discussion aesthetic and manageable — not dumbed down, but creating points of entry…like fashion magazines, which people are drawn to and want to pick up." "Even though the project deals with obstructions to our livelihoods," Elliott says, Young Colored & Angry is "a celebration of what we can do. We want people to leave feeling inspired." Check out this celebration, it looks as vital as its title promises.
"Young Colored & Angry," is happening on Saturday, April 25th, from 12:00PM-10:00PM, 35 Meadow St. Brooklyn, NY.