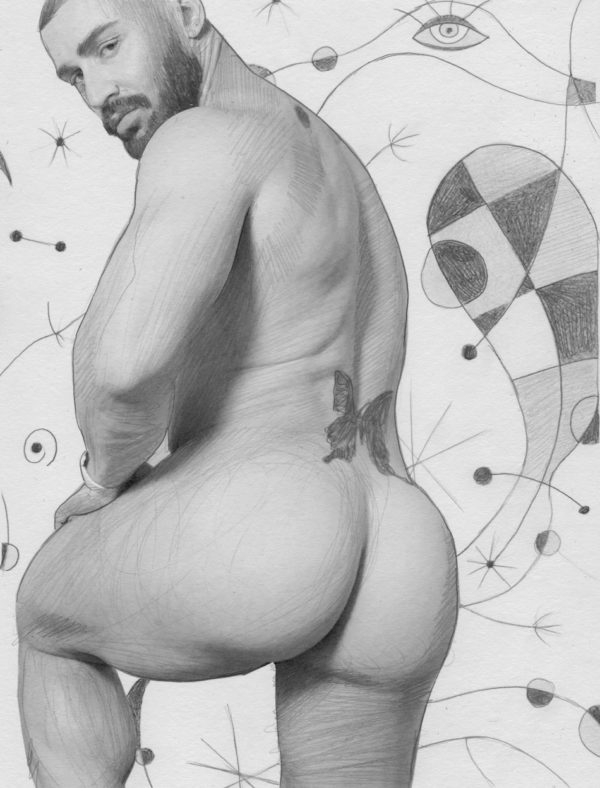 DRAWING BY SILVIA PRADA
François Sagat
The GAYLETTER Back Page
Since his first scene in 2004, porn star François Sagat has been dominating the erotic film world with his beefcake figure and rugged good looks. A muscular Frenchman of Slovakian descent, his career boasts an eclectic mix of mainstream adult acting and non-pornographic projects (including a brief appearance in Saw VI). Over the course of his nearly two decades-long career, he's also released several songs as well as the dance EP Chamelia (available on Spotify), played the lead role in the 2010 art film Homme au bain, had his genitalia replicated for a line of signature dildos, and been the subject of a documentary exploring his multifaceted persona.
While much of this work was put on hold during the pandemic, he hinted that his months of quarantine were still full of life, rhythm, and drama. François has no intention of being tied down, by a relationship that is. A quick dive into his Instagram will reveal a cheeky dance with a green blanket, BTS shots from an upcoming music video, film stills of glossy 1980s studs, and more.
During our conversation, it became clear François has a wild imagination and few inhibitions. On the subject of sexual fantasies, the actor highlighted his interest in having intercourse with a François Sagat clone (a fantasy many of us share). His drink of choice is Champagne rosé and his favorite city is Paris — though it's a love-hate relationship. According to François, the best sex tip he's learned from a fellow porn star is to avoid salad before douching. When asked what he enjoyed most about making porn, François responded "being something I'm not."
Walking the thin line between eclectic and chaotic over the course of his wide-ranging career, François has become an icon in his own right. As the world reopens, keep an eye out for this muscular Frenchman with a tattooed scalp and broad chest — he's got plenty more projects coming.
This story was printed in GAYLETTER Issue 14, get a copy here.