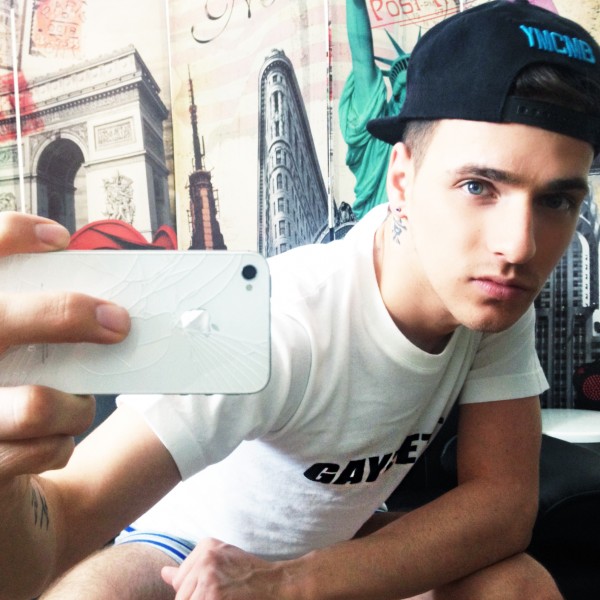 Selfies by Ivan Scott
Hi, Ivan Scott
Ivan is a 23 year old boy who was born in Portugal. He moved to London when he was 7-year-old and that's where he lives now. Most people call him Ivan but some friends call him Scott, which is his middle name. He just finished an acting course, so he's hoping to be an actor/model in the future, but for now he's working in retail.
He's bisexual, which he first discovered when he was 14, "I had feelings for a mate of mine, a straight mate ha, however I have managed to get a kiss out of him…the kiss happened when we were playing on a Playstation and fight playing, then it just happened." Around then, he also dated 3 sisters, one after the other, "I was a bit of a playa lol." He lost his viriginity when he was 18 "it was with an American guy from New York…it was amazing I remember every detail…"
He told us about coming out as a bisexual: "there was a point in my life when I was 19, and I felt I couldn't be myself and couldn't enjoy myself the way I wanted to, so I told my family and closest friends about it — if ever asked I wouldn't have a problem saying it!"  The type of man he likes is "dark haired, masculine, not too muscly but defined, nice eyes and smile — a hot latino always catches my eye…" When it comes to girls "I prefer brunettes with a nice body (good bum), shorter than me…"
Even though he likes both boys and girls when it comes to sex: "to be completely honest I'd say with a man there's more to explore…I think with girls it's just a sexual attraction, with guys it's different, I could fall in love with a guy." He mentioned to us that he's really into Cocky Boy's Jake Bass, "the things I would do to him! A few hours wouldn't be enough, If I met Jake I would show him a few places…" Alright, you heard that Jake!
His favorite part of his body are his eyes, "I like my eyes, I feel that the eyes say a lot." He doesn't practice any sports regularly, occasionally basketball. He mainly works out in his home gym — "I only go 3 times a week, sometimes not even that, depends on how busy I am and if I'm up for it haha…" He likes to party but he's not a heavy drinker, when he drinks his go-to cocktail is vodka Red Bull. Ivan sleeps in his underwear, "I have tried the naked sleeping thing and man it didn't work, everytime I did it I got a hard on lol — the same thing happens with loose boxers when it rubs on my leg…" We can understand that Ivan. He's the happiest when he's "going out with friends, spending time with family and traveling…" 
We asked Ivan to take a few selfies wearing our GAYLETTER t-shirt, here's the result.