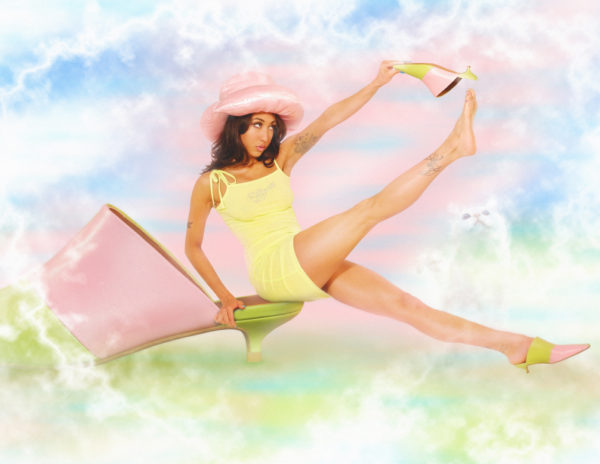 PHOTOGRAPHY BY MICHAEL THE III | STYLING BY ARAYA GUANIPA
Isabella's Love Story
Isabella Lovestory is like the Kate Bush of reggaeton with the hip bones of "Slave 4 U"-era Britney Spears. A pop star of her own invention, Honduran-born Isabella's artistic sensibility gives her hot-girl visuals and radio-ready bangers a twisted brilliance. In fact before she released her first EP Humo in 2019, she was showing up in all the cool kid group shows at New York galleries (even while living in Montreal). In the last few years, she's been making music her focus, often collaborating with Chicken, the downtown New York producer behind the party Club Eat. She loves a super low rise jean and a kitten heel. in fact, she wrote an entire song about the latter.
So you wrote a kitten heel anthem. Who is she, the girl who prefers a kitten heel to say a stiletto or platform wedge? She's someone who doesn't need to be desperately loud (or desperately tall) to be the supermodel, the center of attention. She knows she has it all and everyone is obsessed with her. Subtle, iconic, lazy, gluttonous. The world waits for her. She can run faster and dance better than the rest because she's got the comfiest shoes. The sexy underdog — I mean undercat. She's definitely a part of me, although I contradict myself everyday. One leg wears a kitten heel and the other a platform stiletto.
You have a very romantic name. What's your favorite love story, real-life or fictional? A Woman Under the Influence always makes me cry. Or Romeo and Juliet, the 1996 version. The best love stories are always tragic. My taste is gothic romance. I clearly need therapy. I just don't go for artistic purposes.
What's your sun sign, moon sign, and rising? Sagittarius sun, Gemini moon, Taurus rising. You have to pay me a million dollars to know the rest.
Tell me about Chicken and your musical partnership. He is iconic but also somewhat mysterious. Chicken is a big reason I began to take my music career seriously. He's still insanely mysterious to me. I'm pretty sure he came before the egg. We are both very spiritual when it comes to music and its process — I feel like we're telepathic when we create music together. I believe we're both insane and aren't afraid to do things that haven't been done before. We come from super different upbringings, so to combine our ideas is always fascinating. I'm grateful I met such a special mastermind to create music that I'm obsessed with. When we're at the studio, I feel like we're two evil scientists at an underworld lab creating the most addictive poison/medicine.
How did growing up in Honduras shape who you are as an artist and how were you first introduced to reggaeton? When I was coming out of the womb, there was probably reggaeton blasting out the window. When I dance to reggaeton, I feel the most alive. Growing up in Honduras was the best. A lush, chaotic yet peaceful upbringing. Fearless, loud culture contrasted by the most quiet, magical mountains. I grew up with a bunch of cousins near the beach, always dancing and getting into trouble. To put it simply, growing up in such heat made me want to remain hot forever.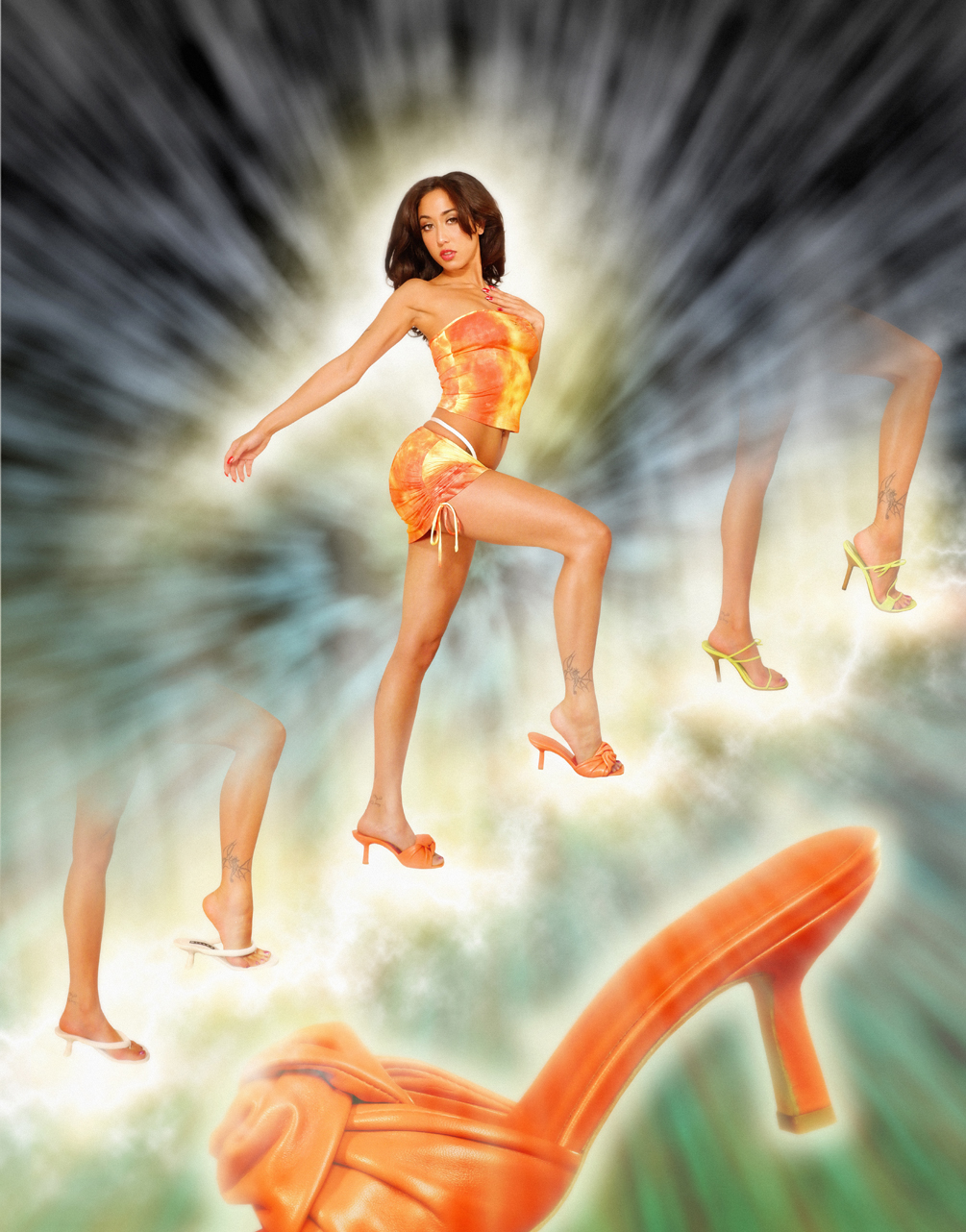 Top and skirt by I'm Sorry by Petra Collins. Earrings by Monies, shoes by Far and Simon Miller.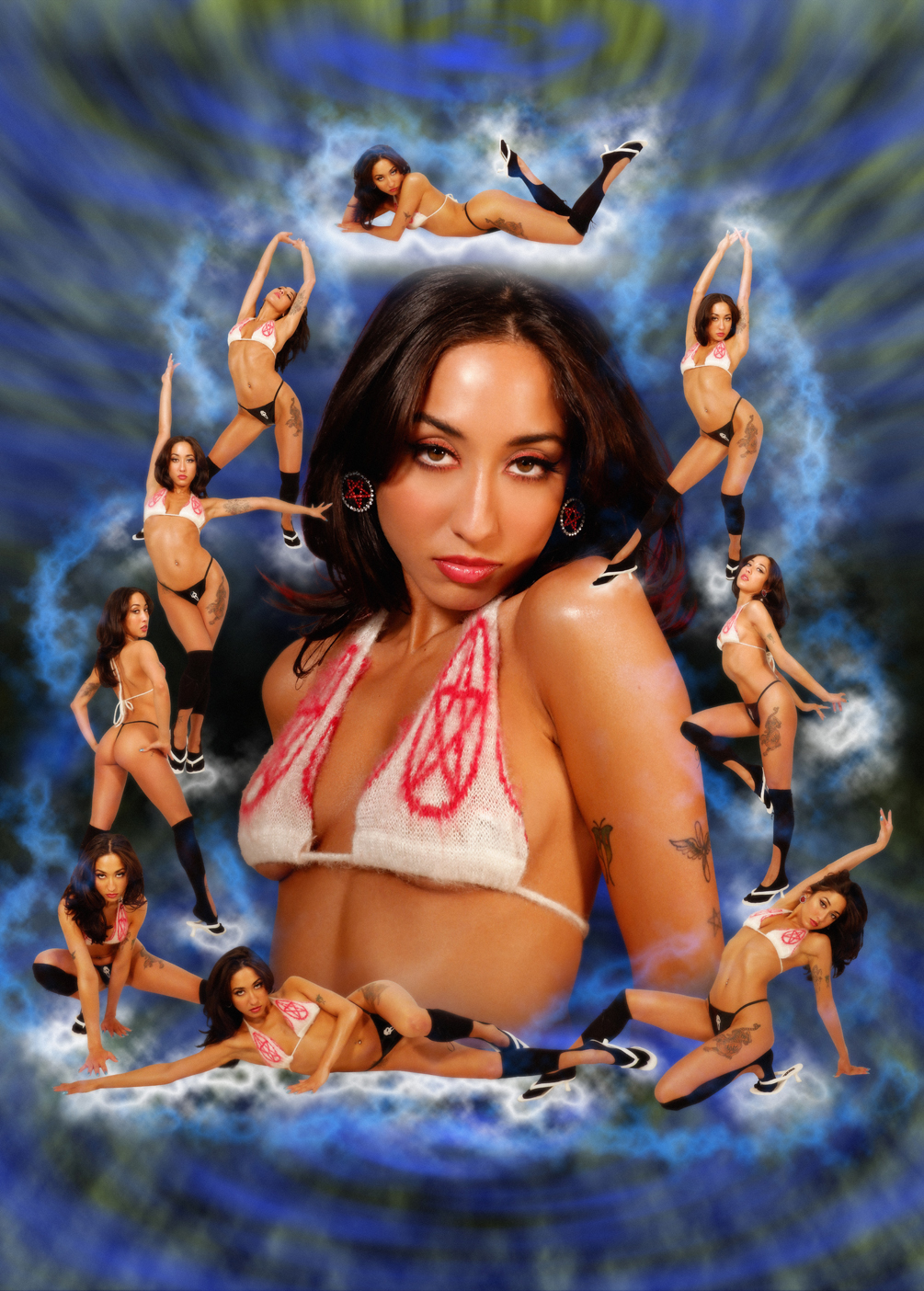 Earrings by Ashley Williams, socks by Simone Rocha and shoes by Simon Miller.
What has this year been like for you? Do you miss the nightlife rage? Have you gotten the opportunity to work more or work differently? This year has been intense, it's been like having a constant mirror reflecting back everything I do. I'm used to being fast and impulsive, so to be faced with stagnancy has made me realize a lot about myself. I know it sounds cliché, but more than ever I'm constantly learning to find magic in banal things. I look at my phone and imagine it as an ice skating rink for ants. Objects and surroundings seem to be screaming at me to make themselves known, and I'm just like, "OK, fine cell phone, I'll write a song about you." I miss the nightlife rage a lot, but I'm saving up that pent up energy for when I perform my new songs.
Who do you make music for? Myself. And the sixth grade version of me discovering cool music for the first time.
You're a visual artist too. How does your art practice relate to your music and vice versa? Every idea I have comes with sound, image, perfume, texture, hundreds of years of history, personality, and an outfit. I used to draw until my fingers bled. Then I became a children's abstract drawing teacher before I decided to pursue being the world's hottest new pop star. I believed making music would be a more direct and structured outlet for my creativity, as opposed to the inaccessible world of art galleries and pretentious academic critiques. As I explored songwriting and making music a couple years ago, I realized that I of course couldn't separate the sound from the image and story that goes along with it. I love creating worlds and obsessing over every single detail of it. My lyrics are always visual. It excites me to execute the image, music video, or artwork to go with a song. Sometimes it overwhelms me, but I remind myself it's the only way I can live. Music is the most accessible medium. Everyone loves listening to music, so I love to visually package it in my own original way. Like a delicious candy with a really cool and enticing candy wrapper.
What's the last dream you remember? Last night I actually had an insane dream where I was in a plane crash with my stupid ex. I ditched the accident site to go to this luxurious pastel-colored yacht from the 80s, it was green and pink and had golden details in black marble. I had burnt skin from the accident and I was looking in the mirror, painlessly taking it off, revealing fresh skin. Then, I went to buy a bus pass, and in the ATM machine, I found so much cash someone had left there. I stashed it in my bag and got on the bus.
What are you wearing right now? I was going to lie and create this intricate outfit for you, but I'm just wearing heels and nothing else. I like to answer questions naked.
What's your guiltiest pleasure? Obviously self-indulgence.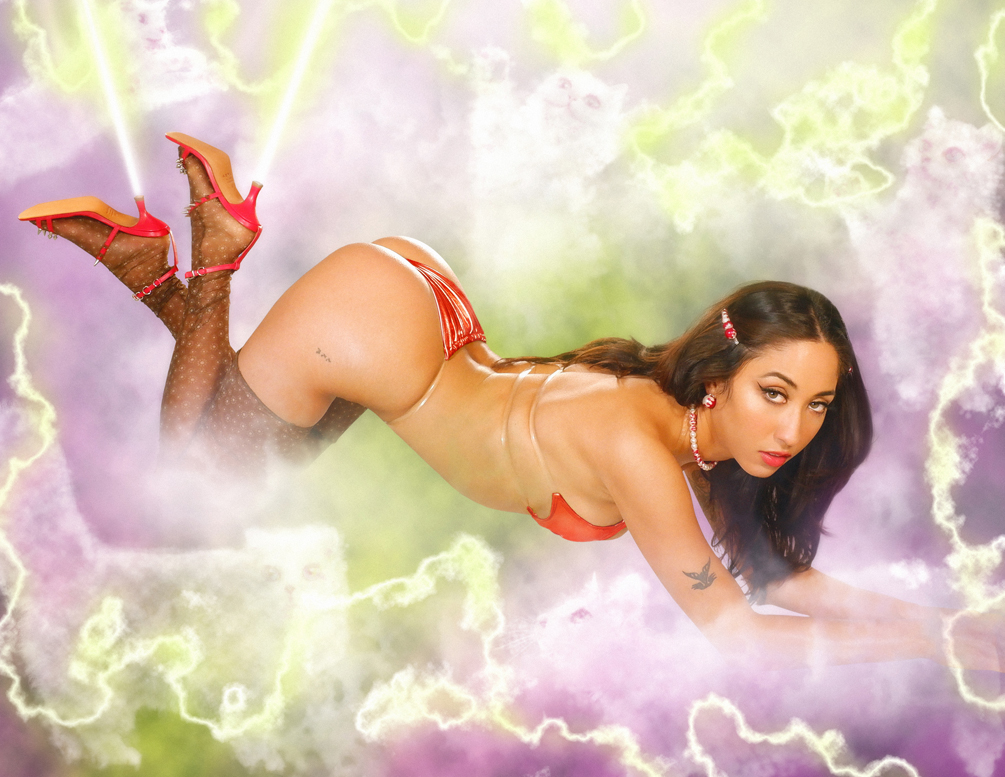 Vintage bikini set, accessories by Shushu/Tong, socks by Louise Lyngh Bjerregaard and shoes by Abra.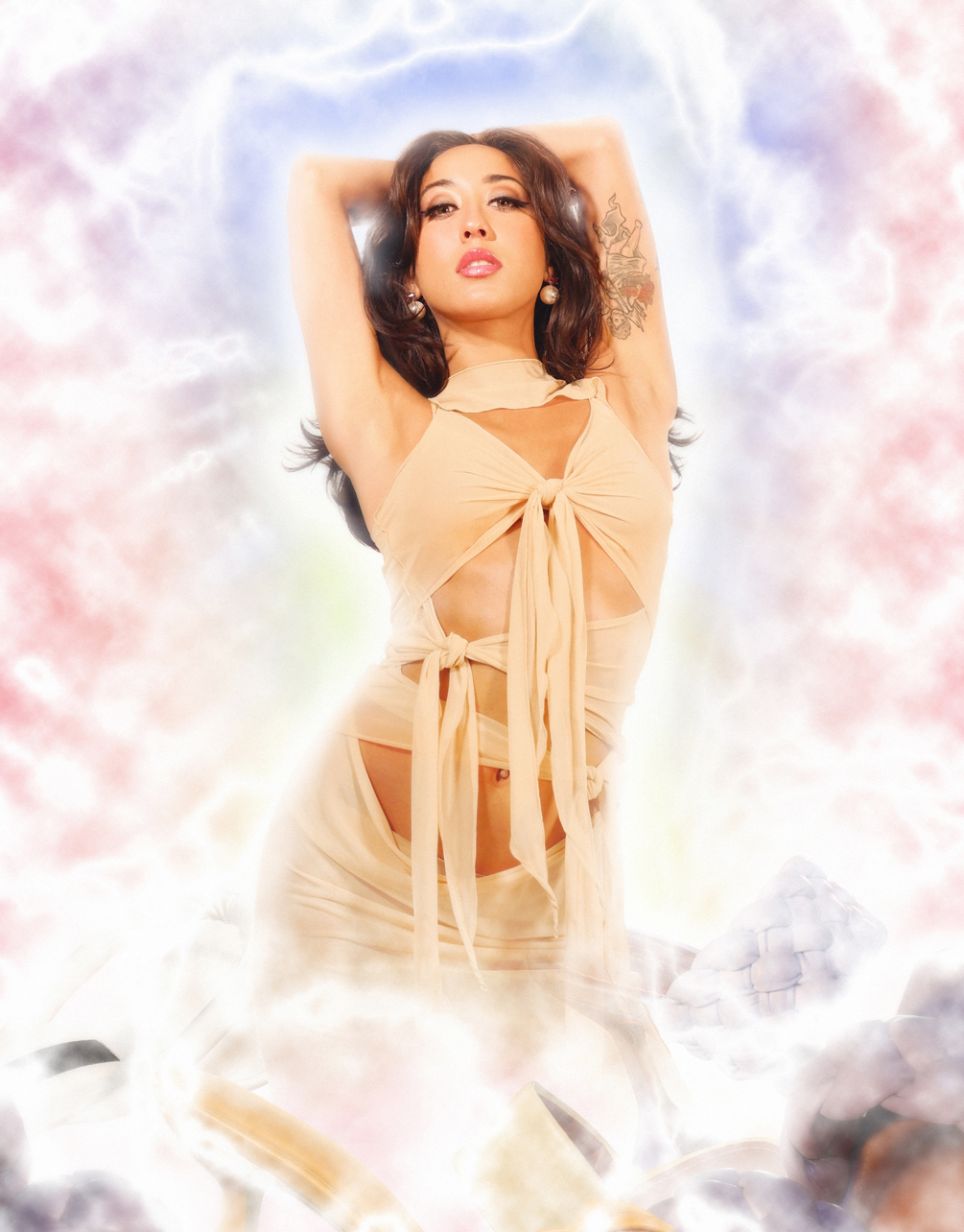 Earrings by Jiwinaia, dress by Kim Shui and shoes by L'intervalle.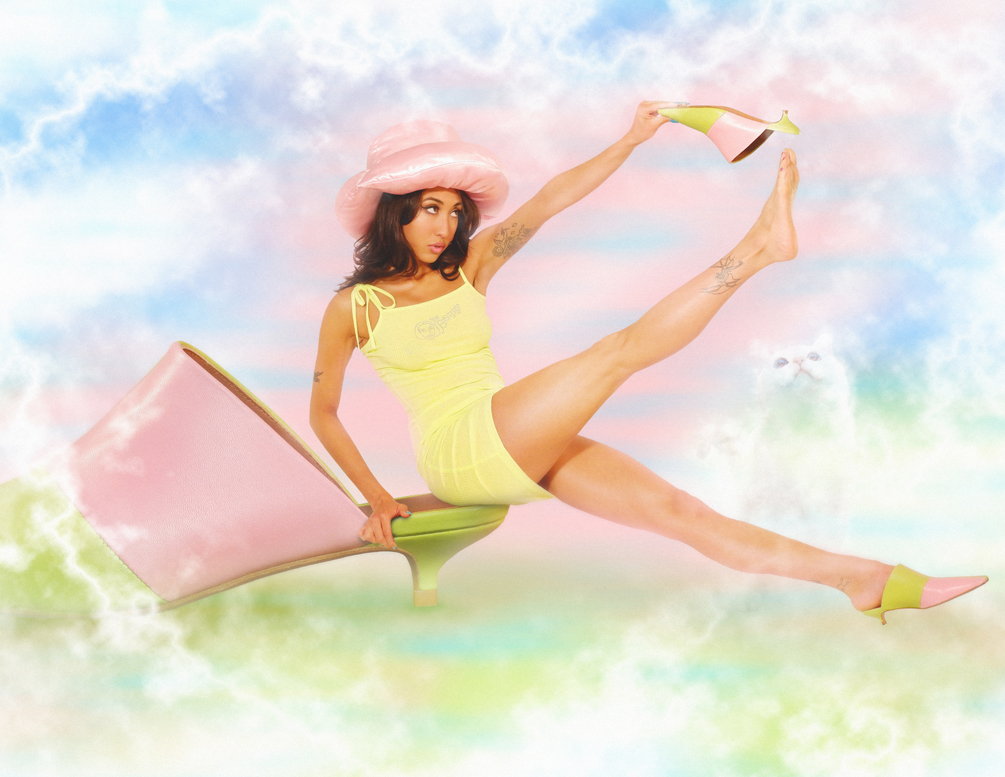 Hat by Stephane Christinel, earrings by Monies, dress by I'm Sorry by Petra Collins, shoes by Abra.
Styling assistant: Angie Maradiaga.
This story is printed in GAYLETTER Issue 14, for more get a copy here.
Watch Isabella Lovestory latest music video: Alo