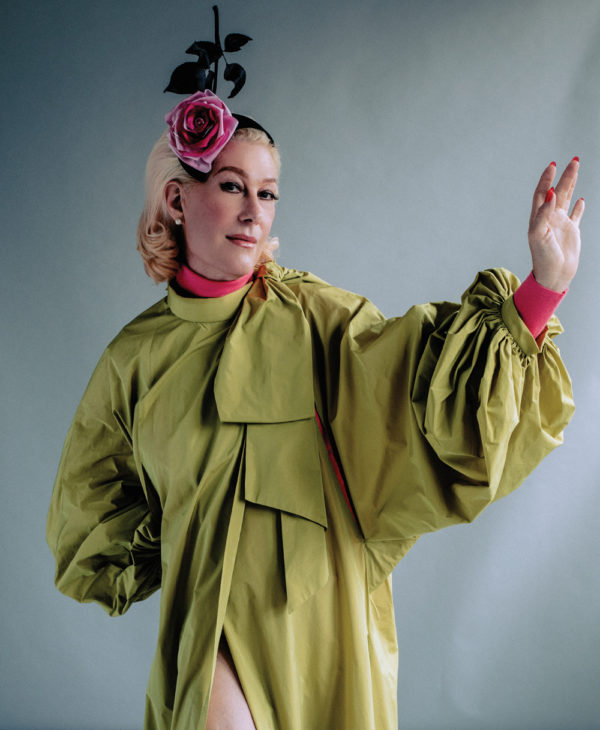 PHOTOGRAPHY BY LIA CLAY MILLER | STYLING BY CHRISTOPHER RAO
Justin Vivian Bond
Justin Vivian Bond is the definition of a multi-hyphenate, an actress, singer-songwriter, artist, and writer, the list goes on, but maybe the most accurate title is cabaret phenomenon. Vivian's star first rose with the success of Kiki and Herb, a self-consciously camp act where Vivian played Kiki DuRane, a broke-down showbiz diva, and Kenny Mellman her pianist, Herb. Since then she's established a singular career that spans Broadway, opera, musical albums, and an autobiography. Vivian's good friend actress Gwendoline Christie caught up with the powerhouse over zoom. The duo had a rollicking good time reconnecting. They discussed everything from human contact to tips on how to stay juicy.
I want to see your eyes. Can I see them? I'll show you mine crying.
Oh, sweet heart. How are you? I'm all right. I had a crazy night last night, but I just got off the phone with my psychoanalyst. He was very helpful. He said this wonderful quote, that healing comes from doing unto others that which was not done unto you. It's taking it one step further than those lazy Christians.
Not only are you one of our greatest living performers, a modern-day Maria Callas, but you're also effortlessly beautiful. How do you stay so juicy? That is a very good question. Obviously I hydrate, I drink water. I'm from the South where it's very dry, it just leeches all the moisture out of your brainstem. It's sort of like magic mushrooms, you're basically tripping.
So if you want to have an out of body experience, dehydration will take you there. Sure. But that's it. Water, that's how I stay juicy.
I know you've recently done your first public performance since Covid. How was that? Yes, my first live performance with a paying audience that didn't have masks on. And they also all had to prove that they had been vaccinated. So when I walked into the room, I started singing and then I stopped singing and just made everybody touch each other. So I literally touched every single person in that audience because I had to.
Did you feel connected as a group of humans or were you just lost in the pure physicality of it? Well, first of all, it was in San Francisco, which is where I started performing. It's where I started my career. And so that audience is a very special audience to me. So relaunching my career in San Francisco in that intimate room with so many people who I love or who have been following me for so many years that was incredible. It felt very human and I think they were overwhelmed and surprised because for many of them that was their first time in a place without masks because San Francisco literally opened up the day that I arrived. She opened her Golden Gate to me!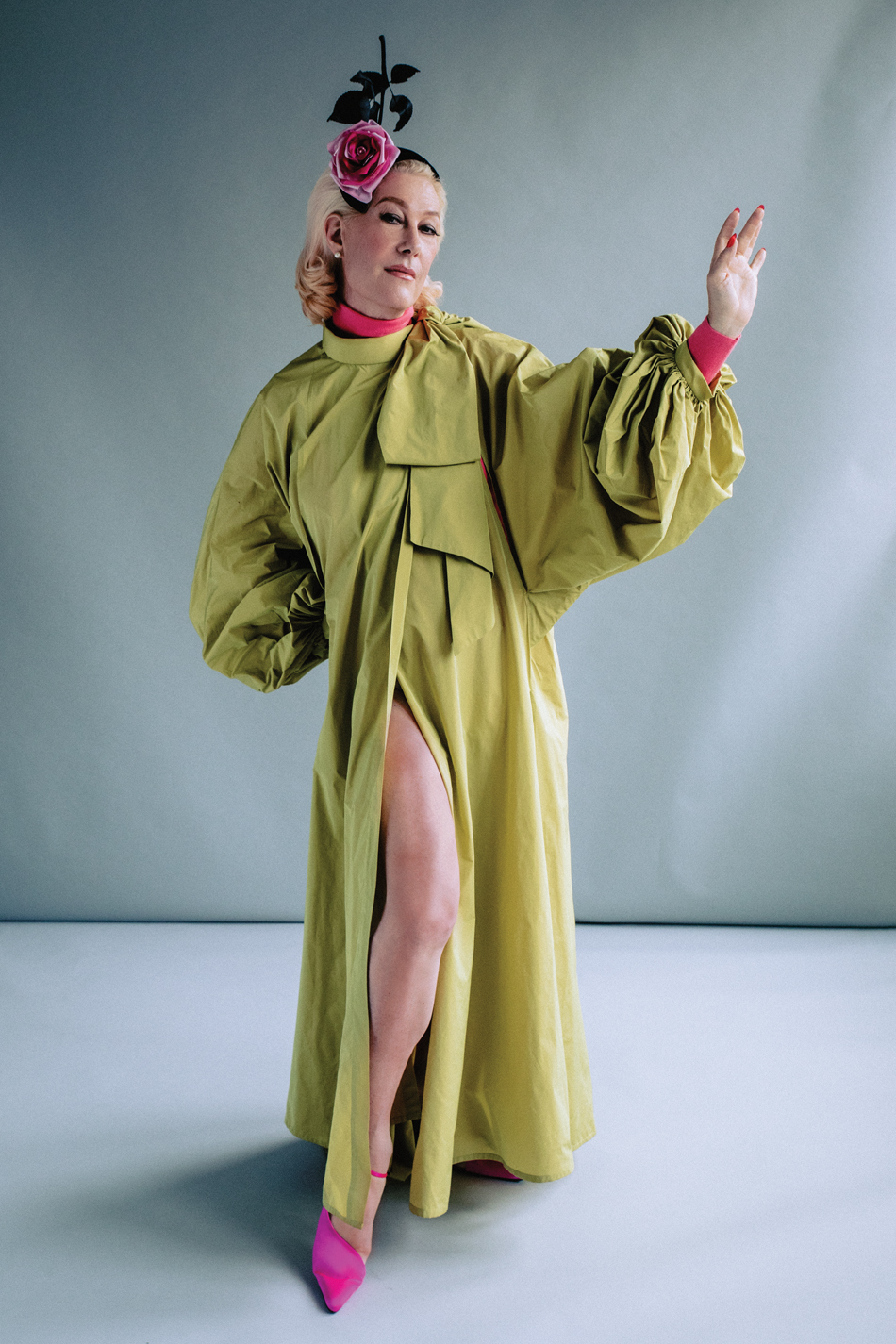 Justin wears hat by STEPHEN JONES, coat by PALOMO SPAIN, shoes by KHAITE, sweater by STELLA MCCARTNEY, and vintage earrings.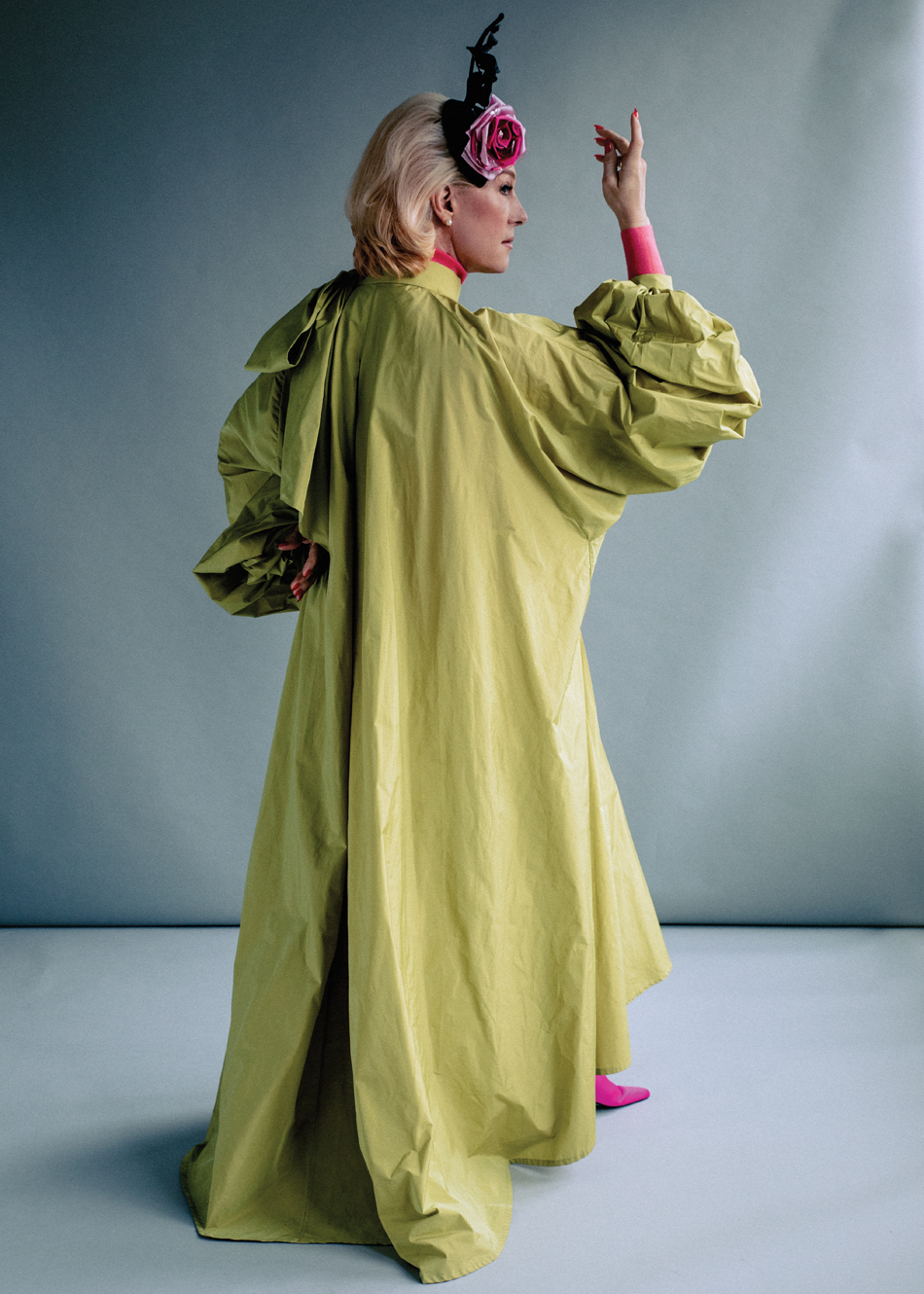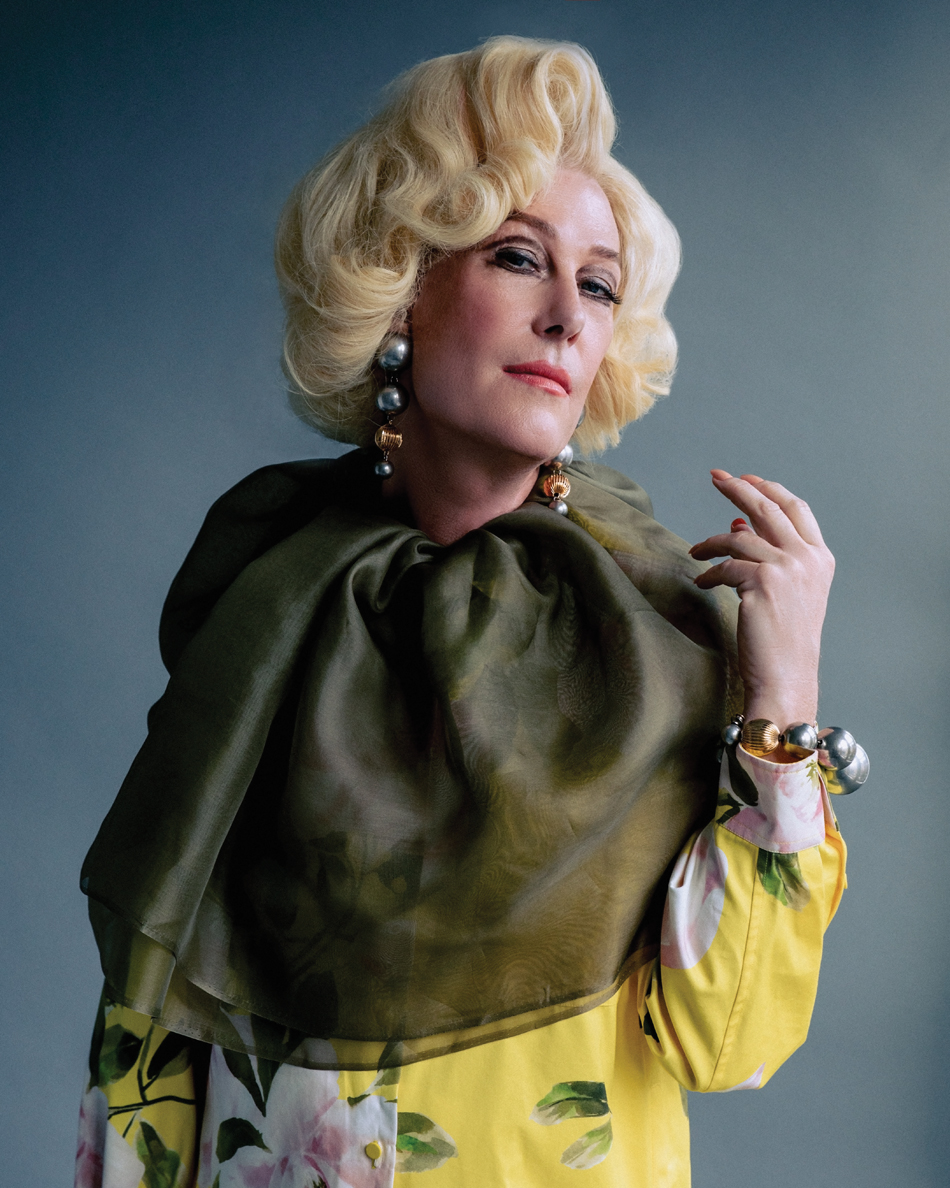 Justin wears blouse by VALENTINO and Jewerly by JW ANDERSON.
I watched some clips on YouTube of your performance, V, and you were completely magnificent, as always. It reminded me of the first time I saw you perform, which was a genuinely transformative experience. So rarely do performers have the ability to bring so much of themselves and transmute it through one character, let alone multiple. It felt like the fullest performance that performance could be, which is such a rarity — it's the elusive thing that I'm always searching for. Even just watching those clips on YouTube, it was like this incredible expansion had taken place. I just wonder how that felt? Well, the first live performance was in Hudson and it was a mini show, a hundred people — the first show of a hundred people in New York in a year. But they were all wearing masks, so I got on stage and I couldn't see any reaction from the audience whatsoever. But when I was there live, I was really sort of flummoxed because I couldn't tell if they were smiling, or if they were crying. And so it sort of threw me. I did three half hour sets that night, for different audiences, and by the third show, I was in my groove, and it didn't really matter that I couldn't see them because I knew what I was doing. But people are so strange. It's strange to be around people even if you are used to it. I realized that I don't really love being around so many people after a show. My motto has always been, "keep it pretty, keep it shallow, keep it moving" because that's what you have to do when you get off stage and you're in that place between the art and the real world, and all of a sudden, you've got all these people around you, many of whom you love, and you want to spend time with them, but you can't really connect on a deep level with any of them. And so it's an energy drain, and you don't feel like you're valuing them and the relationship that you have with them in the way that you want. And so with these shows in San Francisco, I just made a point of inviting a couple of the chosen ones up to my suite. And I had really deep, meaningful times after the shows.
Are you always able to see people's faces in the audience when you perform? Well, in places like Joe's Pub and Feinstein's, which is where I was performing in San Francisco.
That's an incredible skill because in all the years I did theater, I was happily residing in the dark seeing nothing, but the idea of actually being very aware of people becomes a much more personal experience. Right. And it also depends on the type of show, even when I'm doing Joe's Pub, there are certain shows where it's not really about interacting with your audience or seeing them. With Auntie Glam and with Kiki, I actually go out into the audience. I touch people. I have them stand up. I have people dance with me. I put my finger in their ears. You know, I really engage with them physically. And in other shows, where it's more introspective, or the music is on a different wavelength, I won't look at the audience at all. They think I'm looking at them, but I'm not.
What do you want to do next? Because obviously myself and thousands or millions of others want to see you back on Broadway, but is that what you want? Well, I've been working with Anthony Roth Costanzo for the last year and we have an album that is coming out in January. I love performing with him. And so I'm really looking forward to the next few years, standing next to him on many stages and singing with him.We are launching our new show with ten concerts at St. Ann's Warehouse in September. And then in January, we're singing with the New York Philharmonic at Lincoln Center. Anthony's goal is for us to go to Broadway. And if that happens, I will acquiesce.
You connect so fully to life, and that is part of the reason why everyone is so incredibly attracted to you, that extraordinary fulsomeness of your connection to life. I wondered if there were any techniques you use to find your groove or is it just always there? I would say that I am living with a purpose because I lost so many people when I was young, which is also why I'm so triggered and traumatized at the moment because people who are dying right now are people who survived the first big spate of death. Some people write "love" when they sign a note, but I would write "live" because it's so important for me to just affirm to people that we need to live because we're here. That's what we're put on this planet to do, to live and to connect with other people. Our bodies are vessels that bring our spirits together and we can touch each other. And so now we've had this year of isolation.
If you spend a lot of time meditating in contemplation, I think it's probably the closest thing to being in the true essence of your soul. And if you can become at peace with that, that's hopefully what happens before and after you're born. But while you're on this planet, the point is to engage with people and to feel things and experience things as fully and hopefully as lovingly as possible. There's this great monologue from Tennessee Williams's Orpheus Descending.There's this character, Carol Contraire, who's talking about the bodies in the cemetery out at Cypress Hill. That particular monologue is one I read during the late eighties when I had so many friends dying and it was just like, "go live, live, live, live, live." And that's why I chose the name "Viv" because "live." I'm so happy for my friends who died because they were in so much pain, but selfishly, it's very sad to see people go who really gave you joy and love. You have to be around people who make living worth it, who make living an adventure. And so I guess that's my secret, being around people like you—you just have this spark. When you meet people like that you're just like, "Oh my God, finally somebody who gives me the reason to show up and dream."
How's New York been? New York is great. Actually, I'm happy to be here. We have all the restaurants out on the sidewalk, which is really fun, except that now that it's hotter it's more difficult because you have to overcome the smell of urine because there's such a homelessness problem that you're eating your pasta and smelling urine. The nightclubs and bars are reopening, so you can dance and drink, and the theaters are reopening. It's really exciting.
You are as synonymous with New York as Andy Warhol. Please. Would you share with us a favorite haunt of yours and why? My friend Gavin has taken over Parkside Lounge, this dive bar on Houston and Attorney St. where I rung in the new millennium. It used to have a Sunday night party where this queen Sweetie hosted drag shows and my dear friend Sammy Jo was the DJ. And every week at around four or five in the morning, we would slosh up onto the stage and end up lip-syncing to "Is That All There Is?" It's just like a magical family room, so Parkside Lounge is where it's at for me.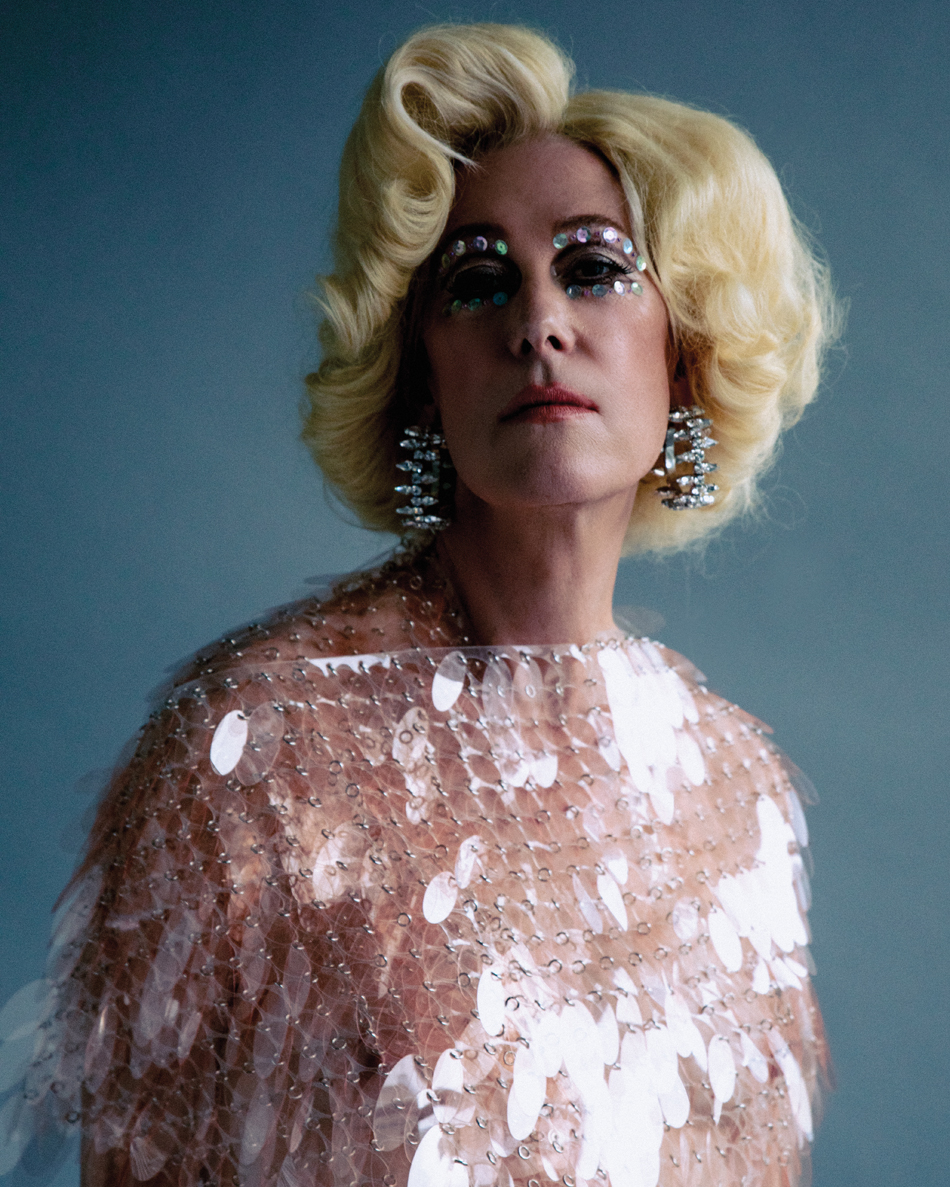 Justin wears top by PACO RABANNE and earrings by AREA.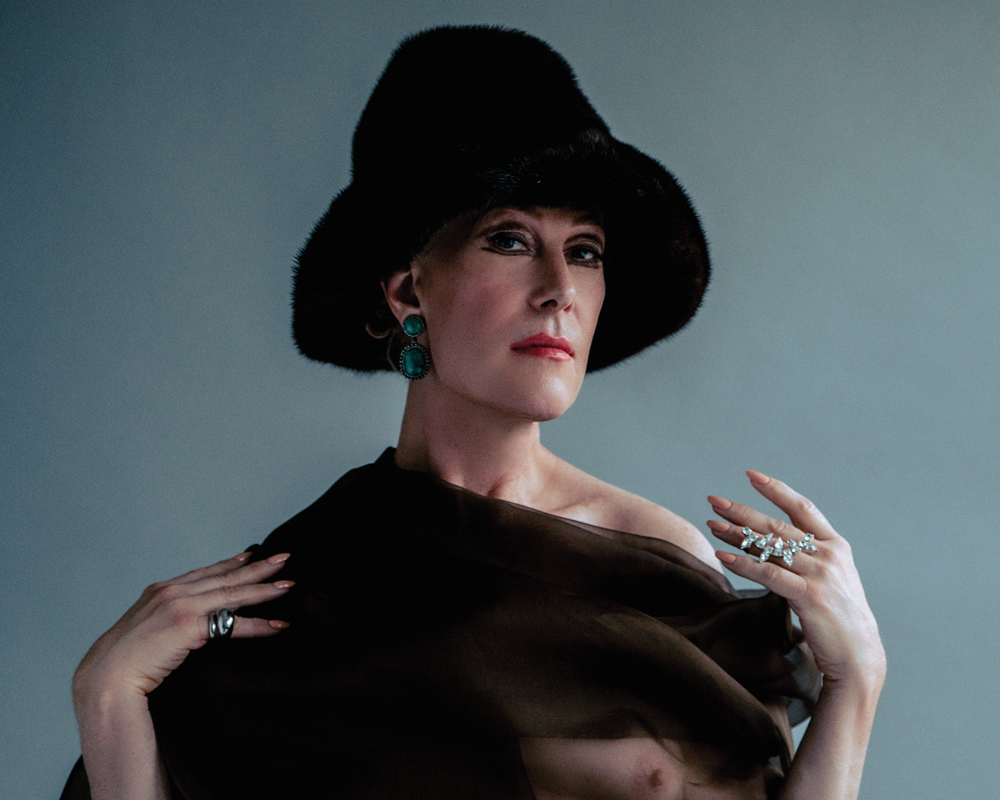 Justin wears hat and earrings, both vintage. rings (left) by AREA and (right) by KHIRY.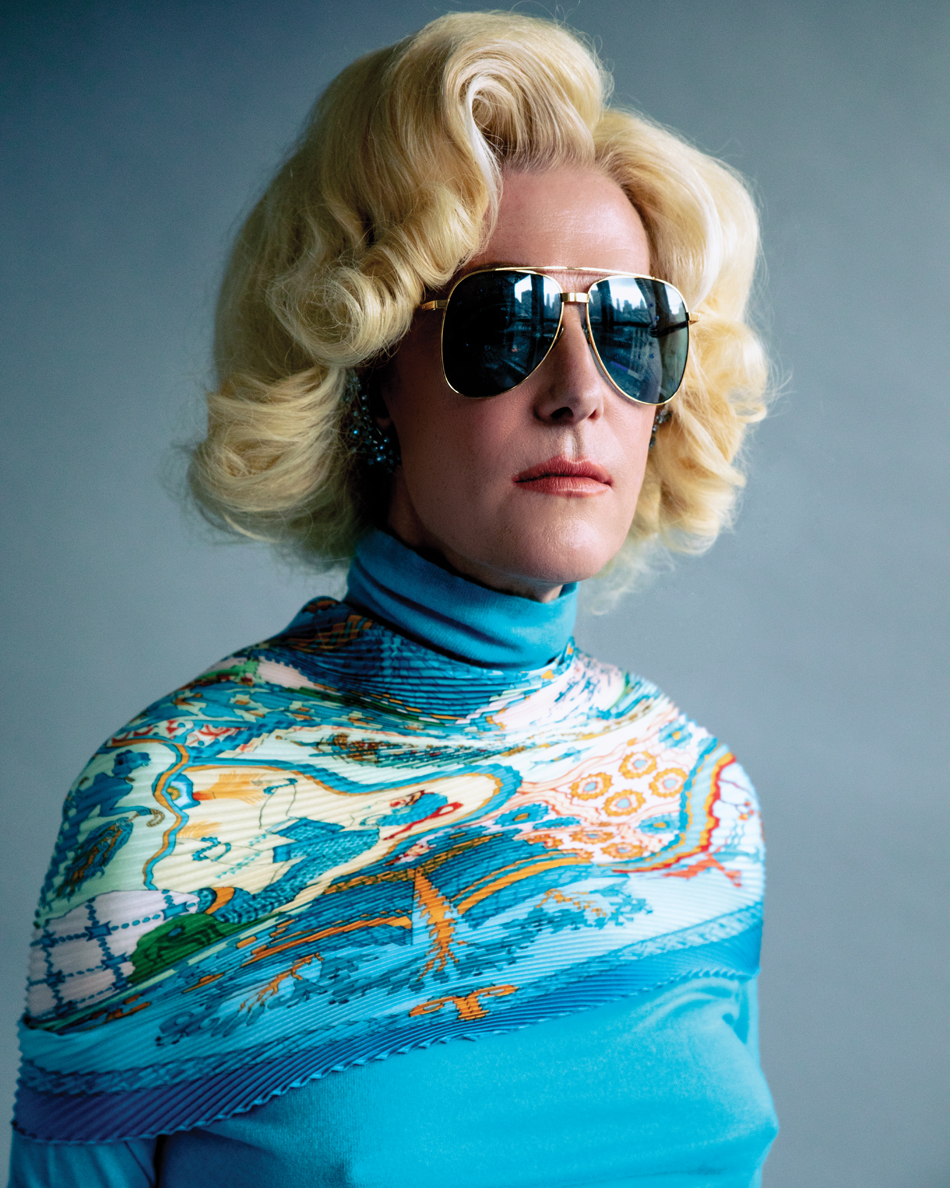 Justin wears scarf by HERMÉS, sweater by SAKS FIFTH AVENUE, and sunglasses by GUCCI.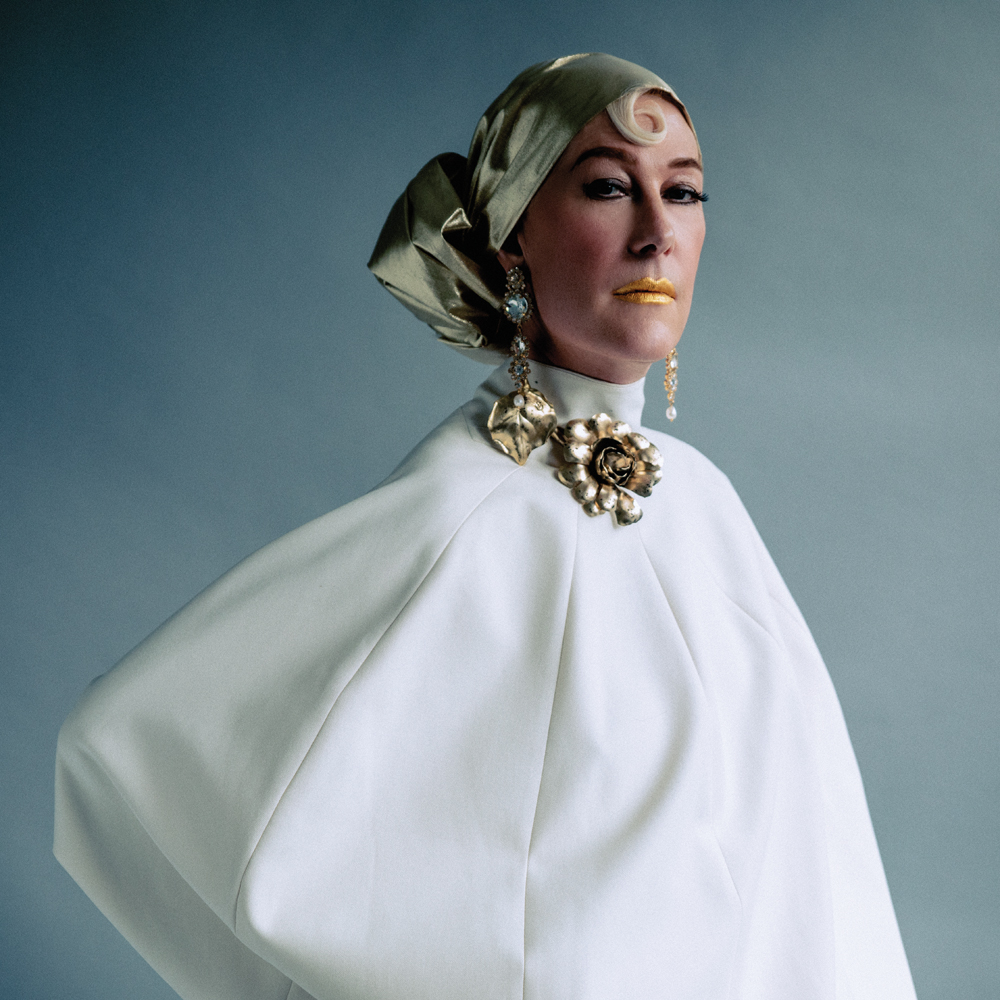 Justin wears jacket by JW ANDERSON, brooch by GUCCI, and earrings by ERDEM.
Is there a new look or wardrobe that you'd like to explore next? I want to have a sea- son where I only wear clothes that are either recreations or inspired by those ensembles Barbra Streisand wore in On A Clear Day You Can See Forever.
Yes, please. I'm desperate for this. Is JW Anderson going to make this? We hope he can make those for me to wear in my show with Anthony.
You make me want to buy expensive creams and a full range of makeup. Is there a particular formula or brand that you feel can possibly enhance your already devastating beauty and vivacity? You should be the face of Estée Lauder. Well, you know, I've been thinking that I should be the face of Estée Lauder because I did a show My Model, Myself inspired by the Estée Lauder model Karen Graham. I created a series of visual art that has been in the New Museum and in galleries around the world, and Estée Lauder did give me about three tubes of lipstick once. But I do wear Estée Lauder. I have also been wearing a lot of Chanel scents. I'm obsessed with one right now called Beige. And I love it because it smells like baby shampoo. And you know what? I may not be able to have a baby, but I can smell like one. I'm also obsessed with Boy Smells candles. But as far as creams, I really need an upgrade.
Not many people can model a cream well, but if anyone could model a cream, I know you could model a cream. Well wait 'til you see me on the cover of GAYLETTER. I'm doing a sort of tribute to Brazil on the cover because if you're going to put a 50-year- old glamour goddess on the cover, let's reference the age because it's extraordinary. And I give full props to GAYLETTER for making that move.
I really am very excited to see your cover. Would you consider having your autobiography brought to the large, small, or handheld screen? I'm actually working on developing a show with FX. We're at the writing-the-pilot phase. It's not based on my book, but it's loosely based on my life.
So exciting. Who are you working with? With Sam Hunter, a great playwright.
Does the process feel cathartic in some way? Yes. It's really fun because it's through the filter of my life and my worldview, but it's not specifically my life and my experiences. You discover things about yourself as you're working on this character that's based on you, and it actually contextualizes your life in a way that makes it not seem so random and makes it seem a little bit more meaningful. For instance, this character is going back to visit their family, and it makes me think of all the stress and triggers as a trans person. Before with your family you were playing a role that they cast you in, and then when you go back, if they finally do accept you, all of a sudden, you're not playing a role, you're being natural. So like with my real life sister, for instance, I wasn't a very good brother because I didn't want to be seen as a brother. I didn't relate to what a brother does. I didn't hang out with other boys who were brothers, but I think I'm a pretty good sister. I think I'm a pretty good daughter. My mom, I took her shopping one time, and the lady in the store said, "Is this your daughter?" And my mother said, "Yes, that's my daughter, Vivian. He lives in New York." My mom didn't even hear it, but the lady looked at me. And I was like, "That's right. I live in New York. I'm visiting." And the lady was completely gracious but I was in the role of the daughter helping her shop because for my mother it would be embarrassing to have a son here because that's not what boys do. It just becomes more natural, but describing it for the show made it more sensitive in my life.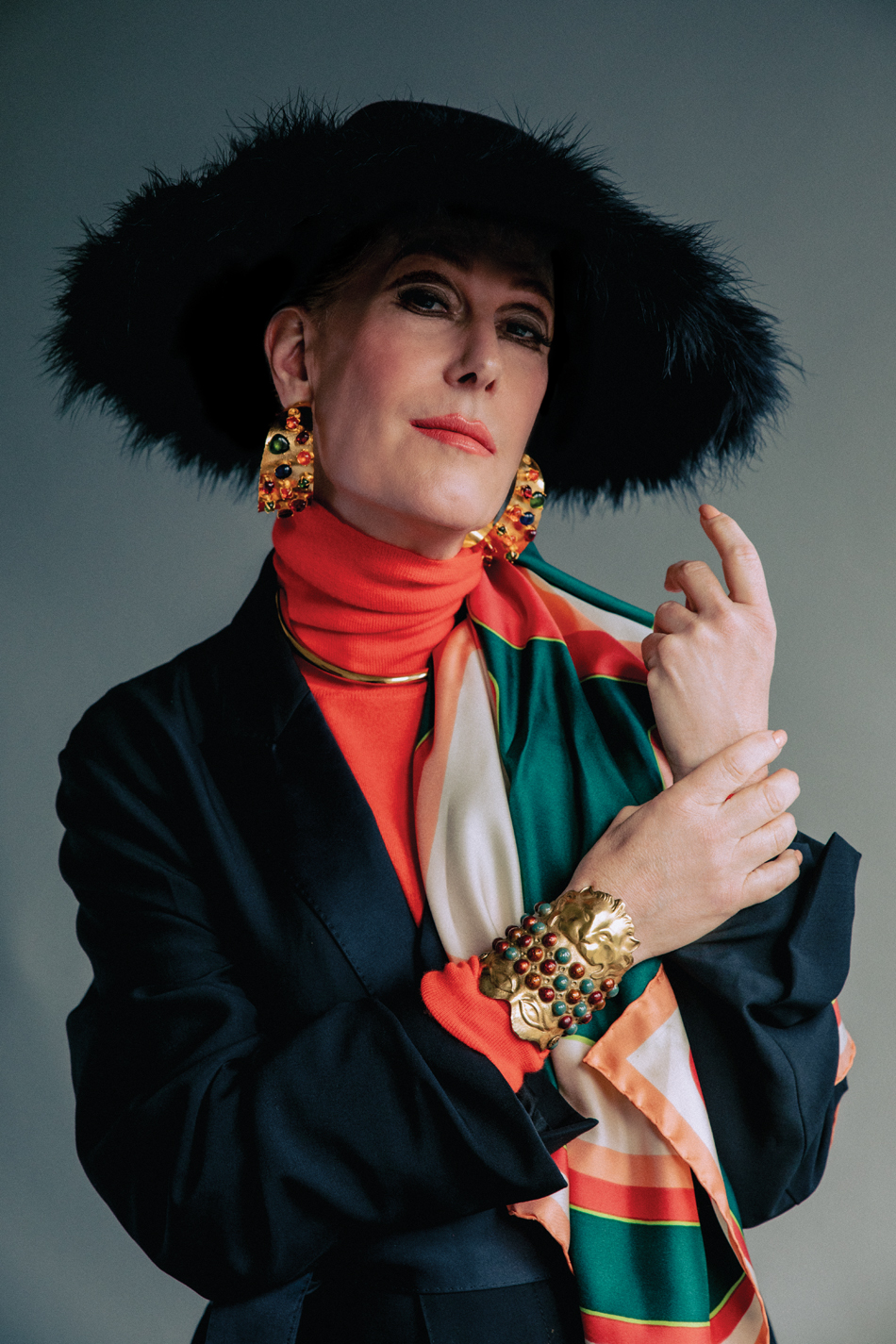 Justin wears hat by STEPHEN JONES, coat by MARC JACOBS, sweater by SAKS FIFTH AVENUE, cuff, scarf and earrings by GUCCI and  necklace by KHIRY.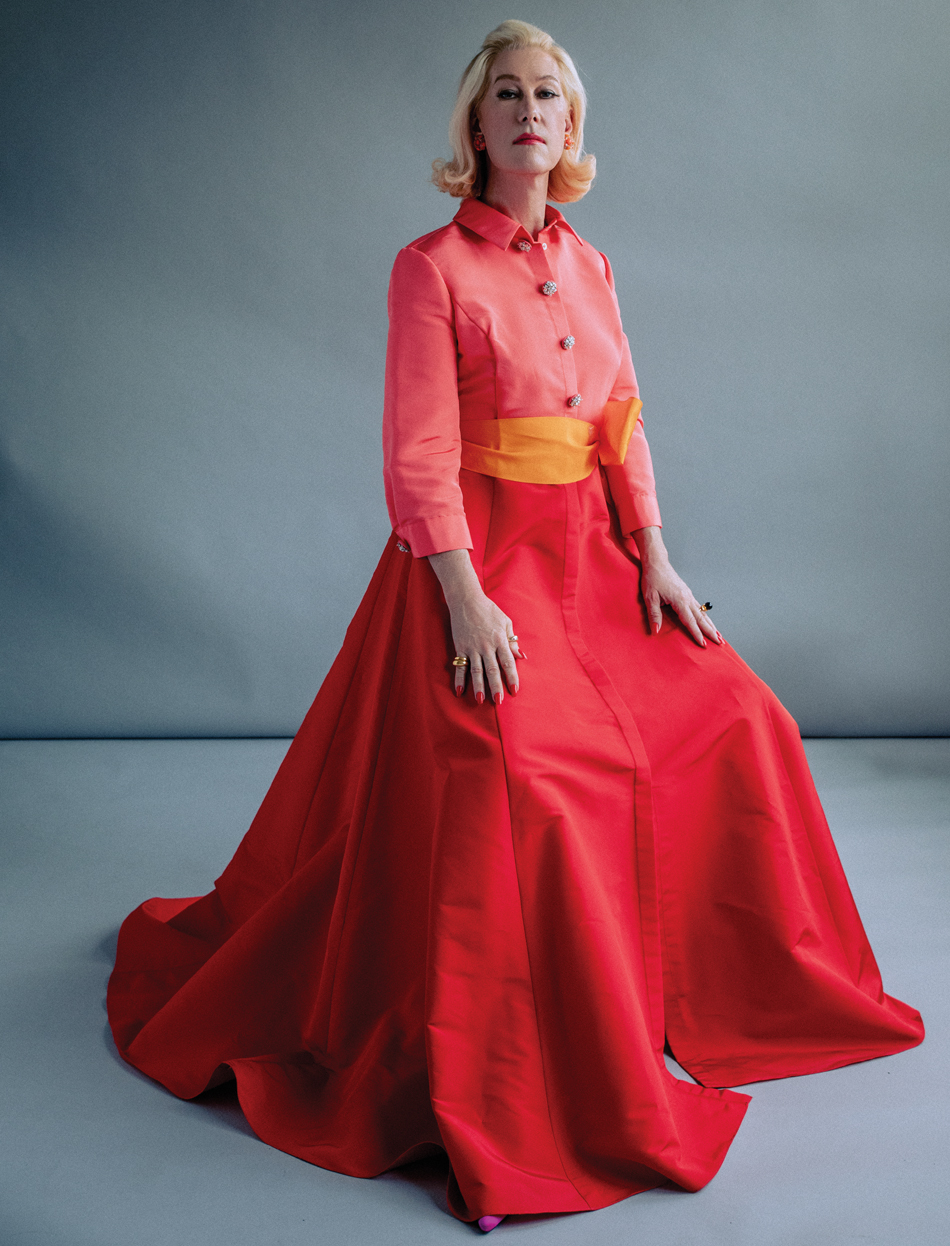 Justin wears dress by CAROLINA HERRERA, rings by KHIRY and vintage ear clips.
Hair by Akihisa Yamaguchi, makeup by Kuma and nails by Kayo.
This cover story was printed in GAYLETTER Issue 14, get a copy here.