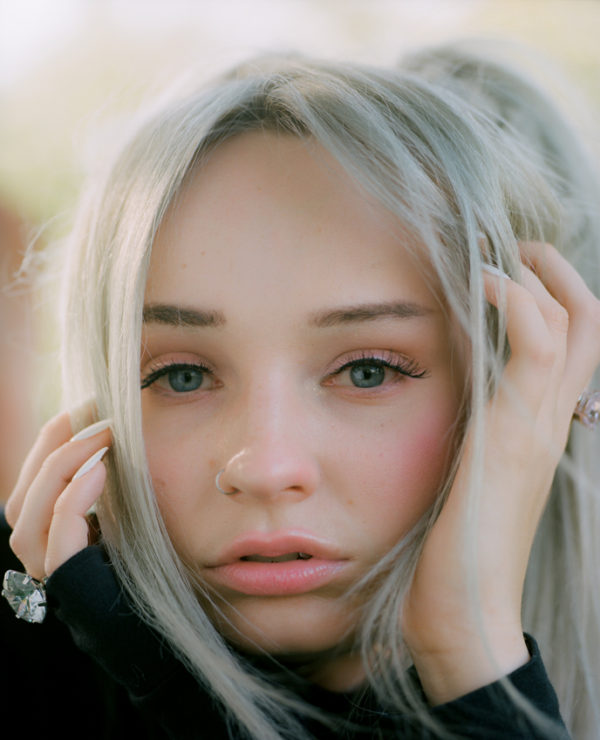 KIM PETRAS PHOTOGRAPHED BY LUKE GILFORD FOR GAYLETTER MAGAZINE
Kim Petras has us crying in the club with "Feeling of Falling"
Sing along to her latest track!
There are two things gays love: Halloween and heartbreak. Our pop prophet (and recent cover star) Kim Petras has managed to deliver celebrations of both this year, and we couldn't be more grateful. "Feeling of Falling" is an emo space-age anthem for all those times you've let yourself catch feelings despite every cell in your body warning you not to. She's taken us from the graveyard to a club on the dark side of the moon, to that lit-up dancefloor where you suffer love more gladly than anywhere else.
"Feeling of Falling" has a more melancholic tone here than a bubbly track like "Heart to Break." This song is the flipside to that feeling; it's all the bottled-up fear that carries you to the moment when you fully give your heart away. The verses are anxious and tormented — "I can't keep holding onto air / If we hit the bottom, I don't know what's there" — before Petras leans into the love she's staved off so long: "If you want to stay, be my one mistake / I don't want to wait anymore." Love hurts. You love it. Imprison me, for I, except you enthrall me, never shall be free. That vibe, but very dance-y.
Cheat Codes has worked with Demi Lovato and Becky G; they've remixed Katy Perry and Bebe Rexha. Petras is perfectly in her element here, and she sounds every second the rising pop star that she is. "Feeling of Falling" is the natural evolution of the interstellar dance-pop sound that Ariana Grande and Zedd introduced in 2014. It's tomorrow-pop; it's high-technology, built to blast from your SpaceX speakers while you flee our planet's impending apocalypse. It's a tear fallen into outer space like Rose's Heart of the Ocean in Titanic.
Check out the lyric video below and watch your wig cross the event horizon.