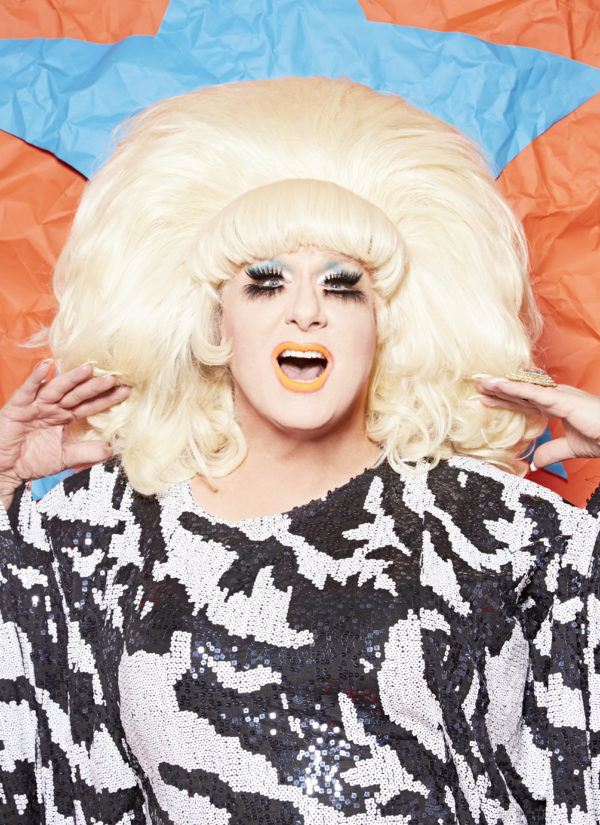 PHOTOGRAPHY BY VINCENT DILIO | SET DESIGN BY TYLER AKERS
LADY BUNNY
As a teenager, Lady Bunny credits watching Dionne Warwick perform on a basketball court in Chattanooga, Tennessee as something of a turning point, inspiring the direction her life would take. Wilmington-born and Chattanooga-raised, the Southern Belle linked up with RuPaul gogo dancing in Atlanta before she made the move to New York City at the tender age of 21. There, she made a name for herself by performing at the Pyramid Club, and by throwing Wigstock, a summer drag festival, for nearly two decades. Held in its early years at the East Village's Tompkins Square Park, Wigstock pioneered drag's visibility outside of clubs. A certified legend, Bunny has performed and DJed all around the world, and when the pandemic halted her regular nightlife activities, she teamed up with Drag Race All Stars winner Monét X Change to start the podcast Ebony and Irony. This past November, we got the chance to kiki over the phone chatting about confusion, politics, the apps, and drag today.
How's your day been so far? Oddly satisfying, yet confusing too. [Laughs] Yes… because you see, I live in the realm of confusion. So when I'm confused or chaotic, it's not necessarily a bad thing. It's a normal thing.
As a chaos creature myself, that adds up. Oh, we have a lot in common! Perhaps we'll get to know each other better than just this interview?
I mean, anything is possible. I'm teasing you because I had an edible.
Now it makes sense. Oh what, you actually believed I was that desperate to come onto someone who was interviewing me? Do you think that you're that gorgeous?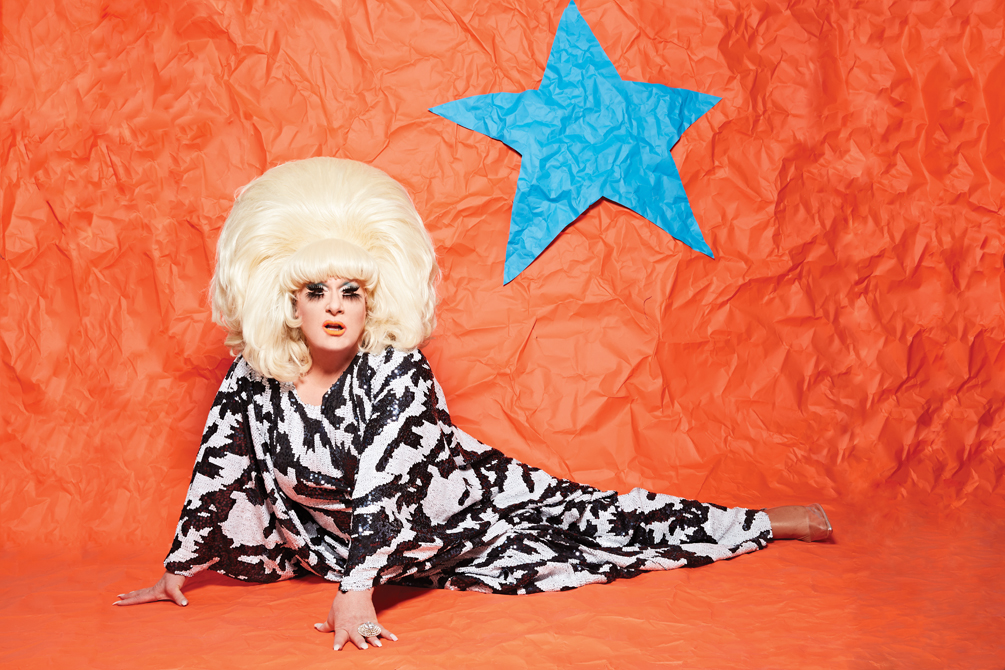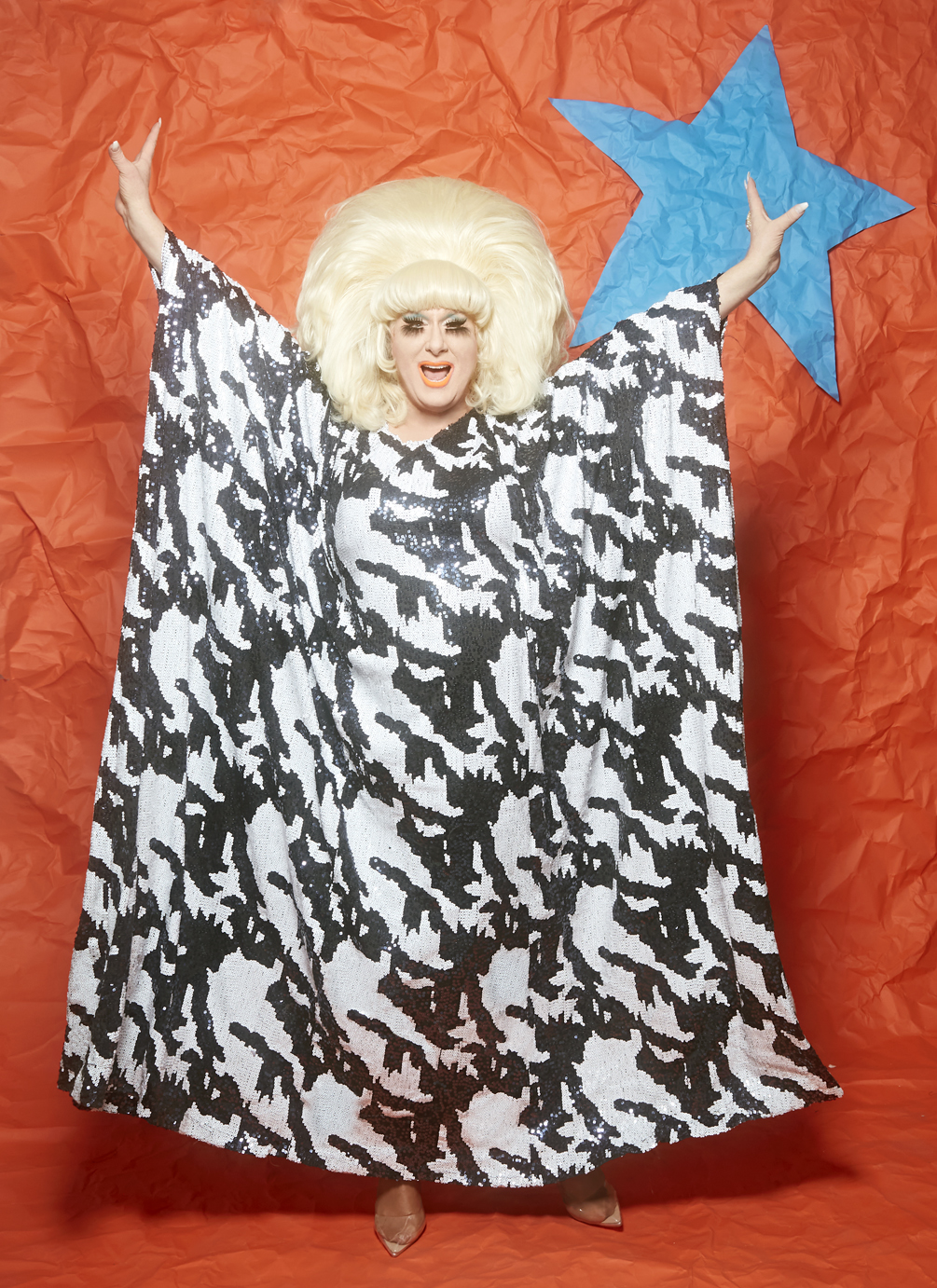 I was listening to the episode of Ebony and Irony with Katya [Zamolodchikova], and you were saying when you might meet somebody [on the apps], you make sure to talk on the phone first, cause you can tell everything by their voice. Yes, I can. This is why it's so strange to me that people do not speak on the phone before they hook up. Cause honey, I can tell if somebody's on drugs. I can tell how old they are. I can tell if they sound flakey. Or drunk. Pictures are nice, but I need to speak to them.
To me it was strange, but then immediately made sense. I did not come of age when there were dating apps for gays that said "This dick is a mile away." "This one's next door. And it's your father!" As a former slut who still gets bizzy from time to time, I will definitely tell you that I will never begrudge whatever way people pick each other up. I did enough of it. If you wanna put a picture of your bootyhole on display, you go right ahead and do it. You don't need to speak to me, cause honey, I would be lying if I said that I have not sucked a dick coming through a hole in a movie business. We didn't exactly shake hands and introduce ourselves.
Get it where it is. That's one thing I like about Ebony and Irony. Monet is 29 years my junior. I don't want a podcast where we sit around agreeing with each other. We should have different backgrounds and different opinions, and we do. There are enough podcasts where drag queens sit and toot and boot Drag Race runway looks. We're drag queens, but that doesn't mean that drag is the only thing that we're interested in. We jump around from culture to politics to cancel culture to comedy. I love hanging out with people, bullshitting with people. And the more I enjoy it, the more I want to share it. A lot of things today are not as appropriate to share, and I'm trying to grapple with that.
Our culture has new limits to what you can say, mistakes you can't make. I don't seek to shut down stuff that I disagree with. What happened to the gay community that could hold its own? What happened to the gay community that could have a witty comeback and defend itself? The gay community faces prejudices and discrimination and sometimes violence. That does not mean that we are all pitiful, or victims. Let's stop with the fingerpointing and get to anti-discrimination laws.
In a 2012 interview, you said you put an emphasis on not challenging the audience too much. I felt like when it came to your 2016 live show TransJester you seemed to be moving away from that, to the point where you even say, "Maybe they'll enjoy being challenged." That's exactly right. And you can do that more easily in a full-length cabaret where people are seated than at a late night venue where you're only doing 20-minute sets. Then you gotta do the poop and penis jokes. I'm very much in touch with and supportive of leftie policies, but not the politically-correct side of the left, who go on and on about equality, but never Medicare for All.
The focus on extreme identity politics is a fake kind of representation. The Democrats are feeding us that. Just because they're like you doesn't mean they're looking out for you. We've seen the power structure actually cultivate certain people. If you're incorporating a rainbow and every different race but they don't actually represent who they look like or who they screw like, that won't work out that well. It could be empty tokenism.
Do you think that it's possible for drag to continue in the mainstream without being co-opted? There is a uniform that almost all drag queens wear now. It's often pretty, but it's a uniform. It often looks fantastic. They're young. They're pretty. They have gorgeous makeup and wigs. Custom outfits that are often wildly chic. But sometimes, when you get them on stage… It's not quite so interesting when they're all doing death drops and saying catchphrases. When you walk on stage looking dazzling, the crowd will gasp. But then, you've got five more minutes.
Where can people see you next? I am going on tour in Unmasked & Unfiltered all over the UK. The dates will be on my social media. Whether you wanna come to the show or picket me, I dare to vary from the narrative. Just buy a ticket.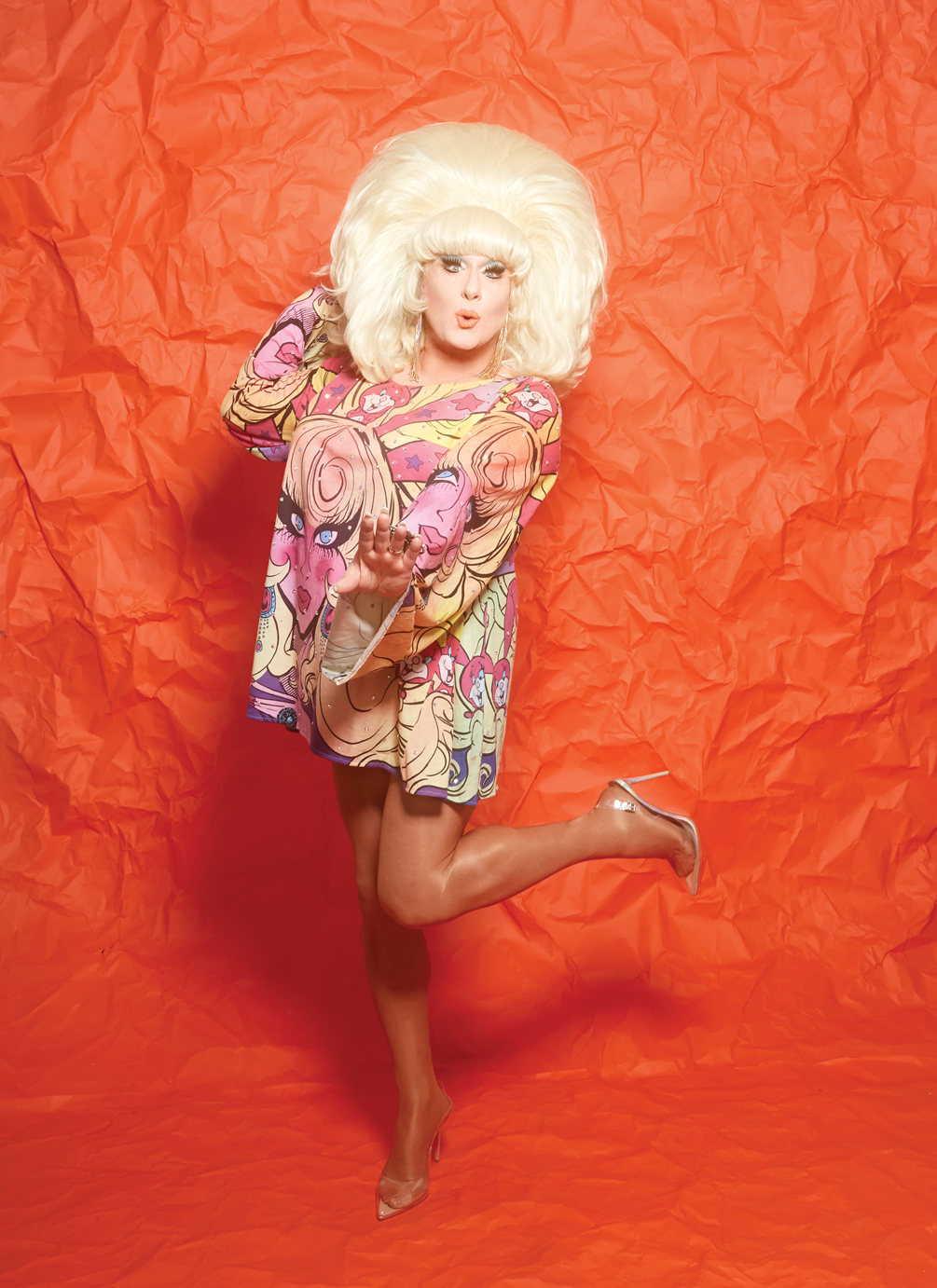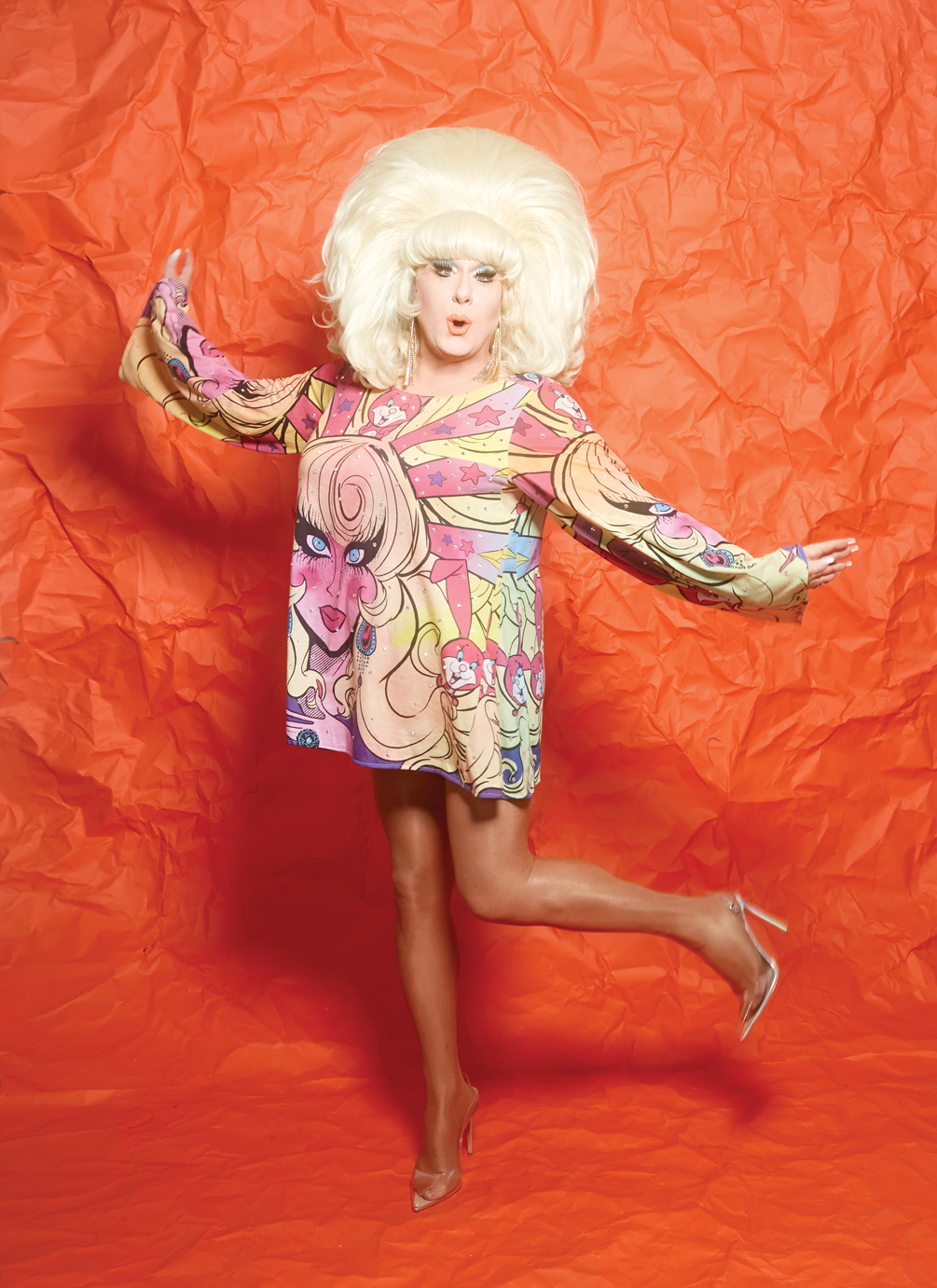 This story was printed in GAYLETTER Issue 15, to get a copy of this issue, click here.