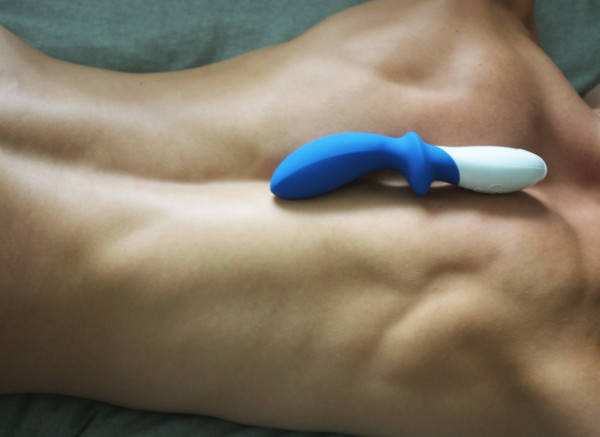 PHOTOGRAPHY BY GAYLETTER
LOKI
I'm back on my back.
If you read my last review you understand that the Lelo experience begins far before you slowly work your toy inside yourself. Today we're getting to know LOKI. Like HUGO, his box is similarly lux: textured, embossed, and neatly organized. Loki is simple, 6 inches of velvety silicone curving forward to hum, buzz and frenzy on and around your prostate. Or rather, My prostate. Yes, once again, I'm writing with Loki inside me. 
To be perfectly honest, it took a second to slip him in — he's girthy and doesn't have the same give as the shaft I'm used to. But since passing my gentle point of departure, things are steadily increasing. I'd suggest taking your time. This thing has so many settings I'm not sure if I can keep track. His range of vibration is on point — the lowest setting allowing me to rock gently back and fourth, the highest clenching me firmly around his base. I'm hovering slightly above medium and ready to type with one hand.
He starts in a familiar place, vibrating steadily to the rhythm of my thrust. I wouldn't say I'm riding him, but rather massaging myself — exploring in and around more than in and out. Working my way through the first four settings, I'm not too surprised at what I've found: A high-frequency vibration switches between constant humming, short bursts, and mounting intensity with a bump at every peak. I can feel my teeth grit as I'm trying to split my concentration between word choice and the rotation of my wrist. I'm steadily relaxing onto him. The next couple of settings operate at a base-ier pitch. All forms of my grip are tightening around him. This is when I almost buck with pure stimulation. This is when I can't move my wrist anymore…This is when I resume typing after a personal moment.

It's getting harder to pay attention to writing to you but I'll try. I'm moving through these last three settings and he's humming so hard every other word I write is underlined in red. The new settings are combinations of each other, blending the higher and deeper vibrations in a mix of bursts, waves, and a droning undulation of stimulation. I'm dribbling precum. I need to use this other hand. I have to go.
Get yours here.