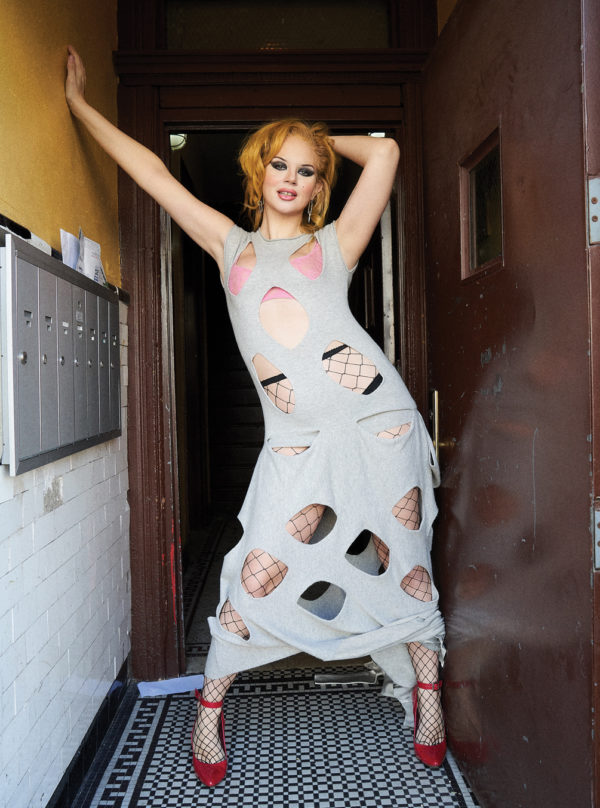 PHOTOGRAPHY BY DANIEL CAVANAUGH
MACY RODMAN
She is the pop star we've been waiting for. The Alaska-born 31-year-old has been making music since coming to New York and dropping out of fashion school, releasing her first LP, The Lake, in 2017. Somehow channeling Stevie Nicks, Britney Spears, and Skinny Puppy all at the same time, Macy live is something special. To talk about her latest project, Unbelievable Animals!, (also chakras and star fucking) she sat down to chat with phenom and friend Charlene Incarnate.
So Macy, everyone's excited about Unbelievable Animals! It's all anyone can talk about! [Laughs] Oh yeah all my fans!
If I had my own tagline for your album, it would be "a meditation on desire." I love that!
That's my tagline for your album because it is an expression of desire so thick that it almost sent you, Macy, into an ethereal state. Like it engaged all your chakras. [Emphatically] Yeah!
Were you having spiritual experiences that inspired the sound? I was! I mean I've talked a lot about the 20-songs-in-30-days process, but that felt very meditative, monk-like. Were you not smoking or drinking? No, I was doing both a lot! More of a New York transsexual monk vibe. But I wasn't talking to anybody. I was locked up doing nothing but the album, and the experiences that led up to it were very dramatic lows that shook me in a way that didn't make sense. So when I was over them, it was such a breath of fresh air. It was all this weird range of emotion.
You could almost do yoga to the album. Do you?
I have! Primarily because it's turned down in tempo compared to your prior records. Is there anything that particularly made you wanna slow down the tempo like you did? I wanted to connect to the music that made me love music and that is a lot of like corny radio pop/rock. Sheryl Crow, Shania Twain, Faith Hill, and then like the stuff that was on MTV, Kelis, Madonna, Liz Phair — a lot of that, even the hits were still pretty chill. I needed to connect to where I was as a child when I was feeling these feelings so extremely.
I have read Unbelievable Animals be touted as a breakup album, but to me it seems like you're not just talking about one boy. No.
How many boys are there? Ummmm…
[Laughs] There's twelve tracks! It's not twelve boys! A lot of it is about one guy, and then there's six songs about other guys.
Are they all local? [Laughs] One is a high school boyfriend… well not really a boyfriend, an "I wish" boyfriend. We all have those. I know you've always been boy crazy. I'm boy crazy as hell.
Right, same, but what changed artistically that made you wanna air it out this time? I had never done it, and that had always been intentional not to talk about it because I didn't think I had anything to add, you know? But when this moment happened in my life and I needed to recalibrate and get it out, I realized I actually do have these years of experiences to draw upon.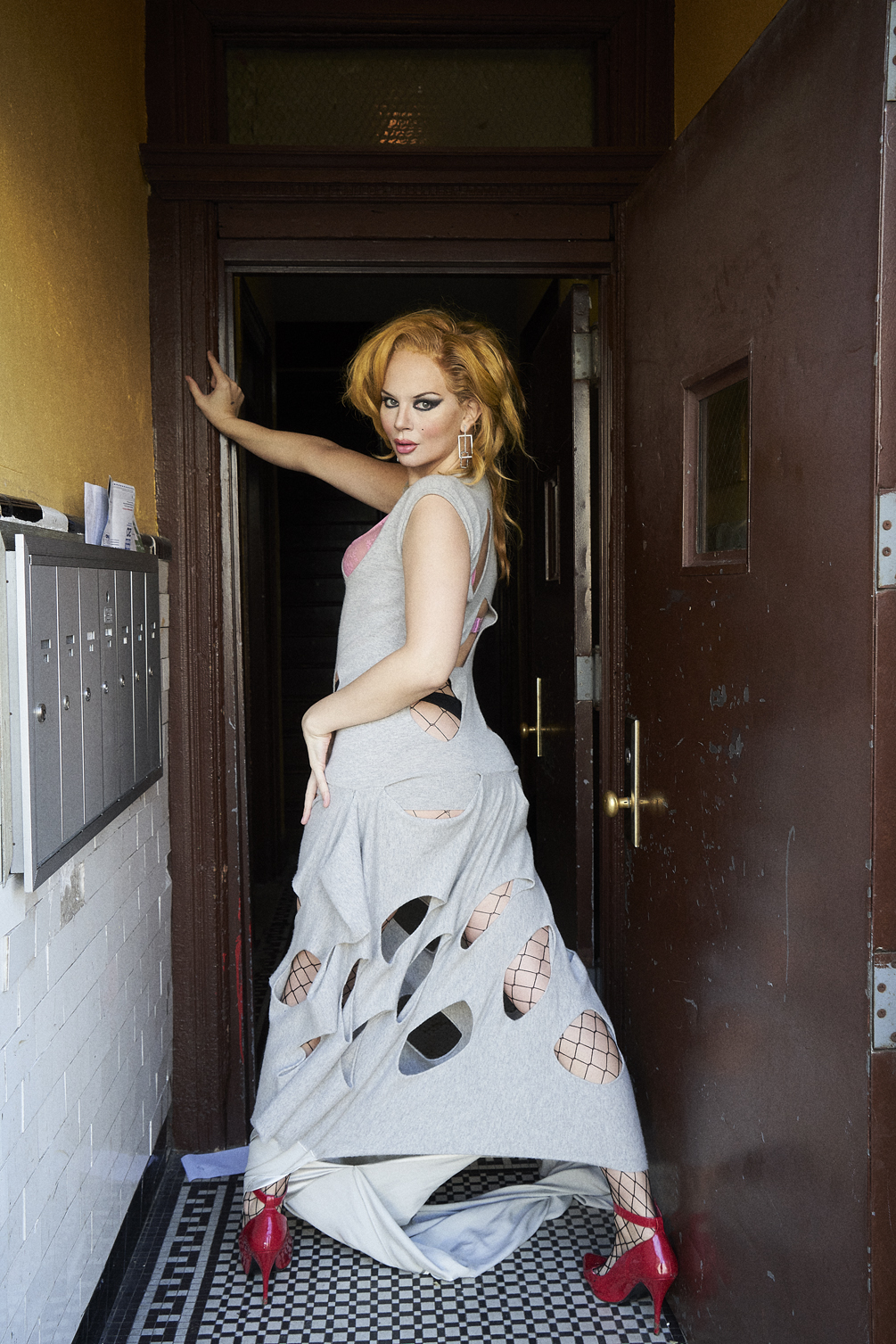 MACY WEARS DRESS BY JW ANDERSON.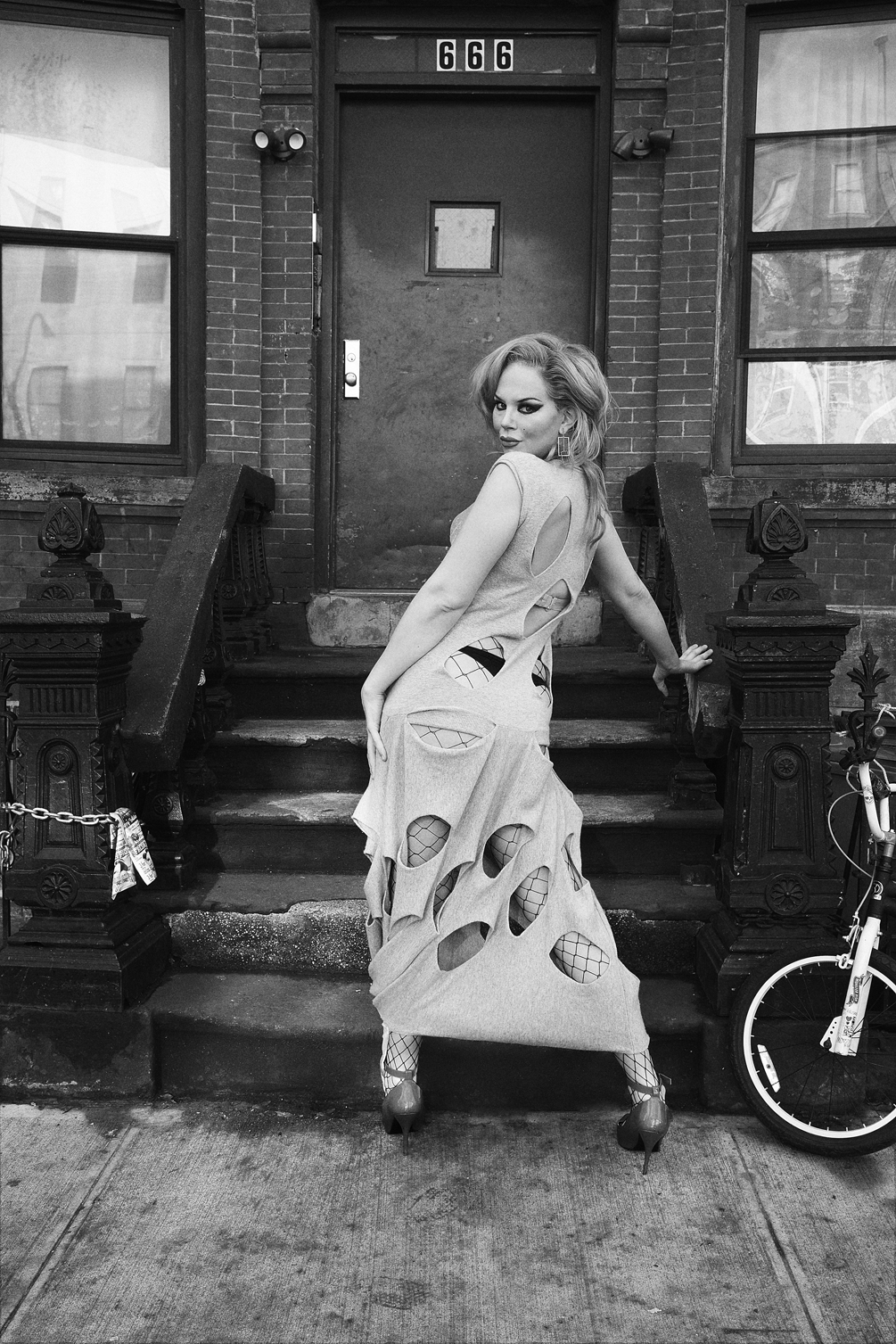 So I noticed, we were both making art about transitioning and being trans seven or so years ago. A lot of trans artists lean into that expository ethos, a claiming your space kind of storyline. Did you notice yourself moving away from that? Was there some intention behind moving into a sort of "regular girl" Joanne type situation? My entrance into releasing music under my current incarnation was very "this is the tr*nny experience as I am seeing it right now," and then the next couple of records distorted that and explored different sides of it and made it abstract. I just felt like I had talked a lot about [transition] explicitly and with this album I was like, "maybe it doesn't actually have to be the focus." That might have something to do with why it sounds so footloose and fancy free because it's just focusing on one aspect of my life rather than how this one part of me affects all the other aspects of my life.
On this album the references to trans experience are much more subtle like your song about falling for gay guys that obviously resonated deeply with me. Oh my god yeah that is such a trans girl thing.
So my question is who are the Rock 'n' Roll gay guys that make you wanna be Bruce again? [Charlene and Macy erupt in laughter.]
Obviously you had the hottie Harry [Cullen] in your video. Oh yeah, he's a Rock 'n' Roll gay guy big time!
But the song's not about him… No it's not. I almost asked the guy who it's about to be in the video: [redacted] from [redacted].
Oh my god, that's who that song is about?! Ish, it was a mixture of him and [redacted].
Oh my god, two gay guys that I would rip my fuckin' eyeballs out for a taste of. Yeah, those are the two gay guys that I rock and rolled with.
Wow, good for you, honey. So yeah, that was about pining and trying to be cool with it.
I was thinking like famous f*ggots. Oh! Okay, like I know people think Harry Styles is bad for wearing dresses or whatever, but I'd fuck the hell out of Harry Styles.
Oh my god, me too, girl! And he counts as a Rock 'n' Roll gay guy! Absolutely! He's like giving that aesthetic!
I've been going crazy over that twink from the House of Avalon recently. With the wigs?
No, just a gorgeous twink with blue hair. Also that kid from the new Gossip Girl, with the pink hair.
I don't know her. I just watched one episode. Do you know that guy [redacted]?
No… He's a gay guy that hits on tr*nnies, he's like bisexual, you should follow him!
Oh my fucking god! Okay, remind me after the interview. I feel like he probably doesn't wanna fuck, but he sends dick pics sometimes, so that's something.
Honey! Okay, we're keeping that in the transcript. Now, where were we? Can you think of any other songs or places on the album that intersect specifically with your queerness? "Punk Rock Boyfriend" because it's about unrequited love and not knowing how to approach someone that you like out of shame and fear. I guess that's universal but it always kind of rings "queer" to me.
It is! And "The Aronofsky Method" is about wondering what it would be like to be a cis girl. Like "would everything be easier if I were just 5'3″" or like "would I be less clocky if I got a nose job?" You know.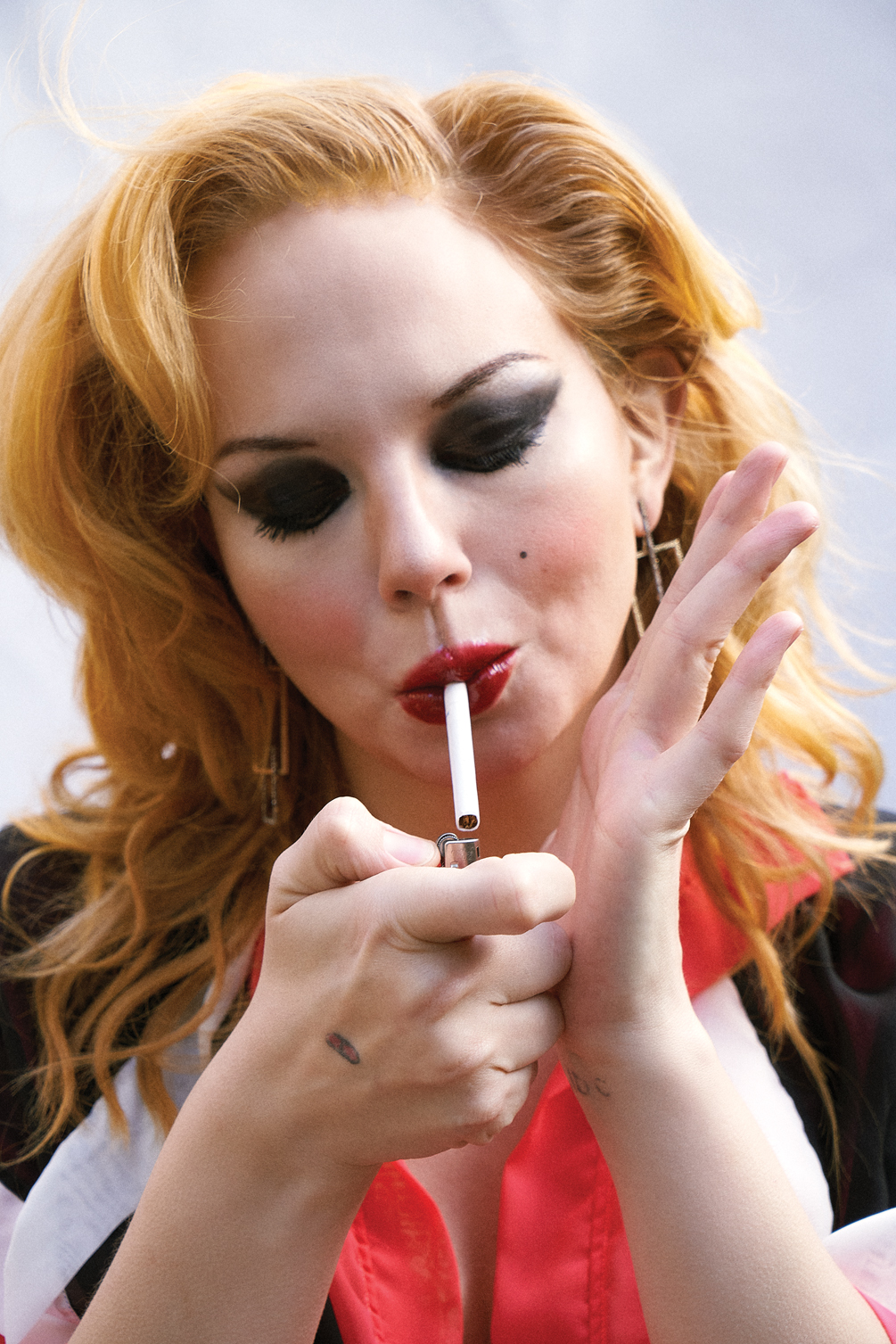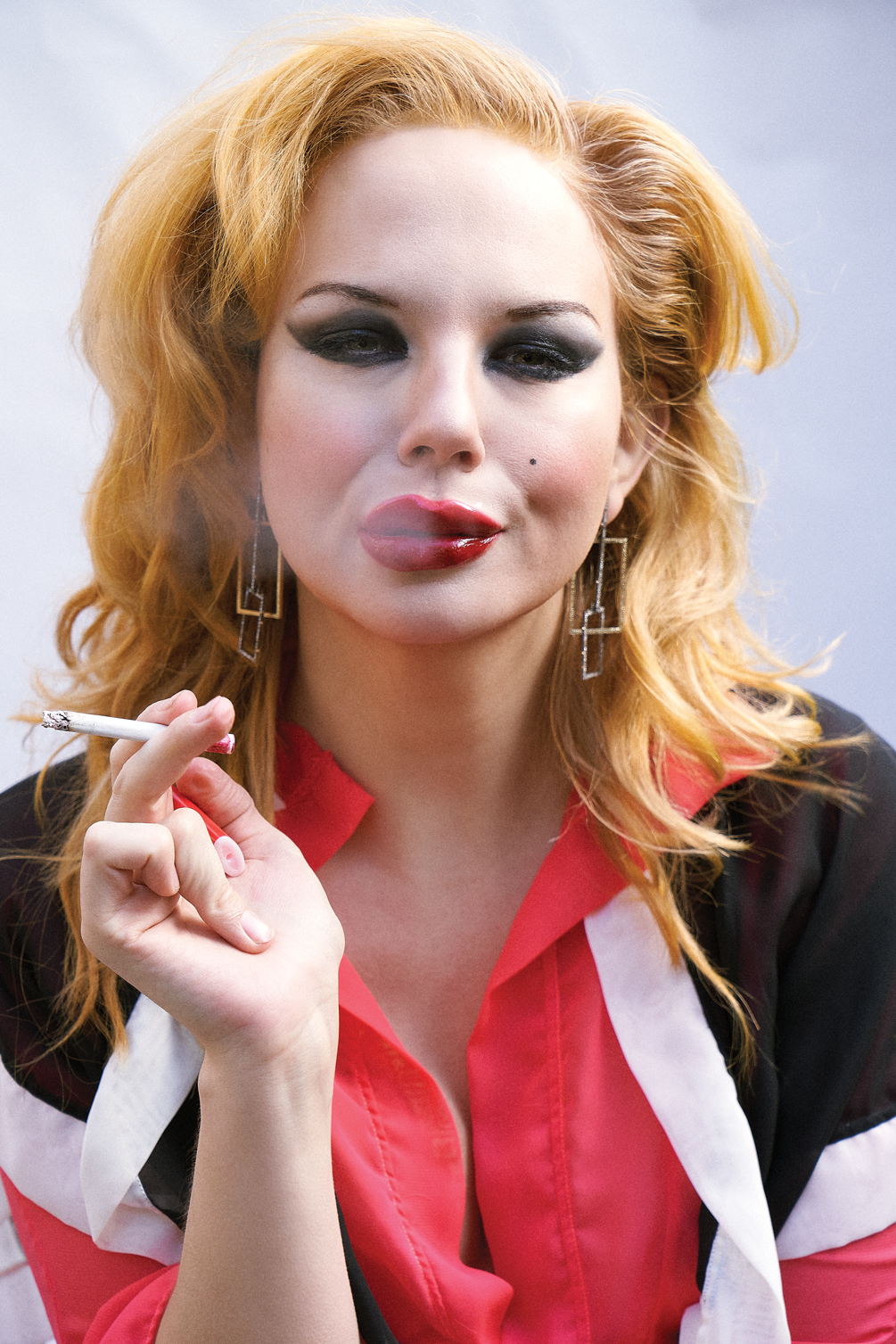 MACY WEARS DRESS BY NIHL.
So you're putting yourself in the place of someone who even has the option of hooking up with Darren Aronofsky? Yeah, it's really about being Jennifer Lawrence, like what would it be like to be tiny and cunt.
I didn't know she was dating him. Yeah they dated for a minute, but like it's about being in that position where you can even wonder "should I marry Darren Aronofsky?"
The parallels between Unbelievable Animals and Ray of Light are undeniable. Was that intentional? It was. Because once I started feeling this mid-tempo, ethereal vibe, Ray of Light obviously came up because it's a huge touchstone for that. So is Music. I started listening to those non-stop because while I know those albums very well, it was just a good template as far as where an album like that can go and what the highs and lows need to be.
There are a lot worse inspirations than Ray of Light! I thought I was ripping it off very faithfully, but looking back it's not a photocopy.
There's a tongue in cheek-ness of like this girl who's so emotional that she's grasping at spiritual straws. Exactly.
Something that I'm jealous of, as a musician your medium can be accessed so easily by people in other places. Are you huge anywhere besides New York? Australia weirdly! I have a little pocket of Aussie fans that chat with me and have used my music in their films and stuff. I'm dying to go there.
What's your favorite crowd you've ever played to? Probably the night — you were there — when we did the "Love Me!" release at C'mon Everybody. That was one of the first shows out of Covid, and my first time playing the songs from this album. It was just electric.
Yeah the vibes were so high, and I think it was because you brought out girls who I don't see hitting the drag circuit and don't have interest in nightlife per se, but just knew that it was gonna be a moment. It felt so special, and probably can't happen in that same way again just because of the circumstances surrounding it. It was just such happy music and we were all so happy to see each other.
Hopefully those vibes will be matched when you play SXSW 2022 with the Accidental Popstar showcase! I know! I am so excited for that. I've always wanted to play a festival and I still kind of can't believe it's happening.
Those are all my questions! Should we drink wine and watch The Net? I would love that!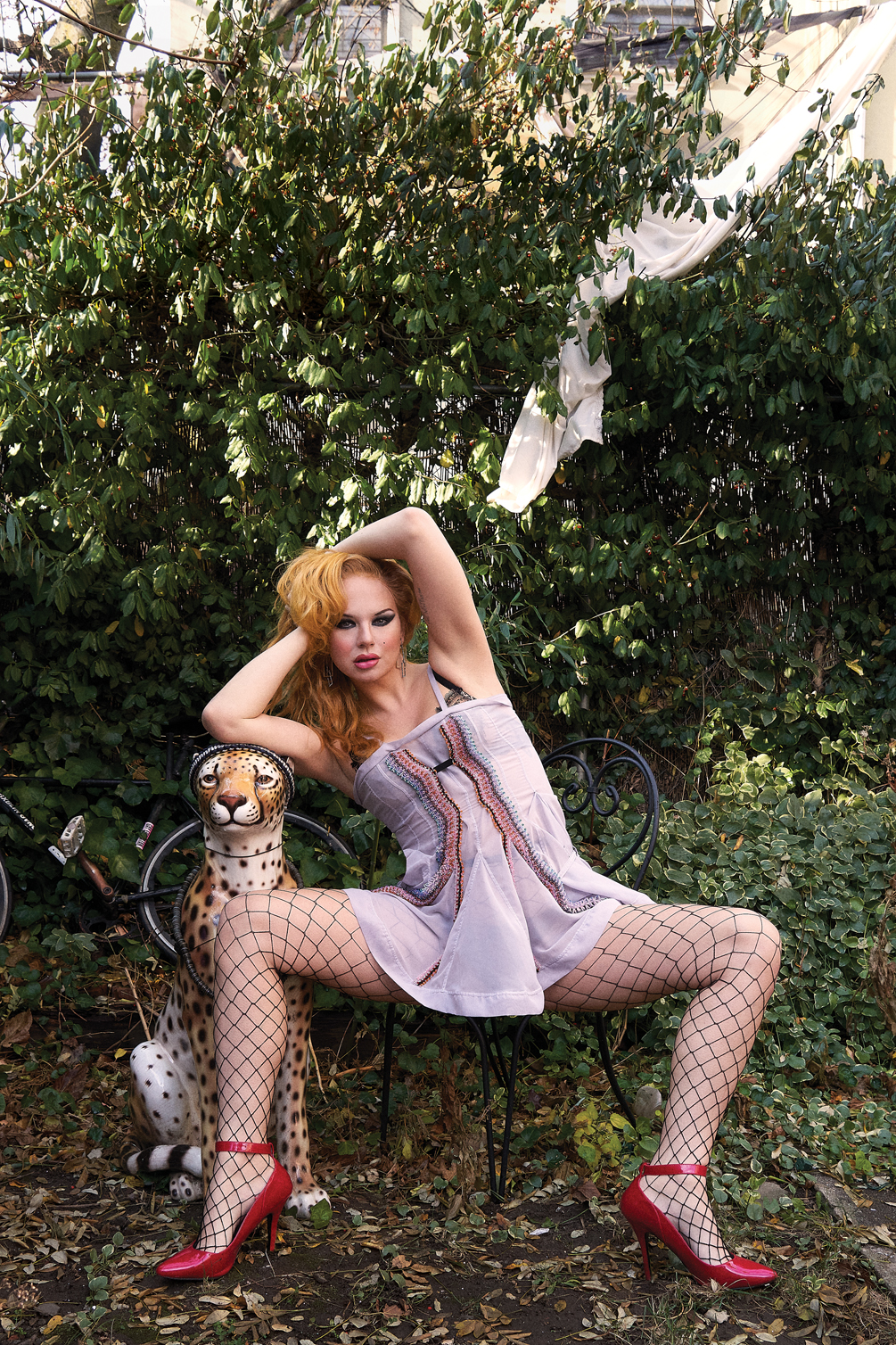 MACY WEARS DRESS BY NIHL.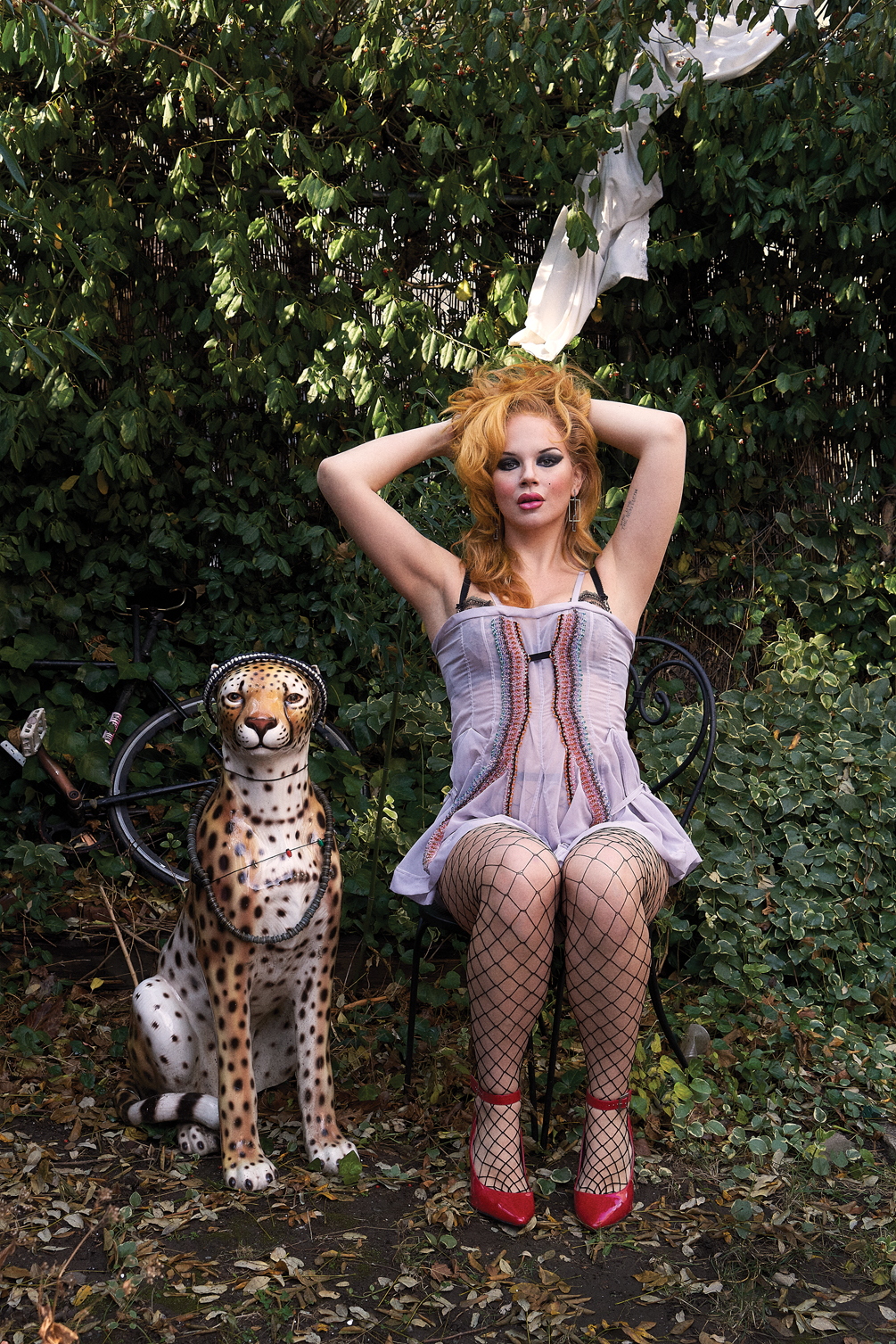 Macy Rodman photographed in her backyard by Daniel Cavanaugh, Brooklyn, New York. December 2021.
This story was printed in GAYLETTER Issue 15, to get a copy of this issue, click here.